Headlines 28 November, 2014
French education document sparks accusations of racism
French education authorities accused of racism over document issued so teachers can spot child jihadists, warning of "long uncut beards" and the "rejection of tattoos"

25/11/2014- Education authorities in western France have come under fire for alleged racism over a document issued to teachers designed to help them spot youngsters who might be tempted by jihad. It said teachers should watch out for "Muslim clothes", "long uncut beards", "weight loss due to frequent fasting" and the "rejection of tattoos." The text also told teachers to look out for children who took too close an interest in the origins of Islam. The SNES-FSU teachers' union denounced the document – issued by the local education authority in the western Poitiers region in the form of a 14-page PowerPoint presentation – as riddled with "outrageous simplifications". "They single out physical traits that are supposed to enable you to recognise dangerous persons, attitudes, or even comments … This is purely and simply racism," the union's Magali Espinasse told France Bleue radio.

The imam of the city of Poitiers said that the directive risked stigmatising Muslims, who number around five million in France. "This document is probably well-intentioned … but its method is wrong and it is dangerous," said Imam Boubaker El Hadj Amor. The controversy comes as France struggles with a growing problem of young people – both Muslim and non-Muslim – being lured to the Middle East to wage jihad in the ranks of the Islamic State of Iraq and the Levant (Isil). The issue was highlighted last week when a young Frenchmen was identified among the executioners of Syrian prisoners and a US aid worker in the latest Islamic State video. More than a thousand French people are believed to be involved in some way with jihad, with nearly 400 thought to be fighting on the front lines.

The directive from the Poitiers education authorities was titled "Prevention of radicalisation in the school environment". It urged teachers to look out for seven external signs that their pupils might be succumbing to the lure of jihad. These included a long beard, "Muslim" clothing, weight loss, "political rhetoric" about Palestinians, Chechnya or Iraq, "selective exposure to media (with a preference for jihadist websites)", and an interest in the history and origins of Islam. The education authority has declined to comment on the directive. But Education Minister Najat Vallaud-Belkacem said that the document could "undoubtedly" have been more tactful, but that it was an "isolated" measure by a single education authority. "Perhaps the words were not perfect, but we are going to improve matters" she said.
© The Telegraph
Serbian Media 'Ethnically Biased' on War Crimes
Serbian media still show significant ethnic bias when reporting on war crimes trials in domestic courts, portraying Serbs as the victims and promoting nationalist ideas.

25/11/2014- Over the past decade, media reports on war crime trials have taken an 'us and them' approach to justice, and television and print coverage is based on the ethnicity of the accused, said the new report by Belgrade's Humanitarian Law Centre, which was launched this month. Katarina Ristic, the author of the report entitled 'Media Discourses on War Crime Trials in Serbia, 2003-2013', said that media in Serbia didn't give people the facts about the 1990s wars, but instead created "total confusion about what happened in the past". "Denial continued, there is no catharsis, while nationalist discourse from the 1990s is revived and while there is simply no justice for the victims," Ristic said. "The public still believes that Serbs are the victims," she added. The report analysed coverage in five daily newspapers - Blic, Vecernje Novosti, Politika, Kurir and Danas - and TV shows broadcast on independent station B92 and public broadcaster RTS.

It focused on two cases related to war crimes in Bosnia, one case in Croatia and three cases related to the Kosovo war, including organ trafficking allegations against the Kosovo Liberation Army and the case against Serbian army chief Ljubisa Dikovic. According to Ristic, media report completely differently when the victims or the perpetrators are Serbs. She compared the coverage of the Suva Reka case, about the mass murder of Kosovo Albanian civilians by Serbian police, and the organ trafficking allegations against the KLA. "In one year alone, we had more than 200 media reports on the organ trafficking allegations, while for the Suva Reka case overall, we had 225 reports in total publis-hed on this topic in Serbia," Ristic said. "In relation to the organ trafficking case, we often have statements from the prime minister, president, and the entire public is talking about it, while with Suva Reka we don't have even one statement from some official," she explained.

According to Ristic, only the newspaper Danas had any reports about victims from Suva Reka. When it comes to the language used by Serbian media, Ristic says that this also varies depending on the ethnicity of the victims and perpetrators. According to the report, when the victims are Serbs, headlines speak of "justice for victims", "monstrous crimes" and "uncivilised atrocities", while crimes against others by Serbs are described as "shootings at civilians". "Instead of offering transitional justice, war crimes trials are used in the media to rebuild nationalism and the narrative of Serbs as victims," Ristic said. The Humanitarian Law Centre also said that war crimes trials were rarely given high-profile coverage on front pages or news bulletins. "The war crimes trials are marginalised and no one is interested in the topic, and there is no discussion about responsibility," Ristic said.
© Balkan Insight
Turkey: Recep Tayyip Erdođan: 'women not equal to men'
Turkish president also accuses feminists of not understanding special status attributed to mothers by Islam

24/11/2014- The Turkish president, Recep Tayyip Erdođan, has been accused of blatant sexism after declaring that women are not equal to men and claiming feminists in Turkey reject the idea of motherhood. The devoutly Muslim president said biological differences meant women and men could not serve the same functions, adding that manual work was unsuitable for the "delicate nature" of women. His comments ignited a firestorm of controversy on Twitter and one well-known female TV news anchor even took the unusual step of condemning the remarks during a bulletin. "Our religion [Islam] has defined a position for women: motherhood," Erdođan said at a summit in Istanbul on justice for women, speaking to an audience including his own daughter Sumeyye. "Some people can understand this, while others can't. You cannot explain this to feminists because they don't accept the concept of motherhood."

He recalled: "I would kiss my mother's feet because they smelled of paradise. She would glance coyly and cry sometimes. "Motherhood is something else," he said, claiming that it should be a woman's priority because Islam exalts women as mothers. He went on to say that women and men could not be treated equally "because it goes against the laws of nature". "Their characters, habits and physiques are different … You cannot place a mother breastfeeding her baby on an equal footing with men. "You cannot make women work in the same jobs as men do, as in communist regimes. You cannot give them a shovel and tell them to do their work. This is against their delicate nature." Erdođan was apparently referring to the practice during and after the second world war for women in communist states such as the USSR to do heavy manual work in factories or in roles such as tram drivers.

He complained that in previous decades in Turkey women in Anatolian villages had done the back-breaking work while their menfolk idled away the time. "Wasn't it the case in Anatolia? Our poor mothers suffered immensely and got hunchbacks while the men were playing cards and rolling dice at teahouses," he said. "What women need is to be able to be equivalent, rather than equal. Because equality turns the victim into an oppressor and vice versa." Erdođan, 60, has been married since 1978 to his wife Emine, with whom he has two sons and two daughters. Aylin Nazliaka, an MP from the main opposition Republican People's party said Erdođan "ostracised" women by portraying them as delicate, weak and powerless and limiting their role to motherhood. "Erdođan has publicly committed a hate crime … But I will continue to fight this man who sees no difference between terrorists and feminists," she said in a written statement.

Sule Zeybek, an anchorwoman at the Turkish broadcaster Kanal D, hit back at Erdođan's comments live on television during a news bulletin. "I am a feminist and thank God I'm a mum. I wouldn't kiss my mother's feet but I have great respect for her," she said. The Islamic-rooted government of Erdođan has long been accused by critics of seeking to erode the country's secular principles and limiting the civil liberties of women. Erdođan has drawn the ire of feminist groups for declaring that every woman in Turkey should have three children and with proposals to limit abortion rights, the morning-after pill and caesarean sections. Seen by critics as increasingly authoritarian, he has repeatedly lashed out personally at female journalists who displeased him. But the government's attitude towards women came under even greater scrutiny after the deputy prime minister, Bülent Arinç, caused a furore in August by suggesting women should not laugh loudly in public. Activists also say that government officials' remarks about women and how they should be treated leave them exposed to violence. According to non-governmental organisations, more than 200 women in Turkey died as a result of domestic violence in the first six months of 2014.
© The Guardian
Turkish family victim of German police violence awaits justice amidst threats
Xenophobic police brutality in Germany has victimized a Turkish family which is fighting a two-year case against German police for wrongly claiming a Turkish man was the perpetrator behind a sexual assault case despite the fact that the victim has stated otherwise.

24/11/2014- A Turkish family who has been the victim of police brutality and xenophobia in the North Rhine-Westphalia state of Germany has been waiting for justice to be served for the past two years, following the wrongful charge of harassment against their son, despite his innocence. The Turkish man who was wrongly labeled as the perpetrator by German police, claims he was threatened by the police for appealing his case even after the victim of a sexual harassment case, which took place two years ago, had stated that the Turkish man was not the perpetrator.

The Tiryaki family's life changed when their son Cengiz Tiryaki went outside for a smoke late at night. Tiryaki stated that he wanted to smoke but did not want to disturb his old parents at home as his 72 year-old father had lung disease and his mother had recently been through surgery. He smoked in front of his doorstep and headed back home but a man and a woman appeared before him and told him to put his hands up and get on the floor. Tiryaki hesitated, as the two people were wearing civilian clothes and refused to show their id when he asked them for it. "I did not do anything, why should I get on the floor?" said Tiryaki, who was then ruthlessly attacked by the undercover police.

While the woman held Tiryaki, the man hit his eye with his pistol's grip as Tiryaki found himself being kicked on the floor. He stated that he screamed for help as his eye was seriously injured but the officers refused to stop and set a dog on Tiryaki which bit him on his stomach and his back. They verbally abused him by yelling offensive and racist words like "Dirty Taliban". His scream for help woke his parents who ran down to rescue their son. His 72 year old father, Ihsan Tiryaki, was punched by the police while his mother, Ikafat Tiryaki, was kicked in the stomach which had recently had surgery. A support team consisting of 15 police officers arrived at the scene and handcuffed the family, and brought them to the hospital. Cengiz Tiryaki's eye was seriously injured and his stomach was badly bitten by the dog. He received stitches and a two-week incapacity report. The father's lip was split and his jaw was seriously injured so he also received stitches.

Dormagen city police of North Rhine-Westphalia state has issued a statement claiming that there has been a sexual harassment case on the day of the incident and the police officers thought Tiryaki's features matched the description of the perpetrator. "Our officers introduced themselves and asked the suspect to show his id but the latter resisted" read the statement, which claimed that a quarrel took place between the police, the suspect and his family. The statement also claimed that the police were threatened and violently attacked. When the case made it to the court, the judge called Tiryaki family's lawyer and told him that Cengiz Tiryaki should enter a guilty plea and receive a six month sentence, while stating that he would also arrest the parents if they continued to act as witnesses. A German teacher who preferred to remain anonymous has also stated that he/she was threatened when he/she pledged to testify as a witness amidst the judge, who did not take this into consideration.

Cengiz Tiryaki was sentenced to ten months in prison despite the fact that the girl who was sexually harassed has testified that Tiryaki was not the perpetrator. "It was not Cengiz Tiryaki, but the police forced me to say that it was him" said the victim, who noted that she knows the real perpetrator but would not say his name. The Tiryakis have appealed the ruling and claim that the police threaten them every time they attend a hearing. It was reported that they have spent about 20,000 Euros over the two years to cover the legal costs of the case. About three million people of Turkish origin reside in Germany, forming about 3.7% of the country's total population.

It is reported that xenophobia targeting Germany's Turkish minorities is growing and discrimination against Turks living in Germany takes place in a number of everyday situations. A recent report prepared by the Turkish Parliament's Human Rights Committee has concluded that the frequency of arson attacks targeting mosques in Germany has increased while suspects remain at large. While an average of one or two attacks took place between 2001 and 2011, this average rose to three attacks per month in 2011, while between 2012 and March 2014 over 75 mosques were attacked.
© Daily Sabah
'Racist' Black Pete party scrapped in Sweden
A Dutch club in Stockholm that was planning a festive party featuring Santa alongside a servant with a black painted face has shelved the idea following numerous complaints of racism.

24/11/2014- Sweden's Afro-Swedish National Association wrote to the Dutch embassy in Stockholm earlier this month to protest against a party planned on its premises on Novem-ber 30th, at which the character was set to appear. Black Pete - or Zwarte Piet as he is known in Dutch - was due to arrive at the embassy following a public boat ride from Djurgården to Slussen in Stockholm. The character is usually played by someone wearing black face paint and a wig and regularly appears alongside Saint Nicholas at seasonal Sinterklass celebrations in the Netherlands and Belgium. But Swedes with African heritage alongside anti-racism campaigners across Europe argue that the idea promotes offensive stereotypes of black people. The Sinterklaas festival dates back to the 1600s and Zwarte Piet started appearing alongside the white bearded figure in the 1800s. Some Dutch argue Zwarte Piet is black because of the soot in the chimneys he climbs down to take gifts to children, while others have noted that his emergence coincided with the Dutch Empire's involvement in slavery at that time.

It has now emerged that the Dutch club is scrapping the boat ride idea and said that there will be no black Zwarte Piet helpers at the party. "We respect the feelings and opinions of different groups...and will not portray Piet as a black painted helper anymore," it said in an online statement. But it is understood that the character will still appear in some form at the club's event, which is still scheduled to take place behind closed doors at the Dutch Embassy. "He will look a little different, maybe have a different colour on the face. I do not really know. It is difficult to change the celebration entirely," Frank Schipper, a spokesman for the embassy told The Local. "This is a long tradition and it is for the children at the embassy. It is up to the Dutch club to set the details," he said. "We have of course had discussions with them and the main goal is not to insult anyone".

Zakaria Zouhir from Sweden's Afro-Swedish National Association told The Local:
"Of course we are glad this has happened after we put the pressure on them, but I must say the embassy hasn't been respectful in its communication - we found out the party was stopped from the media. We haven't had a reply to our complaint letter". He added: "We still think the practice is unacceptable and should be stopped everywhere in the world."
© The Local - Sweden
EU Urged to Focus on Balkan Minority Rights
The EU is not doing enough to ensure that would-be members in the Western Balkans respect minority rights, a workshop in Sarajevo workshop concluded.

24/11/2014- An international workshop on minority rights, held in Sarajevo, entitled "EU Integration and Minority Protection in the Western Balkans: mapping the way ahead", said more needs to be done to anchor minority rights protection into the EU integration process. The workshop gathered experts, civil society activists, politicians and EU officials to discuss EU policies and improve minority rights protection in the region. Adam Fagan, Professor of European Politics at Queen Mary's University in London, told Balkan Insight on November 21 that one of the key topics was what the EU could do concerning rights of minorities in countries that aspire to membership. "One topic is what the EU can do for Bosnia that it didn't do for Hungary - in other words, how it can make sure that institutions are stronger and that there is no backsliding on minorities rights," he said. Fagan said that Bosnia and Herzegovina needed to sort out the Sejdic-Finci rights ruling and then deal with minority rights issues more generally.

The 2009 ruling of the European Court of Human Rights in a case brought by Dervo Sejdic and Jakob Finci - a Roma and a Jew respectively - told Bosnia to change its constitution to allow minorities to run for posts currently reserved for the three largest ethnic groups, Bosniaks, Serbs and Croats. However, politicians in the country have failed so far to agree on a way forward. Nadir Redzepi, of the Open Society Foundations – Budapest, said minorities were suffering all over the West Balkans, and were often more affected than majority communities by societal problems like corruption. "Minorities are also exluded from the labour market, health care and educational systems, and always get less than the majority," Redzepi said. "The EU always mentions minorities in its progress reports," he noted. "What could be done is that, in the conditions they set before our countries [in the Western Balkans] in the integration process, that they integrate rights of minorities, too," he said.
© Balkan Insight
Bulgarians urged to "see refugees through new eyes" in media campaign
24/11/2014- It's something nearly every Bulgarian can identify with: a lonely young man, far from home, writing a letter to his mother. "I just wish this emptiness would go away; not everyone accepts me," laments the man, who at first comes across as being one of the 2 million Bulgarians who have left the country in the last three decades, leaving some 7 million of their compatriots behind, many struggling financially. As images of a typical Bulgarian country home mingle on screen with that of a bureaucrat haughtily casting aside documents, the powerful TV spot continues with the letter – "I just wish that we could be together again" – until the surprise ending. The letter is actually being written by "Rami," a refugee living in Bulgaria. The 30-second spot, launched today and expected to be seen by millions of Bulgarians over the next month, is part of an innovative anti-xenophobia campaign which encourages Bulgarians to "see refugees through new eyes," a slogan that sounds even more powerful in the original.

"The idea for this campaign, the most ambitious we have ever launched here, is to encourage people to see refugees for who they are – regular people who have fled horrific violence and persecution," says Roland-François Weil, UNHCR's representative in Bulgaria. "This campaign is aimed at influencing the attitudes of the people in the middle," he added. "We are trying to refocus the debate away from numbers of refugees and supposed threats, and rally moderate voices to be heard in the public debate. Too often they are drowned out by the far right." Last year, amid an unprecedented influx of some 9,000 asylum-seekers, mostly fleeing war in Syria, many refugees were attacked. Despite appeals for tolerance from the president and prime minister, hostility against refugees reignited in April, when residents expelled three families from a village in central Bulgaria.

In September, protesting parents, teachers and local authorities prevented nine refugee children from starting school. They claimed the children would not fit in and would hold back the Bulgarian pupils. "Social research showed that Bulgarians who have lived abroad or have relatives abroad are more likely to be sympathetic to refugees," said Ivan Hadzhivelikov of the creative agency behind the campaign, New Moment New Ideas. "This is what we wanted to play on in our 'Letters' campaign – to make an emotional connection with the viewer and urge them to look at refugees differently." The agency donated the creative work for the campaign to UNHCR. The TV spot will run from today until December 31 on two private stations and the public broadcaster BNT. A 60-second spot will be released on social media. The soundtrack is a 1916 classic that relates the nostalgia of Bulgarian migrants living abroad.

The TV spots are backed up by three riveting posters that will be seen in subway stations, on huge wall murals and in shopping malls across the country. One twist is replacing the eyes of the portraits with a mirror so readers of 12 leading magazines will see refugees with new eyes – their own. "We hope this campaign will become a rallying point for more moderate voices in Bulgaria," said UNHCR's Weil. "In the longer term it is tolerant Bulgarians who will be the ones who can truly fight xenopho-bia in their own society."
© UNHCR News
Refugees in Bulgaria 'Segregated Like Roma'
Refugees living in Bulgaria are segregated like the local Roma population and do not wish to learn Bulgarian, the Bulgarian Refugee Agency (DAB)'s Chairman Nikolay Chirpanliev has said.

24/11/2014- Chirpanliev told representatives of the organization FCJ Refugee Centre who visit Bulgaria on a yearly basis to prepare reports that most refugees did not want to stay in Bulgaria after having been granted status. "Rich refugees want to go to Switzerland, Germany and Sweden and other European states, while here remain only the Kurds, who are a lot worse than our Gypsies [sic!]." Asylum seekers who arrive in Bulgaria can only set off for other destinations within the EU after having received refugee status. However, most of those who cross the border are more often granted humanitarian status, which only allows them to remain on Bulgarian soil. Chirpanliev, for his part, has become notorious over the past months for his insulting remarks about member of Human Rights Watch, calling them "morons".
Readers can find FCJ Refugee Centre's latest report here.
© Novinite
Responding to Anti-Semitism With Diversity (opinion)
American Jewish leaders went to last week's trans-Atlantic conference on reducing anti-Semitism hand-in-hand with American Muslims, Sikh Americans, African Americans, Asian Americans, Latinos, and LGBT people to send a message to the world that inter-racial, inter-faith coalition-building is necessary to eradicate anti-Semitic bigotry and hate crimes.
By Wade Henderson

24/11/2014- Anti-Semitism is an age-old scourge that has defied eradication, especially in Europe. The last few months have witnessed a dramatic rise in hate crime violence and other forms of anti-Semitism against Jews, some of it tied loosely but incorrectly to Israeli foreign policy in Gaza, but with Twitter hashtags like #HitlerWasRight and usernames like @DeathtoJews, the bright line between acceptable political criticism and naked anti-Semitism is unmistakable. The conference marked the 10th anniversary of the Berlin Declaration, which obligated all 57 member states of the Organization for Security and Co-operation in Europe's (OSCE) to combat anti-Semitism and to monitor, prevent, and report hate crimes. To commemorate the occasion, the OSCE called a conference for participating states to reflect on the progress made since 2004.

I participated in last week's event as well as the one ten years ago that resulted in the Berlin Declaration. At both, I headed a delegation of diverse American non-governmental organizations that included African Americans, Asian Americans, Latinos, LGBT people, Muslims, Sikhs, Jews, and Arabs. And, at both, we were the only delegation that reflected the diversity of the nation we represented. Our diverse coalition is the outgrowth of a longstanding partnership led by Jews, African Ameri-cans, and labor unions that came together to fight Jim Crow segregation in the American South. Over this years, this partnership has grown to mirror the diversity of our nation. This is a model for combating anti-Semitism that can and should be replicated in nations across the globe.

After ten years, only 27 out of the OSCE's 57 nations now comply with the Berlin Declaration's obligation to submit official hate crimes statistics to the OSCE. Even worse, Jews from across Europe now live in greater fear of persecution, hate crimes, and displacement. Jewish communities in France, Belgium, and Eastern Europe have become targets of bigotry, far right parties have embraced anti-Semitism as a political strategy, and protests over Middle East conflict have too often morphed into hateful anti-Jewish sentiment. There is progress to acknowledge and applaud. Today, 40 OSCE nations have some sort of hate crime law. But implementation is often weak or inadequate to meaningfully protect vulnerable communities. Inter-group co-operation was imperative for the United States to move forward with implementation.

Since the Berlin Declaration, the U.S. in 2009 passed the Matthew Shepard and James Byrd, Jr. Hate Crimes Prevention Act, which expanded federal hate crime protections to include LGBT people, women, and people with disabilities and enhanced our monitoring and prevention of bias-motivated crimes. We were able to pass this law because our diverse coalition came together and decided to measure equality by a single yardstick. The landscape of bigotry and prejudice is different from nation to nation, and anti-Semitism, xenophobia, racism, nationalism, and homophobia still run rampant throughout the world and the OSCE nations. But there are opportunities for Jews across Europe to partner with Muslims, the LGBT community, the Roma, people with disabilities, and Europeans of African-descent to call on their governments to protect them from aggression and bigotry.

The United States still has a very long way to go to ensuring equal protection under the law for all. Our criminal justice system has become a warehouse for poor, Black, and Latino men. Our educational system continues to deny minority students the same opportunities as Whites. And African Americans, Latinos, Muslims, and Sikhs continue to be victim to state-sanctioned aggression and profiling. But because American Jewry has helped create and continue this inter-group partnership, the diverse communities of the U.S. have been able to transcend deep-seated differences to push our nation to better protect all Americans. If that can happen in the U.S. with our history of violence, bigotry, and oppression, it can certainly happen in any nation.
Wade Henderson is president and CEO of The Leadership Conference on Civil and Human Rights, a coalition of more than 200 diverse American civil rights organizations.
© The Huffington Post
Google pulls game that allowed players to track and kill gay men
An offensive game that encourages players to shoot homosexuals has been pulled after appearing on Google Play over the weekend.

24/11/2014- The game, Ass Hunter, is several years old but was downloaded 10,000 times yesterday and earlier today. Players are rewarded with points for successfully shooting gay men but if they are caught by a homosexual 'they will do with you whatever they want'. The horrifying description on the Android store said: 'Popular game hunting on gays is now on android! Play and do not be gay! 'Legendary game, where you are hunter and your mission is to kill gays as much as you can or escape between them to the next level. 'Gays may be hidden in bushes and unexpectedly catch you. Remember! When they catch you they will do with you whatever they want.' The game has received a string of negative reviews on the web giant's store.

Writing a review, Marcus Hamilton said: 'This developer is despicable. I cannot comprehend how someone could create a 'game' so wilfully ignorant, hate-ful, vile and violent. 'Do you realize that young gay men and women are attacked all the time, and your game could be the incentive for someone to act on their ignorance? 'Norma-lizing violence is never okay. By creating and publishing this 'game,' you're sending the message that you condone such violence. 'Shame. Shame on you. I will not rest until your developer account is deleted and you are laughed into obscurity.' Chad Hollinghead added: 'This is sickening. I have zero tolerance for hate. We the people should always promote tolerance, love and understanding. 'Vicious games, exterminating of minorities should be banned.' Google and App Day have been approached for a comment.
© Metro UK
Germany: Far-right extremists rally in Berlin
Around 800 far-right extremists protested the construction of a refugee hostel by shouting racist slogans.

23/11/2014- Around 800 far-right extremists protested the construction of a refugee hostel by shouting racist slogans on Saturday. Some 3,000 leftists and anti-fascists held counter-demonstrations and shouted anti-racist slogans, such as "Nazis' out" and "We are here, we will fight, freedom is everybody's right." The far-right extremist groups held a banner with the slogan "asylum care, no thanks" in addition to shouting racist chants. The two demonstrations walked around a kilometer side-by-side, accompanied by police. For a moment, the distance between the two counter-demonstrators decreased by two meters and the demonstrators threw bottles, fireworks and stones at each other. Around 1,700 policemen then intervened with pepper spray. Berlin police spokesman Stefan Redlich told The Anadolu Agency that three policemen were wounded during the rally. He added that "There was no large-scale violence during the rally because policemen carried out their duty to the demonstrators."
© World Bulletin
UK: 'I'm sorry' says former Britain First far right group member for terrorising Crayford mosque
A former member of a far right organisation has apologised to the congregation of a Crayford mosque he once joined the group in terrorising.

24/11/2014- Former Britain First member Matthew Lester, 26, gave an emotional address to a packed Friday prayer meeting at the North West Kent Muslim Association in Crayford High Street on November 21. The self-employed tablet computer salesman of Ramilies Road, Blackfen, was a member of former Swanley BNP councillor Paul Golding's group for eight months. But he quit at the end of October, accusing them of targeting Muslims in general rather than combating Islamic extremists. Matthew took part in a Britain First protest outside Crayford mosque in July, which followed Mr Golding's 'invasion' of the building earlier in the month, when he demanded separate entrance signs for men and women be taken down.

But on Friday Matthew told members of the mosque: "Britain First are a minority. "Don't let them give you a perception of what we think of you. "The majority of us want unity and we want to stand together. "Thank you for accepting my apologies and together we are stronger." Matthew is originally from Birmingham but moved to Blackfen two years ago. He has also visited mosques in Brent Cross and Tower Hamlets to say sorry. He told News Shopper: "Britain First were just manipulating my view and telling me what I wanted to hear. "They were just basically saying they were going to help the homeless and give blankets out but they never bothered.
© News Shopper
UK: Controversial 'golliwog' doll removed from shop window display
24/11/2014- A row over whether a golliwog in a Saltaire shop window causes offence to visitors to the World Heritage Site has ended with the controversial knitted character being removed from view. Speech therapist Susie Lloyd was shocked to see the black woollen doll in the display window of The Saltaire Vintage shop on Victoria Road, which she believes could have upset many visitors to the historic village. And the mum-of-two, who has lived in Saltaire for ten years, decided to ask the shopkeeper to remove the golliwog. "I went in and very politely explained that I didn't think she should be selling it as it is well known to be a racist and offensive toy," Mrs Lloyd said. "I said 'how would you feel about a young black child seeing that in the window?' "Like everyone who lives here I'm proud of Saltaire, it's a multicultural area and I think that's the sort of thing that could make people feel uncomfortable at the very least."

The shopkeeper denied it was racist and asked Mrs Lloyd to leave if she did not like what was on sale. "I wasn't ranting or anything and some people might say it's an historical item - but then the Nazis made anti-jewish items and you wouldn't expect them to be on sale. "Some people might say this is a small thing, but small things all add up," said Mrs Lloyd. Lesley Barrett shares the running of Saltaire Vintage Shop with two other women and on Friday said it was a colleague who put the doll in the window only days earlier and who also spoke with Mrs Lloyd. "There is certainly no question of the doll being a racist item," she said. "It had only been out for a few days and we had lots of people coming in, 'oohing' and 'aahing' over it and reminiscing - no other negative comments. "She's a pretty old doll and we've had people saying how they had one just like that. "Everything we sell is genuine vintage and nothing is reproductions and we just sell whatever we come across. "To say take it down is a type of censorship - gollies are still being made and for example there are lots for sale on Ebay."

Ms Barrett acknowledged that the doll could be used in a racist way, but said: "People throw bananas onto football pitches in a racist way, but that doesn't make the banana itself a racist item. "However, if we did get a lot of complaints about it, then the doll would be removed." And indeed by Friday evening the doll had been taken away with a statement from the shop that no offence had ever been intended. Saltaire traders spokesman David Ford, of the Bookshop, said modern sensitivities sometimes caused issues for vintage retailers. "If we start saying such things shouldn't be seen, then we start wiping out history. "I personal-ly wouldn't censor such things and I'm sure there isn't an ounce of racism involved. "My shop has books from the 19th and 20th centuries which would not be judged suitable today - but they are important social documents. "It's a very interesting subject for discussion," Mr Ford said.
© The Telegraph and Argus
UK: Police Deny Any Attempt To Shut Down Britain First Conference
23/11/2014- The far-right group Britain First have claimed that police "shut down" their first annual conference in Kent, but police have denied any interference, claiming they were called in response to a disturbance and did not attempt to halt the event. Police were called at around 2.20pm to the Swanley Banqueting venue in Hilda Avenue, Swanley, where the group were holding a gathering. In a Facebook post, the group said that the meeting "closed down by the police who threatened our activists with arrest!" Britain First also claimed that the police "deliberately cut the power in our Conference room" and said that "Deputy Leader Jayda Fransen even got an official police caution for opposing this outrageous breach of our democratic rights". A video posted of the event likened the police to the "Gestapo".

Kent Police told Huffington Post UK that the claims were entirely false. "Officers attended and spoke with members of the group and staff at the business," a spokesman said. The police did not ask the group to leave, nor stop the conference. The spokesman told HuffPost UK that the group left the venue by 4pm and that no one was given any official police caution. "One person was spoken to and given a harassment warning," he said. Britain First said it was "meeting with our solicitors this coming week to discuss ways to enforce our democratic rights and stop the police and local councils walking all over us". It was the second choice venue for the group after Owslmoor Community Centre, in the town of Sandhurst near the officer training academy, refused to host the conference. Local councillor Paul Bettison, leader of Bracknell Forest Council, said they had decided to cancel the event "due to concerns that it could impact on the peace and harmony of the local community, which includes several nearby community facilities."
© The Huffington Post - UK
How far-right party Britain First is gaining traction through 'Christian' ideology
Extreme right-wing parties such as Britain First are fast gaining support, aided by a political elite which has "deliberately ripped up our Christian heritage", a leading campaigner told Christian Today.

22/11/2014- Alan Craig, formerly the leader of the Christian People's Alliance and now a UKIP supporter, said that the Christian appeal of far-right groups is a natural response "to the political elite, which has deliberately ripped up our Christian heritage over the last 50 years, deliberately attacked it, undermined it and our society is poorer for it." "I'm not surprised that at long last people are rising up and saying 'enough is enough', we've been badly led by leaders who have wrecked our heritage," he said. Craig admitted that some political expressions "are fairly ugly", but stressed the importance of politicians talking about issues such as immigration, and said the popularity of groups like Britain First serves as an indication that the general population is "angry at the way culture is going". Main-party politicians, he added, have an "inbuilt hostility against Christianity".

"Of course they [far-right groups] are getting traction" because they appeal to ordinary people, he said. "Some of this can be ugly, there's no smooth PR, because it's coming out of people's guts and bellies – they're fed up, and I agree with them. As a Christian, I want to be on the side of the outsider and the marginalised...the powerful have got it all sewn up." Britain First has been compared to fascism, and is known largely for its arguably misleading and offensive posts on Facebook, where it boasts over 580,000 'likes' to date – more than the Conservative and Labour parties put together. One widely shared posting on social media claimed that illegal immi-grants and refugees are being given benefits of £29,900 a year – a figure that Christian Today was unable to find substantiation for.

The mother of Drummer Lee Rigby earlier this year criticised the group's use of her son's image during an election campaign, forcing the Electoral Commission to issue an apology. As stated on its website, the party's first principle is a commitment to "the maintenance of British national sovereignty, independence and freedom". It campaigns primarily against mass immigration, and its rhetoric repeatedly calls for a return to 'Christian culture'. Former BNP councillor Paul Golding, who has led Britain First since 2011, yesterday defended his party's stance, insisting that Britain "is built on Christianity". Speaking to Christian Today, Golding said: "Jesus Christ did use physical violence according to the Gospels in the temple in Jerusalem, and he met a very violent end. He preached love and forgiveness etc, but he also said he didn't come to bring peace; he came to bring division and a sword, he came to bring fire upon the world to sort the world out."

When asked how he reconciled discriminatory policies with a Christian ethos, he responded: "Quite easily." "All through the Bible from beginning to end, it doesn't talk about the brotherhood of man, it talks about nations and people. Quite frankly, if God wanted the world to be one, he would have made it one, but he made it into different nations," Golding added. "There's no need for hatred or enmity between different nations; we want to cooperate and be friends [with other countries] but we don't want our country to be demographically taken away from us and us to be made a minority. It's nothing to do with race, we're also opposed to the millions of white Europeans in this country, and we have black activists...[To call us] 'racists' is just a silencing tactic created by the left wing of politics to get us to shut up."

Golding says critics who accuse his party of racism are "absolutely" wrong. "What we stand for is not at all at odds with Christianity, our ideology is a Christian ideolo-gy," he said. A regular church attender, Golding said although he doesn't "really bother with denominations," he'd consider himself Protestant. "At the end we're all Christians," he explained, though he wouldn't share which church he's part of due to security concerns. At the heart of Britain First policies, he said, is a concern that the country is moving away from Christian principles. "Marriage is no longer sacred or respected, and neither are family values. This country used to be renowned for decency and manners – there's an old quip that 50 years ago if you trod on someone else's foot, they would apologise to you, such was the level of manners for British people – and we've lost that completely. "Our entire moral, cultural and religious fabric is falling away, and making us a much weaker and more degenerate country."

He believes that many of the party's supporters are also Christians. A survey of its 155,000 registered activists and supporters found that 75 per cent identified with Christianity, and only a minority considered themselves atheist. In response to Golding's assertions, commentator Andy Walton warned of a "growing trend" in far-right parties of trying to appeal to the idea of Christian heritage in Britain. "When Nick Griffin was in charge of the BNP he talked about defending Christians and defending Christian culture," he said. "Christianity and the Gospel don't need defending - God doesn't need defending by anyone, and we as Christians certainly don't need to be defended by a group of fascists." Walton added that while the Gospel can indeed be "divisive", its aims are fundamentally different to those of far-right parties. "The goal of the Gospel is not to alienate and cause misery and mire...The aim of the Gospel is to bring all things and all peoples, all races and all nations under Christ, which is very different and a much more radical perspective than fascism."

Vasantha Gnanadoss, a member of the General Synod who brought forward a motion in 2009 to ban members from belonging to organisations which do not promote race equality, stressed that the message of the Church must be that "we all, whatever ethnicity we are, belong together. That's what the Church promotes". "If they [political parties] do not promote race equality, then they are not doing that." Any clergy, ordinand or lay person who represents the church cannot be a member of the National Front or the BNP according to the 2009 measure, and it is possible for "other organisations to be added to that group", she added. Ian Geary, an executive member of Christians on the Left, criticised Britain First's controversial tactics. "The Jesus of the Bible would not invade Mosques in order to intimidate worshippers, including women and children, and wear Paramilitary style uniforms to frighten people," he said.

"The Jesus of the Bible's message is of love, compassion, forgiveness and grace. Britain First by their actions stand against all these principles. It is very difficult to see how they are inspired by Jesus Christ." Geary added: "Those inspired by Jesus live out the example of his justice, mercy and compassion by serving in their local foodbank, getting the unemployed into work and bringing together estranged communities in the spirit of the common good. "They also support voting in elections, standing for public office and a range of positive Christian engagement in politics driven by an insatiable desire to heal a broken world."
© Christian Today
US, Canada & Ukraine vote against Russia's anti-Nazism resolution at UN
UN General Assembly's Third Committee passed a Russia-proposed resolution condemning attempts to glorify Nazism ideology and denial of German Nazi war crimes. The US, Canada and Ukraine were the only countries to vote against it.

22/11/2014- The resolution was passed on Friday by the committee, which is tasked with tackling social and humanitarian issues and human rights abuses, by 115 votes against three, with 55 nations abstaining, Tass news agency reported. The document voiced concern over the rise of racism-driven crimes around the world and the influence that parties with extremist agendas are gaining. It called for a universal adoption of the International Convention on the Elimination of All Forms of Racial Discrimination. Many nations including the US, the UK, China and India, signed the convention but did not recognize a mechanism resolving individual complaints it establishes, which makes the convention unenforceable in their jurisdictions. The resolution also decried attempts to whitewash Nazi collaborators by depicting them as fighters of nationalist resistance movements and honoring them as such. It condemned any form of denial of Nazi war crimes, including the Jewish Holocaust.

Russia, which submitted the draft resolution, said it regretted that it could not be adopted anonymously. "The fact that the US, Canada and Ukraine voted against, while delega-tions from EU member states abstained in the vote on this draft resolution, which was supported by an overwhelming majority of the UN member states, is extremely regret-table," the Russian Foreign Ministry said in a statement. "Ukraine's position is particularly dispiriting and alarming. One can hardly understand how a country, the people of which suffered their full share of the horrors of Nazism and contributed significantly to our common victory against it, can vote against a resolution condemning its glorification," the ministry said. Moscow proposes similar documents to the UN General Assembly annually, but the US and Canada have consistently voted against them. Ukraine is a new nation among the opponents, as in previous years it has abstained.

Kiev's representative at the session, Andrey Tsymbalyuk, said that while Ukraine did condemn Nazism and neo-Nazism, it could not endorse the Russian resolution, because it suffered not only from Nazism, but also from Stalinism in the past. "As long as Stalinism and neo-Stalinism are not condemned as strongly as Nazism, neo-Nazism and other forms of hatred, Ukraine would not be able to back this document," the diplomat said. The resolution is to be formally adopted by the UN General Assembly as a body in December.
© RT
Hungary police 'blaming victims' of sexual assault
Police in Hungary have been accused of victim blaming after releasing rape prevention advice that warns women of the risks of flirting.

25/11/2014- They had already faced heavy criticism for a rape awareness film that seemed to partly blame the victim. Safety advice from Vas county police on Tuesday said that flirting by young women could "elicit violence." Women's groups and civil rights organisations have condemned the statement. The safety advice was published to mark the Inter-national Day for the Elimination of Violence against Women. Reka Safrany, of the Hungarian Women's Lobby, said she was shocked by the "unprofessional" campaigns that "very much blame the victims". The incident comes four days after Hungarian police were heavily criticised for releasing a public safety film with the slogan: "You can do something about it, you can do something against it." The film features a group of young women drinking and dancing with men at a nightclub after which one of them is sexually assaulted by a stranger. The video was called "harmful and dangerous" by Keret, a group of Hungarian women's rights organisations, in a statement published on social media on Monday. "It's not clothes that cause victims," the statement said. The group urged the police to take down the film and to change the angle of its safety campaigns.
© BBC News
France: Le Pen borrowed €9mn from Kremlin-linked bank
24/11/2014- The far-right French party, Front National (FN), borrowed €9 million from a Russian bank, posing questions over its relationship with the Kremlin. The loan, by the First Czech Russian Bank (FCRB), was granted in late September, according to a report out on Saturday (22 November) in Mediapart, an online investigative journal. It notes the FCRB is de facto owned by Roman Popov, a financier with close ties to the Russian political establishment. Wallerand de Saint-Just, the FN's treasurer, told Mediapart the loan was organi-sed by Jean-Luc Schaffhauser, an FN euro-deputy. "We'd been looking for a loan for a long time, notably to finance our election campaigns. Our bank, like many other French and European banks, categorically refused to lend a single centime to the FN or to FN candidates", he said. "So Mr Schaffhauser … who has had good relations in Russia for a long time, said: 'Let me go and see this bank'."

De Saint-Just denied the FCRB loan amounts to foreign interference in French politics, saying he has never met Popov and has only had contact with the bank's "technical" staff. Marine Le Pen, the FN chief and also an MEP, told French daily Le Monde that her party tried to get loans from Asian, Italian Spanish, and US banks as well as from the Russian lender. "The first one we managed to get, we signed, and we're very happy … what's scandalous is that French banks aren't lending", she said. She dismissed as "ridiculous" the question whether the FCRB millions came with strings attached. "That kind of insinuation is injurious and outlandish. Just because we got a loan, that'll determine our international position? We've had the same [pro-Russian] line for a long time", she said. Le Pen has praised Russian leader Vladimir Putin's actions in Ukraine and blamed the West for causing the crisis. Her deputies vote against Russia-critical resolutions in the EU parliament.

Schaffhauser was one of a handful of MEPs who went to monitor "elections" in the Russia-controlled Donetsk and Luhansk "republics" in east Ukraine on 2 November. Aymeric Chau-prade, Le Pen's advisor on foreign policy, went to monitor the Crimea "referendum" on independence in March. Le Monde reported earlier this year that Chauprade also met with Kremlin envoys in Vienna in May, along with other far-right European politicians, to discuss how to combat "European liberalism and homosexuality". The FN is currently polling ahead of both the centre-left and centre-right Socilaist and UMP parties in France. Meanwhile, Moscow's links to the far right are not limited to France. Hungarian authorities have asked the EU parliament to lift the immunity of Bela Kovacs, an MEP from the far-right Jobbik party, after accusing him of taking money from Russian intelligence services. Kovacs, who denies the allegations, like Chauprade monitored the Crimea "referendum". Tatjana Zdanoka, a Latvian MEP from the pro-Russian Latvijas Krievu savieniba party, who also went to observe the Crimea poll, is under a similar investigation at home.
© The EUobserver
The heat rises in France's banlieues
23/11/2014- "It was hot, so hot," Mady tells me, staring into the distance. "Everywhere, stuff was burning - cars, vans, buildings. That's what I think of when I think of the riots. I think of the heat". Mady Traoré is 24. Born in France, to Malian parents, he lives in Clichy-sous-Bois. About 15 miles north of Paris, Clichy is probably the most notorious of the French banlieues - the often rundown estates on the outskirts of the country's big cities, inhabited largely by second- and third-generation immigrants from North and West African former colonies. Clichy gained its unenviable reputation in 2005, when the neighborhood saw weeks of rioting and firebombing - les flambées in street patois. Two youngsters had died from electrocution while hiding in a power sub-station. They had fled there after being chased by the police, in what turned out to be a case of mistaken identity,.

The deaths triggered a wave of violence. Across France, les banlieues have long been a powder keg of marginalization, poverty and resentment, not least among young men of African origin. Street battles with the police in Clichy unleashed turmoil in quartiers difficile from Paris to Lille, from Toulouse to Marseille. The 2005 riots were the worst in modern French history, resulting in 3,000 arrests, the burning of 10,000 vehicles and serious damage to hundreds of public buildings. A state of emergency was called, which lasted three months. Since then, the French government has spent tens of billions of euros trying to raise living standards and create employment, particularly for youngsters, in neighborhoods such as Clichy. Now such spending is under threat. The French economy has barely grown since Francois Hollande became President in 2012, seriously weakening the budget.

For months, Berlin has been urging Paris to rein in its still vast fiscal deficit, amid fears that policy excesses could spark a disastrous systemic collapse of the eurozone. Tensions are now coming to a head. On Friday, Germany's European Commissioner questioned Hollande's "willingness to act", openly deriding French efforts at fiscal retrenchment after a succession of missed deficit targets. "Money is getting tighter, of course, but we're doing what we can," says Laurence Ribeaucourt, a social worker who grew up near Clichy but a world away, in the prosperous Le Raincy district. She's spent 25 years working with Clichy's disaffected youth. "There's a growing sense of reunion - people are trying - but unemployment remains a big problem," Ribeaucourt says. "With Clichy on their CV, many kids don't have a hope," she explains. "Paris is another planet - we're miles from the Metro, and tens of thousands of people here are served by just one slow bus route".

There are signs of regeneration in Clichy - in the form of some new playgrounds and street furniture. But the housing stock remains ghastly, mostly rundown post-war tower blocks, often overcrowded and with permanently broken lifts. Tuberculosis and lead poisoning aren't uncommon. And tenants without the right paperwork pay double-rent, Ribeaucourt tells me, or landlords report them to the police. Since 2005, surveillance cameras have been installed right across Clichy and are now almost as ubiquitous as "F--k the Police" graffiti. Ominously, the district's new police station, built after the riots, is surrounded by a 12-foot high solid steel wall, topped with metal grids to repel Molotov cocktails and other types of firebombs.

While French unemployment stands at just above 10 per cent, in Clichy it's more like 25 per cent. Among the under-25s in the district, over 40 per cent are out of work. "The economic crisis is causing a social crisis, particularly in les banlieues" says Amirouche Ait Djoudi, the Algerian-born Director of Impulsion 75, a Paris-based youth support group funded by both public and private money. "It wasn't so hard for young Algerian boys like me 30 or 40 years ago," says Mr Djoudi. "There was work for unskilled labour and our families could thrive. But today's immigrants are often unemployed, so they feel lost - and every year over 150,000 more French youngsters leave school with nothing".

Social - and racial - tensions are rising in France, with mainstream politicians increasingly dismissed as out of touch. In May, Marine Le Pen's far-right Front Nationale won the European elections, attracting 25pc of all votes - on an anti-immigration, anti-Europe ticket. Le Pen's popularity has deeply unnerved the French political establishment, with polls suggesting she could now win the 2017 Presidential election. "One reason Le Pen is strong is that many poorer French people don't vote," says Fabrice Amaudruz, a Research Director at the University de Citoyen in Marseille, where studies into social deprivation are funded by George Soros's Open Society Foundation. Amaudruz reports that in areas like Clichy, or the tough 13th arrondissement of North Marseille, abstention rates can top 70 per cent. "It's crazy, but when people in les banlieues do vote, it's often for Le Pen despite her racist message," he explains. "It's partly out of fear but also because many immigrants hate the European Union. They see it as the cause of their problems, saying Brussels wants to lower social spending and decrease workers' rights".

Mr Amaudruz describes as "shocking" the fact that in his native-Marseille, the Front Nationale now holds mayoral office in several areas with majority-immigrant communities. "France has a good tradition of people living together, which Le Pen is trying to wreck," he says. "But some immigrants vote for her and many others abstain - and that helps her win elections". Back in Clichy, Pauline Mubiala and Anissa Rhenzour, both aged 14, are playing football. They train every week, in an all-girls team on a high quality all-weather pitch that was laid after the 2005 riots. "I like coming here," says Pauline. "I enjoy the team work, the exercise and I learn lots of lessons for life". Smiling at her friend, Anissa feels the same way. "We have to turn up on time, with the right kit, or we don't get to play," she says. "Some of the guys on the estate call us tomboys, but I don't mind that - I've been at this club for four years now and football is my passion".

Their coach, Manu Da Rocha, himself of immigrant stock, looks on with pride. "These girls are good players," he says. "Their football gives them hope". Lowering his voice, he looks he straight in the eye. "Doing this is great for them - it means they're standing up to macho guys around here who disregard women," he says. "By playing football, these girls are showing they won't be pushed around, and that's what they need to learn". Watching Da Rocha expertly coach several dozen girls, almost all of North or West African origin, doing well-drilled training exercises on a pristine surface, it's hard not to feel inspired. Yet, it's clear that, beyond such social programs, the French policy mix isn't helping to generate the jobs and growth that could help limit social and racial problems.

Attempts to lower the minimum wage for youngsters, a move many think would reduce youth unemployment, have fallen foul of the all-power French unions. The country's famously excessive bureaucracy also discourages the growth of employment-intensive small and medium-sized firms. "We implemented a tax-free zone in Clichy, encouraging investors to set up businesses but it didn't work as people couldn't see beyond the area's bad image," says Ms Ribeaucourt. "That didn't stop people using a Clichy address as a tax dodge, while employing people elsewhere," she adds with shrug. Mady Traoré has made a lot of progress since the 2005 riots. He has a job, working as an information clerk for SNCF, the French state-owned railway. Unlike some of his neighbours, he has good relations with local police. "There are still chances here in France," he tells me defiantly. "If you really want to get on, then you can get on - and I'm proud of the work I do".

With intense negotiations taking place this weekend between Paris and Berlin, the European Commission's ruling on whether France must take extra steps to control its budget deficit could emerge as early as Tuesday. Cuts in social programs, and government-sponsored jobs like Madi's, will do little to help Clichy-sous-Bois. "My family is French, since long before Napoleon," says Ms Ribeaucourt. "And I'm not scarred of Le Pen. She may win the first round of the election, but I still believe in France. And there's no way we're mad enough to give her the Presidency".
© The Telegraph
France: Far Right success dampens anti-racist group's 30th birthday
The French anti-racism group SOS Racisme marks its 30th anniversary today. Formed in 1984 to tackle racism, the organization still faces many of the challenges that inspired its initial creation, including the alarming rise of the Far Right in France and across Europe.

22/11/2014- It was a historic march against inequality that led to SOS Racisme's creation 30 years ago. In 1983, thousands of demonstrators poured out onto France's towns and cities, to vent their anger against the prejudice suffered by the country's North African immigrant population. It was in this explosive racist climate, that the French anti-racist group SOS Racisme sprung to life, adopting the iconic slogan: "Don't touch my friend," featured on a big yellow hands-up sign. The youngest of four anti-racism groups in France, the principle of the association is to defend ethnic minorities against discrimination. Thirty years after its creation, its battle is still the same, except now it faces new challenges. Bernadette Hétier, co-president of the MRAP anti-racist movement in Paris, says the danger now is the Front National party, which has capitalized on anti-immigration sentiment. In a 2012 report, the National Commission for Human Rights estimated that 1539 acts of racism had been carried out, roughly a rise of 23%.
© RFI
GERMANY & UK NEWS Week 47
Germany: Far-right agenda gains ground in middle class
Overt xenophobia and fascism have lost a lot of ground in Germany in recent years. But a new survey of attitudes shows a creeping tendency in moderate society to sympathise with core ideas of the far right in private.

21/11/2014- Researchers at the Friedrich Ebert Foundation (FES) in Berlin found that behind growing scepticism towards the euro, support is growing for concepts more readily associated with the right wing. In a survey of 1,915 people between the ages of 16 and 95, some 36 percent of respondents believed that Germans should be more assertive about their national pride. More than 10 percent said Hitler's dictatorship also had good aspects, while 11 percent agreed with the statement: "We should have a Führer who will govern Germany with a strong hand for the benefit of all." "There are no grounds to panic," Dr Ralf Melzer, the publisher of the report and the foundation's leading expert on right-wing extremism, told The Local. "It's a mixed picture of good news and bad news." In some areas right-wing attitudes are receding, especially in the former East Germany. But in others the study showed "a shift towards more subtle forms", including growing scepticism towards Islam's place in Germany, the plight of refugees and asylum seekers. Forty-two percent of respondents also believed that most asylum seekers arriving in Germany were not perse-cuted in their homeland.

Anti-Semitism on the rise
The study, titled "The fragile middle - hostile conditions", was conducted between June and September across the country. Among the observed "ups and downs" compared to earlier studies, Melzer noted a pronounced drop in sympathy towards Jews in recent months. While classical anti-Semitism has decreased compared to 2004, it grew again after summer violence in Gaza. Eighteen percent of respondents said that because of their behaviour, Jews are partially responsible for their persecution. And 15 percent felt Jews had too much influence in Germany. Half of respondents said they are tired of hearing "about the German crimes against the Jews again and again". Support is also growing for aspects of 'social Darwinism', where migrants and the unemployed are regarded as a societal burden to be left to fend for themselves.

'Not my problem'
But as much as anything, the results showed colliding attitudes harboured by the same people. While 87 percent of respondents saw a clear threat in right-wing extremism, 52 percent believed the issue had been blown out of proportion by the media. And 49 percent believe the best way to deal with it is to ignore the right-wing altogether. This kind of thinking "opens the door to right-wing populism", warned the study's author, Andreas Zick. People are still generally distanced from neo-Nazi groups like the National Socialist Party (NSP). But they are increasingly drawn to the euro-critical Alternative for Germany (AfD) party, which Melzer said was comparable to UKIP in Britain or the Danish People's Party, and "seek to mobilize populist potential". "The AfD's followers harbour above-average sympathies for nearly all facets of right-wing extremist ideology," Zick also indicated. Although the AfD denies advocating right-wing ideology, isolated outbursts don't help its image: In October, a party member said the gas chambers in Dachau had been built by the Allied occupation.

The party reportedly has 22,000 members, showing a fourfold increase in the past 18 months. By comparison, the country's two leading parties the Social Democrats (SPD) and the Christian Democrats (CDU) have just under half a million members each. While tolerance and multiculturalism became a cornerstone of post-war Germa-ny, the shift in attitudes in recent years may partly have been fuelled by politicians' comments that all is not well, especially in matters of immigrant integration. In 2010, Chancellor Angela Merkel caused a stir when she said attempts to build a multicultural society in Germany had "utterly failed". The so-called "multikulti" concept, where people "live side-by-side" happily, did not work, Merkel said, adding that immigrants needed to do more to integrate - including learning German. The comments came amid rising anti-immigration feeling in Germany. A Friedrich Ebert Foundation survey conducted that year suggested that more than 30 percent of Germans believed the country was "overrun by foreigners".

Right rethinks image
Meanwhile, perhaps mindful of the ground gained by the AfD, hard core neo-Nazi groups also started to drop the skinhead look and try to enter the mainstream with more reasoned argumentation than flailing fists and steel-capped boots. With defter use of social media and opting for a more contemporary and less aggressive look, they have even been dubbed 'Nipsters', a fusion of neo-Nazi and Hipster. Asked to name his greatest concerns based on the findings, Melzer said the "suppression mechanism" of the wider public was a worry, as evidenced by the 49 percent who advocated ignoring right-wing extremism. If they recognize it, "they delegate this problem to the police or politicians," rather than taking a personal stance against it, he said.
© The Local - Germany
Parliament report: 88 pct of German mosque attacks unsolved
A report released by Parliament's Human Rights Commission following the burning of three mosques in Germany in August has reached interesting conclusions in its study of Islamophobia in Germany, revealing that the vast majority of perpetrators of such crimes have gone unpunished.

20/11/2014- Human Rights Commission President Ayhan Sefer Üstün reported on the comprehensive research carried out in Germany. The parliamentary report states that of the 297 attacks on mosques from 2001 to the present day, 244 (88 percent) of the crimes' suspects or perpetrators have not been captured. According to the report, "A large portion of these attacks on mosques remain unpunished ... opening the way for fear, worry and insecurity among members of the Muslim population." The Human Rights Commission, which has previously done research and prepared important reports on the problems of Turks residing in various European countries, decided to carry out the most recent research about attacks on mosques after three mosques were attacked on Aug. 11 and 19 in the German cities of Berlin and Bielefeld.

The commission, preparing its report with the help of the Turkish community and in the light of meetings with officials of the German government, found shocking evidence in its inquiry into the mosque attacks in. The report cites figures published by the German government, noting that in the 13-year period from 2001 to 2014 there were 297 attacks on Muslim places of worship. It further notes that in 88 percent of these cases, those alleged to have performed the crime were not arrested. According to the same data, while the monthly average until 2011 was one or two attacks, in more recent years this rate has risen to three a month. While many of the crimes did not receive significant media attention, the report states that the number of attacks has steadily increased. The report also notes that the number of suspects who have been detained by the police but then found to be innocent after investigation has also increased.

Racism and Islamophobia have returned to Europe
The following information was also outlined in the report: "In Germany in the year 2012, of the 67 attacks on people of Turkish origin, 33 had Islamic people or institutions as their target. ... In the first nine months of 2014, of the 25 attacks carried out, 14 had religious motives and 10 were attacks on mosques." The report continued: "…Germany and also all of Europe have entered a state of xenophobia and racism. Attacks on mosques have increased significantly in recent years. The attacks carried out on three mosques, two in Berlin and one in Bielefeld, which constitute the main factor in the commission's investigation, targeted the freedom of the rights to life, belief and worship. "Because of the [German] authorities' declaration that excluded the possibility of racist or xenophobic motives behind the burning of the Berlin Mevlana Mosque, as a result of media reports that portrayed the events as unimportant and due the hesitant behavior of politicians, the door has been opened for the Turkish community to feel that it is not being protected. "When faced with this situation, [the commission has observed] that effective deterrents have not been implemented and that police efforts to apprehend perpetrators have been insufficient. Racism and xenophobia are not matters that can be controlled by police measures alone. The education system, the systems of the state, the media and civil society should take action in the struggle against racism."
© Todays Zaman
Right-wing extremism drops in Germany, but...
On the surface of it, Germans are becoming more tolerant. But the authors of a long-term study aren't as pleased with this development as one might expect.

20/11/2014- Germans haven't exactly gone all sweet and cuddly, but over the past two years there has been a big change in attitudes toward right-wing extremist ideology. According to the study "Fragile center - hostile conditions," the proportion of people who approve of xenophobic ideas has sunk from 25 percent to 7.5. The number of those who think chauvinistically - i.e. that Germany is somehow a superior nation - has gone down by a third. And acceptance of anti-Semitic statements among respondents has also dropped significantly, from 8.6 to 3.2 percent. "What we may well be seeing here is the massive amount of educational work having an effect," comments Andreas Zick, director of studies at the Institute for Interdisciplinary Conflict and Violence Research at the University of Bielefeld. But the sociology researcher doesn't think the figures are a reason to give the all-clear.

"Norms are fragile, and there's a strong polarization between clear agreement with - and clear rejection of - statements hostile to particular groups," he says. Zick also points out that people with a closed, right-wing extremist worldview are more likely than previously to resort to violence. According to the researchers, opinions are less stable beyond right-wing circles. Another questionnaire done at a later point on the subject of anti-Semitism showed how quickly opinions in German society, which the researchers describe as characterized as fragile, can change. For the current study, around 2,000 randomly selected people were interviewed over the phone between July and August by the Social Sciences Polling Agency in Duisburg.

The follow-up interviews were done in September, against the backdrop of military action and killings during the conflict between the Palestinians and Israel. In early autumn there was a noticeably more agreement with negative statements such as, "Jews have too much influence in Germany" and "The Jews bear part of the responsibility for their persecution." The respondents were also no longer as prepared as before to separate criticism of Israel from classic anti-Semitic attitudes.

Marginal groups, marginalized
Forty-four percent of respondents had an emphatically critical view of asylum seekers. When asked whether new arrivals in Germany should make do with less than those who have been here longer, as many as 60 percent agreed. Forty percent felt it would be good if the long-established population had more rights than the new. Forty-two percent did not believe that asylum seekers were genuinely politically persecuted in their home countries. In the eastern German states, rejecting asylum seekers is even more pronounced (52.8 percent) than in the west (42.4). Once again, this study proves that the greatest prejudice is found in precisely those areas where people have least contact with foreigners.

In this study, only the long-term unemployed and the socially needy come off worse than asylum seekers. Almost half of respondents believe that the majority of long-term unemployed people have no interest whatsoever in getting a job. A similarly high number agreed with the statement that the long-term unemployed were having a good time at the cost of the community. Around a third would approve of the homeless being removed from the pedestrian zones in town centers. As Zick observes with alarm: "In some instances, the devaluation of various weak social groups would be capable of securing a majority."

Interviews done over the phone
For 12 years now the Bielefeld Conflict Research Institute has been investigating mainstream hostility to particular groups in German society. The Friedrich Ebert Foundation, which is linked to Germany's Social Democratic Party, has been publishing its "Center" studies at two-year intervals since 2006. For the current study, respondents were interviewed over the phone, whereas in previous years the interviews were done face to face. Theoretically, some of the results could be influenced by the change in interviewing methods. However, Frank Faulbaum who is responsible for carrying out the survey, believes the altered data collection method to be of negligible influence.
© The Deutsche Welle.
German survey: Spike in anti-Semitism after to Gaza war
The survey showed a rise in negative views towards Israel and Jews in general between June and September, coinciding with Operation Protective Edge.

20/11/2014- German anti-Semitism and resentment towards Israel has risen sharply in recent months, with more than one in four respondents in a new poll equating the Jewish state's treatment of Palestinians to Nazi persecution of Jews during World War Two. The bi-annual survey on xenophobia in Germany by the Friedrich Ebert Foundation showed broad measures of anti-Semitism on the decline over the past decade. But it also showed a spike in negative views towards Israel and Jews in general between June and September, coinciding with the conflict between Israel and Hamas terrorists in Gaza. More than 2,100 Gazans, 67 Israeli soldiers and six Israeli civilians were killed during the 50-day Gaza conflict.

When asked in September, for example, whether they believed Jews, because of their actions, were partly responsible for their own persecution, 18 percent of respondents agreed, up from less than 8 percent in June. Just over 27 percent of those surveyed in September said they broadly or fully agreed with the idea that Israel's treatment of the Palestinians was no different than Nazi persecution of Jews during the Holocaust, when six million Jews were murdered. That survey result was still down significantly from 2004, when over 51 percent of respondents agreed with this statement. One in five respondents, in the survey of 1,915 German citizens, said Israel's policies made Jews less likeable.

"The lines between anti-Semitism and substantive criticism of Israel are becoming blurred and that is a problem," the Friedrich Ebert Foundation said in a statement. The survey was released a week after German Foreign Minister Frank-Walter Steinmeier warned at a conference in Berlin that "hatred of Jews" was on the rise in Germany and across Europe amid spiralling violence in the Middle East. During the height of the Gaza war this summer, Jews were attacked and slogans like "Gas the Jews!" chanted at pro-Palestinian demonstrations in Germany. Molotov cocktails were also thrown at a synagogue in the western city of Wuppertal which had been burnt down on Kristallnacht - a Nazi attack on the Jews in 1938 - and subsequently rebuilt.
© Reuters
German police close in on thieves who stole Dachau sign
Officers investigating theft of Arbeit Macht Frei sign are analysing skin traces and cigarette butts left at the concentration camp.

19/11/2014- Police in Bavaria have uncovered new leads in the theft of the "Arbeit macht frei" sign from the former Nazi concentration camp at Dachau, according to reports. The notorious sign, erected by the Nazis at the entrance to the camp where tens of thousands of prisoners died, has been missing for two and a half weeks. But police have now been able to obtain DNA samples from cigarette butts and skin traces the thieves left at the scene of the crime, according to Süddeutsche Zeitung newspaper. The thieves apparently left skin cells behind when they climbed over a gate to get into the site. The DNA samples are now being compared with German and international criminal databases for a possible match. Witnesses have also reportedly come forward and described two suspicious strangers seen in the area on the night of the theft. One described being stopped and asked for directions to the former concentration camp at around 1.30am, by a man with a Scandinavian accent driving a car without its lights on.

A second witness described being asked for directions to the site by a man with a Polish accent about an hour later. Police have not commented on the claims, but when a similar sign was stolen from the Auschwitz concentration camp in Poland in 2009, it was discovered that a Swedish neo-Nazi had paid a Polish criminal gang to remove it. Anders Hoegstroem, the former leader of a Swedish neo-Nazi group, and his five Polish accomplices were convicted and imprisoned. The Auschwitz sign was found within three days, and there were initial hopes the Dachau sign would be recovered as swiftly. The theft of the sign has caused international revulsion. Angela Merkel described it as "appalling" and called for those responsible to be "caught quickly and held to account". It remains unclear exactly why the Nazis erected signs proclaiming "Work will set you free" at the entrances to concentration camps where millions were sent to die.

More than 200,000 prisoners were held at Dachau. It was originally intended to hold political prisoners, and later used for to hold slave labourers and Jews. There were 32,000 documented deaths at Dachau, and thousands more that were not recorded.
© The Telegraph
Germany: Auschwitz commander's grandson: Why my family call me a traitor
Auschwitz commander Rudolf Hoess was one of the men tried in Nuremburg, in a series of hearings which began 69 years ago today. His grandson tells The Telegraph of his shame over his relative's actions - and why he thinks Europe has not learnt its lessons from the past.

20/11/2014- There is no grave marking where Rainer Hoess' grandfather lies. But if there were, Mr Hoess knows what he would do. "I would spit on it," he said. "I can't forgive the burden he brought into our lives. We had to carry a very heavy cross." Mr Hoess's grandfather was Rudolf Hoess – the Nazi commandant of Auschwitz concentration camp, and the man who oversaw the murder of an estimated 1.5 million people. And November 20 marks the day, 69 years ago, that the trial of his grandfather began in Nuremburg – perhaps the biggest series of trials of the past century. Mr Hoess, 49, is the only member of his family to publicly denounce his grand-father, who was hanged at the end of the trial, in 1945. And he told The Telegraph, speaking by phone from his home in Germany how, as a child, he had no idea of the history of the man who died 20 years before he was born. "There was a dictatorship in the house, and we weren't allowed to disagree," he said. "I had to admire my grandfather like a hero."

Hoess joined the Nazi party in 1922 and 12 years later became part of the SS. His extensive experience at Dachau and Sachsenhausen as well as his long-time friendship with SS commander Heinrich Himmler led to his appointment as commandant at Auschwitz in 1940. He was the designer and administrator of the gas chambers and the one that introduced the Zyklon B gas that was used to execute children, the elderly and everyone else that was unfit to work. It was not until Mr Hoess was 12, while at boarding school, that he learnt the true story of his dark family secret. Security guards caught him and his friends stealing from the kitchen, and so the head master of the school punished them by forcing them work in the garden. However, the gardener was an Auschwitz survivor, and the young boy's name immediately caught his attention. So he kept him working for three months – with the pretext that he wasn't working hard enough – and enjoyed slapping and kicking around the unruly pupil. The boy couldn't understand why.

It was only when a teacher told him that his grandfather was responsible for all the agony the gardener had witnessed at the extermination camp, that he understood. But still his father, Hans-Jurgen – Rudolf's son – dismissed those claims. "My father would punish my mum and me. My mother tried to kill herself ten times and she once tried to hang herself from the balcony. I tried to kill myself twice and suffered from three heart attacks and a stroke in the 1990s." Three years later the young Mr Hoess spent the holidays with his grandfather's driver, who told him of the luxurious life enjoyed by Rudolf Hoess in the villa he lived in near the camp. "Life at the villa was beautiful – but prisoners would be punished there," he said. "One of them got lost in the garden and was taken back to Auschwitz to be hanged. He was only spared at the last minute because my grandmother needed him to work."

In the villa many Jehovah's Witnesses were forced to work indoors. Communists, political opponents and gipsies were made to work outdoors. No Jews were allowed in the premises. Hoess's driver added that the Auschwitz commander always ordered a prisoner to sing for him before he went to bed. "He was a cold-hearted soldier who got 20,000 people killed by dinnertime – with the excuse that he just did his job," said Mr Hoess. "Yet he would later turn to a loving father who would tuck his kids in bed." Eventually, Mr Hoess left home at the age of 16, trained as a chef, and broke all contact with the rest of his family by 1985. He said that they now call him a traitor. He had the chance to visit Auschwitz for the first time one cold morning in 2009 with his mother, an Israeli journalist and writer Thomas Harding. "I couldn't sleep the night before I went, and was walking around my room instead," he said. "At first I was looking for reasons not to go – but I had to check with my own eyes and needed to feel Auschwitz. "It was hard.

"There was silence inside the car when we arrived. It was scary. I couldn't believe how big it was. I couldn't touch the bricks or anything else." Mr Hoess's grandfather tried to escape with his family to South America after the war, but was captured by the British, confessed to his crimes in Nuremberg, and was hanged next to the camp's crematoria. The site of his execution is still there – and Mr Hoess considers it the best part of the tour. "He couldn't harm or punish people again. I wondered how he felt before being executed. How did he feel while looking at the villa, crematoria and camp?" Mr Hoess was given a Star of David as a present by a Jewish lady, which he promised to wear at all times. "It offers me joy and help," he said. He was also recently informally adopted as the "grandson" of Eva Mozes Kor - an Auschwitz survivor, who was used in Mengele's infamous experiments.

He currently lives in south west Germany and speaks at around 70 schools a year where he tells children about his grandfather as well as extremist parties. "I never miss a chance to take on the far Right, " he said. "I have no fear in facing them." Mr Hoess said that the "ideology virus" is alive and well in Europe today, and warned that "all far Right parties are exactly the same as the Nazis." He believes that if his grandfather was alive today, he would definitely join those political bodies. "Their ideology is the same and they never switched rules. They use horrible phrases to influence young people and say that minorities steal jobs and space. Just like the Nazis did with Jews." He added that the only difference now is that the far Right parties have learned from the Nazis' mistakes. "They find effective and silent ways to spread their hate to others. But now they are not just talking about Jews, now the target is much bigger," he said. "The movements are much better organised than Hitler's Germany. I think the rest of the countries have learned nothing from the past."
© The Telegraph
Germany: Teacher Fined $1,200 After Covering Neo-Nazi Graffiti With Paint
19/11/2014- A teacher has been ordered to pay $1,200 for spraying black paint over neo-Nazi graffiti and stickers on light poles and benches near a public school. Ralf Bender, 52, challenged the 991 euros fine in a court in the German city of Limburg this week. "I did not damage any public property," he said, arguing that "the city originally did nothing to remove the disturbing symbols" and that it was his "duty as a democrat" to take action. The display of Nazi symbols, including swastikas, is illegal under German law. Officials argued that removing Bender's paint from at least 10 light poles will cost the city money. Alexandra Hesse, a spokeswoman for the city of Limburg, said Bender had gone too far. "If he would have just scraped off the symbols we would have given him a medal, but he went over the top," she told NBC News. A verdict in Bender's appeal is expected next month. Bender isn't the only German on such a crusade. Retired special-needs teacher Irmela Mensah-Schramm has removed more than 90,000 stickers and scribblings over the past almost three decades.
© NBC News
Germany: Neo-Nazis accidentally raise funds for left wing charity
Neo-Nazis marching through a German town unwittingly raised thousands of euros for a tolerance project, organisers of the anti-extremist protest action said Monday.

18/11/2014- Local businesses and residents agreed to donate 10 euros ($12.50) for every metre (yard) walked in the far-right rally on Saturday through the town of Wunsiedel in Bavaria. The 10,000 euros collected will go to EXIT-Germany, a charity helping neo-Nazis turn their backs on the scene. Organisers hung humorous posters along the route and even painted a finish line at the end of the march with a sign "thanking" the 250 participants for their "donation". A video posted by EXIT on YouTube indicated that the neo-Nazis only learned of the fundraiser when they crossed the finish line. Far-right extremists have marched through Wunsiedel every year for more than two decades on Germany's National Day of Mourning, which is dedicated to all victims of "war and tyranny".

The neo-Nazis chose the town because Hitler's deputy Rudolf Hess, who was found hanged in a West Berlin prison in 1987, was buried in Wunsiedel before his remains were exhumed in July 2011 and the grave destroyed. But even the destruction of the site has not stopped the far-right from congregating, although authorities say their rallies have grown smaller. Shopkeepers had long chosen silent forms of protest and legal action to fight the marches but the fundraiser's co-organiser Fabian Wichmann said this year the town decided to take a more creative approach. "We want to show what else you can do, what other courses of action you have," he told German news agency DPA. "You can do more than just block the street or close the shutters."

Far-right marches in Germany often attract much larger counter-demonstrations. Also on Saturday, a rally by around 3,000 right-wing extremist football hooligans against "Islamist extremism" in the northern city of Hanover drew two protests of leftist and anti-fascist demonstrators of about 4,000 people.
© AFP
Germany: 2014 sees jump in refugee home attacks
Federal investigators said on Sunday that attacks against refugee housing had increased dramatically in 2014, but refugee organizations warned against panic.

17/11/2014- Police recorded 86 separate incidents, from graffitied swastikas to broken windows and arson attempts, between January and September. As many attacks were recorded in the first nine months of the year as in 2012 and 2013 put together, federal criminal investigators (BKA) told Spiegel. And there were over 200 demon-strations against refugees in the first 10 months of the year, refugee organizations Pro Asyl and the Amadeu Antonio Foundation reported. "You have to put it the numbers in context," a Pro Asyl spokesman told The Local, saying that the increasing numbers of people arriving from conflict zones was bringing them into contact with parts of Germany where they might not have been seen before.

"There are a lot more places where refugees are being accommodated in Germany. Often in places where there are existing far-right structures." The other side of the coin was just as important to remember, he argued. "A lot more people are prepared to help than I've seen over the last 25 or 30 years, it's nothing like the 1990s. "There is only very limited support for the far-right extremists... there's a broad consensus about this issue (of welcoming refugees), even if there are administrative problems when they first arrive." Germany's asylum system has been plagued by problems as the number of people arriving from Iraq and Syria has increased in 2014, with many refugees living in temporary accommodation. An Interior Ministry spokesman told Spiegel they were closely monitoring the number of attacks.
© The Local - Germany
Germany: Nazis demand Jews' addresses
Extreme political party in Germany evoke chilling memories of people-hunting in 1930s

15/11/2014- A neo-Nazi party has demanded to know where all Jews in the city of Dortmund live in a chilling echo of the build-up to the Holocaust. Die Rechte – The Right – wrote to mayor Ullrich Sierau through one of its councillors, Dennis Giemsch, seeking to know how many Jews live in and around the town, and their addresses. He asked that the infor-mation be supplied at a meeting of the council in the town hall on Wednesday night. The demand was refused and the letter has been passed to the interior ministry of the state of North Rhine-Westphalia, which is looking at ways to legally ban the party. Full-time computer student Giemsch said the information was 'relevant for our political work'. Die Rechte is the smallest of the far-right groups in the country but its numbers are growing, particularly among the young.

The echoes of the terror that was unleashed on Jews after Hitler came to power in 1933 is not lost on Jews everywhere in Germany because the Holocaust of six million began with their registration, their numbers and where they lived. Die Rechte has been under the watchful eye of the Office for the Protection of the Constitution, the domestic intel-ligence service, since it was founded two years ago from the rump of an old neo-Nazi party. It is the smallest of the far-right groups in the country but its numbers are growing, particularly among the young. In the party programme it swears to protect the 'German identity,' ban English words in advertising, 'protect' German culture, limit immigration, kick out foreigners convicted of crimes, support 'German' families to have 'German' children, widen police powers of arrest and protect animals.
© The Daily Mail.
Germany: Hanover rally against radical Islam ends calmly
A rally in Hanover called by self-professed hooligans opposed to radical Islamism has drawn a smaller than expected turnout. Authorities had set tight controls following a Cologne rally last month that turned violent.

15/11/2014- Officials had expected around 5,000 hooligans and right-wing extremists to turn out to the rally, held on a square near the main train station in the northern German city of Hanover on Saturday. However, a police spokesman told a DW reporter at the scene that only an estimated 2,600 had turned up. He said that a counter-demonstration had also taken place only "a stone's throw away. Unlike a similar demonstration in Cologne on October 26, which ended with pitched battles between groups of hooligans and police, Hannover's rally took place under severe restrictions meant by authorities to prevent a repeat of the violence.

Body searches
Prior to Saturday's demonstration, local authorities had announced that each individual demonstrator would be subject to a body search by police, and that alcohol was banned at the rally. All forms of pyrotechnics were also prohibited, and the demonstrators were not allowed to march through the streets of Hanover. Last month, Cologne demonstrators initially marched peacefully, but some protesters later threw beer bottles and ignited firecrackers at police.

High police presence
DW's reporter said that the high police presence and the restrictions in Hanover appeared to have worked. "There's no violence, and the scene is rather quiet, despite thousands of police, some mounted on horseback. There are also massive vehicles armed with water cannon." Drechsel when the demonstration was still ongoing. Like last month's Cologne gathering, the Hanover rally was organized by a group calling itself "Hooligans against Salafists" (HoGeSa). It is an alliance of violent soccer fans and right-wingers who say they fear the rise of radical Islam in Europe.

Court upholds freedom of assembly
Earlier in the week, police had attempted to get the Hanover's local authorities to ban Saturday's demonstration, entitled "Europe against the terror of Islamism." HoGeSa won the right to go ahead with the demonstration, after a district court overturned the initial ban, citing Article Eight of the German constitution which is supposed to guarantee freedom of assembly.
© The Deutsche Welle.
UK vs Germany: experiences of being "ginger"
20/11/2014- When the Life Links team sat down to discuss #dealwithme, onliners Gianna and Lou struck on the topic of 'gingerism'. Both have gorgeous red hair - but had very different experiences of it when they were growing up.

Lou's story: being a redhead in the UK
Growing up "ginger" in the UK is hard - kids are bullied and adults fear attack.

Long red hair, freckled cheeks and fair skin - as a young girl at school, I was a target for bullies. "Ginger", "Ginger minger", "Duracell" - think the battery with the orange top and black body - and "carrot top" were just some of the names I was called while I was growing up. And away from the playground there were other comments. "Oi, are your pubes ginger, too?" someone once yelled at me, referring to parts of my body I wouldn't even discuss with my closest friends, let alone a teenage boy surrounded by a group of his friends, who all sniggered as they crowded outside my local shop. Feeling humiliated, I blushed bright red - another trait that comes with being a red head - and walked away, praying they wouldn't yell at me again. As well as the names and comments, for me, there was also the more physical abuse. On the bus, I heard a couple of boys sniggering behind me before they pulled my hair and hit the back of my head. A shy, young teenager at the time, I quickly got up and jumped off the bus at the next stop, eager to get away. During my time at school, I begged my mum to let me dye my hair. "But it's such a beautiful color," she and my hairdresser would say together, "I'd love to have red hair." As I reached adulthood, the insults I received for my red hair largely stopped. I do still get the odd drunken remark, but now, years on, I have learned to appreciate my unique hair color - and even like it.

Abuse of redheads
I realise that, compared to others, I was pretty lucky to only receive the comments I did when I was younger. In the UK, the word "ginger" has taken on an almost accusatory tone, like you've committed an offence by being one of the estimated 10% of the nation's population daring to have ginger hair. Many children or teenagers suffer to the point of having to change schools due to bullying or even worse, killing themselves as a result of the harassment. Even adults have been physically attacked for their hair color. In 2012, a man was beaten up after two men took offence at his ginger hair and last year, a 23-year-old suffered a shattered jaw after being set upon outside a pizza takeaway for the same reason.

"Gingerism": a hate crime?
The bullying of redheads has led to some calling for "gingerism" to be made a hate crime. The UK government defines the term as a criminal offence "motivated by hostility or prejudice based on a personal characteristic" including disability, gender identity, race, religion or sexual orientation Some argue that "prejudice is prejudice" regardless of the characteristic that leads to such reaction, but others say that being a redhead cannot be seen in the same way as the oppression and prejudice levelled at other groups. I'm torn. While I would struggle to put the prejudice of redheads at the same level as that of race or disability, where discrimination can extend to not being able to get a job, or being racially profiled because of your skin color, it is clear that the name calling and abuse often goes too far to be written off as simple child's play.

Gianna's story: being a redhead in Germany
It's a breeze being "ginger" in Germany.

In Germany - where 3 to 5 percent of people are "gingers" - I've never experienced intolerance or abuse because of my red hair. The worst thing I was called in school was "match-stick". Other names I was called I found rather encouraging - like Pumuckl, a famous animated cartoon goblin, who was quick-witted, nosey and even had invisibility powers. Or Pippi Longstocking, known to be the strongest girl on earth. At the hairdresser's, women of any age would drop in and ask for "the same hair color as the girl over there", pointing at me. The hairdresser had to disappoint them by explaining this color was not dyed but natural. Appreciation for my red hair didn't stop there: when I visited a castle in Ireland as a university student, I walked past a group of school children. One girl poked her friend and whispered in awe: "Look! There is a carrot lady!" Having never been called "lady" befo-re, I felt like a princess.

Others didn't do as well with their comments as that schoolgirl. Some guy tried to flirt with me saying that I looked quite beautiful despite the fact that I had red hair. The conversation ended there. I also remember talking to a fellow journalist who told me that redheads had similar genes as Neanderthal hominids. As a molecular biologist, that was rather fascinating. With my DNA, I'm a walking piece of history! As you can see, I feel rather blessed with my red hair and freckles. With that I'm not alone. There are hardly any reports of "ginger abuse" in Germany - unlike in the UK. Maybe we're influenced by our neighbours, the Dutch, who even have a festival celebrating what is clearly the best hair color in the world. Recently a video by Buzzfeed on other cool things about redheads went viral. When I saw it on Lou's Facebook wall, I shared it as well, but now I wonder: do we really need videos promoting the acceptance and appreciation of such an irrelevant and, at the same time, manipulable trait as hair color?
© The Deutsche Welle.
UK far-right party scores second major win in Parliament
The march of the anti-European Union movement in Britain gathered further momentum today after the far-right UK Independence Party (UKIP) won its second seat in the Parliament ahead of the general elections next year.

21/11/2014- Mark Reckless, who had recently defected from the ruling Conservative Party in September triggering a by-election, was re-elected with 42 per cent of the vote today. Reckless won Rochester and Strood in Kent county of England with 16,867 votes, a majority of 2,920 over his former Tory party challenger, in a cam-paign dominated by the issue of immigration. Reckless was heckled by some Labour MPs as he was sworn in at the House of Commons just five hours after his victory was confirmed. He was joined in the Commons by UKIP's other MP Douglas Carswell, another former Conservative who won a by-election in September. In his accep-tance speech, he said Rochester and Strood had been UKIP's 271st most winnable seat and "if UKIP can win here, we can win across the country".

While UKIP leader Nigel Farage hailed the win as a trigger for more defections from the Tory party, Prime Minister David Cameron vowed to win back Rochester and Strood for the Conservatives in the General Election in May 2015. "I am absolutely determined to win this seat back at the General Election because anything other than a Conservative government would put our recovery at risk and mean [Opposition Leader] Ed Miliband in Downing Street," he said. The result is seen as a serious blow to Cameron, who personally spearheaded the Conservative campaign just months before a General Election and himself visited the constituency as many as five times. It is being perceived as a protest vote by the electorate, expressing their displeasure at the three main parties - Conservative, Liberal Democrats and Labour.

However, Farage dismissed suggestions that the result was merely a protest vote. "Despite their boasts and despite their belief that they would win Rochester, we have beaten the governing party of the day in this sort of life-death struggle. What it really does, is to make any prediction for the General Election frankly irrelevant. I think the whole thing now is up in the air," said Farage, who has been spearheading a strong anti-EU and anti-immigration campaign.
© The Business Standard
UK: Strutt and Parker 'Racist' Advert of Dancing Black Man Withdrawn
An estate agent in London has pulled one of its advertising campaigns and apologised following complaints it was racist.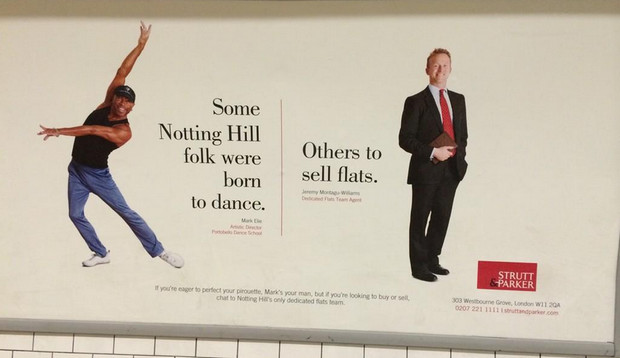 21/11/2014- The advert by the Notting Hill-based firm Strutt and Parker was displayed in in London's underground. The poster features a black male stood next to the slogan "Some Notting Hill folk were born to dance" alongside a smartly dressed white man dressed in a suit with the caption "Others to sell flats". The advert was criticised as "utterly moronic" and racist and social media for apparently displaying a clear racial divide in the affluent area of West London. Following the outrage over the advert, Strutt & Parker confirm they have pulled the and apologised for "any upset this may have caused to anyone who has been affected by this".

A spokesperson added: "We are aware that we have encountered some negative feedback with regards to one of our local advertising campaigns in Notting Hill. "This campaign was developed to reflect the amazing diversity and vibrancy of the Notting Hill area. "To produce the advertising campaign we worked with three popular and local entrepreneurs who appeared in the adverts: a dance teacher, a chef and an interior designer. "They are all real people just like our estate agents who work in Notting Hill. "Our campaign was well intended and represented the various talents of people working in Notting Hill. "We are obviously very sensitive to the response of people and it was never our intention to offend anyone. As a result we immediately withdrew the campaign.
© The International Business Times UK
UK: Labour's Thornberry quits over tweet
Emily Thornberry has resigned from Labour's front bench after sending a tweet during the Rochester and Strood by-election which was branded "snobby".

21/11/2014- The shadow attorney general apologised for the message, which showed a terraced house with three England flags, and a white van parked outside. UKIP said she had "sneered, and looked down her nose at a white van in Strood with the cross of St George on it". Labour leader Ed Miliband was "angry" at her, a senior figure told the BBC. The resident of the house, Dan Ware, said Ms Thornberry - the MP for Islington South and Finsbury - was a "snob", "I've not got a clue who she is - but she's a snob," he told the Sun. "We put the flags up for the World Cup and will continue to fly them." He added: "I can't even remember when I last voted." Ms Thornberry posted the image on Thursday, while voting was taking place in the by-election in Kent. Alongside the picture, she wrote: "Image from Rochester." Labour came third in the high-profile poll behind UKIP, which won the seat and saw its second MP elected to Westminster.

'Respect for voters'
Shadow Foreign Secretary Douglas Alexander said Labour leader Ed Miliband had "not held back" in expressing his dismay with the MP's actions. "Anyone who wants to stand for election and be successful next May has to start with a fundamental and deep respect for voters," he told BBC Radio 4's Today. "The anger Ed (Miliband) felt when he saw that tweet reflected his understanding that we need to earn the support of people around the country." Before the result was announced, BBC political editor Nick Robinson said the tweet had "given the Tory press an alternative narrative". He said: "It is the most extraordinary self-inflicted wound I have seen an opposition party inflict on themselves in many, many years." And the BBC's assistant political editor Norman Smith said on Friday that the tweet "plays to a very, very dangerous theme" for Labour, namely the concern "that they are somehow dismissive, patronising, contemptuous of their own core voters".

Emily Thornberry
The 54-year-old entered Parliament as MP for Islington South and Finsbury in 2005 and served as shadow energy and health spokeswoman before taking the role of shadow attorney general in 2011. The daughter of a former assistant secretary general of the United Nations, she was born in Surrey and was called to the bar in 1983, specialising in criminal law. She had a majority of 3,569 over the Liberal Democrat candidate at the 2010 general election.

'Respecting voters'
Ms Thornberry is believed to have had two conversations with Labour leader Ed Miliband after posting the tweet, and offered her resignation during the second one. In a statement released by the Labour Party, Ms Thornberry said: "Earlier today I sent a tweet which has caused offence to some people. "That was never my intention and I have apologised. However I will not let anything distract from Labour's chance to win the coming general election." "I have therefore tonight told Ed Miliband I will resign from the shadow cabinet." Labour MPs said she had been right to stand down. Chris Bryant told the BBC "the first rule of politics is surely that you respect the voters". "She was absolutely wrong to tweet what she did," he said. "All I can say is, if somebody came into my constituency and did that, I would be furious."

'Horrendous'
And John Mann said the incident was "horrendous" for Labour. "It insults people like me, it insults the people I know - my friends and family - Labour voters across the country because white vans, England flags, they're Labour values and actually pretty routine Labour values for most of us," he told Today. He praised Mr Miliband's response, adding: "I think this is a different approach from the Labour leader and his message came out very, very clearly last night and she's had to go, she's been forced out." Mr Farage suggested the episode reflected broader attitudes within parts of the Labour Party. "The Labour Party hate the concept of Englishness," he told the BBC News Channel. "They have done for a very long time. "New Labour can't even stand the concept of patriotism. They think the flag somehow is unpleasant, backward-looking and nasty. People like Emily Thornberry would rather we had that blue flag with 12 stars on it that comes to us from Brussels." Conservative Work and Pensions Secretary Iain Duncan Smith accused Ms Thornberry of "sneering at the electorate of Rochester".
© BBC News
Britain First Banned From Holding Conference
Paul Golding, the leader of the far-right group, says "left-wing fascists" are to blame.

20/11/2014- Far-right group Britain First has been forced to find a new venue for its annual conference this Saturday after a local community association told the party the event had been cancelled.

The group
Councillor Paul Bettison, leader of Bracknell Forest Council, said: "The meeting has been cancelled… due to concerns that it could impact on the peace and harmony of the local community, which includes several nearby community facilities." Britain First leader Paul Golding has accused trade unions of attempting to shut the event down before it took place. "The left-wing trade union fascists are trying it get it closed down 'in the name of democracy'," Golding, a former director of publicity at the British National Party, told BuzzFeed News. The conference was set to take place in Owslmoor Community Centre this weekend in a venue that holds up to 100 people. The venue was in the town of Sandhurst and near the military academy where British army officers are trained. Golding specifically blamed Unison, one of Britain's largest trade unions, as being responsible for putting pressure on the local council in Berkshire to not allow Britain First to hold their conference in the area. He also accused trade unions of putting pressure directly on councillors. Britain First accused the council of having "banned" the party from holding its conference and said it has backup venue options and that the conference will still take place on Saturday.

Venue booking made not under the banner of the organisation but in the name of an individual.
Bettison, a councillor in the area, said once the community association found out the right-wing group were looking to host an event, it "took advice from the borough council and police and decided to cancel the booking" due to disruption that may have been caused by counter-protests. "While Bracknell Forest Council doesn't run or manage the centre we fully support the committee's decision," the councillor said. Britain First has told its supporters to vote for UKIP's candidate Mark Reckless in today's by-election in Rochester and Strood although Nigel Farage's party has tried to distance itself from these comments. A UKIP canvasser yesterday had his party membership rescinded after he posted pro-Britain First comments and attended a march they held in Rochester last Saturday. Unison said they were not involved in any attempt to block the Britain First conference.
© Buzz Feed News
UK: Parade by far-right group is banned over police fears of clashes
A planned parade by the far-right Scottish Defence League (SDL) to highlight what it claims is a cover-up of alleged child sexual grooming by gangs north of the Border has been banned.

18/11/2014- Following claims by Police Scotland the event could cause large-scale disorder and violence, Glasgow City Council has refused permission for it to go ahead. The SDL had also mooted a parade on similar grounds for the following week, but Police Scotland expressed fears this would then clash with an anti-racism event planned by the Scottish Trades Union Congress. However, because the group failed to submit a formal application for a parade on November 29 within the legal time frame this cannot go ahead. The SDL failed to attend yesterday's meeting, as it had done with previous meetings.

Members of Glasgow's public processions committee did not even require a deliberation before declaring their refusal.Police Scotland, the subject of the proposed march, said the group couldstill legally mount a static protest. The force's main concern was that the SDL's promotion of the event had the potential to inflame tensions among Glasgow's Middle Eastern and Asian communities. The demonstration, between Queen Street and Pitt Street, would have clashed with several other events including a march by the Loyalist Regimental Blues, a Radical Independence Rally, and Celtic's game with Dundee.
© The Herald Scotland
UK: You've got hate mail: how Islamophobia takes root online
By Imran Awan, Senior Lecturer and Deputy Director of the Centre for Applied Criminology at Birmingham City University

21/11/2014- In late 2013 I was invited to present evidence, as part of my submission regarding online anti-Muslim hate, at the House of Commons. I attempted to show how hate groups on the internet were using this space to intimidate, cause fear and make direct threats against Muslim communities – particularly after the murder of Drummer Lee Rigby in Woolwich last year. The majority of incidents of Muslim hate crime (74%) reported to the organisation Tell MAMA (Measuring Anti-Muslim Attacks) are online. In London alone, hate crimes against Muslims rose by 65% over the past 12 months, according to the Metropolitan Police and anti-Islam hate crimes have also increased from 344 to 570 in the past year. Before the Woolwich incident there was an average of 28 anti-Muslim hate crimes per month (in April 2013, there were 22 anti-Muslim hate crimes in London alone) but in May, when Rigby was murdered, that number soared to 109. Between May 2013 and February 2014, there were 734 reported cases of anti-Islamic abuse – and of these, 599 were incidents of online abuse and threats, while the others were "offline" attacks such as violence, threats and assaults.

A breakdown of the statistics shows these tend to be mainly from male perpetrators and are marginally more likely to be directed at women. After I made my presentation I, too, became a target in numerous online forums and anti-Muslim hate blogs which attempted to demonise what I had to say and, in some cases, threaten me with violence. Most of those forums were taken down as soon as I reported them.

Digital hate-speak
It's become easy to indulge in racist hate-crimes online and many people take advantage of the anonymity to do so. I examined anti-Muslim hate on social media sites such as Twitter and found that the demonisation and dehumanisation of Muslim communities is becoming increasingly commonplace. My study involved the use of three separate hashtags, namely #Muslim, #Islam and #Woolwich – which allowed me to examine how Muslims were being viewed before and after Woolwich. The most common reappearing words were: "Muslim pigs" (in 9% of posts), "Muzrats" (14%), "Muslim Paedos" (30%), "Muslim terrorists" (22%), "Muslim scum" (15%) and "Pisslam" (10%). These messages are then taken up by virtual communities who are quick to amplify their actions by creating webpages, blogs and forums of hate. Online anti-Muslim hate therefore intensifies, as has been shown after the Rotherham abuse scandal in the UK, the beheading of journalists James Foley, Steven Sotloff and the humanitarian workers David Haines and Alan Henning by the Islamic State and the Woolwich attacks in 2013.

The organisation Faith Matters has also conducted research, following the Rotherham abuse scandal, analysing Facebook conversations from Britain First posts on August 26 2014 using the Facebook Graph API. They found some common reappearing words which included: Scum (207 times); Asian (97); deport (48); Paki (58); gangs (27) and paedo/pedo (25). A number of the comments and posts were from people with direct links to organisations such as Britain First, the English Brotherhood and the English Defence League.

Abuse is not a human right
Clearly, hate on the internet can have direct and indirect effect for victims and communities being targeted. In one sense, it can be used to harass and intimidate victims and on the other hand, it can also be used for opportunistic crimes. Few of us will forget the moment when Salma Yaqoob appeared on BBC Question Time and tweeted the following comments to her followers: "Apart from this threat to cut my throat by #EDL supporter (!) overwhelmed by warm response to what I said on #bbcqt." The internet is a powerful tool by which people can be influenced to act in a certain way and manner. This is particularly strong when considering hate speech that aims to threaten and incite violence. This also links into the convergence of emotional distress caused by hate online, the nature of intimidation and harassment and the prejudice that seeks to defame groups through speech intending to injure and intimidate. Some sites who have been relatively successful here include BareNakedIslam and IslamExposed which has a daily forum and chatroom about issues to do with Muslims and Islam and has a strong anti-Muslim tone which begins with initial discussion about a particular issue – such as banning Halal meat – and then turns into strong and provocative language.

Most of this anti-Muslim hate speech hides behind a fake banner of English patriotism, but is instead used to demonise and dehumanise Muslim communities. It goes without saying that the internet is just a digital realisation of the world itself – all shades of opinion are represented, including those Muslims whose hatred of the West prompts them to preach jihad and contempt for "dirty kuffar" Clearly, freedom of speech is a fundamental right that everyone should enjoy, but when that converges with incitement, harassment, threats of violence and cyber-bullying then we as a society must act before it's too late. There is an urgent need to provide advice for those who are suffering online abuse. It is also important to keep monitoring sites where this sort of thing regularly crops up; this can help inform not only policy but also help us get a better understanding of the relationships forming online. This would require in detail an examination of the various websites, blogs and social networking sites by monitoring the various URLs of those sites regarded as having links to anti-Muslim hate.

It is also important that we begin a process of consultation with victims of online anti-Muslim abuse – and reformed offenders – who could work together highlighting the issues they think are important when examining online Islamophobia. The internet offers an easy and accessible way of reporting online abuse, but an often difficult relationship between the police and Muslim communities in some areas means much more could be done. This could have a positive impact on the overall reporting of online abuse. The improved rate of prosecutions which might culminate as a result could also help identify the issues around online anti-Muslim abuse.
© The Conversation
UK: What everyday racism tells us about the immigration debate (opinion)
We thought bigotry was fading but it still exists. It's not just Ukip: it's the broader Ukipisation of British politics
By Owen Jones

20/11/2014- It's a scene many commuters will be familiar with. The first noises of a commotion trickle down a carriage: a raised voice, perhaps an obscenity to turn the atmosphere blue. Passengers exchange knowing looks – this is a rare event when the strict anonymity of public transport is broken and strangers form a temporary bond. "You think you can disrespect me because you're Indian?" came the yell on a morning commuter train from Manchester to London this week. "This is my country!" I stand up to see a middle-aged, suited man walk straight up to an ageing passenger of Indian origin, finger pointed directly in his face. "Disrespect me and I will end you!"

Slightly miffed that no one else had intervened at this point, I told him to leave the carriage and take his racism with him. A reassuring murmur of approval from fellow passengers followed, and although Racist Suited Man barked something back, he retreated to the toilet. A couple of minutes later he re-emerged to yell: "I'm not a racist by the way!" provoking laughter of ridicule. The episode disturbed me. Yes, of course racism – subtle or otherwise – did not vanish in the nineties and noughties. This was the sort of incident that could have happened at any point over the last few decades. And yet my fear is that forms of racism that had been driven to the fringes are now being legitimised once more and injected back into the mainstream.

Forms of bigotry that were once seen as publicly acceptable had become stigmatised. Because of the determined campaigning of anti-racism activists, many of us learned to treat each other with respect. Each generation, the evidence suggests, was more accepting than their parents. Yes, there has always been backlash – the "political correctness gone mad" brigade – but the direction of travel seemed pretty obvious. No more, though. I can already hear the howls of protest from Ukip supporters. Here is another desperate attempt to shut down any discussion of immigration by the metropolitan liberal elite, they will cry. Ludicrous, of course, given that immigration has been one of the central issues of political debate for years now. Let's keep on having that debate, but make sure all voices are heard. As other commentators have noted, it is actually those who resist the political elite's desperate scramble to outdo each other on anti-immigration rhetoric who are shouted down. But look at where we have now got to as a country.

Mark Reckless, who is likely to be elected as Ukip's second MP today, this week appeared to call for European immigrants to be repatriated. This is straightfor-ward BNP rhetoric. Even a couple of years ago, for a mainstream politician to make such a public declaration would surely have provoked a national scandal. But the coverage was not of an intensity that matched the severity of the comments. The more these sorts of public declarations are uttered and faced with a weak response, the more the goalposts of acceptable political debate will shift, and ever more xenophobic and racist rhetoric will be normalised.

A few months ago, the British Social Attitudes survey suggested public attitudes on race had gone backwards. Racist incidents in the NHS were reported to have dramatically jumped at the end of last year. These are warnings that we need to heed. It's not just Ukip: it's the broader Ukipisation of British politics. Last month, Tory minister Michael Fallon said British communities were being "swamped" by immigrants and their residents felt "under siege". He was backed up by David Blunkett, the authoritarian former Labour home secretary. Last year, the government sent infamous "go home" vans to mixed communities, provoking condemnation even from Ukip. All major parties are now in competition over cracking down on immigrants.

Yes, let's debate immigration. Let's allow people's fears and worries to be heard, and let both supporters and opponents of immigration be heard too. But Britain is heading towards a potentially disturbing moment. Language once seen as unacceptable provokes ever-smaller responses, and too few of us flinch. If it carries on, it will embolden many more, like Racist Suited Man, to berate people of other ethnic backgrounds for disrespecting them in "their" country. Who knows how ugly it could get.
© Comment is free - Guardian
UK denies visa to 'pick-up artist' Julien Blanc
Controversial US "pick-up artist" Julien Blanc has been barred from entering the UK by the Home Office.

19/11/2014- The self-styled "dating guru" holds seminars claiming to teach men how to attract women but his methods have been widely criticised as sexually abusive. A petition to deny him a visa attracted more than 150,000 signatures ahead of his UK tour, due to start in February. Mr Blanc has apologised, saying his intention was "a horrible attempt at humour" taken out of context. Crime prevention minister Lynne Featherstone said she was "delighted Mr Blanc won't be coming to our shores". In one recorded seminar, Mr Blanc is seen approaching girls and forcing their heads towards his crotch. In the same video, he advises people on 'picking up' in Japan. "At least in Tokyo, if you're a white male, you can do what you want," he says. "I'm romping through the street just grabbing girls. It's awesome." Lib Dem MP Ms Feather-stone said last week she was "extremely concerned" by the "sexist and utterly abhorrent statements" Mr Blanc had made about women. "If he was allowed to perform in the UK I have no doubt that cases of sexual harassment and intimidation would increase," she said.

Misogynist business
The Home Secretary has the power to exclude an individual if she considers his or her presence in the UK is "not conducive to the public good". However, a spokesman for the Home Office said it did not comment on individual exclusion cases - unless they were made public by the excluded individual. The decision has been greeted by campaigners and those who backed calls for Mr Blanc's visa to be turned down. Author and columnist Daisy Buchannan tweeted: "It makes me very happy that on #InternationalMensDay, Julien Blanc does not get to be an International Man." Novelist Jojo Moyes tweeted: "I'm not sure we should have banned Julien Blanc. Might have been more effective for women to buy up all the seats and just laugh at him."

Mr Blanc has already had to cut short a recent tour of Australia because his visa was cancelled following protests there. On its website, his company Real Social Dyna-mics calls itself "the world's largest dating coaching company" and promises customers the chance to "witness dating coaches attract beautiful women in live demon-strations". But critics say videos and pictures of Mr Blanc in action show that he encourages men to harass women with the aim of having sex with them. The petition to bar him from the UK was started by a woman - using the pseudonym Caroline Charles - who was angry at the material being taught at his seminars. Labour shadow home secretary Yvette Cooper publicly condemned Mr Blanc and wrote to Home Secretary Theresa May to express her concerns.

Twitter users have also used the hashtag #ChokingGirlsAroundTheWorld to share pictures apparently showing Mr Blanc with his hand around the throats of women - pictures that he has himself shared. Appearing on US network CNN on Monday, Mr Blanc said: "I just want to apologize, you know, to anybody I've offended in any way. "This was never my intention, and I just wanted to add that I'm extremely sorry for - for everything that happened." Last year, Mrs May banned anti-Islamic activists Pamela Geller and Robert Spencer from coming to the UK to join an English Defence League demonstration. In 2009, then home secretary Jacqui Smith refused to admit Dutch far-right politician Geert Wilders.
© BBC News
UK: Would it be better for society to let bigots openly say what they think?
There is evidence that equality legislation has forced racist and homophobic behaviour underground. If people were allowed to express their views, would it be easier to take them on?
By Paul Mason

16/11/2014- My day so far: an eastern European guy picks me up in a minicab and takes me to London's Victoria station, where more eastern European people sell me a cappuccino. Two black British men check my ticket at the barrier and a Sikh guard is on the platform. The train to Gatwick is full of foreigners. Last month, a Ukip organiser on Humberside complained to me that "we are not even allowed to use the word foreigners any more". Clearly that's not true, as I've just used it here, but it probably wouldn't have been my word of choice. It feels more like terminology from the past, like "labour exchange" or "wireless" used to describe a radio. The reason it has become meaningless is that one in six British people are not white, and about one in four non-British migrants are white European.

People whose attitudes and language were formed when Britain was a white, monocultural society have lived not only through the most dramatic change in this country's ethnic makeup. They have also lived through a parallel legislative revolution in which words, attitudes and behaviours that were normal in 1945 are now illegal. The result, argues social geographer Gill Valentine, is the "privatisation of prejudice". In a research project at Sheffield University [PDF], Valentine has documented a widespread resentment of the impact of equality legislation. "It's like you're being dictated to and controlled in what you can say and what you think," says one woman interviewed for the study. Such resentments are barely acknowledged in mainstream politics but may, Valentine believes, have become the invisible driver of political radicalisation on the right.

The laws referred to are indeed comprehensive. The 1997 Treaty of Amsterdam obliged EU countries to protect their citizens from racial and sexual discrimination. The Equalities Act 2010 demands equal treatment across public life regardless of age, disability, gender reassignment, marriage and civil partnership, race, religion or belief, sex, and sexual orientation. The result has been to make language and behaviour in corporate and public space highly regulated: but in the realm of the brain, the pub, the private conversation and of course the internet – everything is possible. Valentine's interviews reveal that people who don't agree with equality legisla-tion develop ways of "subverting" what they see as political correctness – and that they are particularly bitter that the workplace has become so highly regulated in terms of language and behaviour.

Put simply: there's a liberal culture and a racist, sexist and homophobic subculture in Britain – and while we are all too aware of this on, say, Twitter, where it can be open, the place it really matters is where it can't be properly addressed: public space and work. Having an official culture and an unofficial subculture is not a new thing. But forcing a whole previous official ideology underground is new. When you can walk past Liverpool town hall and see statues of curly-headed black slaves carved into the stone work, you can't be surprised that attitudes of ethnic supremacy and other imperial-era prejudices die hard. Valentine's findings chime with my experience as a TV reporter required to do vox pops. Over the past three years, I've noticed a growing tendency for people to say: "I can't tell you what I think," when it comes to immigration. This is not a product of increased reticence. Instead it reflects a rising awareness of – and reaction to – the legal limits to expression.

In the Sheffield research, a white man describes using subterfuge to get away with abusing Muslim women in public. He pretends to accidentally block their path, quietly insulting them and then claiming they've misheard: "But you've got to be very careful – see if security overhear, they'll march you out … They think we should treat them as equal, and I don't because they're not." Not until you're on the receiving end of this can you understand how prevalent it is – not just for Muslims but for many victims of prejudice – and how little the official culture of toleration has done to erode the underlying attitudes that cause it. Indeed, Valentine's interviews show these attitudes are not the preserve of the over-60s: they are being replicated among the young.

If racist attitudes are being in effect privatised – going underground to be expressed in defiance of mainstream culture – that is the opposite of what the equality legislation intended. It turns the covert racist and homophobe into a self-styled linguistic Robin Hood. It feeds the politics of the far right with the thrill of a shared defiance that all subcultures generate. And it puts anti-racists into a false comfort zone, where it feels like the basic arguments against prejudice no longer need to be put. So in a tolerant society, and in corporations whose internal culture is governed by equality law, we have to find new ways to meet this challenge, beyond legislation.

Maybe the new deal should be: you – the racists and homophobes – are allowed to say what you think and we, the majority of society who are signed up to the princip-les of toleration, are allowed to disagree more vehemently than at present. "Celebrating diversity" is a strategy that works only when other people are not cursing it under their breath. Maybe we should all front up and say things more clearly. Maybe NHS hospitals should advertise: "We can only run this place with 'foreigners' – you got a problem with that?" And maybe businesses could adopt the slogan: "We're as black, brown, gay, straight, disabled and 'foreign' as Britain is, and proud of it – feel free to take your money and prejudices somewhere else." Instead of political correctness you would then have political honesty. It would be uglier but more real.
Paul Mason is economics editor at Channel 4 News
© Comment is free - Guardian
Headlines 21 November, 2014
Sweden: Gothenburg rabbi reacts to death threats
Gothenburg's rabbi received death threats following an attack on a synagogue in Jerusalem earlier this week. Leading figures in the Jewish community have told The Local they fear that anti-Semitism is spreading across Sweden, with Malmö already a key target.

21/11/2014- Rabbi Hillel Ḥayyim Lavery-Yisraëli got an email on Wednesday referencing the violent attack in Jerusalem that left four Israeli Jews and a police officer dead. "What a wonderful day! Four of your satanic murderers were taken from the world, how wonderful! But what a pity that you weren't among them," the message read. "But soon will come the time when the Gothenburg synagogue will be destroyed to the ground with you inside, and then you too, you pig, will be killed in the eternal fire," it added. Speaking to The Local on Friday, Rabbi Hillel Ḥayyim Lavery-Yisraëli said: "I was very surprised and worried for my family. I can say I did not expect this when I moved to Sweden". The rabbi was born in Canada and moved to Israel when he was 19. He arrived in Sweden two years ago. "When I came here I felt very proud that I walked around in Gothenburg with my head covering, without any fear or trouble. But in the last year or so things have started to change. I still do it because I think it is important that Swedes get used to seeing people who are diffe-rent, but I do feel kind of nervous". Police in Gothenburg are investigating the email sent to the rabbi.

The death threats follow rising numbers of attacks against Jews in Stockholm and Malmö in southern Sweden in recent months. "Many religious communities are experiencing a deteriorating social climate, and the Jewish community feel that anti-Semitism has increased," Göran Larsson, Professor of Religious Studies at the University of Gothenburg told Swedish newspaper Göteborgs-Posten on Thursday. "We live in a time when global events, such as the ongoing Israeli-Palestinian conflict have consequences for different religious communities in Sweden," he added. Speaking to The Local, Lena Posner-Korosi who is President of the Council of Sweden's Jewish communities said: "The attack on the rabbi is appalling and at the same time we are not surprised and this is the terrible part of all this. For years we have experienced this kind of thing in Malmö and now it has spread to Gothenburg."

She said that Jews in all of Sweden's major cities had now experienced threats, either by phone, letter, email or in person and said she was especially concerned about attacks on Jewish cultural centres and synagogues. "Compared to other parts of Europe we are in the highest league when it comes to anti-Semitism and this this is not a competition we want to win," she added. Posner-Korosi said she was satisfied that police in Sweden were investigating all the incidents but said that officers had sometimes been too quick to rule out the possibility that some of them were hate crimes. "Often they say that young trouble-makers are behind the violence. It can be hard to tell what the motive is but we can't rule out the possibility that some of these are hate crimes." She added: "It has reached a point in Malmö where Jews are afraid on a daily basis. In other cities we don't feel this every day but we are starting to".

Martin Hallberg Chief Inspector for Gothenburg told The Local: "I cannot discuss individual investigations but the city's police force is always out on patrol and we are working closely with the Jewish community. We meet and discuss problems. I watch the news to make sure I know what is going on in the world and when I find out about violence in the middle east I call people in the Jewish community".
© The Local - Sweden
Romania: Constanta mayor's new look copies Hitler
21/11/2014- The Center for Monitoring and Combating Anti-Semitism (MCA Romania) sent a complaint to the Prosecutor's Office within the High Court of Cassation and Justice, saying that the recent look of Radu Mazare, the mayor of seaside resort Constanta, has deliberately copied the haircut and mustache of Adolf Hitler, former leader of the Nazi Party. They consider Mazare's gesture to be "outrageous and provocative," according to MCA Romania. Moreover, the fact that this new look comes after a German ethnic was elected President of Romania it is seen as "a defiance". Radu Mazare inaugurated his new look before the first round of the presidential elections, but it triggered no responses so far, according to Hotnews.ro. The mayor however said his haircut was popular in the 1920s, and that he has seen a lot of young people wearing it nowadays, when it made a comeback. He also said, quoted by Adevarul.ro, that he never had a moustache. He however appeared to have a hint of a moustache when interviewed for TV in the last couple of days. Mazare is known for his controversial outfits and appearances. Back in 2009 he was criticized for appearing in public in a Nazi uniform. He later admitted it was a mistake and appologized for it.
© The Romania Insider
Anti-Semitism Creeps Into Europe's Daily Routines
Signs for Continent's Jews Are Not Good
By Deborah E. Lipstadt

21/11/2014- Ten years ago the Organization for Security and Cooperation in Europe convened a conference on European anti-Semitism. Last week it met to assess what had happened in the past decade. The signs are not good. While a good part of the meeting was dedicated to official presentations by the participating nations, it was what one heard in the hallway over coffee that was most significant. At one point the White House delegation, of which I was part, met with representatives of an array of European Jewish communities. What we heard left me shaken. We knew about the murders in the Brussels Jewish museum, the children gunned down on the Toulouse schoolyard, the fate of Ilan Halimi, a young French Jew who had been lured by a group of Muslims who then held him captive, tortured and eventually murdered him. We were aware of the violent demon-strations, assaults on synagogues, and the aggressive rhetoric — including "Jews to the gas" — that had occurred in various European cities. We anticipated that this would be our informants' main concern.

While they certainly worried about this type of violence, what weighed upon them more was a "changed daily routine" that leaves them feeling "under threat." Schools and Jewish institutions are under heavy guard. While this reassured some people, other parents described how, when they deposit their children at the Jewish schools and see the visibly armed guards protecting the site, rather than feeling reassured, they are reminded of the Toulouse schoolyard and the murdered children. But in addition to the physical assault another attack is occurring. But for the fact that it does not take lives or break bones (no small thing), its long-term consequences may be more profound. Jews face an inner spiritual and psychological assault. Young people described being Jewish as having become a negative, a burden. "We are continuously on the defensive. It's depressing." Guy, a young Dutchman, recalled that not long ago a bunch of his Jewish friends gathered to celebrate his birthday. "What," he asked us with an ironic smile, "do a group of young men talk about when they gather to drink beer and enjoy themselves? The Holocaust, anti-Semitism, and insecurity."

In certain countries children who attend Jewish schools are warned — if not "forbidden" — from wearing anything that would single them out as Jews. No school insignias on the book bags, no school symbols on their jackets, no kippot. Nothing. Many Jews feel abandoned by former allies. Jewish groups, both on campus and in the broader community, have long participated in coalitions of human rights organizations. "The problem is," a young Belgian Jew observed, "that these human rights groups don't consider Jews to be 'victims' We may not face job discrimination. But we face violence." Even after four Jews were murdered at the Brussels Jewish museum, some European human rights activists dismissed anti-Semitism as "only words" and of no real importance. Some of their colleagues even suggested that this all happened "because of Israel," i.e. it was justified. "In short," one young woman observed, "we have no allies."

Why is this happening? There are multiple reasons. Much of the overt expressions of hostility come from a growing Muslim population. Their hostility towards Jews is directly linked to their hostility towards Israel. For them Jews, Israelis, and Zionists are all the same. Their hostility has long predated the Gaza conflict. But they are not the only source. There are right wing national parties, such as the Golden Dawn in Greece, which fall back on traditional hostility towards Jews. But there are also the European cultural elites, most of whom have remained decidedly silent as this scourge grows. Situated on the political left, they are critical of Israel and have conflated anti-Israel and anti-Semitic hostility. They seem unconcerned that segments of Europe are on the path to once again becoming Judenrein. One would think that but seventy years after the Holocaust the possibility would horrify them.

Some Jews, unsure that they have a "future" in Europe are leaving countries where generations of their families have lived. They head to Israel, London, the United States, and Canada. Their friends predict: "They will never come back. " Many will probably stay put — emigrating is not an easy task — but will become "invisible Jews." Young Jews repeatedly spoke of their contemporaries who "are going underground." Students feel it increasingly uncomfortable to say "I'm Jewish." They disengage from campus Jewish life.

Over the past two decades there has been a resurgence of Jewish life in much of Europe. Jewish cultural celebrations, schools, kindergartens, camps, and learning festivals have multiplied. Many are flourishing but, as one American who has lived in Germany for over thirty years observed, "if this atmosphere continues it will undo all these good things." Recently her eleven-year-old daughter saw a man at a bus stop. His attire made it clear that he was a Jew. Turning to her mother, she announced: "He can't walk around that way." When her mother assured her that it was his right to wear whatever he wanted, the daughter insisted that he should not do it because "it's not safe." When your young children understand that it is not safe for them to express who they are, the future is not bright.
Deborah E. Lipstadt is Dorot Professor of Modern Jewish and Holocaust Studies at Emory University. She chairs the US Holocaust Museum's Committee on Anti-Semitism and State Sponsored Holocaust Denial. She was a member of the Presidential delegation to the OSCE Conference last week in Berlin.
© The Forward
Further protests over appointment of Hungarian far-right European culture commissioner
Tibor Navracsics was foreign minister in controversial Hungarian government of Viktor Orbán.

20/11/2014- Several non-governmental organisations say they will continue to push for the dismissal of Tibor Navracsics, the newly elected European commissioner for education, culture, youth and sport. Navracsics was previously Hungary's minister of foreign affairs and trade under the country's controversial prime minister Viktor Orbán. The right-wing government was criticised in the European Parliament for allegedly undermining civil liberties. International organisations protesting against the appointment include European Alternatives, Civicus, European Civic Forum and Solidar. "We protested against the nomination of Navracsics for the specific [post] because we believe it sets a very bad precedent to ignore what is happening in Hungary by appointing someone so associated with the regime; the Hungarian example risks being copied by others in Europe opposed to democracy and fundamental rights," says Niccolo Milanese, the chair of European Alternatives.

"In the domain of culture, the directors of leading cultural institutions [in Hungary] have resigned over being obliged to show 'patriotic' artworks, and the way museums in Budapest are being merged and manipulated under the Orbán government," Milanese says, pointing to the planned merger of the Hungarian National Gallery in Budapest with the city's Szépmuvészeti Múzeum. In regard to education and youth, the Orbán-led government has introduced restrictive measures, dictating what teachers are allowed to teach, he adds. Navracsics could not be reached for comment.

In early October, the EU parliamentary committee for culture and education rejected Navracsics by a vote of 14-12. But in a letter to Navracsics dated 1 November, Jean-Claude Juncker, the president of the European Commission, confirmed Navracsics's appointment as the commissioner for education, culture, youth and sport. The citizenship brief was, however, removed from his portfolio. Juncker says that the new commissioner must help Europe's culture sectors to reach out to new audiences through the Creative Europe programme which will provide funding of €1.46bn over the next six years for heritage and performing arts projects, among other initia-tives.
© The Art Newspaper
Why are Turks xenophobic? (opinion)
By Semih Ýdiz

20/11/2014- Turks love to mount their high horses and wax moral about xenophobia toward the Turks and Islamophobia toward Muslims in general in the West. This is also a pet theme of President Recep Tayyip Erdođan, and he never wastes an opportunity to bring the matter up. He also likes to equate Islamophobia with anti-Semitism, although one would be justified in doubting that his heart is in the right place in this regard, given his vitriolic remarks about Israel that are only a notch away from being anti-Semitic. All Erdođan seems to be saying when bringing up this matter is "if you are so against anti-Semitism, and have laws against it, why don't you do the same with Islamophobia."

One would assume that prejudice towards other races and nations is so little, almost non-existent, in Turkey that Turks, including the president himself, are totally justified in taking a moral stance against racism against Turks and Muslims in the West. However, this has once again been shown to not be the case, if we are to go by the latest Pew Global Attitudes survey published recently. According to this survey, Turks are the most xenophobic people in the world today. "In fact, it is hard to find any country or organization that the Turkish people really like, except, of course, Turkey itself," according to Jacob Poushter, a Research Associate at the Pew Global Attitudes Project. American's who are offended and angered over the amount of anti-Americanism in Turkey should not take this personally.

According to the Pew survey, while 73 percent of Turks have an unfavorable view of the U.S., 73 percent also have a negative view of Russia. When it comes to Iran, this goes up to 75 percent, while Israel is the most hated country, with only 2 percent of those questioned having a favorable view of it. It seems that Turks don't like the Chinese, the Brazilians, or the Saudi Arabians either, to name but a few other nations. Those who argue today in connection with developments in Syria and Iraq that Turks incline towards radical Sunni Muslims also appear to be mistaken, because the same survey shows that 80 percent of Turks dislike Hamas. Meanwhile, 85 percent dislike the Lebanese Hezbollah, which of course is Shiite. Explanations vary for what can only be considered a national deformity. The usual argument is to refer to an inbred insecurity that goes back to the First World War. That was a time when the West was trying to dismantle the Ottoman Empire, while some Western statesmen were declaring bombastically that "the Turk will be sent packing back to Asia!"

But what about countries that never did anything bad to Turkey, or the Turks? This could be a simple case of "if you hate one foreigner you might as well hate them all." We even have a saying: "The only friend a Turk has is another Turk." It is almost as if there is a cultural need to believe that, with a few exceptions, the world hates us, so the best thing is to have a blanket suspicion of all. But this is not the sign of a healthy society. As for the saying, "The only friend a Turk has is another Turk," it is sufficiently clear today that this is not the case. Turks do not just hate others, they also hate each other, and this hatred is constantly stoked by politicians, opinion makers, and officials. If this is the "New Turkey" that Erdođan and his supporters laud so much, it is clear that this Turkey is going to end up increasingly friendless in today's world. How such a country hopes to be a global power, as Erdođan wants it to be, is anyone's guess.
© The Hurriyet Daily News
Turkey Sees Surge in Xenophobia
17/11/2014- Turkey, a NATO member and European Union applicant, is witnessing a surge in xenophobia, according to new research by Washington-based Pew Research Center. Findings of the new survey coincide with an increasing amount of conflict along the country's southern border and strained diplomatic relations with neighbors and allies. Diplomatic columnist Semih Idiz of Taraf and Al Monitor says the anti-foreigner sentiment isn't reserved for Western countries alone — the traditional source perceived antagonism among Turks. "This is almost universal," Idiz told VOA. "Seventy percent of those surveyed said they were anti-American, but an equal 70 percent said they were anti-Russian; then we find most Turks are against Saudi Arabia and China; they're against NATO; they are against the EU. So there is this kind of national reformation, that everyone hates us."

The shift also coincides with Ankara's recently strained or suspended diplomatic relations with neighboring Syria, Iraq and Iran, and differences with some Western allies over the conflict in Syria and the fight against Islamic State militants. The perceived sense of isolation on the world stage that Turkish citizens report in the survey, says political scientist Cengiz Aktar of Istanbul's Suleyman Shah University, is the result of the Turkish government campaign that fuels public hostility toward the world. "The government is pumping this idea of splendid isolation, which they call 'worthy loneliness' — a bit like Russia, by the way — trying to making its case, but of course no avail," said Aktar.

Analysts say Turkey's suspicion and even outright hostility toward outsiders is nothing new. Throughout much of the 20th century, for example, Turkish schoolchildren were taught that their country was surrounded by enemies, and that collapse of the Ottoman Empire was the result of collusion among Western and Arab countries. According to Aktar, that sentiment, along with the post-WWI occupation of Turkey by European countries, still shapes the national psyche. "It goes back to the early 20th century, when Turkey was reborn from the ashes of the Ottoman Empire and the country was occupied," he said. "Mustafa Kemal and his friends ended the state of affairs and created a new country. So there is a huge suspicion of anything which comes from the West, a sense that of being surrounded by enemies all over. It's of course very worrisome."

With a general election due by June next year, nationalism is likely to be on the rise, with politicians seeking to exploit public fears, according to diplomatic columnist Idiz. "It is fact: politicians in Turkey also use this to their advantage," he said. "There is this perception they are guarding Turkey against nefarious outside plans. Erdo-gan himself was reviving imagery pertaining to the First World War, so as you see we have this being utilized at the highest level of the policy in Turkey." Last month President Recep Tayyip Erdogan said Western meddling in the region was akin to the iconic World War I British army officer known as Lawrence of Arabia, who led an Arab revolt against the Ottoman Empire. President Erdogan warned Turkey was facing the dangers of a new Lawrence of Arabia.
© Voice of America
The Far Right in Sweden
17/11/2014- When discussing racism or intolerance in the context of nations, chances are Sweden is not the first country that comes to mind. The country is consistently ranked amongst the happiest in the world, as well as the most gender equitable and accepting of homosexuality. Yet in a development reflective of the social disquiet growing across Europe, the recent wave of Swedish parliamentary elections saw the nationalist anti-immigration party, the Sweden Democrats, surge to a record-high 14 percent of the vote. The result provoked much anguish and soul-searching amongst Sweden's political establishment and society at large — one eminent political scientist hailed it as "The End of Swedish Exceptionalism." On the face of it, such rumours of Sweden's demise seem greatly exaggerated — 14 percent is hardly a large proportion. Though it might seem like a measly and insignificant share, in Sweden's political system it could be enough to grind the gears of government to a halt.
The Sweden Democrats did not spring out of nowhere, or even out of the 2008 financial crisis, as many commentators have alleged of far-right parties around Europe. In reality, the ascent of the Sweden Democrats — and, to a large extent, parties of the same ilk in other countries — began decades ago. If you were to plant a chronological flag in the date of the party's inception, you could do worse than the late 1980s, when the Swedish neo-Nazi movement began. Twin forces of globalization and European integration sent immigration to unprecedented levels as the Iron Curtain came down and the world got smaller. While the 1990s saw much prosperity around Europe and the world, racial tensions in Northern European countries that observed this substantial influx of immigration began to simmer.

Sweden was no exception, and in many ways perfectly represents the two-faced nature of this development: one of the world's most liberal immigration policies and highest refugee-per-capita numbers juxtaposed against the insidious expansion of groups bent on undoing those forces. The three decades since the Sweden Democrats' beginnings as a fringe neo-Nazi group have seen it slowly come into the mainstream — out are the swastikas, in are dress codes and condemnations of racism. Much of this polishing has been done by the Sweden Democrats' leader, Jimmy Åkesson. His roots in the party go deep: He has been a member of the party since his teens, and has represented the party in electoral positions since becoming a councilman. Before taking a leave of absence after the recent election, he worked tirelessly for nearly ten years to soften the image of the Sweden Democrats and has led them to historic triumphs in successive general elections.

Young and photogenic at 35 years old, he is emblematic of the Sweden Democrats' profile as a novel political force, and one that has traded on the perception of the political establishment as decrepit and inept. He also represents the moderate sheen the party has taken on in recent years to appeal to broader swathes of the electorate — a sheen that covers the darker elements of the party. To be sure, these darker elements are never too far from the surface — in the run up to the September elections, a county council candidate resigned after being pictured with a swastika wrapped around her arm. They exist outside the realm of the Sweden Democrats as well; acts of xenophobia and anti-Semitism have also been on the rise, as in the vandalism of Jewish-owned establishments. Several years previous racially charged shootings plagued the ethnically heterogeneous coastal city of Malmö.

It is these elements, as well as the toxic image the party has amongst the general public, that have left the Sweden Democrats out in the political cold even as they have surged in popularity. Since entering the Riksdag, or Sweden's parliament, in 2010, the other main parties have shunned the Sweden Democrats, and have pledged to continue to do so even after far-right party's electoral gains this year, and the parliamentary perks that come with it. In the aftermath of the election, the Sweden Democrats obtained a key deputy parliamentary speaker's position, with all the non-Sweden Democrat members abstaining from voting rather than following protocol and granting that seat to the third-largest party, as is custom.

For all the political establishment's desire to determinedly ignore the Sweden Democrats, such ostracization might not be possible. The electoral results have left the political balance on a knife's edge. Sweden's political establishment is made up of some six or seven parties, previously divided into two ideological realms. On the right are the Moderates, the Center Party and the Christian Democrats — the collective known as the Alliance, who previously made up a coalition government. On the left are the Social Democrats, the Greens and the Left Party. The cumulative vote shares of the two sides are separated by a mere few percentage points. The only party outside of these political constellations is the Sweden Democrats, granting them a possibly decisive role when it comes to passing legislation. The group of leftist parties won, in a matter of speaking, the election by accruing the most votes, but did not attain a majority. With only around 40 percent of the vote, they will likely struggle to pass legislation with any sort of effectiveness.

Their ability to govern will be tested very soon — by law the governing coalition must pass a budget by the end of December (unlike the United States, there is a zero-tolerance budgetary procrastination policy in Sweden). Failure to do so will automatically trigger new elections sometime early next year, throwing up all sorts of possibilities for further advances to be made by the Sweden Democrats. Such a result would spell dire news for the historically tolerant society that Sweden has built through hundreds of years, and drive a party that has built its foundations upon racist rhetoric closer to the heart of government.
© The Brown Political Review
Malta: Website helps report racism
Victims and witnesses of racism will, as from today, be able to report abuse through a website created to address its low reporting rate and offer support.

16/11/2014- The site – reportracism-malta.org – is intended to increase the reporting of such incidents, inform individuals about the remedies available and support them through the process. It was launched by human rights think tank The People for Change Foundation and also aims to gather data to understand the reality of racism in Malta and provide evidence to inform legal and policy development in the area. Anyone who witnesses or experiences racism can fill in an online form – available in Maltese, English and French – asking questions such as where and when the incident occurred, what it consisted of and whether a police report was filed. People can also send in evidence, such as photos or footage, to back up their claims. If the person filing the report agrees to be contacted, the foundation will offer its support. This will include information, as well as help with filing official reports and following them up.

85% - the percentage of racism victims who keep quiet
"The need for such a system is clear from the high levels of incidence and low levels of reporting of racist incidents," the foundation said in a statement. Maltese authorities receive very low numbers of racism reports. A National Commission for the Promotion of Equality report showed that 85 per cent of victims of racism keep quiet. In contrast, a report published by the European Union Agency for Fundamental Rights found that 63 per cent of Africans in Malta experienced high levels of discrimination, the second highest incidence in the EU. In addition, 29 per cent fell victim to racially motivated crime. Taken together, these figures highlight a gap between reports and incidents. This could be due to the lack of access to information and a reporting system, the foundation said, as it pointed out that a Fundamental Rights Agency report found that only 11 per cent of African immigrants in Malta knew of the existence of the National Commission for the Promotion of Equality.

"We hope that this website will promote a culture of reporting racist incidents, while developing a better understanding of the state of play of racism in Malta through the compilation of information about such incidents," the foundation said.
© The Times of Malta
Ukraine: Babi Yar Holocaust memorial defaced with swastikas
For second time in two months, site in Kiev desecrated with graffiti.

17/11/2014- The Holocaust memorial at Babi Yar in Kiev was discovered defaced by graffiti swastikas on Monday, the second time in less than two months that the site has been desecrated. Anna Lenchovska, executive director of the Congress of Ethnic Communities of Ukraine, discovered the Nazi symbol spray-painted on two stones flanking the memorial's giant menorah when leading a tour of schoolchildren at the site, where more than 33,000 Jews were murdered during the Holocaust. "I was with a group of school youngsters. I approached and said that it is very often vandalized and then I saw it myself. I think almost every year it happens, unfortunately."

Babi Yar had previously been desecrated in September, only days before Ukrainian President Petro Poroshenko paid a state visit to the site, declaring that "Ukraine will never allow recovery of fascism, persecution along ethnic, language, religious or other lines." Russia has consistently leveled accusations of anti-Semitism against the Ukrainian government, claims which both officials and Jewish leaders deny. An attempted firebombing of a Kiev synagogue prior to Rosh Hashana and a series of anti-Semitic incidents, including the stabbing of a Kollel student last year, raised fears of increased anti-Jewish attitudes, but the subsequent electoral failures of the far Right have largely mitigated the concerns of members of the Jewish community, many Ukrainian Jews have said.

Local Jewish leaders like Josef Zissels of the Va'ad of Ukraine have compared their country favorably to Western European countries like Belgium and France, where attacks against Jewish targets and street harassment are much more common. "Ukraine lacks... important factors, which define the current significant manifestations of anti-Semitism in Western Europe," such as a large Muslim immigrant population and "the anti-Israeli rhetoric that has been fashionable in the last dozen years among the left wing intellectuals," Zissels has written.
© The Jerusalem Post
Ireland: Bigger effort needed to tackle racism in Limerick
A lot more work needs to be done to tackle racism and discrimination in Limerick, following a report in the Limerick Post last week that racial attacks in the city are on the rise.

21/11/2014- A survey conducted last year by Mid-West migrants rights organization Doras Luimní found that 60 per cent of the respondents had experienced one or more incidents of racism, and as many as 80 per cent of those who experienced racism in Limerick did not report it. In the aftermath of last week's Limerick Post article, the group issued a strong condemnation of ongoing racial attacks in the city. They said that the situation must be dealt with through a combination of action, awareness and education. Doras Luimní have met with shop owners affected by recent racist incidents in the city centre to discuss and develop a strategy to prevent further attacks. Meetings with Limerick Gardai ethnic liaison officers will also be scheduled in the coming days.

One Pakistani business owner on William Street who has been trading in the city centre for over a decade said his staff constantly suffer verbal abuse and the threat of violence in the store. When speaking to the Limerick Post he became visibly upset and stressed by the large number of racist attacks he and his family experience in the city on a daily basis. "One man walked out of the shop recently with five coats costing €70 a coat. We called the Gardai but they didn't arrive until two hours later," he claimed. "We pay our taxes and it's not right that we should be treated like this. Most of our customers in Limerick are good people but we should not have to suffer racist abuse every day of the week. They call us horrible names and feel its their right to come in and steal from us. We are told 'this is not your country'."

Another Pakistani business owner on William Street claimed: "Travellers come into the shop on a regular basis. They talk loudly into their phones and say as clear as day 'we're in the Paki shop'. They don't care that we are standing right in front of them and can hear this racist conversation." Integration Policy Officer at Doras Luimní, Dr Matt Cannon told the Limerick Post that racism and discrimination are happening in the city but victims and witnesses are reluctant to turn to the authorities for assistance. "Doras Luimní gets regular reports of racism, however we feel that this is just the tip of the iceberg when it comes to incidents that are happening, and that many incidents of racism and discrimi-nation go unreported," said Dr Cannon.

He put the reluctance to report racism and discrimination down to a number of factors such as fear of authority, lack of awareness around who to report to, and a sense of disillusionment about what can be done in regard to racist incidents. "We would encourage anyone who has experienced, witnessed, heard about or was supporting someone who had been subjected to any form of racism to report it. By identifying the types of racism experienced, it is hoped that we can find a way to prevent further incidents and continue to move towards an intercultural Limerick where racist incidents are simply not acceptable," he concluded.

Doras Luimní encourage anyone who has experienced racism and discrimination to report it to An Garda Siochana and/or Doras Luimní by calling 061-310318, emailing reportracism@dorasluimni.org or online at www.iReport.ie.
© The Llimerick Post
Ireland: 'The Government aren't willing to address the rise in disability hate crime'
16/11/2014- As it stands there is no reference to disability hate crime in Irish legislation. Disability campaigner and hate crime researcher, Frank Larkin, has presented his studies in the EU and is calling on the Irish Government to make disability hate crime an offence. He says the legislation could very easily be changed but instead the legislators are "sitting on their hands". Larkin says, "There are no specific legal definitions of what disability hate crime is. "There would also appear to be no real willingness on the part of the Government to address the rise in this type of crime and no urgency to put in place such legislation that would guard against it." A Justice Department spokesperson said, "Disability hate crime is part of the overall issue that is being considered in the examination initiated by the Minister of State.

Minister of State, Aodhán Ó Ríordáin, chaired a round-table discussion on legislating for hate crime in Ireland last month. The Labour TD said, The 1989 Prohibition of Incitement to Hatred Act is not fit for purpose. We need to strive to live in a Republic free from hate crime and prejudicial targeting because of one's ethnic back-ground, sexual orientation, gender or disability. The Justice Department said the outcome of the meeting was that "Limerick Hate and Hostility Research Group agreed to conduct further research with a view to identifying practical solutions which can be brought to government in the form of legislative proposals."

However, it failed to specifically address disability hate crime when asked. A disability seminar organised by Bluebird Care, will discuss the issue in Ennis in Clare on Wednesday November 19. Operations Director with Bluebird Care, Eddie O'Toole said, "13% of Ireland's population has a disability and we are cognizant of the needs of people who live with intellectual, sensory or physical disabilities."
© The Journal Ireland
Racism Could Negatively Impact Your Health, Study Finds
Feeling judged because of your race could have a negative impact on your physical health, a new study finds.

15/11/2014- A team of researchers studied 1,574 residents of Baltimore as part of the Healthy Aging in Neighborhoods of Diversity across the Life Span study and found that 20% of the subjects reported feeling that they had been racially discriminated against "a lot." Even after the researchers adjusted the results for race, this group had higher systolic blood pressure than those who perceived only a little discrimination. Over a five-year followup, the group who felt more racial discrimination also tended to have greater decline in kidney function. When the researchers, co-led by Deidra C. Crews, MD, assistant professor of medicine and chair of the diversity council at Johns Hopkins University School of Medicine, adjusted for age and lifestyle factors, the effect stayed constant for African-American women. "Psychosocial stressors could potentially have an effect on kidney function decline through a number of hormonal pathways," Dr. Crews said. The release of stress hormones can lead to an increase in blood pressure, and high blood pressure is one of the leading causes of kidney disease. This isn't the first time that perceived racial discrimination has been linked to chronic diseases: a 2011 study found that lifetime discrimination was linked to higher rates of hypertension.
© Time.
Greece: Golden Dawn MP suspends Australian visit after visa delays
A member of parliament for the far-right party Greek political party Golden Dawn has suspended his visit to Australia due to visa delays.

15/11/2014- A spokesman for the Australia branch of Greek far-right party Golden Dawn says a planned visit to Australia by members of its Greek mother party has been suspended due to visa delays. Ignatius Gavrilidis told SBS the Australian embassy in Greece "disrupted" the visit by, among others, Golden Dawn MP ​Georgios Epitideios. He said the "delaying tactics" have thrown out the plans to visit Australia and, as such, the planned supporter drive has been called off for now. Mr Gavrilidis said it is possible the visit could take place early next year, but would not confirm this. Immigration Minister Scott Morrison said the government reserves the right to refuse visas for individuals deemed to represent an "unacceptable risk of harm".

"The Government takes very seriously its role in protecting the Australian community from unacceptable risk of harm from criminal or other serious conduct by non-citizens," he said in a statement provided to SBS. "If a visa applicant is considered likely to engage in activities that fall within the scope of the character require-ments of the Migration Act 1958, their visa application may be refused."​ But Mr Gavrilidis said no visa application was officially rejected. The visit by Greek MP Georgios Epitideios garnered considerable opposition from within the Greek community in Australia. Victorian state MP Nick Kotsiras had also voiced his concerns should the visit go ahead. Golden Dawn, Greece's third largest political party, has been criticised in Europe and internationally, for its use of Nazi-like imagery and statements from its leaders denying the Holocaust.
© SBS
French far-right leader guilty of racial defamation
The 86-year old founder of France's far-right National Front, Jean-Marie Le Pen, was ordered to pay a 5,000-euro fine.

21/11/2014- French far-right National Front leader, Jean-Marie Le Pen, was found guilty of racial defamation by a Paris appeals court on Thursday. Le Pen had compared the Roma to "birds that were born, by nature, to steal" when he gave a speech at the National Front's summer school in La Baule, western France, on Sep. 22, 2012. The appeals court upheld a decision from December last year that found Le Pen guilty of defamation. The 86-year-old founder of France's largest far-right party was ordered to pay a 5,000-euro fine. Le Pen will attempt to take his case to the Court of Cassation, according to his lawyer, Wallerand de Saint-Just. This is not the first time Le Pen, a convicted holocaust denier, has been found guilty for controversial and inflammatory statements on racial matters. Led by his daughter Marine Le Pen since 2011, the National Front won 25 percent of the vote in the European elections in May. The party currently holds 24 seats in the European Parliament.
© World Bulletin
France's 'Favorite Fascist' Is in Trouble for Restarting a Banned Hate Group
20/11/2014- Two extremist political leaders in France are facing charges for "reviving and maintaining a league dissolved pursuant to court order" — French legalese for trying to reestablish hate groups banned by the government. One of the men is Yves Benedetti, the former leader of Oeuvre Française (French Work), a minor political group that was officially disbanded in July 2013 by a presidential decree. The other is Alexandre Gabriac, nicknamed the French media's "favorite fascist," the former head of Jeunesses Nationalistes (Nationalist Youth), a neo-Nazi group. Benedetti — who describes himself on Twitter as the "President, against insurmountable odds, of Oeuvre Française, a movement banned by the socialist dictatorship" — has been flaunting the government ban and keeping the group active through its website, Jeune Nation.

Extremists Fight in Calais: Britain's Border War. Watch here.
French Work is a self-styled "nationalist movement," founded in 1968 by Pierre Sidos. Its mission is to keep "France for the French." The group's emblem is the Celtic cross. In July 2013, French interior minister Emmanuel Valls likened French Work to a private militia with paramilitary training camps. The Nationalist Youth movement is an offshoot of French Work. It was founded in 2011 by Gabriac, a former member of the National Front party. Following the death of Clément Méric, an 18-year-old leftist militant who was beaten to death by a skinhead gang in Paris in June 2013, French prime minister Jean-Marc Ayrault called for a ban on all far-right groups in the country, stating that he planned to "take an axe… to these fascist and Nazi movements that are harming the Republic." The ban took effect the following month, in July 2013, and was justified by France's internal security code, which orders the dissolution of any group that incites racial hatred or glorifies France's collaboration with the Nazis during the Vichy regime.

Speaking outside the judge's office on Thursday, Benedetti told Jeune Nation that he "stuck to a declaration of principles." He said that, "French Work continues to exist because it is not up to a two-year-old government to ban a movement that has existed since 1968." Benedetti joined the National Front party in 2005 as Bruno Gollnisch's right-hand man. Gollnisch, a stalwart of the National Front, is a controversial figure in French politics who was previously charged with inciting racial hatred. Benedetti was expelled from the National Front in 2011 after branding himself, "anti-zionist, antisemitic, and anti-Jew." The 23-year-old Gabriac is also a former National Front member. He was thrown out in 2011 after posting pictures of himself on Facebook giving a Nazi salute. In October 2014, a court in Lyon overturned the results of a municipal election in the town of Vénissieux after two right-wing councillors — including Benedetti — were elected. Benedetti and his running mates — including Gabriac — gathered 11.49 percent of votes in the first round of the election, and 10.26 percent in the second. But, according to reports published in French daily Le Figaro, 19 out of the 49 people listed as running with Benedetti and Gabriac were unaware they were on the ballot. After the suspected fraud, French courts banned Benedetti from running for public office for a year.
© The Vice
France: Sarkozy wants to scrap France's gay marriage law
Former French president Nicolas Sarkozy, who has embarked on a political comeback, on Saturday said France's gay marriage law should be scrapped, in his strongest comment yet on the controversial issue.

16/11/2014- Sarkozy was pushed to take a firm stand when he spoke at an event in Paris for the three candidates vying to lead the centre-right UMP party into the 2017 presidential election. The same-sex marriage law, which came into force in May 2013 and also legalises gay adoption, "should be rewritten from the ground up," Sarkozy told audience members at the debate organised by Common Sense, a conservative movement within the main opposition UMP. His words were met with jeers and chants of "Repeal! Repeal!", prompting the former president to add: "If you prefer that I say repeal the law... it comes down to the same thing." After he was elected in 2007 Sarkozy promised gay voters he would introduce civil unions, but nothing came of it during his term.

He has in the past called for the contentious gay marriage law, which sparked huge street protests in France, to be "rewritten" but he has never before stated outright that he would want to cancel it. Sarkozy's opponents in the race to head the UMP also touched on the issue at the event attended by some 3,000 UMP supporters, according to organisers. Candidate Bruno Le Maire drew boos from the crowd when he spoke out against changing the law, while Herve Mariton won loud applause calling for the measure to be scrapped. Though officially a secular republic, France is overwhelmingly Catholic and the issue of gay adoption and marriage -- a key campaign pledge of Sarkozy's successor Socialist President Francois Hollande -- sparked a deeply divisive debate in the country. According to an Ifop poll published Saturday, 68 percent of the French were in favour of same-sex unions, and 53 percent supported adoption by homosexual couples.
© AFP
French National Front plagued by anti-Semitism
A recent study published by the Foundation for Political Innovation has dealt a blow to the legitimacy of France's National Front, establishing a strong relationship between the NF and anti-Semitism in France. EurActiv France reports.

7/11/2014- The study of anti-Semitism in French public opinion, published by the Foundation for Political Innovation (Fondapol) threatens to undermine attempts by the National Front to enter the French political mainstream. Anti-Semitism has little foothold in French society as a whole, but the study found a strong undercurrent of anti-Semitic feeling among the NF electorate. "We can say that French society as a whole is relatively unaffected by anti-Semitic prejudice, with four major areas of exception: the National Front electorate, French Muslims, supporters of the Left Front and videos on the sites YouTube and Dailymotion, where anti-Semitism is more visible than in other media," the director of Fondapol, Dominique Reynié, explained.

No integration for the NF
A sample of 1005 French citizens over the age of 16, and a further 575 people born into Muslim families, were surveyed for the study by the organisation IFOP. The study was based on the observation that anti-Semitism accounts for over half the acts of racially motivated violence in France, while people of Jewish descent make up only around 1% of the French population. The authors arrived at the opposite conclusion to a 2004 study carried out by Jean-Christophe Rufin, which identified an inverse correlation between the extreme right and anti-Semitic feeling. While 84% of those questioned thought that a French Jew was just as French as any other French citizen, the figure is 61% among NF supporters, and 91% among French Muslims. 53% of National Front voters would not be happy to vote for a Jewish President, compared to 21% of the overall population, and 22% would actively avoid having Jewish neighbours, compared to 6% of all French citizens.

Rejection of European Institutions
Dominique Reynié said that "the NF is the only section of French society to reject all forms of otherness, not only the Jews, to such an extent: even the Corsicans are not exempt". He added that the conclusions of the study were completely "at odds with the mainstreaming of the NF". He also identified a relationship between anti-Semitic feeling and the National Front's anti-EU politics. While 32% of all those questioned said they had confidence in the EU Institutions, the figure among those who claimed to believe in the existence of a global Zionist conspiracy was only 20%.
© EuroActiv
France's Front National and Britain's Ukip target Juncker in EU parliament
European parliamentarians in France's far-right Front National (FN) on Tuesday backed other eurosceptics, with whom they previously refused to work, to force a confi-dence vote for European Commission president Jean-Claude Juncker, who has been shaken by tax evasion revelations.

19/11/2014- The FN gave Italy's Five Star Movement and the United Kingdom Independence Party (Ukip) the boost they needed to gather the 76 necessary signatures to trigger a confidence vote for next week. The 44 signatures of the Europe of Freedom and Direct Democracy parliamentary group, which includes Five Star and Ukip, were bolstered by 32 names from other MEPs, including many from the FN. "It is intolerable that a person who has been responsible for aggressive tax avoidance poli-cies should serve as president of the European Commission," says the motion. Juncker has come under fire over revelations that hundreds of multinational companies have avoided paying billions of euros in taxes to governments around the world under Luxembourg's tax schemes implemented when he was the country's finance minister and prime minister.

The confidence vote in the 751-seat legislature is likely to pass, however, with Juncker's centre-right European People's Party and the social-democratic group run by parliamentary president Martin Schulz both expected to oppose the motion. The motion sees FN leader Marine Le Pen allying with Ukip leader Nigel Farage, who said during this year's European election campaign that the French far-right party "has anti-Semitism in its DNA". Following historic advances in the May's European elections, the two parties ruled out working together and competed with each other to form a eurosceptic parliamentary group. Ukip and Five Star went on to form Europe of Freedom and Direct Democracy, while the FN failed to win over the necessary number of parties to form a group under the parliament's rules. The FN secured 24.96 percent of votes cast in the European elections in France, more than any other party.
© RFI
Olympic President Wants To Add Sexual Orientation To Non-Discrimination Policy
19/11/2014- Thomas Bach, the president of the International Olympic Committee, this week called on the organization to add sexual orientation to the section of the Olympic Charter that outlines the organization's non-discrimination policy. The current non-discrimination policy, Principle 6 of the Olympic Charter, states that "Any form of discrimination with regard to a country or a person on grounds of race, religion, politics, gender or otherwise is incompatible with belonging to the Olympic Movement," and calls to add sexual orientation intensified around the Sochi Olympics in 2014 after host Russia passed new anti-LGBT laws in the run-up to the Games. Bach's call to add sexual orientation comes as part of Olympic Agenda 2020, a set of 39 proposals for the IOC to consider at upcoming meetings in Monaco. Recommen-dation 14 states plainly: "The IOC to include non-discrimination on sexual orientation in the 6th Fundamental Principle of Olympism."

The Associated Press reported that the new clause would read: "The enjoyment of the rights and freedoms set forth in the Olympic Charter shall be secured without discrimination of any kind, such as race, color, sex, sexual orientation, language, religion, political or other opinion, national or social origin, property, birth or other status." The controversy in Sochi stretched across the international community, with political leaders, athletes, Olympic sponsors, and advocacy organizations calling on the IOC to do more to protect LGBT fans and athletes and promote equality in its host nations. Bach was critical of world leaders, who he saw as politicizing the Olympics. But the recommendation to add sexual orientation to Principle 6 could be a major post-Sochi step forward on LGBT equality, especially as the IOC announced in September that it was adding the non-discrimination clause to its bidding process, forcing potential host cities to pledge to adhere to the policy.

Of course, given its actions in Sochi, there are plenty of reasons to be skeptical about whether the IOC will actually force host nations to comply with the Principle. "No athlete or fan should face fear of discrimination because of who they love. The International Olympic Committee must seize this opportunity to protect Olympic attendees and affirm its commitment to equality across the globe," GLAAD president and CEO Sarah Kate Ellis said. Other political leaders who pushed the IOC to act during Sochi praised the decision. The IOC will vote on the proposal during its meeting in Monaco on December 8 and 9.
© Think Progress
Netherlands: Talk to councils about refugees with no home before the winter
20/11/2014- Divisions between the two coalition parties emerged on Thursday during a debate on emergency accommodation for would-be asylum seekers who have lost their appeal to stay. Earlier this month, the Council of Europe said the Netherlands must ensure everyone living in the country has food, clothes and shelter and that includes failed asylum seekers who are not cooperating with efforts to deport them. The Netherlands has a policy of evicting failed asylum seekers from refugee centres if they refuse to cooperate with their deportation.

Illegal
Labour MPs want junior justice minister Fred Teeven to talk to local councils about how best to provide the failed asylum seekers with 'bed and board'. However, the
VVD says this group should not be 'rewarded' for failing to cooperate with plans to deport them. Teeven has said he will wait for a final ruling on the issue by the 47 ministers attached to the Council of Europe next year before deciding what to do. Refugee organisation Vluchtelingenwerk estimates some 5,000 would-be refugees are turned out onto the street every year. Many of them remain in the country and live illegally.

A large group is currently squatting in empty buildings in Amsterdam. While Labour MPs say they support the government's line, they still want Teeven to talk to the local authorities, nu.nl reports. 'Some form of accommodation is desirable,' Labour MP Attje Kuiken said during the debate Opposition parties also want Teeven to take action before the winter sets in. However, the minister says there is already provision for emergency shelters during spells of hard frost. 'That is nothing new,' he said. Local councils which do provide some form of accommodation will not be refunded by the state, Teeven warned.
© The Dutch News
Netherlands: Prosecutor to investigate racism against footballers
18/11/2014- The Public Prosecutor has decided to investigate whether the racists comments made on Leroy Fer's selfie is punishable and whether prosecution is possible. This will be an exploratory investigation. The Public Prosecutor will collect all the facts and examine who posted which comments. A decision on possible prosecution has not yet been made. On Friday Fer posted the photo of nine players of the Dutch national team on Twitter. Over the weekend the photo was shared elsewhere and lead to a flood of comments, including some racist reactions. After the match against Latvia on Sunday, football players Robin van Persie and Wesley Sneijder were very vocal about their dissatisfaction with the racism against their fellow team mates. Yesterday the Dutch national football association KNVB confirmed that they contacted the Public Prosecutor regarding possible prosecution against the comments. After a consultation with the players the KNVB decided that for the time being they won't be laying charges, but will give their full cooperation to the Public Prosecutor's investigation.
© The NL Times
Black Dutch football internationals gather racist abuse after selfie hits social media
17/11/2014- Robin van Persie, captain of the Dutch national football team, told reporters on Sunday he would approve if people were prosecuted for placing racist reactions on social media about a photograph of black Dutch footballers. 'This makes me very unhappy,' Van Persie said after a selfie taken by midfielder Leroy Fer
on Saturday was circulated on social media and gathered a number of racist comments. In some, the players were likened to Sinterklaas's controversial helper 'Zwarte Piet (black Pete), in others monkeys. 'It is shocking that this sort of thing happens in 2014,' Van Persie said. 'This has to be tackled properly. It is time to set an example.' Football website Voetbalzone removed the photo after it gathered a number of racist reactions and distanced itself from the comments. 'We are sorry that there are still people around who treat each other with such a lack of respect,' the website said. Labour MPs have called on the public prosecution department to investigate the comments if no formal complaint is made by the players themselves.
© The Dutch News
Netherlands: Ninety arrested in anti-Piet protests as Sinterklaas arrives in Gouda
15/11/2014- Ninety people were arrested in Gouda on Saturday after clashes between pro and anti Zwarte Piet demonstrators at the welcoming ceremony for Sinterklaas, news agency ANP reported. City mayor Milo Schoenmaker told a news conference on Saturday afternoon he was disappointed about the incidents but was unable to say if those arrested were for or against Zwarte Piet. Anti-campaigners had said they would demonstrate against the presence of white people in black face make-up at the parade. They had been told to confine their activities to two locations, but according to Nos television, some insisted on forcing their way to the city centre square. One father with young children was caught up in the trouble, Schoenmaker said. He declined to say how many police had been deployed in the city. Sinterklaas's arrival passed off peacefully from the point of view of the young audience, Schoenmaker said. Although Sinterklaas was accompanied by mostly Piets in blackface make up, several Piets in different make up, including a clown and a white Piet were spotted by reporters.
© The Dutch News
Serbia: Far-right leader praises Serbia's ties with Russia
15/11/2014- Three days after being temporarily released from a U.N. war crimes court for health reasons, Serbia far-right leader Vojislav Seselj told about 10,000 supporters on Saturday that his Balkan country must scrap EU integration and turn entirely to Russia. The Serbian firebrand, accused of recruiting notorious paramilitary forces during the Balkan wars, also said he wants to regroup his ultranationalist party to force an early election next year and "wipe away the pro-Europeans." "We want integration with Russia. We do not want the European Union. That is where our enemies are," Seselj told his supporters, some of whom carried posters of Russian President Vladimir Putin.

Serbia has sought to balance its bid to become a member of the European Union and to maintain its close relations with Russia, its traditional Slavic ally. In a sign of close ties with Moscow, Serbia last month gave the visiting Putin a hero's welcome, organizing a military parade to his honor. On Friday the nation's two armies held a joint military exercise in north Serbia. Seselj said "Serbia must set a clear path and decide between east and west," adding: "We must show sincerely we are for Russia." He returned home on Wednesday after the tribunal for the former Yugoslavia in The Hague, Netherlands, released him for medical treatment. Serbian doctors who visited the 60-year-old say he is suffering from colon cancer that has spread to his liver. Seselj has been in custody since 2003, charged as part of a criminal plot to drive out non-Serbs in Croatia and Bosnia during the conflict. Judges have delayed passing a verdict several times because of different legal obstacles.
© The Associated Press
Analysis of Czech, German and Hungarian trials of terrorist hate attacks
By Markus Pape

21/11/2014- In August of this year I reported that the trial of the alleged members of the international neo-Nazi network Blood & Honour here in the Czech Republic would begin in the fall. At the start of 2012 those defendants were charged with various crimes, including an arson attack on a building occupied by Romani families in the West Bohemian town of Aš. Due to procedural delays, however, the main hearing will not take place this fall. How is that possible, given that some of the defen-dants might face extraordinary sentencing on 18 counts of attempted murder and that according to the indictment, they also planned violent attacks on a church, on homeless people and on politicians?

Are we once again seeing the confirmation that anything is possible in the Czech Republic when it comes to cases of racist violence against Romani people? In the case of Jaroslav H. of Havířov, for example, who became the victim of a frantic spree of nighttime violence by masked racists in various neigborhoods of that town, the criminal proceedings took four years before a verdict took effect. Of the 12 participants in that group attack, only four were ultimately convicted. They were given light punishments precisely because of the inordinate length of the trial. Let's take a look at similar cases that have been tried here in the past. We will also analyze current similar cases from abroad.

Four cases from various countries - one manual
A group of neo-Nazi murderers in Hungary perpetrated arson attacks on Romani family homes from a least 2007 to 2009 in various regions of the country. When the victims fled the burning buildings, the neo-Nazis shot them dead. A first-instance court in Budapest took two years and a total of 157 hearings to finally produce its verdict in the matter this year. Three of the four defendants were sentenced to life in prison, but the judge never filed his verdict within the time period required by law and is now facing disciplinary proceedings. It is unknown when a verdict that might take effect in this case will be on the horizon. Meanwhile in Germany, a group of neo-Nazis executed foreigners all over the country between 2000 and 2008 for what are not yet completely clear reasons.

A German police officer was one of their victims as well. Police did not track them down until the end of 2011, when two members of the group shot themselves after a bank robbery and the police officer's weapon and the pistol used to murder the foreigners were found left behind in their mobile home. The first-instance trial of their case has already been through more than 150 hearings, but a verdict is not expected until the end of next year. The judge is investigating in-depth and is doing his best to reveal the entire background to the crimes at issue. The main defendant in this case has already spent three years in custody. However, there are other such cases that have developed very differently.

During an arson attack in April 2009 in the Czech town of Vítkov (Opava district), masked neo-Nazis set a single-family home on fire with a seven-member family inside it. While the criminal proceedings of that case also lasted two years, the courts managed to close the case with a verdict that took effect during just one year. That verdict, which involved lengthy but suitable sentencing, has stood up to challenges before both the Supreme Court and, more recently, the Constitutional Court. It's just that the whole background of the crime was never revealed, nor were its ideological architects ever prosecuted. Now let's return to the ongoing Czech case with the working title of "Blood & Honour". Even though suspects were arrested shortly after allegedly committing the crime, the investigation of the case by the Organized Crime Detection Unit (Útvar pro odhalování organizovaného zločinu - ÚOOZ) has taken two years.

The indictment was filed by the Regional State Prosecutor in Plzeň, but the court refused to handle the case on its own. The arson had been perpetrated by two members of the group in Aš (i.e., in a region that fell under the Plzeň court's jurisdiction), but the court wanted the rest of the group to be delegated for prosecution to the Prague 4 District Court as per the permanent residency of the alleged head of the group. However, the Prague judge to whom the case was assigned disagreed with its delegation. He successfully filed a complaint with the High Court in Prague against the decision by the Municipal Court in Plzeň to separate the defendants and it is once again being considered as a single case. Because of these antics, the main trial before the Regional Court in Plzeň has been postponed twice. There is no new date set yet for the main hearing. Next February will mark three years since 18 people were almost burned to death at the hands of neo-Nazis. Their trial has not even begun.

The victims' perspective is dismal
What do the victims say to all this? By now they have nothing more to say. I recently visited some of them. After the arson attack they lost not only the roof over their heads, but all of their property, and local authorities placed the children of two of the families into children's homes, reportedly because their parents could no longer provide them with accommodation. Recently these parents managed to get the court to send their children home; for two years the families have been doing their best mainly to survive and stay together. They evidently are not bothering with the trial of "their" arsonists because they have long since stopped believing in justice.

In all four of these cases the main perpetrators proceeded according to the manual of the international group Blood & Honour: They thoroughly prepared for the crime, there was a high degree of secrecy about it before, during and after, the attack was targeted, their escape was also an attempt to make it impossible to rescue the victims, their escape route avoided roads with CCTV cameras, they have refused to testify in court, and they have risked lengthy punishments. An expert on this issue might expect that the Aš case would be given priority, given the high level of dangerousness of the crimes being prosecuted.

Why is that not possible in the Czech Republic? Several years ago journalists asked then-State Prosecutor Renata Vesecká to respond to my claim that the successful publicizing of a case increases the rapidity of its criminal prosecution, and her response back then was: "That is the case." Today no one here is interested anymore in the murderous attack on Romani families in Aš that took place the year before last because the media have not reported on it for a whole two years. Where there is no media attention, there is no justice.
© Romea.
UK NEWS week 46
Why Julien Blanc should not be let into the UK (opinion)
The US "pickup artist" has crossed a line by promoting violence against women.
by Seema Malhotra

15/11/2014- In one week we have seen the debate about Dapper Laughs, the ongoing campaign against Ched Evans going back to train with Sheffield United, and the news of Julien Blanc planning an imminent tour of the UK. We have also seen thousands standing up taking a stand – and making a real difference. Dapper Laughs has lost his TV show and "retired" his character; Charlie Webster – herself a victim of abuse – and Jessica Ennis-Hill have drawn a line in the sand by telling Sheffield United they do not want to be associated with a club that employs Evans, and Blanc has had his Australian visa revoked after a petition to the immigration minister. There is a real question to ask about whether we should allow Julien Blanc into the UK. In his seminars he promotes the use of physical and sexual assaults on women in order to "seduce" them. He has explicitly endorsed behaviours associated with domestic abuse to sexually manipulate women.

Today the shadow home secretary, Yvette Cooper, wrote to Theresa May to ask her to consider using her powers to exclude him if she assesses that his presence is not in the public good. There is a clear precedent for this - our border controls mean we are under no obligation to allow people into our country if there is evidence they intend to incite violence. When we know that reports of incidents of domestic violence and sexual assaults are on the rise, are the "dating tricks" from Blanc really what we want to see in Britain? And at the end, he will leave the country with his earnings, while young men and women will be left with the impression that things he says and the actions he promotes are acceptable here in Britain.

We all defend free speech, but we also need to make choices when free speech crosses a line towards promoting or inciting acts of violence. If Julien Blanc's language had been about the way white people should behave towards black people (or the other way round), or the way able bodied people should treat disabled people, rather than being about male attitudes to females, would our response be different? Would we think he was inciting hate crime? The values Blanc espouses are hateful. He suggests women are worth less than men and can be used and discarded at will. These aren't the values parents want their sons and daughters to grow up with.

The Labour Party has been lobbying the government hard to have compulsory age-appropriate sex and relationship education (SRE) taught in schools to help promote the understanding that no form of violence in relationships is acceptable. Last week I also wrote to Education Secretary Nicky Morgan again to urge her to change the government's stance on SRE. We need to push back against misogynist attitudes in society, not encourage them. At a time when we know one in three teenage girls experience unwanted groping at school, when sexting and revenge porn is on the rise, it's clear we need a broader conversation about what we see as acceptable and in line with our values. One thing is clear, Julien Blanc is not.
Seema Malhotra is shadow minister for preventing violence against women and girls
© The New Statesman
Home Office minister calls for 'pickup artist' Julien Blanc to be denied UK visa
Lynne Featherstone criticises Blanc's 'sexist and abhorrent statements', and Labour's Yvette Cooper also urges ban

14/11/2014- Pressure is mounting on Theresa May to ban the US "pickup artist" Julien Blanc from entering Britain after the Home Office minister Lynne Featherstone and Labour's Yvette Cooper called for him to be denied a visa. More than 110,000 people have signed a Change.org petition calling for Blanc to be refused entry after he was forced to cut short a visit to Australia following widespread protests. Blanc has been criticised over seminars in which he is said to teach men sexually abusive and racist methods to attract women. Twitter users have posted pictures of Blanc with his hand around the throats of women that he tweeted with the hashtag #ChokingGirlsAroundTheWorld.

Featherstone took the rare step for a minister, even in a coalition, of speaking out publicly to say she was lobbying the home secretary to examine the grounds for denying Blanc a visa. The minister for crime prevention told the Guardian: "As the Home Office minister with responsibility for tackling violence against women and girls, I am extremely concerned by the sexist and utterly abhorrent statements Julien Blanc has made about women. If he was allowed to perform in the UK I have no doubt that cases of sexual harassment and intimidation would increase. "Free speech is obviously hugely important, but with free speech comes responsibility. It is not appropriate to talk about choking girls under any circumstances."

The minister wrote her letter before an intervention by Cooper, who called on May to block Blanc's visit on the grounds that his promotion of violence against women was "not conducive to the public good". In her letter the shadow home secretary highlighted some of the powers that could be used to stop a person coming into the country where they have displayed "unacceptable behaviour". Cooper pointed to reports of Blanc having a history of behaviour that incites violence against women, including his promise to teach men how to overcome last-minute resistance from women to having sex. "It is important that respect for the laws on sexual assault and violence are upheld and that we send a clear message from Britain about zero tolerance of violence against women and girls," she said.

Cooper asked the Home Office to "urgently review this evidence and gather further evidence about his activities, with a view to exercising your exclusion powers to prevent him coming to the UK." She said: "Why should we let someone into this country to incite sexual assaults or violence against women? Australia has already sent this man home. Canada wants to keep him out. There is plenty of evidence of Mr Blanc's vile views and misogynist business, and no interest for Britain in him being able to promote them here in our communities. "The Home Office needs to investigate him urgently. Theresa May should be able to exercise sensible border control and stop him holding these seminars in our country."

The Change.org petition, drawn up by a city worker using the pseudonym Caroline Charles to protect herself from abuse, says Blanc and his association Real Social Dynamics (RSD) promote "sexist, racist and criminal approaches to women". It says: "Julien Blanc and his group RSD are a group of sexist and racist 'pickup artists' who have made a living by teaching men how to violate women through physical and emotional abuse. Do not associate the UK with a man who chokes women around the world as part of his pickup game. "Please help us stand with the women of Australia, the women of America, and women everywhere, and do not let the UK play host to events where men are being taught how to violate and harass women.

It's not only women who are affected: Blanc's misogynistic 'pickup techniques' directly exploit vulnerable men who buy into rape culture and end up believing that this is an appropriate way to behave. "To allow this man into the UK legitimises sexual assault and predation, and sends a message that women are playthings or objects without agency. Australia has already taken a stand by revoking his visa, let us demonstrate that we feel the same way about his message." The Home Office said: "All visa applications are considered on their individual merits in line with the immigration rules. The home secretary has the power to exclude an individual if she considers that his or her presence in the UK is not conducive to the public good."

Twisted tactics
Julien Blanc's methodology in what he terms "female attraction" shows a fixation with physical violence, but there was a particularly grotesque irony in one tweet apparently sent by the self-styled "pick-up artist" which reproduced a resource used to challenge violent abusers. He suggested it would instead make a good "checklist" for his followers. The tweet, now deleted, reproduced a "wheel" that had been developed by campaigners against domestic violence as a way to challenge abusive behaviour by detailing the different types of physical and emotional abuse that victims experience.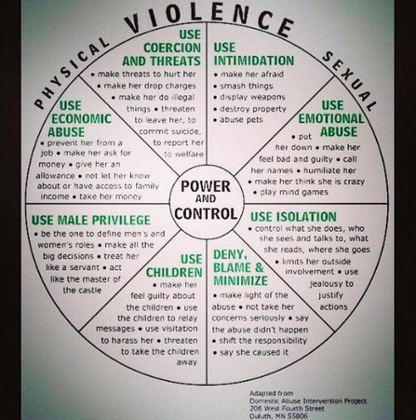 According to Buzzfeed, Blanc tweeted the chart with the comment: "May as well be a checklist ... #Howtomakeherstay". The "Duluth model", the technique of which the wheel is a part, is designed to "hold batterers accountable and keep victims safe", according to those behind the programme. It was developed in the early 1980s in the small Minnesota town of Duluth and is now widely used across the United States.
© The Guardian
Anti-Muslim crimes up in UK after rise of ISIL
Tell Mama says recent events in the UK and internationally have resulted in a sharp increase in anti-Muslim hate crimes

14/11/2014- The rise of the ISIL has resulted in an increase in anti-Muslim hate crime in London, according to a monitoring group. Fiyaz Mighal of Tell Mama, a charity which docu-ments crimes or acts against Muslims in the U.K. based on religious, racial or ethnic hatred, told the Anadolu agency that Muslims were being abused both on and offline following the release of videos showing beheadings carried out by ISIL. Mighal said: "Cases of verbal abuse against Muslims suggests that perceptions about ISIL motivate anti-Muslim hatred nationally and in London. "We've had cases of women being abused on the way to the shops, with people shouting at them: 'Why don't we chop your head off?'" In another case, he said perpetrators shouted at a Muslim woman: "Oh, your head will be much better on the floor." The organization also analyzed figures, obtained in a freedom of information request from the Metropolitan police, from 2012 to 2014 and found that there had been an overall increase.

Dramatic rise
Mughal said that, although the police were attempting to show that hate crimes were coming down following the murder of Lee Rigby, a British soldier who was hacked to death near his barracks in Woolwich, southeast London, in May last year leading to a dramatic rise in anti-Muslim hate crimes, Tell Mama's research showed they had increased overall. Tell Mama said that, according to figures released by the Metropolitan police, there had been an average of 28 anti-Muslim hate crimes per month in the year before the killing, from April 2012 to April 2013. But anti-Muslim hate crimes rose by 66 percent the year after, between March 2013 and March 2014. Tell Mama said that, with the so-called Trojan Horse scandal in Birmingham (which revolved around allegations of a "jihadist plot" to take over education in U.K. schools), the Gaza-Israel conflict and the activities of ISIL in northern Iraq all being in the headlines, attacks against Muslims had risen. The anti-Muslim discourse worsened in late 2014 following reports of child abuse in Rotherham, in which more than 1,400 children were sexually abused over a 16-year period by gangs of pedophiles after police and council bosses who turned a blind eye to the attacks through fear of being labelled racist, according to a report by Professor Alexis Jay, the former chief inspector of social work in Scotland.

'Rampant' hatred
Mughal said: "The issue very quickly was turned into a Muslim issue by the far-right and others seeking to capitalize on the events. "It is clear that anti-Muslim hate did not simply taper off and fall back to a low level after 2014. Instead, it got worse," he said. The highest number of reports came from the London borough of Tower Hamlets, which has a large Muslim population and a Muslim mayor. A report by Birmingham City University on online hatred towards Muslims after the murder of Lee Rigby, said in July the problem had be-come "rampant". A Teeside University investigation released the same month revealed Muslim women were increasingly becoming the targets of anti-Muslim hate crimes. U.K. Muslims makes up 4.8 percent of the country's population and number around 2.7 million.
© World Bulletin
Abandoning Gypsy, Traveller and Roma communities … the UK way
Two new reports, prepared by the National Federation of Gypsy Liaison Groups (NFGLG), with the assistance of academic colleagues, ask hard questions of the coalition government.
By Liz Fiteke

The European Commission (EC) gave the UK government an 'overall poor rating' for the progress report it delivered in 2012 on its Roma integration strategy. The EC uses 'Roma' as an umbrella term and includes within it a wide range of communities including Gypsies and Travellers.[1] Now two reports [Gypsy, Traveller and Roma: experts by experience and Civil Society Monitoring on the implementation of the National Roma Integration Strategy in the United Kingdom.] prepared by the National Federation of Gypsy Liaison Groups[2] examine the lack of UK progress on Roma integration from the vantage point of those who are 'experts by experience'. Taken together, they go a long way to explain why the UK is earning such a bad reputation in Europe.

The authors have worked hard to marshal all the facts about the extreme vulnerability and marginalisation of the UK's Gypsy, Traveller and Roma communities. This is data that the Department for Communities and Local Government, having abandoned any targeted equalities strategy for BME communities in favour of a 'mainstreaming approach', have manifestly failed to gather. The reports, which were launched in October at a parliamentary meeting hosted by Andrew George, Chair of the All-Party Parliamentary Group for Gypsy Roma and Travellers, provide chapter and verse on the English government's disappointing record – though the devolved governments of Scotland and Wales (but not Northern Ireland) fare better and are given due credit for establishing a higher baseline for Gypsy and Traveller inclusion.

What really stirs you about these two reports is that they are written in the methodical, factual language associated with academic or town hall reports, and yet still leave you burning with anger. The researchers are utterly conscientious in their approach, collating the facts of Roma marginalisation in five areas: discrimination, accommodation, educa-tion, health and employment. In difficult terrain, they have attempted to be positive and fair, identifying much good practice, particular in Wales which is the only one of the four nations to have drawn up a clear Roma Integration Strategy and a framework for action. Without anger or rhetoric, the facts work upon the reader, and build up into a comprehensive indictment of the coalition government's sidelining of Gypsy, Roma and Traveller communities. The reports leave you frustrated.

Is this government incompetent (asleep on the job), indifferent (equalities just isn't their thing) or is, the visceral hatred of Gypsies and Travellers, often expressed by Conservative councillors and voters in the shires, driving a harsh assimilationist agenda with the drivers cruelly unconcerned about the consequences of their crusade, particularly on the young and the elderly?

These are just a few of the questions that jump out of the pages.
1. National Roma Integration Strategy (NRIS): What is the government doing to respond to EC criticisms of its failure to set up proper mechanisms to monitor Roma integration? And what precisely is the ethos of the Ministerial Working Group on preventing and tackling inequalities experienced by Gypsies and Travellers (note, Roma not included in the title), given that it didn't even manage to meet the deadline established by the EU for the submission of its NRIS? (It later published a list of twenty-eight 'proposed commit-ments'). It has just emerged that the Ministerial Working Group has not met since April 2012 and does not plan to do so in the near future. Can the government account for the fact that major streams of EU structural funding, from the Cohesion Fund and the European Social Fund, for instance, that are dedicated to disadvantaged groups, including the Roma, have failed to 'trickle down' into communities or make any real change to the quality of life of Travellers, Gypsies and Roma?

2. Ethnic monitoring: Gypsies and Travellers were included as an ethnic group for the first time in the 2011 census. Given this, why has the Department for Work and Pensions (DWP) failed to recognise or categorise Gypsies and Travellers, let alone the Roma, as an ethnic minority. The DWP's stance means that Gypsies, Travellers and Roma are not included in national data sets or research relating to ethnic groups? Why is the Department of Health still working on the sixteen ethnic minority categories of the 2001 census, ensuring that possible discrimination against Gypsy, Travellers and Roma is not monitored by the NHS in England and Wales? (Scotland fares better here.) And why has the Department of Education failed to include Gypsy, Roma and Traveller children within the criteria for the Pupil Premium which provides extra resources in schools to meet the needs of disadvantaged children?

3. Consultation on changes to the planning law: What is the agenda driving the government's current consultation to change the definition of 'Traveller' within planning laws. This consultation is provoking consternation within Gypsy and Traveller communities who believe that the legal definition of Traveller as an ethnic group is under threat from the mechanical narrow definitions currently suggested by the government as part of this planning consultation. Is it the same agenda that has led to a catastrophic decline in the number and quality of places and permanent sites and stopping places, not least through the impact of the Localism Act? It returned decisions on Traveller site provision to local authorities while removing the Regional Strategy Framework which outlined local authority duties in this respect, with the possibility of central government intervention and the setting of targets.

4. Scrap Metal Dealers Act (2013): What measures, if any, were taken to assess the possible discriminatory impact of the licensing of the scrap industry through the Scrap Metal Dealers Act (2013)? This has made it difficult for nomadic families who engage in such activities to continue their trade, given that each local authority now sets its own fee for licences thereby discriminating against those with a nomadic lifestyle who work across local authorities. Why is the government destroying the recycling component of the 'travellers economy', rather than enhancing it? Why doesn't the government respond to the sensible request for a licence that can cover more than one district or borough?

5. Exploitation: What, if any, attention is the government paying to growing levels of exploitation of the Roma community, both from unscrupulous landlords and from discriminatory employers, gang-masters and recruitment agencies? Has the government considered that welfare benefit changes will have the perverse impact of forcing Roma into the hands of unscrupulous employers in the informal economy?

6. Education: Why has the government failed to recognise the vital work carried out by Traveller Education Support Services (TESS) and why is it so keen to repeal section 444 (6) of the 1996 Education Act which currently protects parents who remove their children from school from prosecution if their job requires them to travel? Is the government's real intention to criminalise Traveller parents or force their children into home education, so Gypsy and Traveller kids won't have an opportunity to mix with other kids? There is no evidence that the proposed repeal would increase the school attendance of nomadic travellers and all existing research shows that flexibility is the key to improving school outcomes.

7. Rights of the child: What is the Department of Education doing to address the fact that nine out of ten children from a Gypsy, Traveller or Roma background have suffered racial abuse and nearly two thirds have been bullied or physically attacked. How can a 'mainstreaming' approach that fails to recognise 'ethnic need', deal with a social reality whereby Gypsy and Traveller children are more likely to experience early death, poor childhood development and are over-represented in the 200,000 children living in poverty?

8. Health and life expectancy: What is the government doing to address the fact that life expectancy of Gypsy, Traveller and Roma communities is at least ten to twelve years less than general population? Will the government act now to investigate why these communities are using health services less than other groups, why some health agencies refuse to register them and will the government address concerns that some private companies, competing to win NHS contracts, may not include services to Gypsy, Traveller and Roma communities? Also, can the NHS ensure that the data it provides on maternal deaths includes data on these communities? A current London review of maternal deaths, subsumed Gypsies and Travellers into the reporting category 'white'.

Thanks to the NFGLG, we are in a better position to support Gypsy, Traveller and Roma communities in their fight for respect and rights. Having posed the questions for us, it's now up to all of us to press for answers.

[1] The Council of Europe's Committee of Experts on Roma and Travellers states that 'the term Roma ... refers to Roma, Sinti, Kale and related groups in Europe, including Travellers and the Eastern groups (Dom and Lom), and covers the wide diversity of the groups concerned, including persons who identify themselves as Gypsies'.

[2] The NFGLG enjoyed great support from a wide cross-section of critical friends drawn from community groups, academics from Anglia Ruskin University, University of Bristol and Corvinus University Budapest, amongst others, and funding agencies and foundations such as the Joseph Rowntree Foundation, the Decade of Roma Inclusion Secretariat Foundation and the Open Society Foundations. The research team was led by Dr Andrew Ryder and Dr Sarah Cemlyn, and includes: Helena Kiely, Johanna Price, Asen Slavchev, Janie Codona, Przemek Kierpacz, Michael Daduc, Valerie Elliot, Rom McCready, Muzella McCready, Lynne Tammi, Iona Burke, Elizabeth McDonald, Jade McPhee, Margaret Williamson, Bernadette Williamson, Isaac Blake, Brigitta Balogh, Stephen Long, Denis Lliescu, Dr Pauline Lane, Alan Anstead, Marc Willers QC, Chris Johnson, Arthur Ivatts and Angus McCabe.
© Institute of Race Relations
UK: I won't let anti-Semitic thugs win', says Salford rabbi
Rabbi Arnold Saunders, of Higher Crumpsall and Higher Broughton Synagogue, speaks out as the extent of anti-Semitic incidents in the city is revealed.

13/11/2014- A rabbi has told of how he has been physically attacked and verbally abused by anti-Semitic thugs. Rabbi Arnold Saunders has spoken out as new figures reveal the extent of anti-Semitic incidents in the city. Rabbi Saunders said he was punched in the face outside his synagogue by a man who then ran away. On another occasion a teenage boy walked up to him and yelled in his face. And, while driving in Salford, he was shocked to see a man wearing a football shirt bearing an anti-Semitic slogan referring to the gas chambers during the Holocaust. Rabbi Saunders, of the Higher Crumpsall and Higher Broughton Synagogue, has also been pelted with eggs and has witnessed abuse aimed at other members of the Jewish community. He is urging people to report all incidents of violence, abuse, vandalism and assaults. He said: "Even if you're not going to get the perpetrator, it's still important that the police can log the incident. "I was threatened by someone who said 'I'm going to kill you'. But I thought 'I'm not going to let you win'."

Data collected by the Community Security Trust (CST), which monitors anti-Semitism in Britain and works to protect Jewish people, reveals that Salford has seen the highest number of anti-Semitic attacks in Greater Manchester in the first half of the year. Of 98 incidents that occurred between January and June, 43 were in Salford. There were four assaults, seven incidents of damage and desecration of Jewish property, one threat and 31 incidents of abusive behaviour. Salford has the second highest Jewish population in Greater Manchester after Bury. In the 2011 Census 7,687 people in Salford said they were Jewish. Superintendent Stuart Barton, of Greater Manchester Police, said: "We, and our partner agencies in Salford, do a lot of work to engage with our local communities with the aim to reduce hate crime. I believe our existing strong relationship with our neighbourhoods is going from strength to strength with dedicated staff patrolling the areas and developing those ties."

Mark Gardner of the CST said: "Salford is home to a relatively large and visible Jewish community, that is thriving and happy. "Unfortunately, however, it does suffer on occasion from criminal and anti-social behaviour that often has a racist anti-Semitic element to it."
© The Manchester Evening News.
UK: How can football tackle the social media hate merchants?
Many observers were encouraged to see Manchester City midfielder Yaya Toure speak out via the BBC last week against those who had racially abused him over Twitter just hours after he had reactivated his account.

11/11/2014- As one of the sport's most high-profile figures, it felt as if the Ivory Coast international had made a stand on behalf of an ever-growing number of similar victims in the game - because Toure is far from alone in being subject to such treatment. Already this season, Liverpool striker Mario Balotelli has been racially abused over the internet after he made fun of Manchester United following their defeat to Leicester City. Last year I interviewed former footballer and Professional Footballers' Association (PFA) chairman Clarke Carlisle at his house. He showed me his laptop and the torrent of vile racial abuse he had received via Twitter, abuse he did not want his wife or children to see, and which had left him feeling numb. And all because he had been commentating on a match that week on TV. Last season, 50% of all complaints about football-related hate crime submitted to anti-discrimination organisation Kick It Out (KIO) related to social media abuse. So severe is the problem, KIO now employs a full-time reporting officer whose job is to act on such incidents and refer them to the relevant authorities. Greater Manchester Police are investigating the Toure case, but don't be too surprised if no-one is ever punished. The anonymity users can gain on social media can make it very difficult to track down offenders.

Frustration
But Kick It Out is also frustrated by what it feels is a lack of a co-ordination between the police and Twitter and the need for better communication between the two. It feels there needs to be more education for local police forces on the misuse of social media and how complaints are dealt with. In some cases, KIO says, it has made a report but has not heard back from the police, something one source there described as "very disheartening". In addition, KIO wants more clubs to be proactive in coming out to publicly support their players when they are the victims of discrimination online, by calling upon the authorities to work closely with the relevant platform to investigate and track down the offenders. Such concerns are nothing new. Accounts with false identities often mean the police need Twitter to provide them with an IP address for the account if they hope to find them. The Association of Chief Police Officers (ACPO) has said that Twitter only provides this information with a US court order, something which it is difficult to get because of the value and protection afforded there to freedom of speech.

Elsewhere - like in the UK - it is optional, although Twitter insists it is co-operating with law enforcement here more than ever before. During the first half of 2014, Twitter received 78 account information requests, 46% of which resulted in some information being produced, the highest proportion to date. It says it has made it easier for users to report malicious posts, claims it has become more vigilant in blocking offensive tweeters, and is developing technology that prevents barred trolls from simply opening up a new account.

Progress being made
The police insist important progress is being made, and that platforms are now beginning to appreciate the responsibility they have for what is posted on their networks. Last year, following a long legal battle in France when prosecutors argued Twitter had a duty to expose wrong-doers, the site agreed to hand over details of people who allegedly posted racist and anti-Semitic abuse. Although that set an important precedent, Twitter admits it could do better. Earlier this year it promised to change its policies after Robin Williams's daughter Zelda was targeted by trolls following his suicide. But there are signs that such abuse will not be tolerated.

In 2012 Liam Stacey, from Swansea, received a prison sentence after racially abusing former Bolton player Fabrice Muamba on Twitter. Last year, a man who admitted sending racist tweets to two footballers was ordered to pay £500 compensation to each of them. And police were heartened last month when a Nazi sympathiser was jailed for four weeks for sending anti-Semitic tweets to Jewish MP Luciana Berger. But these cases, of course, while dissuading some, will not prevent further incidents from occurring. Twitter admits it is impossible to monitor all of the 500 million or so postings going through its networks each and every day. One expert I spoke to told me that some of the cases the UK media has picked up on would simply not register in the US, where such abuse is often disregarded and denied the publicity some trolls crave. Others will insist that it is absolutely right that such vitriol is exposed and condemned.

Paul Giannasi, hate crime lead officer at ACPO, said the challenge was huge, but efforts to combat the problem were constantly evolving. ACPO sits on an international cyber-hate working group lead by the US based Anti-Defamation League. This group brings parliamentarians, professionals and community groups together with industry leaders to help find solutions that balance protection from offensive comments with the right to free speech. "The police will draw on the guidelines issued by the Director of Public Prosecutions and The College of Policing to assess whether the threshold for communications which are grossly offensive, indecent, obscene or false is met. "The CPS guidance is very clear that a high threshold applies in these cases. We encourage officers to work with the CPS at an early stage of an investigation to determine whether proceeding with a prosecution is in the public interest." Certainly, with its tradition of rivalry and tribal passions, football seems particularly vulnerable to the dark side of social media.

Twitter and other platforms have enabled fans and the players they idolise to get closer than ever. Amid the anodyne world of bland footballer interviews, it is refreshing that players' true emotions and opinions can often be glimpsed online even if sometimes it results in them being fined. But it also enables a sad and cowardly minority to abuse and insult in a way that would never be tolerated - and that they would never dare to - in a public, physical place. Amid unprecedented interest and media exposure, footballers can be followed by millions of supporters. This makes them an attractive target for the trolls who crave attention through a retweet, and seek maximum impact from their messages of hate. The question is how to tackle them without endangering the freedom that makes social media such a special place to so many.

How Twitter tackles abuse
Over the past year it has expanded the number of people working on abuse reports, reporting 24/7 cover. It has invested in technology to make it harder for serial abusers to create accounts, and perpetuate abusive behaviour. It has worked with the Safer Internet Centre and charities that specialise in developing strategies to counter hate speech.
© BBC News
UK: Candlelit vigil to honour transgender hate crime victims
10/11/2014- The international Transgender Day of Remembrance (TDOR) will be marked with a candlelit vigil in Middlesbrough next week. The event has been organised in a bid to honour those who have died as a result of anti-transgender hate crimes. Held across the world on or around November 20th each year, the annual TDOR was originally launched in tribute to Rita Hester whose 1998 murder remains unsolved. In the last decade, experts estimate more than one person a month has died due to attacks arising from transgender based prejudice. The Middlesbrough event will see the town's transgender community and its allies gather in a bid to raise awareness of the issues they face. Organised by the Cleveland Transgender Association, the vigil will take place at Middlesbrough town hall from 6pm on Thursday, November 20. For more information, join the Cleveland Transgender Association Facebook community.
© The Northern Echo
Jews and Muslims of Britain Unite! (comment)
In a globalised world, the events that took place this summer, have been and will continue to be of consequence for every person, no matter of what background, no matter where they are in the world. That said,for the Jewish and Muslim communities in the UK, what has taken place in Gaza,Iraq and Syria and Europe is of the greatest importance. By Asher Kessler

12/11/2014- Once again both communities feel under siege, under attack. For Muslims in this country, the past decade has seen the suffocating rise of Islamaphobia. According to the May 2014 PEW poll, one in four British people hold negative views against Muslims, in Spain, Italy and Greece, this has risen to over half the population. For many people, in a time when institutional structures seem outdated, a place of worship is the last upholder of community. This is especially true for recent and second wave immigrants for whom religion connects them to their past and allows them to assimilate into a new community. Jewish people more than any other ought to be able to empathize with the position that British Muslim's find themselves today. The history of Jews in Europe is one of similar persecution. However, the persecution of Jews is not a piece of history but a resurrecting curse that is once again emerging across Europe.

The attempted firebombing of Paris' Synagogues attracted the greatest media attention this summer, however anti-Semitism is rising in the UK also. The first half of the year witnessed a 36% rise in anti-Semitic attacks, more than 130 British reported suffering anti-Semitic attacks in July alone. Across Europe, Islamaphobia and anti-Semitic attitudes are on the rise. Such prejudices have allowed far-right groups such as Jobbik to gain 20% of votes in Hungary and the Swiss People's Party gaining over 26% of the poll. The rise of the far right extends across the whole of Europe. It is true that the British public has long been unwilling to support such trends. However, power in Britain, normally the bedrock of parliamentary stability, is fracturing and moving towards an unknown future. Something that has not gone unnoticed by all minority groups in this country. Adding to the confusion and suspicion is that sections of both Jewish and Muslim communities are involved in the denigration of the other.

Over the last few years we've seen ultra-Zionist Jews team up with Islamaphobic groups such as the EDL and the Front National. On the other side an undercurrent of anti-Semitism is noticeable and on rare occasions heard loudly from European Muslims. Both communities are afraid of the rising hatred and to some extent see each other as part of that rising persecution. The two communities' newspapers 'The Jewish Chronicle' and 'The Muslim News' spend most their articles reporting attacks on the communities, relaying negative myths of the other and emphasising differences rather than similarities. Frankly, British Muslims and Jews need to disown and reject these backwards and harmful attitudes, if not for the sake of the other then for their own sake. It is now that these two communities must understand how interdependent they are. When one community is attacked, the other is next in line.

The hatred of Muslims in Europe is the same hatred that Jews have experienced for the last few centuries. When Jews perpetrate islamaphobic actions, they are creating an atmosphere in which anti-Semitism thrives and vice versa. The last Pew statistics show direct correlations between rising Islamaphobia and rising Anti-Semitism. When Islama-phobia permeates a community so too does anti-Semitism. As Nasar Meer tells us 'the expression of anti-Muslim and anti-Jewish attitudes emerges not separately but instead as a conjoined activity'. In Paris this summer, the anti-Semitic events further divided the two communities and through these cracks, the far right emerges. In the UK both Jews and Muslims are facing the same problems as minority communities living a diaspora existence.

The discrimination that Muslims suffer today sounds enormously familiar to any Jewish person. The frustration that young British Jews feel when they are constantly asked to justify or denounce Israeli attacks is the same frustration that young British Muslims feel when they are asked to justify or denounce every suicide bomb. The fear and anger that young British Muslims felt when they saw mosques attacked after Lee Rigby's murder is the same fear and anger that young British Jews felt when they saw synagogues attacked in Paris and Belfast after Pro-Palestinian marches. It is time for British Muslims to defend the synagogue and for British Jews to defend the Mosque or else face a decade of uncertain living. Click here and here for more information.
© The Huffington Post - UK
Britain First and Ukip 'Talk Regularly' in Rochester & Strood, Claims Far-Right Candidate
12/11/2014- A far-right activist has dismissed claims by Ukip campaigners that they posed for a photo with her "by mistake" in Rochester and Strood. Jayda Fransen, who will contest the constituency's forthcoming by-election as a candidate for Britain First, also said her party is in regular contact with the Ukip team, and they share "almost identical" policies. Fransen told IBTimes UK: "Actually we often speak with their [Ukip's] campaign team. "The people in the picture were speaking with us about politics and knew who we were, so [the claim by Ukip that they posed under false pretenses] is wrong." Fransen also repeated her support for Ukip's Rochester candidate Mark Reckless, claiming she wants him to win the by-election, even though they are rival candidates. She said: "We fully support Mark Reckless because he is on the right side of politics and we [Britain First] are on the same page together. We are encouraging people to vote Ukip. "Ukip policies are almost identical to ours; they are the only party which is speaking on issues like immigration and religion. We know Ukip has to play the political game by distancing themselves from us and we understand that entirely."

Reckless has taken steps to distance himself from Britain First by posting on Twitter about his "anger" with its activists. A Ukip spokesman also rejected Fransen's "identical policies" claim, saying: "We have no connection with Britain First and no association with them." Britain First is a BNP splinter group, opposing what it calls the 'Islamification' of the UK. Fransen admitted she is standing in Rochester and Strood only to oppose mosque-building in the area. Britain First's leader Paul Golding this week threatened to a bury a pig on a proposed mosque site in Birmingham, in the hope of making it "unclean" to Muslims. One far-right watcher, Matthew Collins, predicted Britain First is heading for electoral oblivion in Rochester and Strood, and claimed it has little chance of pulling off the sort of shock victories achieved by the BNP in recent years. "They have told people to vote Ukip because they know they're going to lose their deposit," Collins told IBTimes UK. "They have an active social media operation, [...] but have not been able to translate the online support in to boots on the street."
© The International Business Times UK
UK: Delicious irony as BNP calls for Remembrance Day minute silence a day late
12/11/2014- 'Others forget but we remember', the BNP said of the traditional Remembrance Day silence on Twitter today, only they managed to forget the very date on which the First World War ended themselves. The fiercely patriotic far-right party reminded followers to observe a two-minute silence at 11am on 12 November, and it took them a good four hours to realise their error. It was made more grievous given that they closed the tweet with a judgemental: "Others may forget but we remember". It's very simple guys – the eleventh hour of the eleventh day of the eleventh month. The mistake was eventually spotted and blamed on technology. "Sorry for late tweet on silence. Seems smart phones are not so smart sometimes!" the BNP wrote. Bloody smartphones, always accidentally tweeting national day of silences at whim!
© The Independent
English Neo-Nazis Marched Through London on Remembrance Sunday
By James Poulter

10/11/2014- It's a little known fact that every year on Remembrance Sunday, just after the Queen, the Prime Minister, and other members of the British establishment and military have finished remembering those who fought and died in the two World Wars and later conflicts, a bunch of neo-Nazis march past the Cenotaph to pay their own respects to "our glorious dead," many of whom died fighting the Nazis. The extreme-right National Front's (NF) Remembrance Day parade is the climax of the white nationalist calendar every year. Suits are dug out of cupboards, boots get polished, and members of the NF try their best to look like respectable members of the public. It's an opportunity for them to hide their racist ultra-nationalism in plain sight—behind the general patriotism on one of one of the few days of the year you can march down the street carrying loads of union jacks without looking like a racist street gang.

The theme for their event is "no more brother's wars"—they're anti-war, but only when it involves white people killing other white people. Basically it's an annual attempt to sneak some more overt racism into an event rooted in British nationalism. Usually the NF are held back and made to march behind all the other marches that take place on the day, long after the crowds have gone home. This year it was a little different. "We're going to be looked at by a lot of people this year because we're not the last one[s] to march. Normally when we march, the streets are empty, but this time they are going to be thick with people," said Simon Biggs, head security of the event, at the NF's recent annual general meeting. This is presumably due to a split in the NF. Some of the Nazis have fallen out with each other, meaning that there are now not one but two National Fronts (hooray). The factions are vying for control of the party. This created the need to accommodate two competing racist marches instead of one, which seems to have meant it was logistically easier to let those groups march in closer proximity to normal, non-racist marches. The Metropolitan Police didn't tell me why the two groups were being kept apart when I asked.

I was in Westminster yesterday a few hours after the main Remembrance event had been broadcast to the nation. People were still ambling about—there were clinking and glinting medals stuck to veterans' chests, regimental berets worn by men with beer bellies in ill-fitting suits, smartly dressed poppy wearers, soldiers in full dress uniform and tourists. Down the road from the crowds, the NF started to form up. There was a steady trickle of supporters but many fewer than the 300 that attended last year. The number included members of the South East Alliance, an EDL spin off which seems to think it's patriotic to march with Nazis. There were also a handful of skinheads—regulars at the neo-Nazi Blood & Honor shows which used to fund Combat 18—in probably the only time they'll take to the streets all year. When they finally moved off, I counted just under 130 on the march, followed by five or six police vans. The NF march was led by two drummers, followed by chairman Kevin Bryan, described by one anti-extremist body as "a loud, middle-aged street thug," and Dave McDonald, the NF's Scotland organizer, who allegedly quit the BNP because it wasn't right-wing enough. The NF were marching in rows of three or four, with nearly 60-odd flags at the front.

In the run up to the march, Simon Biggs, expressed his concern about people turning up in tracksuit bottoms or not holding flags straight. He told members at the NF annual general meeting, "We must be on our strictest behavior here. This is a very dignified and proud moment for nationalists." At the same event, London NF organizer Tess "Nazi nan" Culnane expressed her fear that the police were looking for any excuse to ban the march ever happening again, warning members not to respond to any provocation and remain as digni-fied as it's possible to be whilst attending a Nazi rally. As the march approached Westminster Abbey it started to encounter crowds of bemused onlookers. When it reached the Abbey there appeared to be a large group of veterans holding a silence in the Field of Reme​mbrance. The drums stopped beating momentarily while the march continued silently.

After passing the Abbey they entered Parliament Square. There were still crowds, filming whoever went past, taking selfies with dozens of fascists in the background. At one point I saw an Orthodox Jew filming the NF on his phone—I'm not sure he knew who they were. I don't think many people did at this point. Apart from the police presence, NF tattoos, and obvious neo-Nazi types, the only things to indicate this was an NF march were the name on the side of the drum and on the back of stewards vests. This changed as they approached the Cenotaph where the streets were heaving with onlookers. As they formed up by the Cenotaph and get ready to lay their wreaths, I overheard two women talking on my right. "You know who it is?" one asked. "The National Front, I know, I know," the other replied as they walked away.

The crowd appeared to be upset by the fascist presence and people muttered things under their breath but nobody was up for breaking the solemn atmosphere with full-on heck-ling. "What are they doing though?" In the few minutes they spent at Cenotaph I saw several families leaving, whispering in disgust to each other. Then they reached the Monument to the Women of World War II, and "Nazi nan" Culnane gave a reading. As they announced the conclusion of their act of remembrance, a poppy wearing man in the crowd shouted "Nazis!" at them. I asked him to expand on his comment, but he said, "Listen man you've heard everything." The march reached its conclusion on Whitehall Place. They then trooped into Whitehall Gardens where they listened to further speeches from Bryan, Culnane, and veteran South London-based fascist Richard Edmonds. I decided to ditch them at this point, and head to the other National Front march. Watching two racist marches in one day was a real treat. The second was basically the same as the first but even smaller.

It was led by Ian Edward. Edward was former chairman of the unified NF who resigned, decided he had not in fact resigned and then declared the meeting which elected the new chairman Kevin Bryan unconstitutional—causing the split. Edward had been happy to answer my questions over email in the run up to the march. He optimistically told me he was expecting anything up to 500 fellow nationalists to join him and reiterated that the point of the march was to say, "no more brothers' wars"—ones in which white people slaughter white people. Then for some reason he told me that the first two British fatalities of World War II were members of Oswald Moseley's British Union of Fascists. I counted 46 fascists on the second march and recognized several familiar faces from the London far-right scene—and not only from the NF. This included people with links to the Chelsea Head-hunters and the bizarre group who burn crosses in the woods. People on Bryan's side of the split claim ten of those on the second march were from the Racial Volunteer Force —a Combat 18 split the members of which have been arrested in the past for distributing a race hate magazine with instructions on how to make a bomb.

As this mob started going up Whitehall and near the Cenotaph, four or five guys started clapping, but they looked like they might have been planted there. A passing black guy was less impressed. "Fuck the National Front," he shouted as he walked past. The drum kept beating and the fascists carried on up Whitehall to finish their march. Overall, the event seems to be simultaneously everything that they love and hate about modern Britain—on the one hand, it's a day glorifying war and militarism. On the other hand, some of the attending people were not white, and the war that defeated Hitler is one of those being remembered. Still, presumably the gaggle of washed-up Hitler worshipers will be back next year to tag along, assuming they haven't all fallen out so badly that they can no longer organize a walk.
© The Vice
UK: Black and ethnic minority soccer coaches not getting top jobs, study shows
There are only 19 black and ethnic minority (BME) coaches in the 552 'top' coaching positions at professional English clubs, a report has found.

10/11/2014- BME coaches take up 3.4% of those positions despite at least 25% of players coming from BME backgrounds. Findings of the study, carried out by the Sports Person's Think Tank, will be revealed at Westminster on Monday but have already been seen by BBC Sport. Sports Minister Helen Grant said the findings are "appalling and worrying". She added: "It's going to take a concerted effort by everyone in football to get the sea change that we need." The think tank will announce its recommendations at Monday's meeting with MPs and the sports minister in London. The report was carried out by Dr Stephen Bradbury at Loughborough University, and examined what it took to be the top six coaching and management positions at all 92 professional football clubs in the English leagues. The study, funded by Football Against Racism in Europe (Fare), says that "institutional discrimination" is present within the English leagues.

Former Reading, Blackburn and Wigan striker Jason Roberts, 36, is a founding member of the think tank. "It appears that football has lost successive generations of potential coaches and managers simply because they are black or from other ethnic minority backgrounds," he wrote in the report. "An urgent, honest and thorough debate is required before English football can heal itself and redress the balance." The study acknowledges that a very small number of BME coaches are also working in supporting roles, often on a part-time basis, while the research also suggests there is an over-reliance within professional clubs of "network-based" methods of recruitment. The Football League, under the guidance of chairman Greg Clarke, is conducting a review into how it can increase the numbers of BME coaches and managers among its member clubs.

Clarke has been criticised by the Professional Footballers' Association for his failure to keep a promise to hold a vote at the Football League's 2013 annual general meeting on a proposal to conduct a trial of a version of the NFL's Rooney Rule. The Football Association has also set itself a new target to boost diversity within all levels of the game, while the Premier League recently said it wanted to see "more and better" coaches "who can progress to the highest levels of the game on merit and regardless of race, ethnicity, gender or background". The study claims that some BME coaches have experienced intentional and unintentional racism "within the high-level coach education environment". "This has inclu-ded explicit racist name-calling and more subtle and nuanced forms of racial 'banter', and a lack of recognition or willingness to address racisms of this kind by FA coach educators," says the study.

BBC Sport understands the FA is not aware of any complaints of discrimination and has previously stated it would encourage anyone with a complaint to come forward and report them. FA Learning and full-time coach educators are already required to undergo equality and diversity training, as part of the FA's inclusion plan. FA board member Heather Rabbatts said the governing body welcomed the report, which "adds further evidence that bodies across the game need to work together to challenge discrimination". She added the FA was "committed to the long-term programme of change" and would be working with Fare, the Sports People's Think Tank, the sports minister and other paries to "maintain the momentum of change and build on the work already underway across the game". The report also contends that a lack of BME role models, together with "conscious and uncons-cious racial bias" and stereotyping, play a part in the low figures.

The report also examines why low numbers of BME coaches are completing their core qualifications. Michael Johnson, a 41-year-old former Birmingham City player, thinks many BME professionals are put off trying to gain coaching qualifications by the belief they will not get job opportunities once they gain them. Johnson, who retired in 2009, has a full set of coaching badges, including the highest award of the Uefa Pro Licence, a prerequisite for anyone wanting to manage in the Premier League. He has received just three in-vites to attend an interview in the past three years for coaching and manager jobs. "I don't want anyone to do me a favour," he says. "I've gone out and done it the hard way. I've paid my way through the qualifications. All I want is that opportunity, just like any other man from any other walk of life. "All we want is to get in the room. Nobody is saying you're going to get the job. All we're saying is have a look at these guys and see if they might change your perception of what you might think they are."

What is the Rooney Rule?
Introduced into American football in 2002, the Rooney Rule mandates that teams interview at least one BME candidate when a head coach or general manager position becomes available. You can download a podcast of Richard Conway's look at the history and impact of the Rooney Rule, and whether it could work in UK football, here.
© BBC News
UK: Man who distributed anti-gay leaflets blows himself up in Iraq
A British man who was convicted of an anti-gay hate crime has allegedly blown himself up in Iraq.

9/11/2014- According to the Daily Mail, Kabir Ahmed killed himself in a suicide mission against a Shia leader in Baiji, a city located in northern Iraq. He was killed on a mission allegedly sponsored by the terror group ISIS. In 2012, the 30-year-old was convicted for handing out leaflets calling for the execution of gays. The pamphlets, distributed near the Jamia Mosque on Rosehill Street, Derby, had titles such as 'Turn or Burn' and 'The Death Penalty,' which showed an image of a mannequin hanging from a noose. Another, entitled 'God Abhors You – Gay', warned of 'severe punishment' for gays and lesbians and those who 'remain silent about the evil.' The leaflets were handed out before Derby's Gay Pride parade in August 2011. Ahmed was sentenced to 15 months in prison. According to the Daily Mail, at trial Ahmed said LGBTI people should be 'shunned' and 'if we don't stop it some-thing like a tsunami will happen here, something on that scale.' In a recent BBC interview, Ahmed claimed approximately 500 British nationals were fighting for ISIS in Iraq and Syria.
A Foreign Office spokesman made the following comment to the Daily Mail: 'We are aware of reports of the death of a British national in Iraq and are looking into them.'
© Gay Star News
UK: Neo-Nazi nuts are training yobs to embark on race war
Neo-Nazi activists are training right-wing Brits for a race war in secret hate camps across the UK.

9/11/2014- The yobs are being drilled in unarmed combat and fighting using knives and assault rifles. And they are being brainwashed in bizarre rituals by Hitler-loving fanatics. Anti-terror police are monitoring the Sigurd Legion mob amid fears they are using the camps to prepare for a wave of anti-Muslim and anti-Semitic attacks. The leader of the racist radicals is fitness instructor and author Craig Fraser. In August he took an army of nationalists to the Brecon Beacons in Wales and schooled them in violence and hate. Winter camps are planned for this month and January. One nut who went to the camp told the Daily Star ­Sunday: "We have a true desire to put the interest of our race and nation first." During the two-day event, hardmen knocked lumps out of each ­other in ­"British Bulldog" free-for-alls.

The bare-chested brawlers were also put through fitness ­sessions by trainers from ­Russian neo-Nazi group White Rex. And they were armed with knives and taught how to ­defend and attack with a blade. Sigurd was the pseudonym used by maniac Anders Breivik who murdered 77 people in Norway in 2011. Sigurd videos seen by the Daily Star Sunday show masked men with ­rifles at the prehistoric site of ­Silbury Hill, Wilts. Fraser, from near Bath, ­preaches hate in his bile-filled book A Paean to Joy, ­Action & Truth, where he writes: "F**k your plan for growth, we want knives and guns." A Sigurd sympathiser called VedikViking said: "We stand together to make our men more aware, more capable and more ­prepared for the world around them."

Far-right group ­National Action has sent all of its members to the camps. In one internet post, a 21-year-old rebel called the Wolf wrote: "Sigurd separates the men from the boys." His Twitter page reveals a string of rants and posts about Hitler with the caption: "Hitler was right." One reads: "They behead our soldiers, rape our ­children and blow up buses and trains. ­Boycott Muslim business." National ­Action draws ­parallels with ­Islamic State in its extremism and calls itself the "White Jihad". Last night Sam Westrop from the campaign group Stand For Peace warned: "We should be careful not to dismiss ­Sigurd's training camps, Norse ­mythology and bizarre ­philosophy as benign activity among a few wayward youth. "These are organised ­extremists with significant numbers of recruits who have real ­ambition."
© The Daily Star UK
Split UK opinion over 'poppy hijabs'
9/11/2014- To some it is a symbol of faith and freedom, a celebration of multicultural Britain, and even a fashion statement. But for others, it entrenches divisions and plays on the insecurities of an already-marginalised community. A "poppy hijab" designed to commemorate their co-religionists who fought for the country is splitting opinion among British Muslims. Paper lapel poppies are traditionally worn by many people in the UK in the run-up to November 11, the anniversary of the end of World War I, in memory of those who fought and died for Britain in both world wars and subsequent conflicts. But a poppy-themed headscarf backed by the Islamic Society of Britain (ISB) and British Future, an integration think tank, is this year offering Muslim women an additional way to support the campaign. The scarf is also intended to raise awareness about the 400,000 Muslims, most of them soldiers in the 1.2-million-strong Indian army, who served alongside British forces in World War I.

Its launch was timed to coincide with the centenary of a soldier from modern-day Pakistan, Khudadad Khan, becoming the first Muslim to be awarded the Victoria Cross, the UK's highest military honour, for holding up a German advance while outgunned and severely wounded. "Thousands of British Muslims already wear a poppy. This is just another way for them to show they remember those who gave their lives for their country," said Sughra Ahmed, president of the ISB. "It's also a way for ordinary Muslim citizens to take some attention away from extremists who seem to grab the headlines. This symbol of quiet remembrance is the face of everyday British Islam - not the angry minority who spout hatred and offend everyone."

Shared history
According to polls carried out by British Future, many people in the UK remain unaware of the scale of the Muslim contribution to the country's World War I campaign.
The group sees public interest in the centenary of the conflict offering an opportunity to remind people of that story as a way of strengthening integration and a sense of shared history. Yet, the message picked up by right-wing newspapers reporting the launch of the hijab was subtly different, with the Daily Mail stating that British Muslims were being "urged" to wear the scarf as "a challenge to extremist groups who 'spout hatred' about the armed forces". To some, coming from a newspaper that last year ran a comment piece with the headline: "When did you last see a poppy on a burka?", and weeks after the Sun newspaper used a front page picture of a woman in a Union Jack hijab to "urge Brits of all faiths to stand up to extremists", the story appeared to be the latest salvo in a media campaign casting Muslims as outsiders, and calling on them to prove where their loyalties lie.

"These re-appropriations of the hijab can be little more than proxies for anti-Muslim bigotry. They become a politically correct way of airing a suspicion that all Muslims are 'basically terrorist sympathisers'. The wearing - or not wearing - of a patriotic hijab becomes a shrouded loyalty test," wrote Chris Allen, a researcher on anti-Muslim hate crime at the University of Birmingham. Faeeza Vaid, executive director of the Muslim Women's Network UK, told Al Jazeera the idea behind the hijab was well intentioned, but it risked deepening divisions between British communities. "The fact that it is being promoted by the likes of the Daily Mail, part of the thinking is, 'Okay, you are a little bit British but not British enough. We will accept you, but on our terms,'" said Vaid. "The idea is to show that we all care about the same things, but why is the burden on Muslim women to prove that sense of shared identity? We wouldn't expect Muslim men to wear poppy hats to the mosque, or Sikh men to wear poppy turbans. If you look at it like that it is just ludicrous."

Show support
Vaid said she had worn a poppy in the past. But she said some people had concerns, especially in light of British involvement in more recent conflicts in Iraq and
Afghanistan, about promoting a symbol that the Royal British Legion, the charity behind the poppy appeal, says is worn "to commemorate the sacrifices of our armed forces and to show support to those still serving today". "We have to look at what the poppy symbolises. There have been so many more wars since the wars which it represents took place and I think we need a broader support for anti-war [efforts] or to highlight different approaches to war." For some women, there may be other reasons to feel uncomfortable about wearing a scarf decorated with a motif seen by many as an expression of patriotism. Recent studies of anti-Muslim hate crime have shown that women wearing traditional Islamic dress are most at risk from abuse and street attacks.

A report last year said this had led some to question their Britishness. Fiyaz Mughal, the director of Tell MAMA, an organisation monitoring attacks on Muslims, told Al Jazeera most women simply wanted to get on with their lives and did not want any symbolism attached to the clothing that they chose to wear beyond the expression of their faith. "Women are at the brunt end of Islamophobia at street level. Now they are at the brunt end of being told they are the ones who need to prove their loyalty. And they are at the brunt end of people trying to manipulate the whole thing of how women should dress," Mughal said.

Steve Ballinger of British Future, which is selling the scarf online, told Al Jazeera the main aim of the hijab campaign had been to raise awareness about the numbers of Muslims who had fought for Britain during World War I and to "celebrate the things that people have in common". "It is not intended in any way as a loyalty test," he said. "Some of the media reports have used the word 'urged' and that has understandably made some people rather concerned. It has always been a choice. Everyone chooses whether to wear a poppy to remember in November. Some Muslims do and some Muslims don't. Some non-Muslims do and some don't."

Greater tolerance
Among Muslim students leaving a college in East London, most said they had no objection to the headscarf and hoped it would help to promote greater tolerance and awareness of Muslim communities. "The perception that some people have of Muslim people is that they don't get involved, that they are just here," said Wahiida. "This is a way of respecting your religion and respecting the culture you are living in. There are some countries where they don't allow you to wear a headscarf." Her friend Nafisat said she would also consider wearing the scarf, if she was given one for free. "I would wear this because it is a modern type of style. It makes it fashionable, and it is paying respect to the soldiers who fought for the country. And it is a multicultural symbol.

When you think of Britain you don't think of a race, you think of different people." But others said two of the models photographed posing in the hijab were dressed inappropriately because their necks and chests were visible, and said they considered their scarves an expression of their religious identities. "They should have designed a bracelet or something instead," said a young woman wearing a niqab who did not want to give her name. Only on one thing did all agree. At £22 ($35), compared to a typical poppy donation of a few pounds, donning a poppy hijab is an expensive statement to make. "Too pricey," said one woman, shaking her head.
© Al Jazeera
UK: Discrimination against minorities is rife in football, claims report
Report from a new thinktank tells football the game suffers from 'institutional discrimination' and deep-rooted prejudices.

8/11/2014- Football suffers from "institutional discrimination" according to a damning report commissioned by a new sports organisation which launches in Westminster on Monday. The Sports People's Think Tank (SPTT), founded by a group of former Premier League footballers, will unveil research pointing to a culture of deep-rooted prejudice in the game, where black and ethnic minorities make up only a handful of those in decision-making roles. The report highlights some of the negative experi-ences of black, Asian and minority ethnic (BAME or BME) coaches in the game who it claims had experienced "a series of physical and cultural stereotypes about BME players and coaches" and were often viewed as a "risk" appointment.

"Football has failed to complete the promise of true equality," said Jason Roberts, the former Blackburn striker and a founding member of the thinktank. "The numbers point to a problem that any right-minded individual would be shocked at. Most disappointing is the game's overall refusal, up to this point, to engage in some dialogue which challenges the decision-makers and leadership of the game, rather than focusing on the victims of these practices – prospective BME coaches and managers."

Dr Steven Bradbury, a leading sports sociologist at Loughborough University and author of the report, emphasises the stark inequality of careers for black footballers: "Once your body is worn out, as a black player, football is done with you. Whereas if you are a white player there are opportunities in football beyond your playing career." Bradbury spent three years interviewing BAME coaches and former players between the ages of 25 and 55, as well as analysing data supplied by the Football Association. The research, which has been funded by Football Against Racism in Europe, comes in the wake of renewed criticism over a lack of black or ethnic minority managers and backroom staff in the professional game, estimated to be less than 4% by the Professional Footballers' Association.

The SPTT also includes the West Bromwich Albion Under-21s development coach, Darren Moore, and the former Birmingham City defender Michael Johnson, and is backed by the PFA's chief executive, Gordon Taylor. The thinktank is thought to be the first of its kind and aims to drive change in the sports sector on a range of issues from equality to health. The sports minister, Helen Grant, will attend the launch at the Houses of Parliament.
© The Guardian
UK: Far right protesters march in Leeds
Protesters belonging to the extreme-right English Defence League marched in Leeds today.

8/11/2014- The group, known for its anti-Islamic agenda, claimed that the protest was held against cases of child grooming. The protest was poorly attended and saw members march in the areas around the Headrow and City Square. It is understood that a separate protest was held in Rotherham. West Yorkshire Police has thanked the people of Leeds for their support following today's demonstrations in the city centre. Assistant Chief Constable Mark Milsom, of West Yorkshire Police, said: "The signifi-cant planning and partnership work alongside Leeds City Council prior to today's demonstration has resulted in a successful and professional policing operation. "I am proud of the way the people of Leeds responded, which made sure that the event passed peacefully and with minimal disruption. "I would also personally like to thank all those who have worked to bring about this positive conclusion."
© Yorkshire Post
UK: Neo-Nazis arrested after planning anti-Semitic protest against Liverpool MP
Police raided the homes of suspected Merseyside neo-Nazis after thwarting an anti-Semitic protest outside the office of Jewish MP Luciana Berger.

8/11/2014- The ECHO can today expose the far right activists who were arrested after organising a demonstration to support online troll Garron Helm. While police have not confirmed the activity, we can today reveal details of the online community which openly discussed the vile campaign targeting the Labour MP. Last month Nazi-sympathiser Helm, 21, was jailed for four weeks after he admitted sending "abusive and upsetting" messages to Ms Berger. Helm, of Thomson Road, Litherland, sent an anti-Semitic tweet which showed a Holocaust-era yellow star on the Wavertree MP's head with the hashtag 'Hitler was right'. He was released last Friday and the next day National Action supporters were arrested in Derwent Road East, Stoneycroft near Ms Berger's constituency office.

Police later raided addresses across Merseyside, including a house in Ronald Street, Old Swan, where shocked neighbours said up to 30 armed police, together with detectives, forensic teams and dogs, were deployed. Helm, using the Facebook profile Athelwulf Helm then spoke out on social media. The extremist, branded an "immature loner" in court, said: "It has come to my attention that eight National Action activists were arrested yesterday while demonstrating and attempting to meet with me in Liverpool. "Make no mistake, my imprisonment was the beginning of a long and bloody campaign against our movement and will of the British people. "You need to be vigilant from now on. If you even remotely associate yourself with NA you will be monitored by Special Branch."

Members of Stormfront – a white nationalist and neo-Nazi online forum, also said eight National Action activists were arrested. Right wing thug Stephen Dumont, 19, of Rosewood Close, Netherley, who was jailed last year for his part in a violent attack on anti-fascists in Bold Street, took to Facebook to comment on the arrests. He said: "I was there bull**** got nothing at all on us but at 5am police along with a office from Manchester (maybe CTU) searched my house got my PC and lap top but I still have my xbox so laughing." One user called 'John London' said: "They had planned a demonstration for yesterday and apparently the police were waiting for them – no doubt to protect Jew You Know. "They were searched and then arrested and held overnight while their homes were searched."

Another poster, called 'NationalYouth', said he could "categorically state" they intended "purely to hold a short protest, where a speech was to be given by the orga-niser of the event and a small banner was to be unfurled for a photo opportunity". He said: "As our group reached Luciana Berger's office, a group of officers appro-ached them and carried out a stop and search. "Despite nothing untoward being found on them, they were still arrested, the allegation being that they had 'conspired to cause criminal damage'. "The basis for this being that someone, somewhere, apparently overheard someone else talking about doing something to Mrs Berger's office." Stormfront member 'Goyles1488' – a numerical reference to Hitler – said the meeting was a "welcome back" for Helm. He said: "Police found nothing on them that fits the charges and claim they were acting on an alleged tip off.

"This has been another trumped up 'conspiracy' charge which they have wheeled out in the past when trying to gather intelligence. "They were told that the charges are going to be dropped. This was however an opportunity to seize devices and stuff." Merseyside Police told the ECHO that nine men and one woman had been arres-ted, leading to searches at properties across the region. All 10 have now been released on bail pending further enquiries. The force said it was unable to confirm whet-her these arrests were linked to far right activity. A police spokesman said: "It is speculation. We are still at an early stage of our investigation and we cannot comment on this." Luciana Berger said she was unable to comment because of the ongoing police investigation.

Since Helm was jailed white supremacists have waged a coordinated war against Ms Berger, with American Andrew Anglin, owner of The Daily Stormer, advising followers how to abuse her online in a campaign called 'Operation; Filthy Jew B****'. There are now serious concerns over her safety, and the ECHO understands Metropolitan Police are investigating hundreds of vile messages sent to the MP. Labour leader Ed Miliband urged websites like Facebook and Twitter to crack down on perpetrators of "sickening abuse". And John Mann MP, chairman of a parliamentary anti-Semitism group, suggested introducing ASBO-like "internet banning orders" in a House of Commons debate.
© The Liverpool Echo
Headlines 14 November, 2014
Gaza war caused explosion of online hate speech in Europe, report finds
The summer war between Israel and Hamas generated an explosion of online anti-Semitic hate speech in several European countries, an international watchdog reported.

14/11/2014- The assertion came in a report on 10 European countries released Wednesday by the International Network Against Cyber Hate and the Paris-based Inter-national League Against Racism and Anti-Semitism — or INACH and LICRA respectively. In the Netherlands, the Complaints Bureau Discrimination Internet, or MDI, recor-ded more instances of online hate speech against Jews during the two-month conflict than during the entire six months that preceded it, revealed the report, which the groups presented in Berlin at a meeting on anti-Semitism organized by the Organization for Security and Co-operation in Europe, or OSCE.

More than half of the 143 expressions of anti-Semitism documented by MDI in July and August, when Israel was fighting Hamas in Gaza, contained incitements to vio-lence against Jews, the report stated. Roughly three quarters of the complaints documented in that period occurred on social media. In Britain, the Community Security Trust recorded 140 anti-Semitic incidents on social media from January to August, with more than half occurring in July alone. And in Austria, the Forum against Antisemitism recorded 59 anti-Semitic incidents online during the conflagration of violence between Israel and Palestinians — of which 21 included incitements to violence — compared to only 14 incidents in the six months that preceded it.

The data on online anti-Semitic incidents corresponded with an increase in real-life assaults, LICRA and INACH wrote. The report's recommendations included a submis-sion by the Belgian League Against Anti-Semitism, which called for OSCE member states to adopt the "Working Definition of Anti-Semitism" that the European Union's agency for combating xenophobia enacted in 2005 but later dropped. The definition includes references to the demonization of Israel.
© JTA News
Serb war crimes suspect to not return to The Hague
Far-right Serbian Radical Party leader Vojislav Seselj has said he will not return to the International Criminal Tribunal in The Hague to face charges.

14/11/2014- Far-right Serbian Radical Party leader Vojislav Seselj said Thursday he would not return to the International Criminal Tribunal in The Hague to face war crimes charges. The court recently released Seselj on a temporary basis to undergo health treatment. Addressing a press conference at the headquarters of the Serbian Radical Party, the war crimes suspect said he would not return voluntarily. "I will not return voluntarily to The Hague. If they order the government of Serbia, then Tomislav Nikolic and Aleksandar Vucic will decide what to do," he said. Nikolic is the President and Vucic is the Prime Minister of Serbia. "I will not run away. If they want, they can even send me back now, but that will be a historical paradox. Because Aleksandar Vucic and Tomislav Nikolic are associated in my war crimes and are accomplices in crimes against humanity, and I would not miss such an opportunity," he added. Seselj is the founder of the Serbian Radical Party. He is alleged to have recruited paramilitary groups and incited them to commit atrocities during the 1990s Balkan wars.
© World Bulletin
REMEMBER- International Day Against Fascism and Antisemitism - 9 November 2014 (Press Release UNITED)
14/11/2014- More than 220 coordinated actions have been organised by grass-roots organisations and different local groups in 45 European countries for the International Day Against Fascism and Antisemitism. This year's variety in actions ranged from commemorations, lectures, debates, demonstrations and symposiums over radio programmes and online-campaigns, up to concerts and film festivals. On www.DayAgainstFascism.eu you can find many local activities that took place in Europe. These local actions were united under the common slogan: "REMEMBER".

We do not accept hate!
Though in numbers there are not many fascists throughout Europe, however, the constant voicing of xenophobic messages in media and politics causes 'normalisation' and leads to 'acceptance' of hate. Society keeps silent. People become bystanders to their own fate and to the fate of the whole European society. Around 9 November this year people all over Europe stopped being a bystander. They Thought. Saw. Listened. Spoke. Protested. Resisted. And Remembered.

In our times, we have witnessed the results of racism being incorporated into political movements and parties. It has led to the gravest and darkest of pages of the recent human history. To prevent this happening again has long been amongst the priorities of many organisations and societies. Now these old risks emerge in a new form, as societies are rapidly changing. It forces us to give this priority once more. It forces us to rethink our methods of combatting racism, xenophobia and intolerance. The influence of fascist, antisemitic and neo-nazi ideals, policies and methods is still present and strong in Europe. The danger of this influence is in the negative and populist rhetoric creating a fruitful soil in which the seed of extremism, hatred and irrationality can grow.

People are looking for someone to blame - comparable to the 1930s the dangerous "us" and "them" rhetoric is again commonplace. The 'Kristallnacht' pogrom or 'Night of Broken Glass', was a series of attacks against Jews carried out by SA stormtroopers and civilians in nazi-Germany and Austria, 9-10 November 1938. It was the first step to the extermina-tion of the Jewish Europeans by the nazis. Today 9 November is seen as the symbolic beginning of the Holocaust, the policy of the systematic murdering of millions of people. It reminds us that such terrible things did not start with deportations and concentration camps, but developed step by step. Hate not only leads to violence, discrimination and exclu-sion, but is a dangerous threat to democracy and peace as well. Europe has been here before: it ended in the Holocaust.

A comparison of famous fascist and nazi rhetoric with today's far right shows us that its influence on European policies, ideals and public opinion is far from absent. The rhetoric is now more obscured, but the message is still similar. All over Europe, right-wing political leaders find numerous threats against their respective societies, and these threats are almost always 'foreign', from outside the dominant social group; According to these far-right politicians and leaders, they are the only ones that are capable of finding appropriate 'solutions' to the problems in society; And they offer a solution which rejects all that is different. 100.000s of people in Europe remembered that all that is really needed for fascism, nationalism, antisemitism and xenophobia to grow is a fertile soil from where it can spread its' hate and irrationality. People in Europe are clear: we do not want a repetition of the holocaust, and we do not want any group raising above all others. We must step out from being a bystander, learn from the past and take a common stand for our future.

Quotes from policy makers supporting this campaign:
Erik Ullenhag - Swedish Minister for Integration, Leader of the Liberal People's Party in the Swedish Riksdag:
"Fight against fascism and anti-semitism is more important today than ever. Everyone has a responsibility to say no to intolerance and hate. As a politician I will never let the xenophobic forces set the agenda in Sweden."

Raediger Eisenbrand, Mayor of Apolda, Germany
"What can we do against it?
We can:
Think! - Support our projects and get involved for more respect, equality and tolerance in our city Apolda and in society!
See! - Look out when others are attacked racist!
Listen! - Children need role models, because they imitate other lifestyles.
Speak! - Racism affects us all! Tell It On!
Protest! - Only through our unity, we have the strength and stamina to defend ourselves against racism, fascism and misanthropy!
Resist! - Confrontation instead of denial!
and Remember! - From the past, we learn for the future!"

Isabella Conti, Mayor of Municipality of San Lazzaro di Savena
"I am a daughter of the Resistance, and of women and men who fought in Italy 70 years ago, against fascism and totalitarianism. Today, more than remembering and hoping this will not happen anymore, I committed myself to act, day by day, against all forms of fascism and discrimination in our society."
© UNITED for Intercultural Action
Italy: Rome riot police to prevent attacks on refugees
Source: Associated Press
13/11/2014- Riot police moved in Thursday to prevent residents of a neighborhood on Rome's outskirts from attacking refugees living at a holding center in the latest incident of anti-immigrant tensions rocking Italy. The working-class neighborhood of Tor Sapienza has seen several days and nights of violence against refugees by residents who blame foreigners for crimes. The residents say they're not racist, but are fed up with what they say are years of neglect by government authorities who have allowed gypsies, migrants and asylum-seekers to settle in Rome's peripheries without providing adequate services. The U.N. High Commissioner for Refugees condemned the violence, saying refugees and unaccompanied minors fleeing war and conflict deserve protection, respect and help integrating, not "unacceptable" acts of violence and intolerance. In a statement, the UNHCR condemned "extremists" who are capitalizing on residents' fears to fuel conflict.

Officials at the "Smile" center said unaccompanied minors living there — most aged 16 and 17 from Egypt and Bangladesh — were being moved to another center in Rome for their own security after another small clash broke out Thursday. "We are scared. We are trying to find a compromise with the residents," said Francesca Amato, an official who works at the center. Italian commentators say at least some of the perpetrators are believed to be members of far-right groups — there have been chants of "Il Duce" in a reference to Italy's fascist dictator Benito Mussolini. The clashes come as Italy copes with record number of migrants arriving on its shores after fleeing conflicts in Syria and Africa. Earlier this month Italy partially handed over its sea rescue operation to the European Union after coming under pressure domestically to end the costly operation.
© The Washington Post
Italy: Rome: Clashes between refugees and residents
13/11/2014- Police in Rome have intervened as angry clashes erupted between local residents and refugees living in the working class neighbourhood of Tor Sapienza. Some locals had chased a group of north African refugees back to their temporary lodgings after they left to buy coffee. One angry resident accused refugees of robbery and violence. "We have to face our own criminality and now we have to face it coming from abroad, that's it," fumed local resident Patrizia. "Violence, robberies, during the day, they beat up our people getting off the bus." Tor Sapienza refugee centre aid worker, Francesca Amato, insisted that the problem was not to do with racism, but with social deprivation.

Carlotta Sami, spokesperson for the UN refugee agency (UNHCR), condemned the violence: "Leaders are turning [a blind] eye, and are not willing to really look into the situation, and to implement integration projects that [could] really help the refugees, and the local population that have to host refugees." She also blamed poor conditions in the neighbourhood for the conflict.

Officials at the "Smile" refugee centre said unaccompanied minors living at the centre – mostly aged 16 and 17 from Egypt and Bangladesh – were being moved to another centre in Rome for their own security. Italian commentators say at least some of the perpetrators of the attacks on refugees are believed to be members of far-right groups, citing reports of chants of "Il Duce" in a reference to Italy's fascist dictator Benito Mussolini.
© Euronews
Hungary: Inside American White Supremacist Movement, Gone to Europe to Reinvent Itself
America's white supremacists are ignored at home. So they are looking to start over with a little help from Europe's far right.
By Martin Gelin

13/11/2014- In the United States, nobody listens to Jared Taylor. Despite his Ivy League education and polite manners, few people working in politics take him seriously. That's because he is a white supremacist, although he would prefer to be called a "racial realist." When he tries to organize a meeting for his publication, American Renaissance, it is typically banned from hotels and conference rooms as soon as the proprietors find out about its racist mission. His ideas obviously hold little sway with established political parties or institutions. Which explains why Taylor traveled to Hungary last month to organize an international conference of white supremacists and anti-immigrant nationalists from more than 10 countries with the express purpose of making common cause with Europe's own burgeoning far-right political movements. The conference was blandly dubbed "The Future of Europe."

Taylor and his fellow organizers, the Montana-based white nationalist think tank National Policy Institute, chose Hungary because of the rise of far-right nationalists in that country; they thought it might offer a hospitable environment for their assembly. In fact, it was the opposite. The Hungarian Prime Minister Viktor Orbán—a member of the leading conservative party who has been criticized for his increasingly authoritarian politics—banned the conference. While Orbán has support from Hungary's far-right parties, he likely saw this move as an easy way to help position himself as a moderate conservative in the runup to local elections last month. Orbán even ordered police to arrest anyone trying to organize the event. William Regnery, the founder of the National Policy Institute (and heir to the conservative publishing powerhouse Regnery, home to best-sellers from Ann Coulter, Dinesh D'Souza, and Edward Klein, among others) was immediately sent back to the United States when he arrived at Budapest's airport.

Richard Spencer, the director of NPI, was arrested in a Budapest pub when he tried to organize a casual gathering of the conference's attendees. The conference-goers already had been evicted from the hotel where their meeting was scheduled to take place. Spencer spent the next three days in a Budapest jail, which he didn't seem to mind. He kept emailing fellow attendees and journalists from his prison cell. When I met Taylor in Budapest, he compared Spencer's Budapest emails to Martin Luther King's "Letter From a Bir-mingham jail." Most of the media coverage of the conference centered on Spencer's arrest. But, even if it was foiled and ill conceived, the entire episode represented something else: It was the first attempt by NPI and American Renaissance to establish a presence in Europe, in an effort to establish a kind of Euro-American partnership for white nationa-lism, or "Eurocentrism."

Taylor, Spencer, and the other Americans visiting Budapest see their cause as an uphill battle. The race-industrial complex in America just isn't what it used to be. By crossing the Atlantic and trying to organize Europe's disparate far-right groups into a unified movement, they are trying to breathe new life into their own cause. It is an ambitious undertaking coming from two tiny, fringe organizations. The National Policy Institute is based in Whitefish, Montana, and has four employees. Taylor's American Renaissance, based in the D.C. suburb of Oakton, Virginia, is really just a one-man show. With Spencer in jail, Taylor became the host of the conference. Despite the fact that the government had forbidden the gathering and informed all attendees that they might be arrested if they went ahead with their plans, 70 of the 135 registered attendees showed up in Budapest, including a Mexi-can man who claimed to have traveled "10,000 miles." Others traveled from Britain, Norway, Germany, Austria, Sweden, Spain, Hungary, and Japan, as well as a dozen from the United States. What did they all have in common? "The conviction that Europe is in a life-or-death struggle. Europe can't remain Europe without Europeans. When we are being replaced by non-Europeans, it threatens our core way of life," Taylor said.

We were standing in a hotel lobby close to the Buda part of the city, on the western side of the Danube River. Taylor was looking around the lobby anxiously, aware that he might be arrested at any moment. Every man walking by could, in his mind, be a plainclothes Hungarian police officer. But overall Taylor was upbeat. He was happy to be in Europe, where he said things are going in the right direction, referring to the recent voter backlash against immigrants and multiculturalism. "Europeans, like Americans, see their world changing. They never asked for this change. Their neighborhoods are becoming different, and they don't recognize it anymore. So they are reacting against this," Taylor said.

In the May elections for the European Parliament, Europe's far-right parties made extraordinary gains. France's National Front and Britain's U.K. Independence Party won 24 seats each in the EU Parliament. UKIP's win marked the first time in a century that the Labour or Conservative party didn't become the biggest party in a national election. In Hungary, the extreme-right party Jobbik—best known for its calls for Hungary's government to register and monitor all Jewish residents—won a third of the country's youth vote, and nearly 15 percent of the total vote. Overall, the elections showed an incredible rise in support for parties defined by their tough stance on immigration and a general "Euroskepticism"—a scornful pessimism for the entire EU project.

Nevertheless, nationalist groups don't represent a plurality of the population in any European country. Rather, they are an outspoken white minority who are anxious about their increasing marginalization, which gives them a reason to organize. Their alienation from mainstream society also makes them feel more closely allied to each other. As xenophobic ideas are increasingly frowned upon, Europe's far right feels as though they are the ones being discriminated against. They see themselves as rebels fighting a corrupt system that has turned against them. Spencer's arrest, of course, only confirmed this belief. On the websites and Internet chat rooms of Europe's nationalist groups, Spencer instantly became a martyr and a hero. His arrest may have inadvertently done more to help the American white supremacists connect with Europe's far-right groups than anything else.

Far-right parties like Jobbik in Hungary, the National Front in France, and the neo-Nazi Golden Dawn in Greece can no longer be brushed off as irrelevant. They have become a genuine political force in Europe, with voting power in a string of governments. And now the American nationalists want to know how they can join the party. "It's very difficult to run as a candidate, and not be either a Republican or a Democrat. So in that respect, I think, democracy is far more restricted in the U.S. than in many European countries. I'm convinced that if people who hold my views were part of a proportionally representative system, that we would have 15 percent, 20 percent, maybe 30 percent of the vote," says Taylor.

So how does Taylor plan to change this? "That's a good question. I think it might be possible to run as a Republican under certain circumstances, but we are really very far behind our European comrades on this. They've been much more successful at expressing themselves politically." Taylor pointed to several congressional Republicans—Reps. Joe Wilson, Steve King, Louie Gohmert, and Dana Rohrabacher, among them—whose anti-immigrant rhetoric has at times mirrored that of far-right parties in Europe. In Budapest, I also spoke with Kevin DeAnna, a young conservative activist from Washington, D.C. DeAnna was staying in a cheap hostel with Spencer, since they had both been thrown out of the swankier hotel where they had planned to stay. DeAnna joined Taylor as a sort of last-minute organizer of the conference, or what was left of it. He met the attendees in a dingy subway station, wearing baggy jeans, sneakers, and a blazer and tie. "We're kind of running this underground as a guerrilla movement now," DeAnna said when he arrived to the subway station, where the conference attendees had been told to gather, awaiting further instructions.

Despite the intervention by Hungarian authorities, the conference did go on as planned, even though Taylor insisted on calling it a dîner-débat, rather than a conference, to avoid possible legal repercussions. The day after the meeting, Taylor and his fellow attendees stood in the sunshine in Heroes' Square, discussing whether they would visit the House of Terror museum, where the violence of communism is documented, or the Museum of Ethnography. He was pleased with the event. Europe gets it, he said. And America? "The left is constantly describing us as either insane, or evil, or ignorant, or all three. That's simply not the case. They are, frankly, terrified that people who hold positions like mine or Richard Spencer's will have an opportunity to speak openly and publicly. If Americans had an opportunity to vote for my views, I believe many of them would. But the political system is not set up in a way that makes that possible or practical."
Martin Gelin is the U.S. correspondent for the Swedish national newspaper Dagens Nyheter, and an award-winning author of four books on American politics and culture.
© Slate
Czech Police say MP's remarks about concentration camp for Roma not criminal
Czech MP Tomio Okamura, the chair of the "Dawn of Direct Democracy" (Úsvit) movement, did not commit a crime when he made his recent statements about the former concentration camp for Roma at Lety by Písek. News server Romea.cz has received a notification from the Police of the Czech Republic to that effect.

13/11/2014- This past summer, Okamura showed his contempt for the victims of the former concentration camp when, in a statement for the online political tabloid Parlament-niListy.cz, he spoke of it as lie and a myth. He claimed no one was ever killed in the camp and that any prisoners who died there did so as a result of old age or of diseases brought with them to the camp contracted as a result of their previously itinerant lifestyle. On 2 September 2014, Čeněk Růžička, the chair of the Committee for the Redress of the Roma Holocaust (Výbor pro odškodnění romského holocaustu - VPORH), filed a criminal report against Okamura together with ROMEA, o.p.s., Miroslav Kováč of the Equal Opportunities Party, and Michal Miko of the Slovo 21 association over the remarks, which were made on the eve of Roma Genocide Remembrance Day.

Now, after an "assessment of the qualification" of the criminal report and an investigation, police have come to the conclusion that "facts were not obtained that would reasonably suggest a crime has been committed." "The police authority has, after securing the necessary written materials and examining them in detail, been satisfied that no infringement occurred as described by the notifiers in their submission. There is no doubt that the statement by Tomio Okamura is populist and historically worthless, but as the notifiers themselves state, some of his remarks were made on the basis of historically attested truths," reads the police statement.

The police also remind those who filed the report that Czech MEP Miroslav Ransdorf (Communist Party of Bohemia and Moravia) previously said Lety should not be called a "concentration" camp and that the justice system came to the conclusion in 2005 that his statement did not constitute illegal behavior. "In this criminal investigation, the police have proceeded in a classic way - according to the Police Act. This process does not make it possible for the victims to file for remedy should they be dissatisfied with the police conclusions. We very often encounter this non-standard procedure in cases of verbal hate violence that are handled in Prague," lawyer Klára Kalibová of the In IUSTITIA organization told news server Romea.cz. "The argument that it is impossible to prosecute one suspect because a different suspect was not prosecuted is ridiculous. The Criminal Code knows of no such procedure. In practice it would mean resigning in advance to the notion that police work will never be done well," Kalibová said.

The lawyer believes the case is a sad depiction of how the Czech justice system works in practice, namely, that Romani Holocaust denial is not viewed as seriously as Jewish Holocaust denial. "Those who reported this crime can now take advantage of other extraordinary supervisory tools and turn directly to the state attorney. It is also worth considering filing a motion with the Human Rights Minister, the Public Defender of Rights, and the European Commission on Racism and Intolerance, which will visit the Czech Republic at the end of November," said Kalibová.

Okamura: People died in the camp of diseases they brought with them
"When it comes to Lety, it would be good to clarify what we want to build there. According to the information available, this myth that it was a Romani concentration camp is a lie. There was a labor camp there for people who avoided proper work, including Czechs and Germans in the Protectorate. They were not interned on the basis of ethnicity, but on the basis of the gypsy way of life, which means that no working Roma were there. For most of the time before the camp closed the guards were not armed and the camp commander took his servant, who was evidently also his lover, to the cinema. No one was killed at the camp - people died there as a result of old age and the diseases they brought with them as a result of their previous travelling lifestyle.

However, there was a basic problem with the camp commander, who on the one hand did really beat the prisoners and on the other hand covered up the poor state of the camp, but he was removed and medical aid was sent to the camp. The victims of the camp definitely were not victims of any kind of Holocaust. On the contrary, comparing them to Holocaust victims disrespects the actual victims of the Holocaust, whether they be Jews or Roma, who perished in the real concentration camps. Naturally I condemn and reject any kind of violence against people," Okamura told the tabloid.
© Romea.
Muslim Azerbaijan: Bucking the Anti-Semitic Trend in Europe (comment)
By Stephen M. Greenberg and Mark Levin

13/11/2014- For many years, we have defended Jews in what are now the 15 independent states of the former Soviet Union and Eastern Europe. Today, we're as concerned about intolerance and extremism as we've ever been. As happens so often in times of turmoil, Jews are becoming the scapegoats for economic, social and political instability, as well as the conflicts in the Middle East. Anti-Semitic incidents are increasing alarmingly, not only in Eastern Europe but also in France, Germany, Belgium and even the Scandinavian coun-tries. From the fatal shootings at the Jewish Museum in Belgium to the fire-bombing of a synagogue in Germany, recent headlines recall the horrors of the past. There has long been broad bipartisan support in Congress for the State of Israel. That same spirit should be applied to Israel's close allies, especially in light of all the challenges that Israel current-ly faces.

In one former Soviet Republic, in South Eastern Europe, on the Caspian Sea, there is a remarkable exception to the rising tide of anti-Semitism – the secular, moderate, Muslim-majority nation of Azerbaijan. With a new Congress taking shape, now is the time for Congress' many friends of Israel to learn more about Azerbaijan, where the Jewish communi-ty recently celebrated the High Holy Days in peace and with official greetings from President Ilham Aliyev. Once they do, they will see that Azerbaijan is an example for other countries to follow with respect to supporting Israel. Having lived in Azerbaijan for 2,500 years without persecution and numbering some 35,000, the country's Jewish community enjoys full dignity, respect and religious freedom. As the Israeli Ambassador to Azerbaijan, Rafi Harpaz, said at a meeting in New York City on September 22, unlike in European countries, there is no anti-Semitism in Azerbaijan.

Praising Azerbaijan's tolerance in the midst of turbulence, Harpaz declared, "Azerbaijan can be a model for other countries in terms of attitudes towards Jews." In fact, Harpaz is the sixth Israeli ambassador to Azerbaijan, which has maintained diplomatic relations with Israel for 22 years. Azerbaijan's tradition of peaceful coexistence among Muslims, Chris-tians and Jews, as well as its role as a bridge-builder between East and West, exemplify its unique and essential role on the international stage. A rarity among nations with Muslim majorities, Azerbaijan maintains strong diplomatic, economic and military ties with Israel. In an example of their close relationship, Azerbaijan and Israel plan to implement visa-free travel for those with diplomatic passports traveling between the two countries. Azerbaijani-Israeli links extend beyond diplomacy to economics and security. Azerbaijan supplies 40 percent of Israel's oil needs through the Baku-Tbilisi-Ceyhan pipeline. Israel is Azerbaijan's third largest trading partner, with commerce between the two countries totaling $4 billion.

On the security front, Azerbaijan is acquiring 12 Coast Guard vessels from Israel, adding to the $1.6 billion in high-tech weapons it has purchased from Israel since 2012. The new Congress should do all it can to support allies that are deepening their security, economic, and diplomatic relations with the State of Israel. A strong congressional statement in support of Azerbaijan's strategic energy role — which helps both Israel and Europe — would show Azerbaijan much-needed US support in the face of regional pressures from the likes of neighboring Iran. As a member of the Organization of Islamic Cooperation, including 56 Muslim countries around the world, as well as European multilateral institutions, such as the Council of Europe and the Organization for Security and Cooperation in Europe, Azerbaijan serves as a crucial link between East and West.

As the crisis in the Ukraine underscores, Europe needs an alternative to Russian natural gas. That's just what Azerbaijan is preparing to provide through the Southern Gas Corridor, which will transport 16 billion cubic meters of gas to Europe. The groundbreaking for the project took place on Sept. 30. Azerbaijan has participated in NATO exercises and the Partnership for Peace program, and Azerbaijani troops served alongside U.S. soldiers in Afghanistan. Azerbaijan is also a critical transit point for almost 40 percent of the interna-tional coalition's supplies for troops in Afghanistan. On the economic front, bilateral trade between the US and Azerbaijan currently totals $2.3 billion. Azerbaijan recently contrac-ted to buy eight civilian airplanes from Boeing, supporting more than 11,000 American jobs. In this era of instability, Israel and America need reliable friends. In Azerbaijan, they are fortunate to have a friend with a strategic setting, rich energy resources, a tradition of tolerance and a Western orientation. There are many friends of Israel on Capitol Hill, and they should become friends of Azerbaijan, too.
Stephen M. Greenberg is the chairman, and Mark Levin the executive director, of the National Coalition Supporting Eurasian Jewry.
© Roll Call
The immigrant democratic deficit and the rising far-right (opinion)
By Thomas Huddleston

12/11/2014- What EU citizens will probably remember most about May's European elections is the success of far-right parties. Actions countering the far-right are mostly limited to election periods. The rest of the time, policymakers and civil society are overlooking a growing democratic deficit that inflates the far right's electoral results; immigrants them-selves simply do not count in most elections. The low levels of electoral participation and naturalisation among Europe's growing immigrant populations have become the major disenfranchisement cause of our time. Voter registration and turnout are on average lower among immigrant voters, though these levels are generally related to their age, educa-tion level, duration of residence, and interest in the election issues. The major unaddressed issue is that, unlike in traditional countries of immigration, such as Australia and Cana-da, most immigrants in Western Europe are not naturalised and thus not eligible to vote in national elections, most regional elections, and (for non-EU citizens) in European elections.

Fifty-one million people
People with an immigrant background make up an estimated 14 percent of the EU's adult population aged 15-74 – that's around 51 million people. An estimated 32 million are first generation (born abroad to foreign-born parents) and 18 million are second generation (born in the country to a foreign-born parent). Two thirds of the first generation are not national citizens of their country of residence. The numbers are not much better even for non-EU immigrants or for residents living in the country for ten years or more. Large numbers of young second generation adults are also not national citizens in around half of the EU member states. As a result, an estimated 16 million non-EU citizens and 11.5 million free-moving EU citizens are disenfranchised in national and most regional elections, where most immigration, employment and social policies are decided.

Among non-EU citizens, 10 million live in EU countries denying them even the right to vote in local elections (e.g. Germany, Italy, France, Greece and Austria). These 'missing voters' may not have swayed the balance of power among mainstream parties, but they certainly would have diminished the power of the far-right. Far right parties are perpetuating and benefiting the most from this democratic deficit. It is no coincidence that the far-right did best in the 2014 EU elections in Austria, Belgium, Denmark, France, and the UK, where naturalisation rates have also plummeted over the past decade.

Vicious circle
Research finds that the electoral power of the far-right is the most important factor explaining the restrictiveness of European countries' citizenship policies, which then has major effects on immigrants' naturalisation rates, even for high-educated and developed-world immigrants. This explains why successful far-right parties usually succeed at lobbying to keep the naturalisation rate low by either blocking or undoing reform. This strategy sets off a vicious cycle of democratic deficit: the more citizens that vote for far-right parties, the more restrictive becomes the citizenship policy, the fewer immigrants become citizens, the greater is the electoral power of the far right, and the cycle continues. To remedy this, active citizenship should be at the core of integration policies at national, local and European level. Countries without a major far-right party, such as Germany, Ireland, Luxembourg, Portugal, Spain and Sweden, can focus on maintaining or increasing their naturalisation and electoral participation rates.

Countries with a major far-right party can still do much in practice to support immigrants and facilitate naturalisation and political participation. Positive examples include cam-paigns led by NGOs and municipalities in Italy and France, advocacy by immigrant youth in Italy and Greece, and specialised services in countries such as Belgium. All of these efforts to promote active citizenship will further build consensus for electoral enfranchisement and citizenship reform based on what all citizens have in common. In all European countries, the general population also need to be informed about the effects of this democratic deficit and the benefits of active citizenship for immigrants and for wider society. An emerging scientific literature suggests that naturalisation and electoral participation work as tools to promote socio-economic integration, fight discrimination and counter the far right.

So far, few national and local policymakers or civil society in Europe are promoting naturalisation and electoral participation among immigrants. The Migration Policy Group, inspired by good practices in the US and Europe, has just developed a model for citizenship campaigns to inform and encourage immigrants to vote and to naturalise. In fact, this model is already being implemented in Brussels, where readers can learn how to become a Belgian citizen at an all-day forum on 25 November. MPG and its partners believe that these campaigns will create the missing constituency on active citizenship in cities and countries across Europe. Full citizenship is within reach.
Thomas Huddleston is Programme Director on Migration and Integration at the Brussels-based Migration Policy Group. This project was supported in part by a grant from the Foundation Open Society Institute in cooperation with the Open Society Institute for Europe of the Open Society Foundations.
© The EUobserver
Russia Gives Anti-Gay Neo-Nazi Leader Lighter Sentence
12/11/2014- The head of the Russian-based anti-gay/neo-Nazi vigilante group "Occupy Pedophilia," which reportedly abused LGBT youth after luring them via social media, will serve less time after being sentenced to five years in prison for "inciting and fomenting cases of extremism," BuzzFeed reported Tuesday. Russian officials cut more than two years off the sentence of Maxim Martsinkevich, who is known as "Teask" (Russian for "cleaver"), according to Russia's TASS information agency. Martsinkevich's group equates gay men to pedophiles and targets them via social media and online dating websites, subjecting them to abuse and humiliation, which is taped and posted online before it is sent to the victim's family and friends. The anti-gay activist was found guilty in August after he posted videos to the social media website VK.com.

In the clips he made racial slurs and talked about his extremist opinions on Russia's state of the union. His anti-gay rhetoric and abuse were not included in the prosecutor's case against him, however. Martsinkevich's sentence was shortened on appeal because his crime of making the extremist comments did not result in any casualties. He previously served three-and-a-half-years for a prior conviction of extremism, BuzzFeed notes. Martsinkevich made headlines earlier this year for fleeing Russia for Cuba after he had been on the run from Russian authorities for crimes charged against him. He lived in Cuba for about a month before he was arrested and sent back to Russia, where he was detained by Russian police and charged under article 282 of the Russian Criminal Code, which is the incitement of hatred or enmity and human dignity with violence.
© The Edge Boston
Russia: Rostov coach Gamula gets five-match ban for racist remarks
12/11/2014- FC Rostov head coach Igor Gamula has been suspended for five matches after being found guilty of making racist comments, the Russian Football Union (RFS) said in a statement on Wednesday. Gamula had been asked at a news conference after the match against Ural Ekaterinburg on Oct. 31 if Rostov had signed Cameroon defender, Benoit Angbwa, who attended the game. "We already have six black players, do you want me to get a seventh? Angbwa just lives here, we will not be buying him," he said. The 54-year-old Gamula's comments caused a storm in the media, especially in Britain. "I immediately told the journalist that my remarks were between him and me and it was a joke. He took the quote and published it," Gamula said. "I will say it again -- it was a joke. I have a great relationship with all the team's dark skinned players. The British press just doesn't understand our Russian humour." Rostov's South Africa central defender Siyanda Xulu was offended by the comments and said he would not train until Gamula apologised to all of the club's dark skinned players. Gamula personally said sorry to each of the players in question and they all shook hands with him.

Harshest Punishment
However, South Africa's Minister for Sport, Fikile Mbalula, and South African FA president Danny Jordaan asked soccer's world governing body FIFA to look into Gamula's comments. "Any country that is going to host the World Cup should be hospitable to any race or nation, without discrimination because of the colour of a person's skin and in particular Russia" Jordaan said referring to the 2018 finals. "Therefore I believe that he (Gamula) deserves the harshest possible punishment. This is not the first time that such things have been said in Russia." Dynamo Moscow's Congo defender Christopher Samba and Zenit St. Petersburg's Brazil striker Hulk were both victims of racist abuse by opposition fans during matches in September. "Of course, you need to watch what you say, especially when we are trying to battle against racism," RFS vice president Nikita Simonyan said after Wednes-day's discipli-nary committee meeting. "If you want my personal opinion, I think Gamula said he was sorry enough times. He literally slapped himself in his face for making such an unfortunate joke." Gamula said the RFS had told him not to comment on his ban.
© Reuters UK.
Two women marry in Russia despite country's anti-gay laws
11/11/2014- Two women got married in Russia last week, becoming what activists are calling the first same-sex couple to legally wed in the country that bans so-called gay "propa-ganda." "It was the first (LGBT wedding) in Russia," said Anna Anisimova, an activist working with the Saint Petersburg-based LGBT rights group, Vykhod, to AFP Sunday. "Both brides wore white dresses." Same-sex marriage is banned in Russia, along with a number of other civil rights and protections for the country's LGBT population; the two women were able to marry in Saint Petersburg because one is transgender and currently undergoing hormone therapy. Her passport still lists her as male, the gender which she was born. "It's an insult against thousands of Russian families. I intend to call for its annulment," said Vitaly Milonov, a Russian politician who authored the notorious propaganda law, to AFP. He also told Russian media that the staff at the registry office where the two women were able to marry should be tried for treason or criminal negligence, the BBC reported.

Last year, President Vladimir Putin of Russia signed into law a series of anti-gay measures, the most contentious of which banning the promotion of "nontraditional" sexual relationships among minors. The "propaganda" law drew heavy criticism from the international community in the lead-up to February's Sochi Olympics, but proved to have little impact on the games themselves. Russia's first same-sex marriage comes days after Latvia's foreign minister, Edgars Rinkevics, declared on Twitter Thursday that he was "proud to be gay." While officials from the European Union, the United States, Estonia, Germany, and Italy saluted Rinkevics' announcement, prominent Russians derided the former Soviet republic. This discrepancy isn't surprising considering that just 16% of Russians said "homosexuality should be accepted by society" in a recent Pew Research Center survey. By contrast, 87% of Germans supported the proposition.

"I don't think [these events] will accelerate a thaw in LGBT opposition," said Rachel Denber, deputy director for Europe and Central Asia at Human Rights Watch, to msnbc. "What's really needed to accelerate a thaw in Russia is for the government to state very clearly that it's unacceptable to engage in hateful and anti-gay rhetoric, that it's unacceptable for public officials to engage in discriminatory rhetoric. If the Russian government investigates violence against LGBT people, and prosecutes that violence as a hate crime, those things may help to turn public opinion around." Human Rights First's Shawn Gaylord agreed that Russia's same-sex marriage would likely have little impact on anti-gay sentiment within the country, and may even make matters worse for LGBT Russians. But he sounded a more hopeful note about the regional effects of Rinkevics' announcement. "I do think the Latvia development is great," said Gaylord to msnbc. "There's a lot of research showing how public figures' coming out can have a big impact."
© MSNBC
Ukraine: Suspected member of far-right group becomes Kyiv police chief
Ukraine faces a potential PR disaster as a suspected member of a neo-Nazi group heads Kyiv police

11/11/2014- In a highly disputed move Ukraine's Minister of Internal Affair Arsen Avakov has appointed a suspected member of a neo-Nazi paramilitary organization and deputy commander of the Azov battalion Vadim Troyan as the Kyiv police chief. Troyan had previously tried and failed to get into parliament while simultaneously representing two different regions. Avakov has been criticized for appointing the 35-year-old as the new chief of police without consulting civil rights groups and conducting an opinion poll to get the public's approval. Despite the newly appointed official suspected of belonging to an extremist organization, the 'Ukrainian fascist hype' has been largely debunked with the majority of the far-right parties failing to get enough votes to get into parliament during the October 26th elections. See video here.
© Ukraine Today
Georgia: Transwoman killed and flat set on fire in Tbilisi
A young transgender person was killed in her apartment last night on Pekini street, Tbilisi. The victim's apartment was set on fire, apparently in order to destroy the evidence.

11/11/2014- Local media report that the victim was a 23 year old transwoman, who has appeared on several TV talk shows advocating sexual minority rights. However, the Ministry of Internal Affairs (MIA) has not issued any official statement confirming or denying this so far. "Around midnight, my neighbor called me. I came out of my apartment, and everything was on fire. But before that, there was no fight and no noise. I was told that the victim was killed and then burned. The door to the apartment were locked and could not be opened. It seems that someone with a key was in the apartment," one of the victim's neighbors told Interpressnews. Not clear if it was a hate crime. The police have begun investigating it as a premeditated murder without aggravating circumstance. The Criminal Code of Georgia lists intolerance towards one's sexual orientation or gender identity as aggravating factors for any committed crime, and such hate crimes are to be punished harder.

The organization Identoba, which works with LGBT rights, called on the MIA to make clear whether this was a hate crime or not. The group stressed in a statement that the police are not qualified to solve homophobic crimes and investigate them as crimes without aggravating circumstances. Identoba also asked to protect the privacy of the victim, and accused the media of not being interested in the horrific nature of the crime itself, but instead indulging in the victim's orientation and gender identity. "Each human life is precious regardless of their sexual orientation or gender identity."

Sexual minorities not welcome in Tbilisi
In 2013, just after the May 17th events, CRRC Georgia conducted a survey asking Tbilisi residents their opinion regarding the clash between LGBT rights activists and people sharing anti-homosexual sentiments. They talked to 542 Georgian-speaking adults, and the results showed that half of them would justify physical violence if it is directed toward people and groups who endanger national values. In addition, half of Tbilisi residents believe that the rights of sexual minorities should never be respected and almost a third of the Tbilisi population think that sexual minorities should not have the same rights as everyone else. At the same time, almost half of the respondents believe that it is possible for homosex-uals to change their sexual orientation. Also, almost a third of the Tbilisi population don't want to life nextdoor to someone belonging to a sexual minority.
© Democracy & Freedom Watch
Greece's Neo-Nazis Were Scarier Than Anyone Imagined
Prosecutors in the trials to disband Golden Dawn claim the group slaughtered sheep to practice knife techniques, carried around bazookas, and was training to "break into parliament with tanks."
By Yiannis Baboulias

13/11/2014- In the prosecutors' 697-page case file, he is known only as Witness E -- a Golden Dawn ex-member turned state informant. And what he has to share about the neo-Nazi political party -- its ideology, its training methods, and its plans for the future -- is terrifying. Golden Dawn recruited a butcher to train its members in the art of using a knife effectively, in order to "neutralize opponents," Witness E told prosecutors. Party members participated in the mass slaughter of sheep in various farms around the Attica region, which encompasses Athens and its suburbs, to learn the best technique for "striking directly at the jugular." He'd heard, Witness E said, that the same butcher supplied guns to Golden Dawn members, as well. Other evidence prosecutors uncovered seems to back up his claim: The case file is littered with photos of members in military clothing carrying knives, swords, handguns, rifles, and, in one case, even a bazooka.

All this training was "in preparation to overthrow the Greek government," Witness E suggested to prosecutors -- a jarring reminder of how little the Greek public truly understood the operational capabilities of Golden Dawn, or what the party even aimed to be. "They kept telling us that we'll break into the parliament with tanks," he said. The prosecutors' report -- a copy of which was obtained by Foreign Policy -- was prepared in advance of the trials of dozens of members of Golden Dawn on charges ranging from assault to human trafficking to murder. On the eve of the first of the trials, slated to start mid-November, the investigation has revealed a group that had bigger, scarier ambitions than even their most cynical enemies imagined -- and, despite its revolutionary goals, had far closer ties to the ruling coalition than much of the public realized.

Founded in the mid-1980s, Golden Dawn originally started out as a small fringe discussion group -- one that only later developed electoral ambitions. Even after entering politics, Golden Dawn remained a bit player for much of its existence, in some elections winning less than 1 percent of the vote. Its breakthrough came in 2010, in the wake of the global financial crisis. With unemployment rates in Greece that would eventually reach as high as 28 percent in November 2013, the group rode a wave of government-directed anger, scoring its first electoral breakthrough in 2010 when one of its candidates won a seat on the Athens City Council. In the following years, the group continued to generate headlines for its violent attacks on immigrants and leftists, fiery nationalistic rhetoric, and, finally, its electoral success: Golden Dawn sent shockwaves throughout Europe in 2012, when it won 18 seats in parliament with nearly 7 percent of the vote.

The party's share of support has now fallen to around 6 percent in the polls -- its lowest since it 2012, but likely still enough to win more than 10 seats in parliament for a group that, according to prosecutors, was less a political party than a full-fledged criminal organization. The downfall of Golden Dawn began with the September 2013 stabbing death of a Greek anti-fascist musician named Pavlos Fyssas by a man named Giorgos Roupakias. Roupakias initially denied he was a Golden Dawn member, but photos and videos of him at party events quickly demonstrated otherwise. The crackdown that came next was swift and unprecedented: All of Golden Dawn's MPs and more than 60 party members are facing a range of criminal charges, and more than 30 members of the party leadership are currently detained, including the party's founder and historical leader, Nikolaos Michaloliakos.

The police operation against Golden Dawn may have started with a murder investigation, but photos, videos, and phone records in the case file show party members were involved in a web of criminal activities that ranged from possession of firearms and explosives -- illegal in Greece -- to money laundering, running protection rings, human trafficking, and aggravated assault. Several members face charges related to the stabbing, including one MP, Ioannis Lagos, who prosecutors say directed the murder. There is also at least one case of sexual assault in the offices of the Sparta branch of Golden Dawn that was reportedly covered up by local officials.

Golden Dawn's party leaders have long officially denied any link to Nazism, despite appearing to draw inspiration from Nazis for their imagery, songs, and rhetoric. But videos and photos obtained by the authorities from confiscated laptops and hard drives belonging to various party members and officials appear to belie these claims. They show party leaders dressed in S.S. uniforms, giving the Nazi salute. In one of the videos, swastika-draped Golden Dawn members train with firearms, under the instructions of MP Ilias Kasidiaris and other elected officials. Another shows groups of activists in paramilitary uniforms marching, their faces covered with motorcycle helmets. In at least one case, these paramilitary-style groups reportedly participated in attacks against immigrants in 2011, with Kasidiaris and press officer Ilias Panagiotaros barking orders from the sidelines. But the most damning evidence concerns the days leading up the death of the anti-fascist musician on Sept. 18, 2013, and its aftermath.

In a Sept. 13, 2013, text message exchange between Golden Dawn MP Lagos and the leader of the local Golden Dawn office in Nikaia, a suburb of Athens, Lagos appears to sign off on an attack on a group of leftists affiliated with the shipyard unions of Perama, a port city west of Athens. "The commies are in for a beating in Perama," Lagos's text reads. "Take 30 guys and drop by." Around 50 party members carried out the attack that night, which sent nine people to the hospital. No one was immediately arrested after the violence. A week later, a chain of command that led right to the top of Golden Dawn appears to have sanctioned, or at least known about, the attack on Fyssas, the musician. Union officials say they believe Golden Dawn, having failed to cow the leftists a week earlier, staged the attack to solidify the party's dominance in the shipyards of Perama and in Nikaia as a whole. Prosecutors have mapped out a web of phone calls that show that party leader Michaloliakos himself was contacted both before and immediately after the stabbing. Micha-loliakos is currently being charged with belonging to a criminal organization.

The sitting government, led by Prime Minister Antonis Samaras, has been quick to celebrate its role in saving Greece from the neo-Nazi threat, but in bringing down Golden Dawn, the government has exposed itself to a series of potentially embarrassing revelations about just how close the relationship between New Democracy, the senior coalition member in parliament, and the neo-Nazis had become. A few months before he was detained, Kasidiaris -- the 33-year-old Vice once dubbed "the playboy of the Greek far-right," who, before the arrest, was positioning himself as the natural heir to Michaloliakos -- attempted to blackmail a prominent member of Greece's New Democracy party, the senior partner in Greece's coalition government. Kasidiaris released a tape in which he appeared to be discussing details of the case and possible outcomes with New Democracy's cabinet secretary, Takis Baltakos, a few months after the arrests.

On the tape, Baltakos can be heard telling Kasidiaris that "there is no evidence against you" repeatedly and telling him that the crackdown was politically motivated -- that Prime Minister Samaras was worried that Golden Dawn's popularity was a threat to his conservative ruling coalition. The scandal led to Baltakos's resignation. Even so, it now looks like the links between Baltakos and Golden Dawn were gravely underestimated. According to the most recent revelations, from further recordings Golden Dawn itself has leaked and phone records intercepted by government investigators, Baltakos was more than a sympathetic ear. Not only did he publicly suggest that New Democracy form a coalition with Golden Dawn in order to attract right-wing voters, but he was also in contact with Golden Dawn's MPs, directing them how to vote on crucial matters in parliament, essentially aligning them with the coalition's goals.

A series of text messages between an unnamed aide acting as a link between Baltakos and Kasidiaris contain instructions for various votes on matters ranging from drug policy to military schools. They also show that Baltakos sent his "congratulations" on the behavior of the party's MPs in the parliament, including on one instance when a Golden Dawn MP, during an argument on the floor, called members of the opposition party Syriza "goats" and "filthy" people before getting kicked out of the chamber. Throughout, the text messages show a familiarity between the two politicians: "Takis ... came in and wants to see you," one of the messages read, using the secretary's first name. The problem is that Baltakos was not just anybody inside New Democracy: He was close with Prime Minister Samaras and his personal advisors.

New Democracy has always had mixed feelings toward Golden Dawn, an ambivalence driven largely by the view of a "specific nuclei" within the party, said Yiannis Mavris, a Greek political analyst, in an interview earlier this year: People like Baltakos and other close advisors to the prime minister see them less as thugs and more as misguided comrades. The two parties competed for some of the same voters, and New Democracy saw Golden Dawn as a threat on its right flank. But for some, like Baltakos, the far right was a natural extension of New Democracy, Greece's main center-right party. Reports in the Greek mainstream media now suggest that Baltakos, who is still in public life, is trying to set up a new, "serious" Golden Dawn, potentially with Ilias Kasidiaris at the helm if he's acquitted, and with the co-operation of Michaloliakos's brother, Athens lawyer Takis Michalolias -- who, the same reports suggest, has been quietly recruiting new members since at least last year. Golden Dawn was already trying to present a new, respectable face during the 2014 European elections, where the party managed to garner 9.4 percent of the vote. During those elections, the party ran retired army officials -- in contrast with their parliamentary slate which included heavy metal musicians and bouncers.

The political consequences of the trials may be far-reaching. With the Greek economy showing only marginal improvements, and with the opposition calling for early elections next year, Samaras seems likely to try to capitalize on the unfolding prosecution. The prime minister has boasted of being the man who brought down Golden Dawn, dubbing them "Nazi sympathizers" in a talk earlier this year and denouncing their ideology, saying, "blood, sacrifices and our memory of history are violently insulted by those who today bear the symbols of Nazism." "New Democracy can't back down," said Dimitris Psarras, a veteran investigative reporter and expert on the Greek far right. "It's profiting from what's happe-ning."

But the trials also threaten to expose further links between New Democracy and the far right. Samaras so far has refused to answer questions on both Baltakos and other instances in which members of his party appeared to be sympathizing with the Golden Dawn and its voters. (Just this past week, one Samaras advisor told the newspaper Kathimerini that New Democracy should consider opening up to far-right groups.) That former Minister of Public Order and Citizen Protection Nikos Dendias was sitting on 33 cases involving various Golden Dawn members, but only filed charges against them after his hand was forced by the September murder, has also called into question Samaras's commitment to stamping out the right wing.

But whether the trials, which will run concurrently, beginning with an assault case today and running through January, will succeed is a different matter entirely. There are "serious gaps" in the evidence backing the charges that Golden Dawn was a criminal organization, Psarras said. Should the trials go badly for the prosecution, they could easily backfire, he said, winning sympathy for the party. The trials could also take place in a particularly politicized climate, he said, should there be early elections; some Greeks might see the trials less as a means of delivering justice and more as a political power play. For Greece, the next few months are crucial. Golden Dawn's main body of activists has mostly gone silent. But smaller attacks are taking place across Athens, against LGBT activists and leftists, some allegedly by Golden Dawn supporters still roaming the streets. Whether this low-level violence eventually fades away and disappears -- or whether it ramps up again -- depends very much on whether prosecutors succeed where political officials failed: in disbanding what had grown into the biggest neo-Nazi party in Europe.
© Foreign Policy
Greece: Far right tests Europe's democracies
Experts at FES event in Athens debate causes of nationalist backlash across the continent

11/11/2014- Four-and-a-half years since the onset of a brutal economic crisis that radically changed Greece's political landscape, most experts agree that the financial meltdown does not tell the whole story of Golden Dawn's meteoric rise, but few would deny it was a catalyst. "The problem [of far-right extremism] in Greece was intensified by economic and social conditions. People think they can improve their condition by turning to extremist parties," said Ralf Melzer from the Friedrich Ebert Foundation (FES) in Berlin during a discussion at Impact Hub Athens on Monday. "At times when people face existential threats, statistics indicate an increase in racially motivated attacks," said Melzer during the FES-organized event marking the launch of the Greek translation (Polis publishers) of "Right-Wing Extremism in Europe," a collection of essays on the topic edited by Melzer and Sebastian Serafin. He admitted that there is no absolute connection between social environment and political choice.

Vassiliki Georgiadou, a political scientist at Panteion University who wrote the volume's chapter on far-right extremism in Greece, said that fast-paced developments triggered by the EU/IMF bailout agreements Athens signed in 2010 were fodder for Golden Dawn, which in the span of three years went from a fringe party, polling at just 0.3 percent, to electing 18 MPs. "When things change at a very rapid pace, some people simply cannot catch up. They are scared. This situation created a window of political opportunity for Golden Dawn," said Georgiadou, who has carried out extensive academic research into the party. Greece's recent history suggests that financial hardship is not a prerequisite for political extremism. In the 1990s, when Greece's economy was in much better shape, it was the EU-inspired reformist mantra of the Simitis administrations that appeared to spawn the birth of LAOS, an ultranationalist, anti-globalization party with a strong emphasis on communitarian values and a Christian Orthodox identity. Particularly in Golden Dawn's case, Georgiadou said, several of the factors that caused its power to grow existed before the turning point in 2010.

Waning trust in institutions, as recorded in a number of surveys in previous decades, the quality of the country's political system, and deep polarization all benefited the rise of smaller, and sometimes extre-mist, parties. "Intensifying political competition between smaller parties that were born out of the breakdown of Greece's mainstream parties and ensuing polarization played into the hands of the far-right narrative of 'the big, corrupt parties that only look after their own interests,'" she said. The resurgence of far-right extremism is not unique to Greece, of course. Twenty-five years after the Berlin Wall crumbled into souvenirs, the political narrative in the "European Home" has not been one of unity. The turnaround was made brutally evident during European Union Parliament elections in May that were marked by stunning victories for Marine Le Pen's anti-immigration, anti-euro Front National and Nigel Farage's UK Independence Party, which advocates Britain's immediate withdrawal from the EU. Far-right parties across the continent more than doubled their representation. Undaunted by the prosecution against its leader and most senior members, Golden Dawn went on to win 9.4 percent of the vote and emerge as Greece's third-biggest party.

To ban or not to ban?
Experts at the FES debate inevitably set to work on the question of whether apparently anti-democratic parties should be tolerated within Europe's liberal democracies. Haunted by its Nazi past, Germany has laws banning Holocaust denial and the public display of Nazi insignia. The country has encouraged European governments to introduce similar legisla-tion. Last year saw a renewed bid to outlaw the far-right National Democratic Party (NPD) after Germany's 16 regional governments filed a motion with the Federal Constitutional Court arguing that the NPD espouses Nazi values and wants to overthrow the democratic order through violence. A previous bid in 2003 failed after top judges ruled that the government's case rested on testimonies by NPD officials who were found to be agents of the German intelligence service. Support for NPD went up after the botched bid."Some- times a ban is necessary, but you also need to make a serious effort to deal with the problem on a social level," said Melzer, who also referred to contacts between NPD and GD officials.

Studies by German experts quoted in the publication show that about 30 percent of people who support far-right parties and organizations abandon these groups when authorities investigate them in connection with a possible ban on their operations. "Prohibitions are not a panacea," Georgiadou said, warning that rather than curb the power of an ultra-nationalist party, a ban can actually result in the party gaining popularity. The victimization factor seems to have played a role during the early stages of the judicial clampdown on Golden Dawn, which failed to diminish its popularity. "It was a mistake to believe that the launch of the judicial investigation into Golden Dawn would automatically drain support for the party. Big shocks take time to register with voters," Georgiadou said, adding that more recent surveys, particularly following a barrage of investigative reporting into GD's criminal activity and Nazi affiliations, have documented a slow albeit steady decline in support for the party, which is now polling around 6 percent.

Golden Dawn did not face an NPD-style ban threat. Its members were instead prosecuted for alleged violations of the country's criminal code. Last month, the prosecutor handling the investigation into GD proposed that all the party's 16 MPs, as well as two deputies who have quit and dozens more GD members stand trial on a string of charges ranging from running a criminal organization to murder and weapons offenses. In a 700-page report, the prosecutor said that none of GD's MPs can claim convincingly that they were unaware of the criminal acts that were consistently carried out over a long period of time in the name of the party. Georgiadou said that although a great effort was being made to tackle GD on a judicial level, very little was being done on a political level. "What have our education ministers been up to all this time?" she said. Prompted by a wave of xenophobic attacks, the Greek Parliament in September passed a bill toughening anti-racism laws and criminalizing Holocaust denial. The new laws will not apply to GD members during their upcoming trial.
© E Kathimerini
Greek fascist party snubs Spanish 'offshoot'
Greece's far-right Golden Dawn party has denied any links with a Spanish party of the same name (Amanecer Dorado) which was officially registered in Spain in October.

10/11/2014- "We have read about it in the press, but don't know anything else," said a spokesperson for Golden Dawn of a Spanish party using the same name, symbols and ideolo-gy. The spokesperson also denied any contact with the Spanish party which registered with Spain's interior ministry on October 27th. Spain's version of Golden Dawn describes itself as being dedicated to "the defence of the identity, roots, culture, values and tradition of the people of Spain and Europe", Spain's El Diario reported. But little else is known of the party with an Alicante address. A tight-lipped party president Antonio Vicedo, formerly with Spain's own far-right group National Alliance, said the party would "within a month, or within a month and a half, make officially launch itself, inviting media outlets". Asked if he had had any contact with Greece's own Golden Dawn said details would be released in due course. "We can't give more information right now."

Greece's Golden Dawn party is openly racist and nationalist, although it denies being a neo-Nazi party. Fuelled by a wave of anti-austerity feeling it won seven percent of the popular vote in the 2012 Greek national elections, gaining 21 seats in the national parliament as a result. It also picked up just under ten percent of the vote in European Union elections in May, the third highest of any Greek party. However, the party's leader Nikos Michaloliakos is now in prison facing charges of acting as the head of a criminal group. Spain's own economic crisis has failed to lead to a rise in popularity of right-wing groups. By contrast, the radical left-wing group Podemos has continued to climb in the polls, threatening the prospects of Spain's two largest parties as they gear up for general elections in 2015.
© The Local - Spain
Canada: 'Polite racism,' inequality still linger in N.S., say minority groups
African Nova Scotian community still feels burden of systematic racism

12/11/2014- Nova Scotians have a reputation for being friendly and welcoming people, but many minority groups say if you scratch the surface, there's still plenty of racism and discrimination in this province. The African Nova Scotian community has long felt the burden of systematic racism, says Sunday Miller. Miller was born in Yarmouth and attended Dalhousie University. She has worked as a microbiologist and directed many not-for-profit organizations and is now the executive director of the Africville Heritage Trust. "A lot of African Nova Scotians do not walk with their heads up," she says. "They walk with their head down, or with a sense of hesitancy as to whether I belong here or not."

Miller says she faced discrimination in university, as many people assumed because she received good marks she was not a native of Nova Scotia and had to be a visiting student from elsewhere. She says upon graduating, she had difficulty landing her first job. "I was told that I was the best candidate but not their first choice. And the only reason why I got the job was when all the other people, who were worse candidates, when they called them had already gotten work. And so I was offered the job." Miller remembers being offended by a conversation with that early employer about why she was eventually offered the job. "They said to me, 'Well, you know what they say.' And I said, 'No.' 'Well, you know, blacks cause trouble, you know, fights and all.'"

The immigrant experience
As a Nova Scotian born in Yarmouth, Miller sees differences between her upbringing and the experience of immigrants who come to this province from the West Indies or Africa. While those migrants might share the same skin colour as Miller, she says they have been raised in countries where black people hold positions of power. She argues this gives immigrants a different mindset to face racism. "We are a separate community and I think part of it is, when they come, and they see the conditions in which we live, and the challenges that we face, they don't want to be associated with that. Not realizing that if you stay here, your children are going to end up in the same situation. Because then they're going to be African Nova Scotian," she says.

Faith Moneke-Ukadike immigrated to Nova Scotia from Nigeria 24 years ago. She says pushing back against racism makes her stronger and she encourages others to do the same. "I experienced racism so much. It makes me a strong person. Because when I experience it, I like to teach them. I say, this is not who I am," she says. Moneke-Ukadike says she respects the struggles of African Nova Scotian families who have lived here for generations, but she believes the community needs to move forward together. "My children are all Canadians. They were born here, they are indigenous black. But sometimes society sees them as the children of immigrants, they don't see them as indigenous black," she says. "I think we need to pass beyond that. We cannot forget the history, but we learn from history and move forward...the pain and agony that your forefathers went through, it still lingers. But you need to move away from that and move forward."

Not enough has changed
Tracey Jones-Grant has worked on equality issues for African Nova Scotians for many years through work as a librarian and an educator. As the daughter of well-known black activists Burnley "Rocky" Jones and Joan Jones, she recalls seeing her parents attend rallies and protests in the 1960s. She says her own activism in libraries was of a different sort. "When I first began working in the field, we didn't have puppets when we did puppet shows that represented black folks or any people of colour." Jones-Grant says although some things have changed, she sees few minorities in positions of power and authority. "We don't ever say to somebody, because you're black, because you're aboriginal, because you're this that or the next you can't do something. We just exclude you. That, to me, is polite racism. We never overtly say it. That would be rude."

Racism at the grocery store
In a 2013 report by the Nova Scotia Human Rights Commission, the authors examined racism during the simple act of shopping in stores. About 1,190 people in Halifax, Digby, and Sydney were asked if they had a "consumer incident" in the year prior to the survey. They were asked if they'd ever been refused service, followed, questioned about their ability to pay, targeted for offensive language, searched, removed from the store, or wrongfully detained. Close to 29 per cent of white respondents said they'd experienced one of those things in the last year. Respondents of other backgrounds were much more likely to have had such an experience.
Respondents who indicated at least one consumer incident in the past 12 months:
82.9% Aboriginal
72% African Canadian
61.5% Latin American
50% Middle Eastern
46.6% Asian
Some of those respondents said they had a negative incident while shopping more than once. About 7.3 per cent of Aboriginal and African Canadian respondents said they had a negative experience four or more times, which happened to about 0.4 per cent of white respondents. "Race of ethnicity is the most significant factor in the experience of consumer incidents," the report concluded.

Racism and mental health
In an October 2014 report published by Immigration Settlement and Immigration Services, lead author Carmen Celina Moncayo studied newcomer mental health. For the 94 people surveyed, racism played a large role in poor mental health. Women who wear the hijab reported sometimes feeling hated and disrespected, refugee claimants felt they were treated as criminals, and African parents said people assumed they were abusive to their children. Many of the respondents also said they faced difficulty in getting a job, even if they had both Canadian and overseas experience. Moncayo said some respondents handed out hundreds of resumes, but never received any calls for an interview. She said those people sometimes draw the conclusion that they receive no interest because the name on their resumes sounds "foreign."

Moncayo said one woman told her about applying for a job for which she had the right qualifications. "She had the applications, and she had the qualifications, and later on she received a call from the company saying, 'Never apply here again,'" Moncayo said. The study found every ethnic group reported experiencing racism, along with negative effects on mental health. "People feel exclusion. People feel that you don't belong here. People start wondering, 'Is there something wrong with me?' People start feeling their self-esteem goes down," Moncayo said. "When people are feeling constantly frustrated or when people need to justify all the time about who they are, that affects their mental health."
© CBC
'Anti-Racist' Group Moves to Exclude Jews from Kristallnacht Commemoration (Scandinavia)
10/11/2014- Scandinavian Jews were stunned following news that activists with reported communist ties tried to bar Jews from a Kristallnacht commemoration in Norway, while a ceremony in Denmark marking the same Holocaust-era rampage was used to raise funds for Gaza. In both cases, activists tried to draw an equivalency between Nazi Germany and Israel's treatment of the Palestinians. According to the Norwegian English-language blog Norway, Israel and the Jews, an anti-racism group known as New SOS Racism demanded that Jews in Bergen be excluded from a weekend commemoration of Kristallnacht — the night of broken glass — a series of widespread attacks 76 years ago targeting Jews living under Nazi Germany.

In neighboring Denmark, a socialist alliance used the Kristallnacht ceremony to raise funds for Gaza, according to the New Antisemite, a blog that tracks European anti-Semitism. Kristallnacht took place on Nov. 9 and 10, 1938. "[S]elf-labeled anti-racists have a difficult time internalizing that on the Kristallnacht we commemorate Jews and the destruction of Jews in Europe," a blogger at Norway, Israel and the Jews observed. "In Bergen the 'new' SOS Racism (the old one was closed down due to massive fraud) refused to participate in the Kristallnacht commemoration since a representative from the Mosaic Congregation was invited, yes, they balked at a Jew participating," Israel, Norway and the Jews blog added. One observer commented on the irony of the effort at excluding Jews from a rally against anti-Semitism: "Commemorative March on Washington to commemorate Martin Luther King. No Blacks, please".

Dr. Efraim Zuroff, director of the Israel office of the Simon Wiesenthal Center, a Jewish human rights group, called the Norway incident a "classic" example of "'Holocaust inver-sion,' using the events of the Holocaust to attack the Nazis' primary victims, the Jews." "In Norway, one of the only two Western countries in the world in which Nazi war crimi-nals cannot be brought to justice, a group ostensibly against racism uses Holocaust events to promote racism against Jews, and thereby totally distorts the historical lessons of the unique tragedy of European Jewry, a genocide in which Norwegians actively collaborated both in Norway and in Eastern Europe," Zuroff told TheBlaze Monday.

The New Antisemite wrote about the coverage on a Norwegian news site, "Dagen's headline to this article is 'Demanded Memorial Without Zionists,' but as you can see below, the issue wasn't Zionists, it was Jews, plain and simple." The New Antisemite reported that the protesters tried to equate Nazi Germany with Israel today: An anti-racism group called "Nye SOS Rasisme" will not take part in the general Kristallnacht memorial march in Bergen, since their demand to exclude representatives of the Jewish community was not accepted. Anne Sender, a former leader in the community, will speak at the memorial. It is interesting to note that Anne Sender is a vocal critic of Israel. "Nye SOS Rasisme" say they will conduct their own procession with banners against Israel, such as "Zionism is Racism". On their website they explain that the day marks opposition to racism, harassment and genocide, but that today Israel is a racist state.

Quoting a Danish news site, the New Antisemite blog reported Monday that the Danish Jewish community is upset a socialist alliance in Copenhagen used the Kristallnacht anniver-sary to raise funds for Gaza. According to the report, the Red-Green Alliance solicited contributions to purchase ambulances in Gaza in the context of the commemoration of the Nazi atrocity. Dan Rosenberg Asmussen, a Jewish Community leader in Denmark noted that the alliance was showing support for Gaza's Hamas leadership which rejects the exis-tence of the state of Israel. Organizers said the Kristallnacht anniversary should not only be for Jews, but highlight discrimination against others. The New English Review blog which focuses on issues of anti-terrorism, jihad and Shariah called the effort to exclude Jews from the Kristallnacht commemoration a "moral inversion." "There were bizarre attempts in Norway to exclude Jews from participating in commemorations because they were 'racists.' The conceit of these anti-Semites, whether nativist or Islamic is moral inversion," New English Review wrote. "Call it anti-Israelism or Palestinism, it depicts IDF soldiers defending the sovereignty the Jewish nation as the equivalent of Nazi storm troopers."
© The Blaze
Germany faces a wave of racist rhetoric
14/11/2014- Several thousand people gathered on October 26 in Cologne to demonstrate against the violence of Muslim extremists in the Middle East. The rally, organised by a group called "Hooligans against Salafists", quickly deteriorated . Protesters started rioting and shouting anti-Muslim and neo-Nazi slogans, like "Germany for the Germans, foreigners out!" Three months earlier, thousands of Berliners took part in a series of protests against the Israeli military operation in the Gaza Strip. Their stated aim was to show solidarity with Palestinians and express criticism of Israel's actions. But anti-Semitic slogans were also vocalised by hundreds of protesters. In a society still very much shaped by the horrors of World War II, this reappearance of racist rhetoric in Germany's public sphere has touched a nerve. Authorities were quick to respond. Berlin's senator for interior affairs, Frank Henkel, said last week he would do whatever he can to ban a large, far-right demonstration planned for November 15 in the German capital. In September, Chancellor Angela Merkel participated in a rally organised by the Central Council of Jews, and vowed that fighting anti-Semitism is a national and civic duty.

But the situation has remained tense, especially in diverse metropolises like Berlin. In August, a mosque was set on fire . And a Muslim religious institution is under police investiga-tion after a visiting imam was filmed preaching inflammatory remarks against Jews. These tensions should be viewed in the context of world events, said Dr Ralf Melzer, who monitors extremism for the Friedrich Ebert Foundation , a German non-profit organisation. Melzer said xenophobic right-wing groups, like Hooligans against Salafists and the Pro Movement, are holding more events because they recognise that the public's resentment of groups like the Islamic State in Iraq and the Levant (ISIL) is fertile ground for spreading anti-Muslim sentiment. "Islamic radicalism is used by German right-wing groups in order to devaluate Islam and Muslims in general," Melzer said. "What these right-wing extremists are doing - like in this manifestation in Cologne - is trying to use the threat of militant, radical, terroristic Islam for their purposes."

A similar wave of anti-Muslim racism in Germany took place after the September 11, 2001 attacks on the United States, according to Carsten Koschmieder, a political scientist at Berlin's Free University. Koschmieder said prejudice towards Muslims in Germany is not limited to the far right, but exists across all social classes and backgrounds. A recent Pew Research Center report found that 33 percent of Germans have an unfavourable view of Muslims in Germany, a rate higher than those recorded in France and the United Kingdom. "The numbers show this is really a problem," Koschmieder said. "Many people think Muslims are all dangerous, they are not belonging to us and so on. You have even more prejudices against Muslims than, for example, against Jews."

Breaking a taboo
Muslims in Germany make up about five percent of the country's total population of 82 million, making them Germany's largest religious minority. Jews account for a little more than 0.1 percent of the country's population. Koschmieder, whose field of research includes both right-wing extremism and anti-Semitism, explained that public hate speech towards Jews is taboo in German society, or at least it was - until this summer. "They don't know or they don't care for this taboo," said Koschmieder of the pro-Palestinian protesters who shouted anti-Semitic slogans on the streets of Berlin. "This taboo is more often challenged these days." The boundary between legitimate political criticism and projection of Jewish hatred are very narrow and easily crossed, according to Daniel Alter, a prominent rabbi in Berlin's Jewish community. Alter said most anti-Semitic acts were carried out by people with a Christian background - which was confirmed by Berlin police spokesperson Stefan Redlich. However, Alter added, the anti-Semitism of young Muslims much more openly perpetrates acts of hatred against Jews.

"There are areas in Berlin in which it is definitely not wise if you are identifiable as a Jew," Alter said. "Unfortunately, it is in the regions where young Muslim people congregate and hang out. If I pass by there, and if somebody can identify me as a Jew, I get at least verbally harassed." Two years ago, Alter was a victim of anti-Semitic violence. A group of young men of Arab descent attacked the rabbi on the street as he was walking with his seven-year-old daughter. They asked him if he was Jewish, and when he replied yes, they beat him up and threatened his daughter. He was hospitalised that evening with a fractured cheekbone.

'No-go areas' in Berlin
Berlin police recorded eight other instances of anti-Semitic violence in 2013, and five since the beginning of 2014. In an interview last year with a German newspaper, Alter suggested that parts of Neukoelln, a Berlin district with a large Muslim population, are "no-go areas" for Jews wearing visible religious symbols like the kippah because they would be under threat. That statement triggered Armin Langer, a 24-year-old Jewish resident of Neukoelln, to reach out to others in his neighbourhood. Langer founded the Salaam-Schalom Initiative , an inter-religious dialogue group whose members include Muslims, Jews, Christians and atheists. The group meets on a regular basis in Neukoelln and organises community events, panels and open discussions - all aimed at creating direct communication between people from different religions and backgrounds. Langer is convinced the best way to eliminate racism is to take on all sorts of it at once. "We deal with anti-Semitism and Islamophobia at the same time," he said. "They are simply too strongly connected to deal with them apart."
© Al Jazeera
Germany: Neo-Nazi to face child sex abuse charges
Far-right extremist and former informant for the security services Tino Brandt will face charges of serious sexual abuse of children.

13/11/2014- State prosecutors in Gera, Thuringia, said that Brandt, 39, would answer 157 charges for acts that took place between 2011 and 2014. "This means that he himself had sexual contact with children and young people," a spokesman for the prosecutor's office said. Brandt is accused of having supplied minors to adults for sex in exchange for money in 45 cases. As leader of the "Thuringia Homeland Defence" group, Brandt had contact with the NSU members Uwe Mundlos, Uwe Böhnhardt and Beate Zschäpe before they began their serial murders. News of the charges against Brandt came just one day after his handler from the Office for Constitutional Protection (Verfassungsschutz) had given evidence at Zschäpe's trial. Prosecutors said that there was no connection to his political opinions in the present charges. They added that Brandt, who has been in custody since June during the investigation, had co-operated with the investigation and admitted to some of the allegations.
© The Local - Germany
Germany warns anti-semitism rising on back of Middle East violence
13/11/2014- Germany's foreign minister said at an international conference on anti-semitism on Thursday that "hatred of Jews" was on the rise once more in his country and across Europe, fueled by spiraling violence in the Middle East. Frank-Walter Steinmeier said Germany's Jews were subjected to threats and attacks at pro-Palestinian demonstrations, and the conflict between Israel in Gaza must not be used as justification for an anti-semitic behavior.As well as slogans like "Gas the Jews!" during some marches, in July at the height of the 50-day Gaza war petrol bombs were thrown at a synagogue in Wuppertal which had been burnt down on Kristallnacht - a Nazi attack on the Jews in 1938 - and rebuilt. "Bold and brutal anti-semitism has shown its ugly face again," Steinmeier told an Organisation for Security and Cooperation in Europe (OSCE) event.

Among the speakers was Karen Polak, from Amsterdam's Anne Frank House, who told delegates there had been "lots of outspoken violence against Jews who obviously have no responsibility for the policies of the state of Israel". Frank, a Jewish girl who died in Bergen-Belsen concentration camp in 1945, wrote a posthumously published diary while in hiding that has helped teach post-war generations about the Holocaust - the murder of six million Jews during World War Two. "You see it time and time again - when tension in the Middle East rises, anti-semitic incidents in Europe rise," said Polak. With far-right parties making strong gains in May's European Parliament elections, the OSCE said all com-munities and faiths needed to be on the alert. According to an EU survey, one in four Jews living in the bloc report having suffered an anti-semitic incident.

Pinkas Kornfeld, a Jewish community leader from Belgium, blamed the rise in hate crime on "people who want to import the Middle East conflict to Europe" and political extre-mists on the European far right and far left. Samantha Power, U.S. Permanent Representative to the United Nations, said anti-semitic attacks "are not only a threat to the Jewish community, they are a threat to the larger project of European liberalism and pluralism". Praising EU leaders such as Germany's Angela Merkel for her firm stance, she asked why fewer countries were attending than at the first OSCE anti-semitism conference 10 years ago. "Make no mistake - we have a problem," she said.
© Reuters
Germany: Clashes erupt in Berlin amid fall of the Wall and Kristallnacht events
10/11/2014- Clashes and arrests marred the anniversary of the fall of the Berlin Wall, as several hundred left-wing activists met far-rights in the city center. The latter were rallying in commemoration of the 1938 Kristallnacht Nazi attacks against Jews. On Sunday, left-wing activists held a non-sanctioned demonstration near the capital's Alexanderplatz train station against the fall of the Berlin Wall, while most Berliners were commemorating the 25th anniversary of the event. Meanwhile, nationalist activists gathered for a demonstration to commemorate the attacks of the Kristallnacht - or the "Night of Broken Glass" - when in 1938 the Nazi authorities launched a series of coordinated attacks against Jews throughout Nazi Germany and Austria.

The participants of the two demonstrations clashed as both sides reportedly threw incendiary devices and bottles at each other. Police made several arrests in attempts to disperse the crowd. Following the clashes police switched to riot gear. Meanwhile, at the main Wall anniversary speech on Sunday, German Chancellor Angela Merkel also noted the signifi-cance of this day for the country due to the Kristallnacht attacks. "That was the opening note for the murder of millions," said Merkel, adding that on this day each year "I feel not just joy, but the responsibility that German history burdens us with." Sporadic clashes also occurred during a small pro-Novorossiya demonstration in Berlin on Sunday, as a counter-protester grabbed the microphone of the one of the Members of Staat-enlos group onstage. Police also clashed with demonstrators at the rally.
© JTA News
German Muslims, Jews speak out against racism, discrimination
Representatives of different religions and faiths living in Berlin's Kreuzberg, a neighborhood with a large number of immigrant residents, have made calls to raise awareness in German society about recent anti-religious and anti-Semitic acts in the city in order to influence policies and fight discrimination and racism, which continue to be huge problems in Germany.

9/11/2014- Late on Friday members of Berlin's Jewish and Muslim communities came together in front of Berlin's Mevlana Mosque in Kreuzberg, sometimes referred to as "Little Istanbul." The groups gathered together to replace two "stumbling stones" commemorating Moritz and Julia Katz, whose family endured terrific hardship when they lost two of their children in the Holocaust. The couple lived in the building currently housing the mosque before fleeing to Palestine in 1939. The stumbling stones commemorating Moritz and Julia Katz were torn out in an attack in April, 2014, mere hours after the stones were installed there, a move that raised concerns in German society and among the immigrant communities living in Berlin. In a separate incident following the removal of the stumbling stones, a group attacked and set fire to the Mevlana Mosque.

The joint action was organized to remember and bring attention to the two separate anti-religious acts in a very unique ceremony by bringing members of the Muslim and Jewish minorities together at a time when intense clashes have been taking place between Palestinians and Israelis over the al-Aqsa mosque in al-Quds, also known as Jerusalem. The event was organized by the Kreuzberg Museum, the Kreuzberg Initiative against Anti-Semitism (KIGA) and Berlin's Turkish community. Addressing the crowd in front of the mosque, Stephan Kramer, the secretary-general of the General Council of Jews in Germany, drew a parallel between the "Crystal Night" in 1938 and the atmosphere the Jewish community has been facing even before the Gaza crisis erupted. Kramer pointed out that the Muslim community in Germany also faces real manifestations of anti-Islamic sentiment, the attacks on mosques across Germany being just one example.

Before the attack on the Mevlana Mosque in Berlin, the Süleymaniye Mosque in Germany's Bielefeld was also set on fire. In February, the Cologne Central Mosque, one of the largest mosques in Germany, was also attacked. Apart from these three recent incidents, 78 attacks targeting mosques have been carried out in Germany alone since 2012, and 219 attacks were carried out between 2001 and 2012. Although incidents involving arson remain rare, hate crimes and hate speech against Muslim communities have become widespread across Europe. "Discrimination has already become a part our daily life," Kramer said, adding that unfortunately it doesn't receive enough attention in politics. He urged religious and ethnic minorities of Germany, including Muslims and Jews to be in dialogue with each other and act together on common goals.

Mentioning the conflicts in the Middle East and their effects in Europe, Kramer also underlined the need for joint awareness programs and projects, which he thinks are important in finding balance in German society and acting together. "If synagogues and mosques are burned, it is inevitable to be next to each other together on the street," Kramer said. Speaking about the Holocaust and the recent attacks on mosques in Germany, Bekir Yýlmaz, head of the Turkish Community of Berlin, has under-lined the importance of cooperative movements involving not only Muslim and Jewish groups but also other communities of Germany as well. "It is important to get together and raise our voice against the extremists. What they are targeting has no determined identity. What happened yesterday [to Jews] might happen to us today and to others tomorrow," Yýlmaz said, emphasizing the necessity of coexistence in German society.
© Today's Zaman
Germany: The Wall That Didn't Fall
25 years after the fall of the Berlin Wall, a divide remains in Germany that threatens the stability of the European continent—the separation between native and non-native Germans.
By Brandon Tensley

8/11/2014- Twenty-five years after the fall of the Berlin Wall, a different wall has taken its place. But instead of separating East and West, this other "wall" is the partition between those who are in German society and those who are on its fringes – namely, non-Western immigrants. Understanding the origins of this modern wall, which undermines cultural and social stability in Germany as well as in other parts of Europe, requires a look back at the past few decades. On the one hand, Germany isn't all that different from other European countries in grappling with growing right-wing populism, which often targets immigrants and has racist undertones. But on the other hand, it is, and in a very obvious way: No other country in Europe knows better than Germany does how racially motivated hatred can lead to violence.

That's partly why the latest resurgence in anti-immigration and anti-Semitism is surprising, especially to outsiders. Between 2000 and 2007, the neo-Nazi terror cell National Socialist Underground (NSU) carried out a series of racist crimes, including murdering eight Turks and one Greek, all of whom were living in Germany. Thilo Sarrazin's 2010 runaway bestseller Germany Does Itself In let the genie further out of the bottle, cautioning that immigrants have been steadily destroying German society. In September of this year, Germany's upper house of parliament approved tighter rules for immigrants from Balkan states, which critics argue will hurt the Roma, also called "gypsies," who still face government-sanctioned discrimination all across Europe. And this year has already seen more anti-Semitic crimes committed than in 2013, leading some commentators to dub these the worst times since the Nazi era.

So why, in a country that has long since regained respectability in the international political system by coming to terms with National Socialism's destructive racism, is discrimination against and the exclusion of supposedly "non-German" others still so problematic? Unsurprisingly, the answers to this question are anything but clear-cut, but they perhaps begin with what was largely poor forethought on the part of policymakers in the mid-twentieth century. Germany didn't expect its guest workers, chiefly Turkish laborers who were brought in for the booming post-war economy, to stay permanently. Because Germany kidded itself into believing that it'd never become a country of immigration, there was no serious attention paid to how to integrate immigrants and, eventually, their families.

And after the fall of the wall, East Germans, who had lived in a regime that sought to keep contract workers and immigrants separated from civil society (despite the fact that East Germany had a professed commitment to global solidarity), were suddenly expected to have an eye to multiculturalism under an imperfect West German model. So, the government's focus on the return readiness of its foreign laborers, coupled with the historical burden of even putting a name to racial abuses, have provided some of the necessary ingredients for racist sentiments to take root.

But on a more fundamental level, structural racism, or the normalization of cultural as well as institutional dynamics that privilege whites over people of color, is at play. This isn't to suggest that Germany doesn't take the issue of racism seriously; in light of how its dark past still guides and shapes its political culture, this is deci-dedly untrue. Laws forbid anti-Semitism and Holocaust denial, and Holocaust education is required in all German schools. But is Germany effectively confronting racism, including, in particular, day-to-day racism, both in word and in deed? The answer is a resounding "no."

For instance, one would be hard-pressed to chalk up the fact that the violence that was perpetrated by the NSU went unchecked for as long as it did to the incompe-tence of the police. Rather, the issue is a widespread but rarely discussed problem: For those who don't fit the bill of what it means to be (or, as is more often the case, look) German, racist tendencies still abound. Indeed, it was an undercurrent of racism against the non-white victims that blinded the police, who believed that the victims were probably criminals themselves, to a lack of evidence for their faulty logic. As for the perpetrators, the police stated in a report that "against the background that the killing of people is a strict taboo in our culture, you can assume that, with regard to their behavioral patterns, the perpetrators must have been socialized far from our local system of norms and values" and that they were likely "from eastern or southeastern Europe (non-Western European background)." It wasn't until two members of the NSU killed themselves in a chance joint suicide pact near their German hometown of Zwickau that the police connected the dots.

Prejudice aimed at Germans who aren't of discernable Western European descent isn't only limited to the criminal justice system, however. Germany's tiered school system and housing market also draw criticism for discriminating against minority groups. In short, racist assumptions, reflected in state institutions and often sustained by government officials' lack of political will to limit racial discrimination in multiple arenas, haven't yet been remedied, and they hardly take center stage on the national agenda – even when they produce murder sprees.

Racism doesn't just happen on the fringes, and it isn't merely an individual phenomenon. Even though the German government has worked for decades to own its racist history, racism doesn't need to be overt to be systemic. Structures are perpetuated in daily culture, education, and media and fuel people to view certain groups of people as "not like us." Germany, as Europe's de facto hegemon, has made great strides since the fall of the Berlin Wall only 25 years ago. But only by seeing and confronting the very real problem of racism can it start creating a culture of acceptance and breaking this other wall to tiny bits.
Brandon Tensley is an M.Phil. candidate in European Politics & Society at the University of Oxford, where his research focuses on minority politics and nationalism in Europe. This piece was originally published in New America's digital magazine, The Weekly Wonk.
© Time Magazine.
Racism in Sweden; bus driver rejects black passengers
12/11/2014- A Swedish bus driver has been sacked for forcing black people off her bus, a local official said Wednesday, highlighting lingering xenophobia in a country traditionally known for tolerance. The driver reportedly refused to pick up passengers who looked foreign in a string of incidents in the Lapland town of Kiruna, which are now being investiga-ted by police. Transport official Magdalena Waapling confirmed to AFP one incident in which the driver asked three people to get off the bus "because of the colour of their skin". "The bus driver has left the company… We demand that companies providing local services respect our values — every person must be treated equally," she said. According to a local television news report, the driver, who has since between sacked, repeatedly refused entry to minorities and had failed to stop for foreign-looking passengers at snowy bus stops around the Arctic town on several occasions. Temperatures in the town regularly drop below minus 20 degrees Celsius (minus 5 Fahrenheit) in winter.

A passenger named Samson told public broadcaster Sveriges Television how the bus driver had pointed at him and ordered him off the vehicle, apparently because he was black. "I didn't feel good. Even now, talking about it, I don't feel good," he said with tears in his eyes. – 'Get off… you're black' – Another passenger, who wished to remain anonymous, said the driver told him to "get off the bus" and when he asked why she replied, "Because you are a black man." The reports, which were receiving a great deal of attention Wednesday in the Swedish media, come amid fears of growing xenophobia in the country. Ironically Kiruna is often seen as an example of successful integration of newly arrived refugees with 52 percent in work, helped by the fact that the town of 20,000 people is built on top of the world's largest underground iron ore mine. The anti-immigration Sweden Democrats party won 13 percent of the vote in September elections and became Sweden's third largest parliamentary party.
© The News Nigeria
Sweden: Parents racially abuse 11-year-old handball player
An eleven-year-old handball player was called a "negro bastard" and told to go back "home" to Africa by parents of the opposing team at a youth tournament in Eslöv last weekend, according to a police report.

8/11/2014- The incident occurred when the boy's team IFK Skovde met the home team Eslöv in the Skadevi Cup youth tournament last week. The matter was reported to the police by the young boy's parents and the incident has been classified as a suspected hate crime, according to the broadcaster Sveriges Radio. According to the report the source of the racist abuse was the parents of the opposing team. The police report is supported by the boy's club IFK Skovde and the incident has furthermore been reported to the Skåne handball federation. Eslövs HF's chairman Ingemar Jeppsson has responded that his club also takes a dim view on the incident. "We're trying to bring clarity to it. Apparently it was one of our parents who expressed himself like this. And if this is the case... There is absolutely nothing we in the club can accept," he said to the local gt.se news website.
© The Local - Sweden
Austrian far-right politician calls asylum seekers 'cave men'
Austria's far-right Freedom Party (FPO) called asylum seekers cave men on Facebook, triggering calls from other parties for his resignation.

8/11/2014- Christian Hoebart's comments highlighted a febrile debate on immigration in the country, where recent polls have shown FPO neck and neck with traditio-nal centrist parties, attracting about a quarter of votes. His message, posted late on Friday, criticised a rally of mostly African asylum seekers held in the town of Traiskirchen near Vienna. "I (could not) show understanding for yesterday's brouhaha of asylum seekers from Africa, so I called (them) emotionally... 'soil and cave men', who cannot appreciate how good they've got it with us - their host country Austria," he wrote. Other opposition politicians called for Hoebart, an FPO leader in the province of Lower Austria, to quit his political posts. "To call humans that maybe fled from murder and rape of IS (Islamic State)-murder gangs in Iraq and Syria 'soil and cave men' is open racism, which - similarly to the Nazis - would like to classify certain humans as Untermenschen (under-humans)," said Albert Steinhauser from the Austrian Greens.

Austria, with 8.5 million residents, received around 17,500 asylum requests in 2013, mostly from Russia, Afghanistan and Syria, according to official statistics. References to the Nazis have particular resonance in Austria, which was annexed by Germany in 1938, making it part of Hitler's Third Reich. The country -- which has been strug-gling to escape a reputation for glossing over its wartime history -- for decades maintained that it was Hitler's first victim, overlooking the enthusiastic welcome he got from many Austrians. "I was put in the limelight by our front of do-gooders and wannabe-world-improvers," Hoebart wrote on Facebook, defending his comments. He said that anyone who could think would know that cave men simply meant humans who are "many many years behind our culture".
© Reuters UK
Ireland: Graffiti of racist slurs on school
Disgusting and threatening racist messages have been daubed on the walls of Balbriggan Educate Together School, prompting a local group of concerned residents to meet over how to prevent a repeat of the incident.

8/11/2014- It is the third such attack on the school and has shocked local residents who want to see the issue tackled. Local political activist, Garrett Mullan, potted the graffiti at the weekend, and immediately reported the incident to gardaí. He said: 'On highlighting this incident through contacts and social media, there was a very good response from locals disgusted with this vandalism. Parents, teachers, residents and local activists from Sinn Fein and Anti Austerity Alliance and others were quick to respond and showed that racism will not be tolerated in this area.' Mr Mullan who has worked with against racism in Balbriggan and elsewhere, said: 'Principal (of Balbriggan Educate Together), Fintan Mc Cutcheon was in contact also to advise that this is the third incident of racist graffiti at the school. 'Previously they pain-ted over the graffiti. 'He asked that we delay painting over until representatives of the school meet with Balbriggan Gardai.' Mr Mullan said: 'Incidents of racism require a robust approach. 'Anybody with information that might lead to conviction should contact the Gardai.' He concluded: 'Balbriggan is a multicultural community and we all must work hard to show that racism has no place in our community. 'Incidents like this can be the catalyst which lead to a community response to racism. 'We will await outcome of meeting with Gardai and will work with the school in responding.'
© The Irish Independent
The Polish Far-Right Groups Who Plunged Warsaw into Mayhem
12/11/2014- Poland's capital Warsaw was plunged into chaos on Thursday, as it has been on every November 11 since 2009, when masked nationalist groups launched red flares and hurled stones at police to mark the country's Independence Day. Rubber bullets and water cannons returned fire as the authorities struggled to contain the extremist fringe that turned the peaceful march into mayhem. Police said more than 200 people were arrested, many of them before the march, which has been organised by right wing groups, had even started. In what has become an annual ritual, clashes broke out near the national football stadium. The radical groups tore up paving slabs and benches from a nearby bus station and threw them at police. Three of them attempted to move forward using a large blue road sign but were pushed back, Reuters reported. The rioters were successfully contained, police said later.

Many have expressed concern over what is becoming an odd national tradition geared towards challenging Poland's progress towards European rights and democratic values. "The march becomes bigger each year," Rafal Pankowski, co-founder of anti-fascist organisation Never Again, told IBTimes UK. "It started as a small fringe event of a few hundred skin-heads and now they get about 30,000 people, although the organisation says 100,000." Since last year, the event has attracted an international audience, with far-right figures mainly from Hungary's Jobbik group, Italy's Forza Nuova and the UK's BNP. The main organisers are two far-right movements called National Radical Group (NR) and Polish Youth, which got together to form the Nationalist Movement's bloc.

Poland for the Polish
With names reminiscent of 1920s and 1930s nationalist movements, the Nationalist Movement propagates an ideology centred around the slogan "Poland for the Polish" preaching hostility towards all minorities and stepping up on homophobic propaganda. "Many members of these groups are football hooligans and that, along with the extremist ideology, explains the violent component of the Nationalist Movement," explains Pankowski, whose organisation recorded a spike in hate crime in Poland in the last two years. "Last year we recorded 500 hate crime incidents, including homophobic and racist abuses," he claims, adding that hate crime incidents have increased of the 25% since 2012. Participants chanted "Down with the European Union" highlighting the extremists' unease towards Poland's acceptance of the continent's union.

The centre-right government "is confused about the reaction", says Pankowski. "They haven't tried to prevent the march. There's a discussion to prohibit it, but it's difficult for them to find a solution". Earlier in the day, Poland's President Bronislaw Komorowski and his wife Anna attended a smaller march to commemorate the day when Poland regained its place in Europe, after having been removed for 123 years. The paradox, for Pankowski, is that the huge turnout to the far-right Independence demonstration does not translate into electoral support. At the latest European elections, the Nationalist movement got only the 2% of the vote, while the rival far-right eccentric Congress of New Right -- which made a deal with Nigel Farage's UKIP -- received 7% and four MEPs. "They stole the electoral potential from the movement, but they are fish in the same water," Pankowski said. "But although they don't get much electoral support, the march shows a dangerous potential."
© The International Business Times - UK
Poland: Polish Police Use Water Cannon to Push Back Far-Right Rioters
11/11/2014- Police in the Polish capital used water cannon and fired rubber bullets into the air on Tuesday to push back several hundred masked men who broke away from a far-right march and threw stones and flares at lines of riot police. Nationalist groups who believe traditional Polish values are under threat march through Warsaw each year to mark the anniversary of Polish independence, and for the fourth year in a row their procession turned violent. When the march, involving tens of thousands of people, crossed a bridge over the Vistula river to the eastern bank near the national soccer stadium, a group of people broke away. They tore up paving slabs and benches from a nearby bus station and hurled them at police, a Reuters reporter said. The police responded by firing rubber bullet rounds into the air, and used jets of water, stained red by a colouring agent, from four water cannon trucks to push them back. Three men tried to move forward using a large blue road sign they had torn down as a shield but were also driven back.

The Reuters reporter saw one man bleeding from a wound to his head and Polish television showed a police officer being stretchered into an ambulance. Police spokesman Mariusz Sokolowski said more than 200 people had been detained, many of them before the march started for carrying items that could be used as weapons. He said officers had contained the rioters in the area around the soccer stadium and were bringing the confrontation under control. The majority of the marchers carried on peacefully to a rally nearby. Led by a centre-right government, Poland is enjoying a period of prosperity unprecedented in its modern history. But some Poles feel traditional values - including a strong attachment to the Catholic church, and opposition to abortion and same-sex marriages - are being sacrificed as Poland embraces the ideals of the European Union. At the start of the march, partici-pants chanted "Down with the European Union!" One small group in the crowd, from the city of Chelm, began making Nazi-style salutes, but organisers intervened to stop them.
© Reuters
Poland: Police arrest man in Warsaw for alleged anti-Semitic assault
9/11/2014- Police in Warsaw arrested the alleged perpetrator of an assault on a 78-year-old man while shouting anti-Semitic slurs. The suspect, identified in Polish media as a 30-year-old man named Pawel L., allegedly struck the victim outside a store on Friday, causing him injuries that required hospitalization. Police found Pawel being subdued by passers-by who intervened after witnessing the attack, according to the news website fakt.pl. The report did not say whether the victim was Jewish, but prosecutors intend to charge Pawel with perpetrating a hate crime along with assault. Pawel was taken into custody immediately at the scene. If convicted, he could face a jail term of up to 10 years.
© JTA News
UK/Poland: Nigel Farage's new friend in Europe: 'When women say no, they don't always mean it'
Korwin-Mikke, the far-right Polish leader whose deal gave Ukip more power in Brussels, reveals his views on Hitler and rape.

8/11/2014- Dapper in bow tie and blazer, Nigel Farage's new European ally likes to welcome a woman to his grey-walled, grey-carpeted Brussels office by stooping to kiss her hand. There is a danger, though, that he will follow up this display of old-fashioned courtesy by sharing some old-fashioned views about her inferiority. Janusz Korwin-Mikke is the eccentric head of Poland's Congress of the New Right. With his agreement, a member of the party, Robert Iwaszkiewicz, has just joined Ukip's parliamentary alliance, Europe of Freedom and Direct Democracy (EFDD), pushing it over a threshold of 25 parliamentarians from seven countries and thus securing more than £1m in funding for Ukip alone.

A friend in need is a friend indeed. But Korwin-Mikke has the potential to be an embarrassing ally. For instance, he thinks women's opinions are shaped by the sperm of the men they sleep with, that they are "on average" less clever than men, and that nearly half of women who tell a man they don't want to have sex with them are feigning reluctance and should be ignored. "Semen probably is not wasted, because nature usually makes use of the material it has, and there is a hypothesis that the attitudes of men are passed to women by way of the semen which penetrates the tissue," he told the Observer, in the tone a science teacher might use for a basic lesson. Giggles only prompt an admonition. "It is not a political statement. There is a very strong argument for this hypothesis, that now when contraceptives are much more in use, the women become much more independent."

Korwin-Mikke, 72, is an extreme libertarian. A veteran with half a century's political experience, he throws out his bizarre views in rapid-fire sentences, broken by the easy smile of a man used to deference, which only makes them seem more disturbing. There is no proof Hitler knew about the Holocaust, he has argued for years, and he told the Observer that Mussolini, who stripped Jewish citizens of property and civil rights, then sent thousands to German concentration camps, "was trying to protect Jews". He would like to abolish not just the European Union but democracy altogether, replacing it with an absolute monarchy, which he considers the gold standard for government. His main objection to dictatorship is that it leaves open the question of who succeeds a leader.

He hungers for what he says is a lost Europe of dog-eat-dog economic rules, the freedom to buy arsenic over the counter by the kilo, drive without seatbelts and give free rein to the aggression that he says made the continent great. "If someone gives money to an unemployed person he should have his hand cut off because he is destroying the morale of the people," Korwin-Mikke said, adding that the state should not give anyone a cent either. "Europeans were very aggressive and now the boys are taught not to be aggressive … Give them the pistol, give them a sword." Apparently practising what he preaches, this summer he slapped a leftwing Polish politician in the face. Shortly before the attack, France's far-right Front National, led by Marine Le Pen, decided he was too extreme for an alliance. But now Korwin-Mikke's party has come to the rescue of Ukip's parliamentary alliance.

After a defection by a Latvian parliamentarian jeopardised access to speaking time in parliament and millions of euros in EU cash, Iwaszkiewicz joined the group, ensuring it held on to its funding. An EFDD spokesman said the Pole was invited and joined as an individual, and there was "no deal with any political party", but both Iwaszkiewicz and his leader presented the move as a party decision, to the Observer and voters at home. "That is the only group which is organised and Eurosceptic in the parliament," Iwaszkiewicz, a businessman-turned-politician, said in an interview in the corridors of parliament, as his aides scowled at Eurocrats tucking into a free buffet lunch. "That is why we wanted – not only me but all four MEPs of the Congress of the New Right – to help the EFDD to stay alive." Korwin-Mikke was gleeful about striking a deal with Ukip, although evasive about specifics, saying only that it might lead to more alliances in future. "If we create our own group, perhaps Mr Farage can lend us a member of his party also."

Polish academic and anti-racism campaigner Rafal Pankowski dismissed the distinction between Iwaszkiewicz and his party as a false one. The MEP rode into parliament on the back of Korwin-Mikke's outsize personality, and although he may take a slightly more moderate public stance, has never attempted to distance himself from his leader's views. "I have never found any indication of any kind of policy difference between them … on the contrary, he has often defended [Korwin-Mikke's views] in public," said Pankowski. "The bottom line is that he wouldn't have been in the European party without the leader. People voted for the Korwin-Mikke party, hardly anyone knows Robert Iwaszkiewicz."

Rabbi Shneur Odze, chairman of Ukip Friends of Israel and a party candidate for next year's general election, said Korwin-Mikke was "not our responsibility" because he was not in the EFDD group. Iwaskiewicz's only comment on Hitler "was that he was an evil man who should have been executed. Hardly a Holocaust denier," he added. But although Iwaszkiewicz is more circumspect, he has not rushed to repudiate his leader or clarify his own position. "I think many expressions of [Korwin-Mikke] are taken out of context and put in a bad light," he said. Asked if he believed Hitler knew about the Holocaust, he would only say: "That is how I imagine it." The Con-gress of the New Right's hardline economic views actually make it an uneasy bedfellow for Ukip on immigration issues. Korwin-Mikke wants all borders opened and the welfare state shut down, while Farage wants borders largely shut so at least parts of the welfare state can better serve those inside them.

The two parties share a more important goal though, both Polish politicians say. "He wants to destroy the European Union, and even Lucifer or Beelzebub who is against the European Union is our ally, because it is the greatest danger to Europe," said Korwin-Mikke, who wants to convert part of the EU headquarters into a giant brothel. "The building of the European commission is much better, there are small rooms," he said, trailing off to glance around his small, dark office with a new, appraising eye. Part of his distaste for modern Europe is driven by the position of women, who he says have replaced "privileges" with "equal rights", a phrase Korwin-Mikke spat out as if it was an insult. Most want to stay at home to raise families, and can't be trusted to vote, said the twice-married father of six. They are also, he claims, "less tall, less heavy, less intelligent, on the average". And he adds: "Women usually vote for the more handsome man."

Asked how German chancellor Angela Merkel had come to power in a country where women vote, he changed the topic to sports teams coached by men. "Women want to be led by men," he claimed. They particularly like to be led to the bedroom, he added, saying that men should often ignore a partner who said no to sex. "Women usually pretend that they don't want [sex]. You must be competent enough to differentiate whether she seriously doesn't want," he said. "The percentage of women who pretend that they don't want to have sex, but they do want in fact, is about 30 or 40%." Asked how a rape trial could be prosecuted if a woman's words were not accepted as evidence of her intentions, he said men should not be convicted unless there were two witnesses to the crime. "If you don't have two testi-monies, he must be acquitted," he said. "Or some proof or some visible sign of rape, but if it is only her words and his words, there cannot even be a trial."
© The Guardian
DUTCH NEWS
Over half the Dutch think too many immigrants in the Netherlands
14/11/2014- Some 55% of the Dutch think the number of people of foreign origin in the Netherlands is 'too high' but overestimate how many immigrants live in the country, accor-ding to a new Ipsos poll. The poll of 1,136 people aged 18 and over showed 25% think there are just the right number of immigrants and 2% think there are too few, website nu.nl reports. But when asked about the number of people of foreign origin in their own area, 24% said there were too many and 59% said there was a good balance. There was a similar picture when asked about the mixing of cultures in the Netherlands. 47% of those polled thought this was a problem in the country in general but only 27% in their own district. The results also showed various misunderstandings about immigrants. Almost half consider there are more Moroccans in the Netherlands than any other immigrant group. In fact, figures from the national statistics office CBS show there are similar numbers of Moroccans, Germans, Turks, Surinamese and Indonesians in the Netherlands. And 57% thought there were far more members of ethnic minorities in the Netherlands than there actually are, nu.nl reports, without giving figures.
© The Dutch News
Labour ousts two Dutch Turkish MPs in row over integration policy
14/11/2014- Two Labour MPs of Turkish origin have been expelled from the parliamentary party for refusing to back Labour social affairs minister Lodewijk Asscher's line on integration. Tunahan Kuzu and Selcuk Öztürk were thrown out of the party on Thursday after openly criticising Asscher and refusing to back down at a three-hour meeting. The two men will remain MPs, trimming the number of Labour parliamentarians to 36 and cutting the Labour-VVD coalition's strength to 77 out of 150 MPs. There is a 'major difference of opinion' about the PvdA's approach to integration, party leader Diederik Samsom told reporters after the meeting. 'And so we are going our separate ways,' he said. 'Elected MPs are being silenced for refusing to sign a declaration which they do not support,' Kuzu said in a short press statement. Neither man would say what was in the statement they refused to sign. But Kuzu said they would not sign on behalf of 'the people who do not feel represented' in the integration theme. The debate about integration has 'become harder, cruder and more right wing', Kuzu said.

Second class citizens
'There are people who feel like second class citizens,' Özturk said. 'That should not be the case in a Dutch democracy and we cannot accept it.' Earlier in the week both MPs had
criticised Asscher for saying he planned to step up surveillance of four Turkish religious organisations in the Netherlands which he said he felt were hindering integration. Asscher made the comments in the wake of a report which claimed to show 80% of young Dutch Turks support organisations like Islamic State. The report has since been hammered for its poor statistical methods. The duo had also given an interview to a Turkish website in which they said Asscher's policies lead to exclusion rather than inclusion, the Volkskrant reports.
© The Dutch News
Netherlands: We can't cope with treating returning jihadis, says The Hague's mayor
13/11/2014- National government should have a central role in the screening and treatment of people returning from fighting for Islamic militias in Syria and Iraq, according to The Hague's mayor Jozias van Aartsen. He has written to the city council saying that the city lacks the expertise to treat people suffering from war-related traumas and that social workers are not equipped to judge if returnees form a risk to society. 'The entire aftercare process rests on the voluntary cooperation of the returnee,' the mayor points out. At least six Dutch returnees are living in The Hague.

Experts
People returning from the fighting should be screened by behavioural experts and, if radicalised, should be treated at a central location until they no longer form a danger to
society, Van Aartsen is quoted as saying by broadcaster Nos. According to the AD, justice minister Ivo Opstelten is already looking at the option of placing returnees in special prison units for treatment. On Wednesday, the Dutch counter terrorism unit NCTV said around 100 Dutch nationals are thought to be active in the Middle East, including 30 women. Around 30 have returned to the Netherlands and the passports of 52 people have been cancelled to stop them leaving the country. The unit's chief Dick Schoof said the organisation has come across 33 cases of would-be jihadis involving children. In 25 cases, parents were suspected of planning to take their children abroad and in eight cases the would-be jihadi was a minor, he said. Schoof said he is disturbed by the fact so many people are still travelling to Syria and Iraq. 'That means people are still joining a terrorist organisation, being expo-sed to violence, possibly trained and therefore forming a danger to the Netherlands if they come back,' he told broadcaster Nos on Wednesday.
© The Dutch News
Netherlands: Anti-Islam PVV catches up with VVD in poll of polls but remains below 20%
12/11/2014- Geert Wilders' anti-Islam PVV has drawn level with the ruling right-wing Liberal VVD in the latest Peilingwijzer poll of polls but still fails to gather more than 20% support. Both parties would win between 25 and 29 seats if there were a general election tomorrow, the ranking – an amalgam of four different opinion polls – shows. The PVV have gained three seats while the VVD have lost three. The poll of polls shows that the benefits felt by the ruling coalition since the MH17 air disaster have now faded away. 'Voters were impressed by the cabinet's reaction to the disaster,' political scientist Tom Louwerse told broadcaster Nos.

'The VVD was able to benefit from this until the end of September but the impact would appear to have faded.' The negative impact of Wilders' anti-Moroccan chanting and the spate of resignations which hit the party afterwards have also worked through, Louwerse said. 'Islamic State and Islam are now big issues and that is where the PVV has a strong profile,' he said. The party showing the greatest variation in support is the CDA. The polls show it would win anywhere from 23 to 14 seats in the 150 seat parliament if there were a general election tomorrow. Louwerse said he was unable to explain the variation because the polling agencies don't give much information about their polling methods.
© The Dutch News
Young Dutch Turks' radical views worry MPs, call for more research
12/11/2014- MPs from across the political spectrum have called for more research into the attitudes of young Dutch Turks to the Islamic State, after a poll of 300 showed 80% saw nothing wrong in jihad, or holy war, against non-believers. The research, carried out by the Motivaction group in Amsterdam, was commissioned by the Forum multicultural institute. During a parliamentary debate on integration issues on Wednesday, Socialist, D66 and CDA MPs called for a special sitting to investigate why youths have such radical views, website nu.nl reports. The survey found 90% of young Turks think those fighting against Syrian president Assad's troops are 'heroes' and half thought it would be a good thing if Dutch Muslims went to join the fight. Social affairs minister Lodewijk Asscher told website nu.nl on Tuesday the results of the survey were 'worrying' and pledged to carry out more in-depth research. He also said the research was contradictory, with high support for jihad but very little support for a religious caliphate. Speaking after a visit to the Kuba mosque in IJmuiden on Wednesday, Asscher said he had failed to find anyone who supported IS, the Volkskrant reports.

Research
The Forum research involved a mixture of online and face-to-face interviews with Dutch Turks aged between 18 and 34. It also showed 74% of Dutch Turks and 61% of Dutch
Moroccans oppose the declaration of an Islamic caliphate in the region and a clear majority (62%) consider democracy essential for progress. Just 8% thought a caliphate was better for the Arabic world than a democracy. Forum said the support for pro-IS fighters among Turkish youngsters may be due to the coverage of events in the Middle East on Turkish broadcasters, watched by 86% of those questioned. By contrast, only 27% of the Moroccan youngsters in the survey watched Moroccan news programmes.

Method of research faulty (ICARE addition)
Jelke Bethlehem, special professor survey-methodology on the University Leiden and his colleagues are surprised about the used method. 'It was an important study, but the execution of it is rather poor.' According to Bethlehem the biggest problem is that the so called quota sample method was used. Researchers stood in front of a mosque and in a shopping mall and addressed people of who they thought they would belong to the target group. 'A very selective method', Bethlehem judges. 'That way you ignore all people that never go to the mall or the mosque.' An other problem according to Bethlehem "Because the questions are asked by interviewers, young people possible given socially desirable or even provocative answers." Also, the Motivaction survey is unclear what the 'no-response' is: how many people have been approached but refused to participate? Bethlehem: "They generally have a very different opinion than those who do participate. You can see in election research. People who do not vote, do not usually participate in a poll, so you get an over-representation of voters in such a study. "
© The Dutch News
A New Holiday Tradition for the Dutch: Arguing About Blackface
Hundreds of Dutch citizens plan to don blackface this weekend for parades in honor of St. Nicholas, who according to local lore is accompanied by a dark-skinned helper know as Zwarte Piet, or Black Pete.

14/11/2014- The annual celebration of the saint known as Sinterklaas in Dutch, connected to his feast day on Dec. 6, has renewed an increasingly acrimonious debate over a tradition inspired in part by scenes from a 19th-century children's book, "Saint Nicholas and His Servant." The story by Jan Schenkman imagined the bearer of gifts for children arriving by boat from his home in Spain with a swarthy Moorish companion with curly hair, thick lips and a switch to beat children who were more naughty than nice. Critics who call the tradition a racist echo of the nation's colonial past plan to protest both the re-enactment of St. Nick's arrival this year — to be staged in the city of Gouda on Saturday — and a parade in Amsterdam on Sunday.

The Netherland's highest administrative court ruled on Wednesday that Amsterdam's mayor was right to allow the parade, which features hundreds of actors in blackface playing Black Petes, despite the fact that many Dutch citizens of African descent find the depiction offensive. The ruling overturned the finding of a lower court which had called the traditonal depiction of the character "a negative stereotype" that "infringes on the European treaty of human rights." The appeals court reasoned that only a threat to public order would justify canceling the parade, but declined to rule on the claim that the character is racist. Supporters of the tradition argue that there is nothing racist about the skin color of the Dutch Santa's helper, and they suggest that his skin is merely covered in soot from sliding down chimneys with gifts. But protesters point to the figure's stereotypical African features in illustrations of the classic children's tale first published in 1850, more than a decade before slavery was abolished in the Dutch colony of Suriname, and in modern cartoon depictions.

Lauren Comiteau, an American journalist in Amsterdam, explained on Twitter that the organizers of the parade there have made an effort to tone down the racial caricature, removing the big gold earrings usually worn by the actors and making their face paint look more like smudges. That attempt has failed to placate opponents like the performance artist Quinsy Gario, who was arrested in 2011 for refusing to leave a parade while wearing a T-shirt that read "Zwarte Piet is Racisme." Writing for the website Africa Is a Country this week, the rights activist Maria Hengeveld argued that "attacks on Zwarte Piet are widely interpreted as attacks on (white) Dutchness and threats to (white) children's right to jovially celebrate their 'cultural heritage.'"

Dutch pollsters have reported that more than 91 percent of the country rejects the notion that depictions of Black Pete are racist and should be changed, and a Facebook petition in support of the character has more than two million likes. Geert Wilders, the leader of the far-right Dutch Freedom Party, has even pushed to enshrine the character's color in law. Critics counter that the use of blackface is seen in many other countries as anachronistic and racist. In televised discussion in 2009, the Dutch model Doutzen Kroes said that the "outdated" character made her ashamed of her nationality, and that it was impossible to explain to say the descendants of African slaves in countries like Jamaica. Her views were quickly dismissed by another guest, Jan Pronk, a former minister who once served as the United Nations envoy to Sudan. "These are very old traditions," he said at the time. "I don't think it's so bad."

Two years ago, Thijs Roes, a Dutch journalist, tried to explain the traditional use of blackface to Americans, with predictable results. Earlier this year, the Dutch filmmaker Sunny Bergman traveled to London dressed up as Black Pete to canvass reaction to the tradition there. She encountered hostility, and the trailer for her film, scheduled to be broadcast on Dutch television next month, features a cameo from the comedian Russell Brand, who describes the use of blackface as "a colonial hangover." The controversy took on an international dimension last year when Verene Shepherd, a Jamaican member of a United Nations working group on the rights of people of African descent, launched an inquiry into the Dutch celebration. "If there are cultural traditons and practices that groups find offensive," Ms. Shepherd said on Dutch television, "it is time to have a conversation about change."

In response to that investigation, a leading Dutch newspaper, De Telegraaf, accused the U.N. of hypocrisy for not also criticising a figure in Persian folklore, Hajji Firuz, a dark-skinned ministrel who oversees celebrations of the New Year and is usually impersonated by a singer in blackface. Still, Black Pete has some supporters in high places. Asked about the controversy at a news conference in The Hague in March, Prime Minister Mark Rutte defended the tradition and joked about the difficulty in removing the face paint when he dresses up as Black Pete.
© The New York Times
Why the Dutch tradition of blackface December 5 won't go away
14/11/2014- On the face of it, it's obvious why many outsiders find the Dutch Christmas-time figure of "Zwarte Piet" -- or Black Pete -- to be shockingly racist. Here's a tradition, after all, in which white people don minstrel-like clothes, wear frizzy wigs, paint their mouths a garish red and blacken their faces. It echoes all the worst iconography of America's troubled racial past. But many in the Netherlands don't see it that way. Generations of Dutch children frolic and dress up in the days ahead of Dec. 5, which is the eve of the feast day of St. Nicholas. But the Dutch forerunner to Santa Claus doesn't show up with elves and reindeer in tow. Sinterklaas, according to a popular 19th century Dutch story is said to arrive on steamship accompanied by a pack of black Piets, trickster figures who amuse crowds of children with candy and japes. Sinterklaas is due to officially "arrive" this Saturday in the Dutch city of Gouda.

The racial overtones seem clear: the Netherlands was once an imperial power, a possessor of overseas colonies teeming with plantations, and one of the major early drivers of the African slave trade. The Zwarte Piets disembarking off a steamship can't just be mythical creatures of fancy. On Wednesday, though, the highest administrative court in the Netherlands overturned the progressive opinion that a lower court laid down earlier this year. That ruling had advised that permits for festivities involving Zwarte Piet in Amster-dam should be up for review because it led to "negative stereotyping of black people."

Jaap Polak, the president of the top court known as the Council of State, said Amsterdam's mayor didn't have the power to ban people from dressing up as Zwarte Piet. To the ire of those who back and oppose the tradition, Polak also side-stepped making a judgment on whether it was racist or not. The AP reports: That ruling means that the Council of State "cannot and will not answer the question" of whether Black Pete breaches Dutch anti-discrimination law, Polak told a packed courtroom. That leaves the matter still very much up to debate. And there's quite a lot to be discussed in a country that's in many other regards one of the most liberal societies in the West.

What's curious is the incredulity of many Dutch people when asked to confront the apparent racism of their beloved Christmas-time figure. Here's how a writer at Slate summed up the experience in 2011:
Trying to tell a Dutch person why this image disturbs you will often result in anger and frustration. Otherwise mature and liberal-minded adults may recoil from the topic and offer a rote list of reasons why Zwarte Piet should not offend anybody. "He is not even a black man," many will tell you. "He is just black because he came down the chimney." Then, you may reply, why aren't his clothes dirty?

This week, a Dutch radio station published a YouTube video of the reactions two Dutch filmmakers received when they dressed up as Zwarte Piet and walked in a London park. Many of the locals they encountered were outraged by the costume. It doesn't help either that figures as polarizing as far-right nationalist politician Geert Wilders have come out in defense of the tradition. Wilders' anti-immigrant PVV party drew up legislation earlier this year aimed at preserving the black-face figure at Christmas celebrations. "We want to protect our culture," Wilders said in September, and suggested that making Zwarte Piet into a figure of racism was "too ridiculous for words." In 2013, he tweeted that he'd rather eliminate the U.N. than Zwarte Piet.

But the push-back against the tradition has been led by an increasingly vocal group of minorities, as my colleague Anthony Faiola reported last year when discussing Dutch attitudes toward Zwarte Piet. "This is showing us the truth about racism in a place where some people had convinced themselves it didn't exist," said Quinsy Gario, a poet and radio com-mentator who was born in Curacao and is among the second- and third-generation Afro-Caribbean immigrants here who have largely pushed the opposition campaign. In 2011, he was detained by police for disturbing the peace at a holiday parade, where he held a sign and wore a shirt that said "Black Pete Is Racist." "They keep saying this is their tradi-tion, but Black Pete is basically a Dutch Sambo," he said.

In recent years, proponents of the tradition have tried to clean up the act -- advising, for example, the use of a variety of wigs rather than a mock Afro and dropping the Surina-mese accent that used to accompany the antics of Zwarte Piets. Some ethnic minorities have even endorsed the tradition themselves. But as the voices of dissent grow, it's going to become harder and harder for those patting their faces black every year to keep convincing themselves this is just a children's fantasy.
© The Washington Post - World Blogs
Dutch court won't rule whether Black Pete racist
12/11/2014- The Netherlands' highest administrative court refused Wednesday to wade into the increasingly acrimonious national debate around "Black Pete," the sidekick to the Dutch equivalent of Santa Claus. Opponents call Pete, who is often played by white people wearing black-face makeup and a frizzy Afro wig, a racist caricature. Most Dutch people insist he is a harmless fantasy figure. The Council of State on Wednesday overturned a lower court's decision that Amsterdam municipality shouldn't have allowed last year's festive arrival of Sinterklaas in the city because Pete "forms a negative stereotyping of black people." Council of State President Jaap Polak said Amsterdam's mayor isn't empowered to take the issue into account when granting permits for the celebrations. That ruling means that the Council of State "cannot and will not answer the question" of whether Black Pete breaches Dutch anti-discrimination law, Polak told a packed courtroom.

The ruling said that opponents could instead file civil or criminal complaints against organizers — shifting the debate to other courts and possibly opening the door to such complaints from opponents around the country. "I think a lot of people will be disappointed with that — supporters and opponents who were waiting for a judgment on what we should think of Black Pete," said Wil Eikelboom, a lawyer for opponents of Pete. In the Dutch Sinterklaas festival, St. Nicholas arrives by steamboat in mid-November and spends a month in the country accompanied by dozens of Petes, clown-like figures who leave cookies, chocolate and other treats for children. The celebrations end in a night of gift-giving on Dec. 5. St. Nicholas is due to officially "arrive" in the country on Saturday in the central city of Gouda. The city's mayor has said some of the Petes in the parade will be yellow-faced "Cheese Petes" and "Cookie Petes." That appears intended to accommodate the views of Black Pete opponents.
© The Associated Press
Netherlands: Highest Court: Amsterdam mayor was right to licence Sinterklaas parade
12/11/2014- Amsterdam mayor Eberhard van der Laan acted correctly when he gave a licence to last year's Sinterklaas parade, the Council of State said on Wednesday. The council is the highest Dutch court and had been asked to consider the issue after a lower court said the character of Zwarte Piet is a racist stereotype and infringed human rights treaties. In its 17 page statement, the council said a mayor can only refuse a permit if there is a risk to public order. This was not the case with the Sinterklaas parade, therefore the mayor acted properly, the council said.

In July, a court in Amsterdam ruled the Zwarte Piet character is a negative stereotype and infringes on the European treaty of human rights. That court told the mayor to reconsider the licensing process. That verdict was partially based on council research which showed a substantial proportion of black Amsterdammers think Zwarte Piet is offensive. Anti-Piet campaigners had asked the court to rule the parade illegal. The Council of State, however, said the mayor only has to consider public order issues when approving parade permits. Nor is the mayor in a position to determine if Zwarte Piet is counter to human rights policies, the council said.

The Sinterklaas parade in Amsterdam is watched by tens of thousands of people and hundreds of Zwarte Piets are included in the procession. Van der Laan has already said that this year the character will ditch the gold earrings and red lips. In addition, the Amsterdam parade will also include Piets with soot smudges. The Sinterklaas festivities kick off this weekend in Gouda when his 'arrival' in the Netherlands is broadcast live on television. The actual present-giving tradition takes place on December 5.
© The Dutch News
Netherlands: Gay bar owner beaten up in hate crime
11/11/2014- The co-owner of a gay bar was beaten up by a man shouting slurs at him Monday night as he closed his cafe. Rocco Wort, 22, told police the man screamed "filthy cancerous fag," and "fuck off," before punching Wort in the face. Police are holding a 51-year-old man from Haarlem in custody. He was still being questioned about the suspected hate crime late Tuesday morning. The incident happened at about 5 a.m. Tuesday morning outside Wilsons by R&R, on a quiet street in Haarlem, Noord Holland. Initially, he thought it was a newspaper deliveryman he was friendly with, the victim told broadcaster RTV NH. After he said hello to the man he thought was his friend, the offender attacked, flattening Wort on the pavement. Wort says he staggered to his feet before being punched again. "Then I took off running, but he was doggedly chasing me," Wort said. "I don't think he was finished with me." He outran his assailant and arrived safely in his house. After telling his boyfriend the story, they called police. Wort and his boyfriend took over the cafe in August when it fell into bankruptcy. "My boyfriend and I have worked so hard recently to keep the bar open, then this happens. But, he said, "I'll be back in the cafe later."
© The NL Times
Netherlands: Transgender rights group campaigns for mixed school toilets
11/11/2014- Girls and boys at secondary school should share the same toilet facilities so that transgender children do not have to choose which to use, according to gay and transgen-der rights group COC. The COC and Transgender Netwerk Nederland are holding a one-day campaign on Tuesday to draw attention to the dilemma facing transgender children at school. Some children, the organisations say, avoid the rest rooms altogether because of the problem. Puberty is a particularly difficult period for transgender children because their bodies often develop in ways other than they would like, the organisation says. Recognising that some teenagers prefer to use separate facilities, the organisers say schools should have a mixture of gender neutral and separated facilities. The campaign is taking place at 100 schools and involves a sticker campaign to designate toilet facilities as for girls, boys or mixed plus a focus on school heads and gender issues.
© The Dutch News
CoE tells the Netherlands to take care of failed asylum seekers
10/11/2014- The Netherlands must ensure everyone living in the country has food, clothes and shelter and that includes failed asylum seekers who are not cooperating with efforts to deport them, the Council of Europe said on Monday. The Netherlands has a policy of evicting failed asylum seekers from refugee centres if they refuse to cooperate with their de-portation. Refugee organisation Vluchtelingenwerk estimates some 5,000 would-be refugees are turned out onto the street every year. Many of them remain in the country and live illegally. Junior justice minister Fred Teeven believes introducing basic help will attract more refugees and that those without papers will never leave if they are ensured of bed and board. The Council of Europe's decision is not binding and Teeven said on Monday he will set it aside until the 47 foreign affairs ministers attached to the council vote on the ruling at their next meeting in January. 'Only then will it be definitive,' Teeven is quoted as saying by broadcasters Nos. Nos says the two ruling parties – the right-wing VVD and Labour – are fundamentally opposed on the issue. In addition, a decision would need to be taken about who should pay for emergency accommodation, Nos points out. Several hun-dred high profile failed asylum seekers are currently squatting or living in temporary accommodation in Amsterdam and other cities.
© The Dutch News
Netherlands: Staffing agency holds lottery with free farm workers as the prize
10/11/2014- A temporary employment agency specialising in people from eastern Europe has enraged the FNV trade union federation by organising a lottery for employers – with 10 free workers as the prize. The Lugera agency has organised the lottery for farmers and horticultural companies. The event is taking place at a seminar in Leusden on how to attract cheap foreign personnel, news agency ANP says. 'We are giving away 10 free weeks of work to companies which hire in our personnel,' director Gerard Koolen told ANP. 'However, we are paying them at least the minimum wage.' Mariette van der Neut of the general workers union FNV Bondgenoten described the event as 'tasteless'. 'The entire seminar has a feeling of trading in human beings,' she said. 'Have a jolly networking drinks party and give away a few free workers.' In addition, Van der Neut said the seminar promotes ways to get around Dutch legislation on employing foreign workers by using loopholes in the law. Lugera pays its workers the Dutch minimum wage but their social premiums, such as unem-ployment benefits, are paid in their countries of origin, which are much lower in eastern Europe than in the Netherlands.
© The Dutch News
UK, IRELAND & FRANCE NEWS Week 45
UK: Katie Hopkins' anti-Muslim rants on Twitter sees her accused of racism
12/11/2014- Katie Hopkins' Twitter account featured messages calling Palestinians "filthy rodents" and expressing anti-Muslim sentiments on Monday night. The Bideford-born Sun columnist andformer Apprentice contestant, 39, said Israel should "restart the bombing campaign" on Gaza after two Israelis were killed in knife attacks in Tel Aviv yesterday. People are demanding she be arrested but reports suggest it is unclear whether she sent them or was targeted by an internet hacker and she is refusing to comment. The tweets started at around 9pm on Monday night and referred to the ongoing crisis in the Middle East and the stabbings seemingly by an Arab man on two Israelis. Tweets said: "Palestinians busy knifing Israelis.... Filthy rodents burrowing beneath Israel. Time to restart the bombing campaign.
Palestinians busy knifing Israelis. 2 state solution my arse. Filthy rodents burrowing beneath Israel. Time to restart the bombing campaign
11:09 PM - 10 Nov 2014

"Arab terrorists fired rockets from schools and hospitals. They brought down Israeli fire on to their own people. See behind the pictures" Referring to the Channel 4 show 24 Hours in Police Custody, one message said: "Father beats his daughter with an iron bar. But he is a good Muslim, prays in his cell & attends the mosque. So that's all happy days then. "The police are singing from the same hymn sheet. Mohammed is going DAAAAAAAN. Allahu Akbar". Monday night's show 24 Hours in Police Custody saw a father receive a three-year jail sentence for attacking his daughter with an iron. Hopkins was accused of being racist and people demanded police action. She even retweeted some accusations of racism.
Allah doesn't guide me. He is not a dog and I am not blind. I see that all religion is evil 11:47 PM - 10 Nov 2014
Arab terrorists fired rockets from schools and hospitals. They brought down Israeli fire on to their own people. See behind the pictures. 11:38 PM - 10 Nov 2014
© The North Devon Journal
UK: Politics has become detached from morality
Sooner or later a line has to be drawn – and anti-Semitism is surely a good place to start

7/11/2014- A couple of weeks ago, a group of senior Tory strategists sat down to discuss their plans for tackling Ukip in the forthcoming Rochester by-election. And they sensed an opportunity. It had just emerged that Nigel Farage had done a deal with the Polish MEP Robert Iwaszkiewicz, of the far-Right KNP party, to form a cross-parliamentary grouping that would earn Ukip an additional £1 million a year in EU funding. The KNP's leader, Janus Korwin-Mikke, is a notorious Euro extremist, whose pronouncements include the belief that Hitler was not responsible for the Holocaust. Some of those present wanted to launch an all-out assault on Farage over the deal. Others urged caution. Ultimately, the voices of caution prevailed. There would be other, better opportunities to confront and expose Ukip's toxic populism, it was decided. And so the pact with the party led by the man who said Adolf Hitler was "probably not aware that Jews were being exterminated" was allowed to slide.

This week a voice was raised against the scourge of anti-Semitism. It was the voice of Ed Miliband, the Labour leader. On Tuesday he posted an article on his Facebook page in which said: "We need a zero-tolerance approach to anti-Semitism in the UK and to reaffirm our revulsion to it in all its forms. The Labour Party has always been at the forefront of fighting intolerance. We will continue to be so." A clear and principled statement. Except, it wasn't a clear and principled statement, but a statement born of political calculation. A week earlier, Miliband had received a high-profile rebuke from Labour supporter Maureen Lipman. "Just when the antisemi-tism in France, Denmark, Norway, Hungary is mounting savagely, just when our cemeteries and synagogues and shops are once again under threat" she wrote in Stand-point magazine, "in steps Mr Miliband to demand that the government recognise the state of Palestine." Lipman's comments, in particular her concern about the Labour leader's silence over anti-Semitic attacks, were quickly echoed by other senior members of the Jewish community.

So 24 hours later that silence was suddenly broken. Reporters at the Jewish Chronicle and Jewish News were phoned with quotes condemning a recent attack on Luciana Berger, the Jewish Labour MP. And a couple of days later, Miliband's Facebook article appeared. Tomorrow we will remember the fallen of the Second World War. We will proudly sport our poppies and talk of honouring their sacrifice. And as we do, the British political party that topped the polls at the recent European elections will be breaking bread with a party lead by a Holocaust denier. And it will pass without significant comment or condemnation. In 12 weeks' time our national leaders will gather to mark Holocaust Memorial Day. And the only Jewish man among their number will be someone who had to be harangued by Beatrice from the BT ads before he would raise himself to condemn a virulent anti-Semitic attack on one of his own members of parliament.

This tension between idealism and pragmatism has always defined our politics. I have sat in plenty of rooms where hard choices between the two have had to be made, and argued for the latter as much – if not more than – the former. I remember being told before the 1997 election to shelve a campaign in support of housing succession rights for gay couples because "we don't want to get into that area right now". And agreeing to do so with shamefully little complaint. But sooner or later a line has to be drawn. And surely anti-Semitism is the place to draw it. How did we get here? How did we go from saying "let us remember their sacrifice" to "let us remember their sacrifice so long as we can find space on the news grid"? From pledging "zero tolerance" to pledging "zero tolerance unless it can be justified by political expedience"?

Perhaps it's because we're currently living through the golden age of electoral opportunism. An era where a politician such as Farage sports like a badge of honour his opponents' failure to make charges of moral inconsistency stick. Maybe it's because "toughness" is now the default political posture, compassion is synonymous with weakness, and morality is viewed as compassion's sickly cousin. My own view is that it's partly a result of the blurring of the line between advisers and their political masters. There was a time when advisers would present the optimal political option, and the minister or shadow minister would take a decision in the round. Modern politicians are expected to be their own policy wonks, spinners, campaign managers and ad execs. There is decreasing space for them to interrogate themselves with the question "is this right"?

But we need to find that space. A fortnight ago, Baroness Anelay, the Foreign Office minister, announced that the Government was withdrawing support for rescue operations for asylum seekers in peril on the Mediterranean because such missions provide a "pull factor". What she meant by that was that we will allow those fleeing persecution to drown in the hope that will deter others from fleeing persecution. David Cameron and Ed Miliband are decent men. Their instincts are to take a stand against extremism. But they are also politically cautious men. And caution is no antidote to blind prejudice. Zero tolerance must be a watchword. Not just another sound bite.
© The Telegraph
UK: Disconnected ready to make Westminster pay (opinion)
The ferry across the Thames ploughed a steady path, backwards and forwards, Essex to Kent, Kent to Essex, a soporific early-morning ride.
By Mark Mardell, Presenter, The World This Weekend

6/11/2014- But politics, here and across the world, is perhaps moving outside familiar currents, into choppy waters, leaving mainstream politicians unsure if they are waving or drowning at the voters. Take my fellow passengers, as I stuck a microphone underneath their noses and asked political questions that no reasonable person would want to answer before breakfast. But most wanted to have their say, and it wasn't always what I expected. I was braced for some pithy comments about senior politicians, but hardly what came: one was described to me as a "Marxist Zionist war criminal", even though the individual concerned is none of these things. These three men - who described themselves as "nationalists" - didn't like anyone else any better. Politicians were all the same, in it for themselves, and they wouldn't vote for any ever again. Well, maybe UKIP. But probably not. Three other passengers declared that they had never voted and never would. Four middle-aged women said they were Labour - "father was always Labour, so am I" - but quickly added that they are all the same: "In it for themselves, and take a third of your money."

Distrust of politicians
A scientific, judiciously balanced opinion poll this was not. Still, my trip to Gravesend captured a certain mood. There was a deep distrust of politicians, a distaste for them that bewilders those in Westminster. It was as if the Age of Insecurity met the Death of Deference and they had a child, born swaddled in contempt - I christen it The Disconnect. It is one of the underlying stories of our age, and I intend to bang on about it quite a bit, in these columns and on The World This Weekend. In the UK, two events have forced politicians to look voters in the eye. One was the Scottish referendum, a close shave with the end of a nation. It also gave the Scottish Natio-nal Party more prominence, more members and soon more power. And in the south of England it is the rise of UKIP that has forced Team Westminster to examine what the future might hold.

It is a situation that has been reflected by events in the US. The Tea Party, which is not a party, but a hydra-headed movement of like-minded malcontents, loathes Obama, but doesn't have much time for many Republicans either. Supporters have a hearty distaste for Washington's ways, for Washington professional politicians, and are careful to call themselves Conservatives rather than Republicans. They talk of "taking our country back". Even as the Republicans were in the middle of winning a stunning victory in this week's mid-terms, one leading Tea Party activist, Erick Erickson, was writing: "In 2014, the American public has shown that it hates Washington DC, and the Republican leaders in Washington are demonstrating why." He added: "Many of those GOP (Grand Old Party = Republican) Senate candidates who squeaked into office are, in my view, political philanderers - by which I mean that while they pledge their troth to conservative principles, they still carry on outrageous affairs with Big Government."

Far right
In Europe the far right are on the march. They have increased their vote, most recently in Sweden. But it is France that worries many in the political centre, not only in Paris, but even more in Brussels and Berlin. They see a real possibility of President Marine Le Pen in the Elysee Palace in 2017 - the National Front at the heart of Europe. Neither the Tea Party nor UKIP share these parties' fascist roots and they both passionately reject any suggestion of racism. So I am in no way suggesting all these movements are identical. But there is little doubt their voters' discontents are similar: the sense of a world that is changing too fast, that is slipping though their grasp. They would all find solace in the Tea Party cry "take our country back" without wanting to spell out from what or whom.

The seminal book on UKIP, Revolt on the Right, identifies many supporters as "the left behind": older, poorly educated, poorly paid. Partly this is a reaction to the global financial crisis, and globalism itself. There are winners as well as losers and even as the the banks and the rich bounce back, others see no sign of recovery. While an elite feel as comfortable in Boston or Birmingham, Berlin or Beijing, those left behind on the runway may find solace in a closer, and older, identity. Protecti-onism and closed borders seem attractive ways of shutting out the threatening world. This is part of the tale, but not the whole story. The leaders of UKIP and the Tea Party whom I know are hardly poor and unskilled. Many are well-heeled, and well-educated. While there is no doubt the main beneficiaries of The Disconnect are on the right, some parties on the left are growing too.

The Greens say they now have 20,000 members, the SNP boast of their increase while the Left party in Germany is the fourth largest in parliament and new movements are doing well in Spain and Greece. Still, many mainstream politicians don't get it.

Patronising the voter
Here's a test. How many times after the Rochester by-election will you hear the term "protest vote"? It is a term banned from my personal lexicon. Of course people do vote differently in by-elections from general elections, when, in effect, they are choosing a prime minister. But the idea that a vote is a mere protest underscores a profound disrespect for voters by the media and the main parties. They look on voters as if they were a petulant five-year-old, who marches out the door clutching a teddy bear and one T-shirt, declaring that she's leaving home. Indulgently, the parental parties look on, knowing she will be back long before teatime - indeed before she gets to the end of the road.

Likewise the parties think "their" voters will have their little strop over a war or a failed economy and return to a proper way of doing things, voting for one main party or another - or daringly perhaps a third - come the general election. It hasn't dawned on them that the conventional way of voting may be what you could call an "under protest vote" - the least worst choice of those who might form a government - that may not reflect what they really want or believe. The economic crisis has left a sour taste towards the parties who take turns in taking power. In France, a disliked centre-right government has been replaced by an even more unpopular socialist one. In the US, Obama, elected on a wave of hope, was elected again in 2012 but given a kicking in 2010 and an even more profound beating this week.

In the UK, an unpopular Labour government has been replaced by a coalition that has failed to win hearts and minds. In short, all over the world, people want to scrawl on their ballot paper "none of the above". I wonder how much this is because politics is disconnected from the world of choice we live in. I could pause in my writing and take two minutes to choose a bewildering array of electronics, or exotic fruit or styles of shirts at the click of a trackpad. Or I could take a break and pop down the road and order a skinny flat white, an espresso or an americano, some with or without chocolate or froth. But my political choice extends to going to a local school every five years and choosing an often ideologically incoherent bundle of policies and then sitting back and watching for another five years. Some in the main parties are very worried by all this implies.

There will be a hunt for solutions before the election. Because it is beginning to dawn that the little five-year-old who'll be back repentant in time for tea has grown up, moved out, bought her own flat and is looking for others to love. "There'll always be a room for you here," the parties will insist. The next few months will show if it is too late for that.
© BBC News
Far Right U.K. Group Gets Millions of Hits and Expands Into the U.S.
It's a tiny, accident-prone extremist group. So why is Britain First reaching millions of social media users in the US and UK

6/11/2014- Britain First should be too small and too slapstick to matter, and perhaps it is. The organization has fewer than 1,000 paid-up members according to the U.K. antifascist group Hope Not Hate. Its views lie so close to the outer-right edge of the political spectrum that Britain First's co-founder and self-styled leader, Paul Golding, describes the U.K.'s governing Conservative party as "left wing." Nevertheless he rejects a "far right" label. "We deal in right and wrong," Golding says, and he and his deputy Jayda Fransen go on to prove the second half of that sentence during a lengthy conversation with TIME at a hotel in Dartford, southeast of London.

Yet the doll's-sized political organization with an extra-large capacity for unintentional comedy has a surprisingly pervasive online presence. If you frequent Facebook, you may well have browsed material posted by Britain First. Perhaps you "liked" or shared Britain First's posts. That would put you in broad and — if you do not subscribe to Britain First's politics — befuddled company. Some 22.5 million Facebook users in the U.K. and 43.7 million in the U.S. interacted with Britain First last month. "Even my mother has posted stuff from Britain First on her Facebook page," says Hope Not Hate's Matthew Collins, who has written a research paper on the group.

Some of my friends have made the same mistake, liberals and feminists who would in other circumstances recoil from Britain First's patented brew of Bible-quoting, fear-mongering, foam-flecked foreigner bating and probably wouldn't be any happier to learn that the online savvy that snared them was honed in the service of U.S. anti-abortion campaigns. Several such friends were among the 273,979 Facebook users to repost a Britain First item earlier this year that purported to show "Muslim girls being lead [sic] off in chains to meet their new husbands". It would have required only a minute or two on Google to establish that the image had been taken from a passion play staged to mark the Shi'ite festival of Ashura. Still, it's hardly surprising that the social media platforms that Islamist jihadists are becoming increasingly expert at using to recruit and propagandize should also become the vehicle of an Islamophobic backlash. In both cases, the toxic messages are spread not only by their originators but by innocent dupes.

To understand how this works and to get a clear-eyed view of the nature and aims of Britain First, I asked Golding and Fransen for an interview. This took place on Oct. 31 and at first glance it would have been easy to mistake the pair for trick-or-treaters. They and their burly, shaven-headed bodyguard sport matching clothing from Britain First's own range of leisure wear-cum-battle fatigues emblazoned with a lion, a union flag and the slogan "taking our country back." Confusingly, it turns out that Britain First aims to take back more than one country. Golding is in the process of launching America First, a movement aiming to reclaim the U.S., undeterred by the fact he has never visited the U.S. or by the inconvenient fact that the U.S. already boasts a political party called America First, established in 2002 "to put America and all Americans first." "We have no connection with Britain First and no one from that group has contacted me," emails Jon Hill, national chairman of the American America First.

Britain First's America First Facebook page went live on Nov. 3 and this is where any comedy starts to curdle. As of Nov. 6 the new page already had more than 6,000 likes. Its content is similar to the original Britain First site, an inchoate mix of patriotism, Christian imagery and repurposed content from other pages, much of it invi-ting clicks and shares: "Share if you're a warrior for Christ"; "Like if you agree: We cannot forget our veterans"; "Clint Eastwood says 'Obama is a fraud'. Do you agree?" Well known figures often appear on Britain First's Facebook page—Benjamin Franklin, Winston Churchill, the Queen. It's safe to assume Her Majesty's endorse-ment hasn't been sought. A post featuring the British comic actor Rowan Atkinson—best known as the bumbling "Mr Bean"—carries a quotation from a speech he made to the House of Lords in 2005, in opposition to a badly drawn piece of proposed legislation that risked criminalizing mockery of religions. "What is wrong with encou-raging intense dislike of a religion? Why shouldn't you do that, if the beliefs of that religion or the activities perpetrated in its name deserve to be intensely disliked?" Atkinson asked. Of the nearly 5,000 people who "liked" the post, at least some will have assumed Atkinson's words to be directed against Islam.

Britain First posts frequently on Facebook and its own website, often with a spin on breaking news and a good sense of what may go viral. Hope Not Hate's Collins ascribes slickness of the operation to Britain First co-founder Jim Dowson, a Briton with marketing skills polished during time spent promoting U.S. anti-abortion groups and also helping to build up the British National Party, a predecessor to Britain First that at its 2009 peak attracted almost a million votes in the European elections. Dowson quit Britain First in July but Golding and his group continue to carry out the online model he established.

There's little apart from bad punctuation to indicate the gulf between that online presence and the real-world reality: that Britain First are the accident-prone Mr. and Mrs. Beans of the U.K.'s radical political fringes. When the broadcaster Channel 4 shadowed the group, the Britain First Land Rover, theatrically decked in military camouflage, took too speedy a turn into a car park, snapping off the barrier. Democratic politics both sides of the Atlantic is "a big, giant, meaningless circus" in Golding's phrase, yet Fransen is standing as Britain First's candidate in a U.K. Nov. 20 parliamentary by-election caused by the defection of a sitting MP—the appropria-tely named Mark Reckless—from the Conservative party to the euroskeptic United Kingdom Independence Party, UKIP. Fransen's message to voters is not what you might expect. "Vote for UKIP," she says, "because we fully support them."

If UKIP is queasy about that support—characterizing a photograph of one of its campaigners posing chummily with Fransen as an "ambush"—that's not surprising. Britain First translates the anti-immigrant rhetoric of UKIP into direct and unpleasant action, participating in so-called "Christian patrols" through areas with significant Muslim populations and staging "mosque invasions." In May, Golding and four companions barged into the East London Mosque, trampling across prayer mats in their street shoes and demanding to see the imam. "They left in a hurry because there was a traffic warden," says Salman Farsi, who witnessed the incursion. "He'd pulled up outside to their car and was about to issue a ticket."

That may seem pretty funny but, says Farsi, "the community is fearful of individuals like this." Collins suggests the greater risk comes not from Britain First but the responses the group may provoke: "I think they are very very dangerous. Not in the way they would probably like me to say but they are capable of causing a reaction from the people they're harassing, which would totally outstrip what Britain First is doing." In May, Britain First surrounded the home of a controversial preacher Anjem Choudary, the former British head of the now banned Islamist group al-Muhajiroun. The British authorities evacuated Choudary and his family. Collins worries that Britain First, far from containing radical Islam, "is acting as a catalyst and recruiting agent for these people."

The brutal murder in 2013 of off-duty soldier Lee Rigby in London by two assailants, one with links to al-Muhajiroun, certainly helped to kindle the sorts of fears and prejudices towards Muslims that Britain First seeks to exploit. Rigby's family complained after Britain First co-opted Rigby's name during the May 2014 European elec-tions, registering the slogan "Remember Lee Rigby." The U.K. Electoral Commission apologized. Towards the end of TIME's conversation with Golding and Fransen, a man who has come to the hotel to use the gym facilities recognizes the Britain First leadership. "What do you stand for?" he asks. "We're pro-British, we don't like political correctness, we want our own people put first in our own country, we don't want mass immigration," summarizes Golding.

"Does that mean immigrants have to leave then? My wife's Jamaican," says the man, kicking off a discussion that becomes increasingly heated. Golding calls his interlo-cutor "you donut" at one point; the Britain First bodyguard moves to stand menacingly behind the newcomer. The real flashpoint comes when Fransen asserts that immigrants have been given housing that should have gone to ex-servicemen. "I'm an ex-serviceman, don't talk to me about ex-servicemen. Please do not talk to me about ex servicemen," says the man who later identifies himself as Geoff (he declines to give his surname), a former paratrooper. "We'll talk to you about whatever we want sir, frankly. We'll talk to you about anything we damn want," replies Golding, but he's obviously rattled. Face-to-face Britain First has no arguments that stand up to Geoff or to other voices of reason. In the online space, the voices of reason are easily drowned out in a flurry of ill-judged "likes" and shares. Always think before you click.
© Time Magazine.
Britain First accused of 'hijacking' the poppy ahead of Remembrance Day
Britain First has been accused of hijacking the poppy as Remembrance Day approaches to promote its own agenda.

5/11/2014- The far-right group is using the symbol, which is a registered trademark of the Royal British Legion, on its website masthead and in Facebook posts driving more people to its page. It is seen alongside Britain First's logo telling people to "take our country back" and crudely superimposed into the centre of the European Union flag with a message about "national sovereignty". Members of opposition group Exposing Britain First believe many Facebook users are sharing poppy posts without reali-sing who it comes from or what they stand for. "They share these images to trick people into liking and sharing and therefore increasing their reach on Facebook," a spokesperson said. With more than 547,000 "likes" Britain First has an online following that far outstrips the Conservatives, Labour and Liberal Democrats, arguably ma-king it the UK's biggest political site. So far there have been more than 133,000 shares for a picture of a poppy telling people to "press share to pin a poppy to your wall and show your respect".

"We will remember them…please share," another post read, drawing 640 "likes". Another photo showed Britain First's "armoured" Landrover decked out in camouflage with poppy on its bumper. Many people picked up on the irony of Britain First, which has been likened by some to a fascist organisation, using the symbol. "That poppy represents those that fought against exactly what Britain First represents," one critic wrote. Another added: "Your use of this symbol for your cretinous ideals is beyond contempt." Calling the stunt a "new low", a man wrote: "Hijacking a symbol of remembrance to further your own ends is nothing more than cynical and sinister politic-king. "Shame on you Britain First, I have seen your organisation post some nasty, hateful things on Facebook but even for you this is a new low."

A spokesperson for the Royal British Legion told The Independent it does not authorise the use of the poppy for "political or partisan use". "The poppy is a symbol of remembrance and hope, which is a trademark of The Royal British Legion used for supporting our Armed Forces community," she added. "We ask consumers to make sure the products they purchase are official poppy merchandise supplied through our licensed partners or www.poppyshop.org.uk."

It is not the only time Britain First has come under fire for using unrelated events and causes for its own purposes. Last month it threatened "direct action" against journalists at The Sun and Daily Mail after being accused of exploiting actress Lynda Bellingham's death. The group's post included a photograph of Mrs Bellingham above the caption: "RIP actress Lynda Bellingham. Britain First", garnering more than 6,000 'likes' and 500 shares. On voting slips in the European elections, Britain First used the slogan "Remember Lee Rigby", sparking an apology from the Electoral Commission to the murdered fusilier's family. Military support is a particular theme on its Facebook page, which offers up a mixture of pro-military memes, Crusades images and capital punishment debates, broken up with adoring pictures of the monar-chy and dogs. One post asks: "When a dog attacks a child and scars them for life, the dog is put to sleep. Shouldn't we do the same to paedophiles?"

There are also slogans, like "Save Your Country (UK) BAN HALAL" and "this is England - love it or leave it". Britain First, formed in 2011 by former members of the British National Party, proclaims itself as a "patriotic political movement". Complete with its own "Defence Force", members are known for conducting "mosque invasions" with Bibles and carrying out so-called "Christian patrols" in ethnically diverse areas. Volunteers dressed in matching khaki jackets and flatcaps are organised into "battalions" to go and confront councils and mainstream politicians. The founder of Britain First, Jim Dowson, resigned earlier this year complaining that the group was being "being overrun with racists and extremists". Its deputy leader, Jayda Fransen, is currently running for Parliament in the Rochester and Strood by-election.
© The Independent
UK: Why I don't believe people who say they loathe Islam but not Muslims (opinion)
It is psychologically unnatural to claim that you hate an ideology without hating the people in whose lives it is expressed
By Andrew Brown

5/11/2014- It is a trope among people who loathe and fear Islam that their fear and loathing has nothing in common with racism because Islam is not a race, the impli-cation being that hating Muslims is rational and wise whereas hating black people is deeply irrational and stupid. Some people who claim that Islam is profoundly evil will also say that they bear Muslims no ill will but I don't think they are telling the truth. It is really difficult and indeed psychologically unnatural to claim that you hate an ideology without hating the people in whose lives it is expressed. Religions, nations, and even races are all shared imaginative constructs (although nations and races have other characteristics as well) and if you really want to extirpate them, you must extirpate the people who imagine them as well. I remember George W Bush ex-plaining that we were not going to war with the Iraqi people, but with the Iraqi government. Since then, something like a million of the Iraqi people have died as a result of our not going to war with them. The distinction is no doubt a great comfort to their surviving relatives but it's not very useful for predictive purposes.

Racial and religious hatreds have one thing in common: they are not inspired by the race or religion of the hater, but by the religion or race of the victim. This is clearest in the case of antisemitism, which can appear as either a racial or a religious hatred, or indeed both. What's constant is that it involves hating Jewish people, whatever the reasons given. Similarly, if you hate black people, you hate them on racist grounds whatever the colour of your own skin, and if you hate Muslims, Catho-lics, Quakers or Mormons, you hate them for their religion – whatever your own beliefs. So it is perfectly possible for religious hatred to be motivated by atheism and it may be quite common in the modern world.

The claim that Islam isn't a race and so it is entirely rational to hate and fear it gains its moral force from the implicit claim that there is something uniquely horrible about racial hatred. I don't think there is, though I see why we assume it: 50 or 60 years ago racial prejudice was an entirely natural part of English life. In order to change that, it was necessary to mark it as a uniquely dreadful and disfiguring condition: racism became a kind of moral leprosy. Without in any way wishing to roll back that progress, it's worth noting that in other societies and at other times racial prejudice has not been the most urgent incitement to communal hatred. But if we allow that the crimes of Stalin, or of Mao, were comparable to those of the transatlantic slave trade in ambition if not in duration, they are not excused in the slightest by saying that the most terrible atheist dictators were not very racist at all.

Stalin and Mao would have enthusiastically endorsed Sam Harris when he wrote that "there are some beliefs so terrible that we are justified in killing people just for holding them", just as they would have endorsed his defence of torturing prisoners. In the end, the position of people who claim that hatred of Islam is somehow superior to hatred of black people is pretty much like Alan Partridge boasting that at least he's not David Brent.
© Comment is free - Guardian
UK: Far right groups clash with anti-fascists in Rochester ahead of by-election
Far-right extremists clashed with anti-fascists on the streets of Rochester, bringing a bitter note to the by-election campaign.

1/11/2014- Members of Britain First, the BNP splinter group, marched in uniform to the town's war memorial shouting incendiary anti-Muslim slogans. They were blocked by a crowd of more than 100 people, including Labour supporters, teenage Tory activists and anti-fascist groups, hurling chants of "scum" back at them as a wall of police officers kept the two groups apart. Former Tory MP Mark Reckless, who defected to Ukip last month, will be standing in the by-election for Ukip later this month. Britain First's deputy leader Jayda Fransen, also a candidate in the by-election, praised Mr Reckless's defection saying her party and Ukip had "almost everything" in common and were "almost identical in policies". Ms Fransen said: "There's only two parties in this election who are worthy of the people's vote, and that's Ukip and Britain First. "Ukip are going to sweep up, and we are one hundred per cent behind Mark Reckless. That's going to wipe the smile off their faces!"

Britain First, led by former BNP councillor Paul Golding, describes itself as a "street defence organisation" leading the "fightback" against Islamic extremists. Mr Reckless tweeted: "Thank you to hundreds of Ukip campaigners for help today. I stand with Rochester residents against provocations, as we focus on local issues." Ukip has rejected the endorsement, saying they have "no connection with Britain First and reject any association with them." A police spokesman said: "Kent Police facilitated a protest in Rochester High Street today. No arrests were made."
© The Telegraph
Ireland: My day on the streets as a Roma
Barbara McCarthy experienced first-hand what it's like to be amongst society's most persecuted when she posed as a beggar.

2/11/2014- 'Throw them in the river" and "Burn the cockroaches" were some of the messages left on the Waterford-based Facebook page Get Them Out Of Town, last week. Aimed at the Roma community, the page which had 700 likes and has since been removed was created in response to recent increases in theft and crime in the local area. An angry mob sprang into action last weekend and 200 people gathered outside a large Roma family's home, smashing windows and doors and frightening the people inside. Three families, including toddlers and grandmothers, had to be evacuated while more demonstrations took place. "It is everything you don't want to see in the city," said local Sinn Fein councillor John Hearne. "This sort of vigilantism has no place in Irish society," said Minister for New Communities, Culture and Equality Aod-han O Riordain of the attacks. He suggested that he would be "terrified" if he were a member of the Roma community living in Ireland at the moment, stating that those involved were "cowardly". With this in mind, I decided to try my hand at being a Roma myself, just to see how people react to me on the streets of Dublin.

I had no suitable clothing and at 6ft in height, fair- skinned and blue-eyed, I'm not particularly Roma-looking and thought I would be as conspicuous as a giraffe amongst a group of alpacas. So firstly I asked a Roma lady on O'Connell Bridge where I could buy a skirt similar to hers. In return for nappies for the young child she carried on her arm she brought me to a clothes shop. She herself wasn't allowed in. I felt bad for her and the baby, but she was used to it, saying she can't go into most shops. When I asked her how old she was, she said she was 17. The child was at least one year old. I bought a long skirt, a knitted black and red throw and a scarf, which I wrapped around my head making me look quite viable. I also acquired a cup and made my way to the Ha'penny Bridge where I met my friend with whom I'm currently filming a feature on homelessness. It's not something I would do alone, so she filmed me from a distance. As soon as I walked out of the pub I got changed in, I got strange looks. The pub owner suggested there was "some weird Muslim thing going on."

I said: "No it's a Roma 'thing'." He retorted: "Well then you better make sure you don't get picked up and thrown in the back of a van and brought back to Romania." Like many people he was of the opinion Romas or Romani are all Romanian gypsies. Their origins are, in fact, in Northern India, from where they had to flee after invasions from other ethnic groups around 1,000 years ago. They have since dispersed, with concentrated populations in eastern and southern Europe. There are said to be around 12 million Romani in the world. They came to Ireland in the early 19th Century originally to work as labourers. The collapse of Eastern borders saw many Romani arrive hidden in container lorries or freight containers. The admittance of an additional 15 states to the EU meant many more were trafficked into the country illegally, most of them seeking a better life. There are believed to be over 3,000 Romani in Ireland, though a precise figure is not available.

I bent down as far as I could and made my way to the highest point on the bridge, where I found a place to sit. I kept my eyes to the ground out of fear of people talking to me. I felt really sorry for the person I was pretending to be. Though I'm never above any kind of work, I did feel shame, which was exacerbated after the first person put money in my cup. I felt terrible - overwhelmingly for the fact that I wasn't genuine and also because there is no nobility in earning money by begging and surely people would rather do something else for a living than this, no matter what their background. Any insecurity I had about not looking the part disappeared when a homeless guy asked me to move. "There's someone on the other side and I'm here. That's three. There's too many of us." I just nodded. "Oi, are you listening to me?"

Yes, I heard you, I thought. I was at my most vulnerable then. I didn't want to invade anyone's patch. I doubt it would have led to anything much bar a few harsh words, but still I decided that moving would probably be for the best. I got up and wandered over to another spot nearby, making sure I wasn't in anyone's way. More than ever, I also became aware of how many homeless are on the streets of Dublin. As soon as I sat down, two homeless guys started trying to get my attention. I said nothing. I have been working a lot with homeless people lately and have a great understanding with many of them, not normally seeing them as a threat, but in this case I was somewhat lower down in the pecking order. As a Romani in Dublin, you are either completely ignored or asked to move along. It's no news to them to be treated poorly. It has defined their existence throughout history.

They were expelled or enslaved, sentenced to torture and death, segregated and discriminated against pretty much ever since they were brought to Europe from northwestern India and Pakistan. They never identified themselves with a territory. They don't have a distant homeland or any rights to national sovereignty anywhere. The world's true travellers, on the fringes of society, they are a cultural enigma to the rest of the conforming, technologically-savvy world. In many cases they don't own anything like social security numbers or credit cards. Up until the 19th Century, they didn't even own their own language, as it was forbidden in many countries. In the 20th Century, Hitler deemed the Romani as subhuman, inferior undesirable beings or 'untermenschen,' and up to 1.5 million lost their lives during the war. They were directly targeted for genocide and many ended up in the gas chambers of annihilation camps like Auschwitz. Unlike the Jews, the Roma community never received reparation.

Some 44pc of the German population believe that Roma have a tendency to criminal conduct, many stating that they leave an unholy mess everywhere they go and partake in aggressive begging and theft. They are still the subject of discrimination and recently a French mayor narrowly avoided jail after claiming that Hitler didn't kill enough Romani people. In 2010, French authorities demolished 50 illegal Roma camps in order to repatriate them elsewhere. I felt like quite the 'untermensch' when I had to leave my second spot to make my way to Capel Street Bridge. There was already a Roma sitting on the other side, but not wanting to be frightened into submission, I took a seat to see what would happen. She looked at me strangely as we made brief eye contact.

I knew that I was sitting on the wrong spot again, when a man from Eastern Europe came up to me and asked how much longer will I be there. I said five minutes. He was shocked. "Five minutes? Really?" He had a cardboard box with him and looked somewhat peeved. It was the wrong thing to say. Clearly I needed to brush up on my begging etiquette. The situation raised alarm with an Irish homeless person, who made his way towards me. I looked up from my veil afraid of what they'd say. "What are you doing here?" were the last words I heard before I scuffled off. I was told by a homeless friend that they don't have anything to do with the Roma. "I don't know where they come from but there are loads of them. They get picked up in the morning and brought in and then spend the day begging and then they get picked up again. I often have one sitting on my spot when I get in in the morning. Lots of them are people trafficked."

Traditional Roma society still arranges marriages between minors as young as 12, some of whom are traded between communities. There are allegations of child traf-ficking and sexual exploitation, but many reports suggest figures are grossly exaggerated. Clearly the underdog and very much clueless about where I should sit, I tried the Ha'penny Bridge again. "There's not enough room for the three of us," the homeless guy to the right kept shouting, so I decided to call it a day. Despite the fact that they influenced jazz, bolero, flamenco, classical, house and techno and they have inspired a gypsy fashion movement, it came as no surprise that Romani are at the bottom of the social pile - Europe's most persecuted minority. For most people they are pests who sit under a cash machine giving you a forlorn look while you wearily withdraw money.

As the Roma aren't homeless, I've often chosen to give money and food to Irish homeless people sleeping on the streets. My social experiment has made me a little more aware of the Romani plight and how difficult it is to get up each day and beg an irritated public for money. Whenever we complain about them we should ask ourselves, how else are these people meant to earn money? Who would hire them? When you see the world from its lowest place you feel more compassion for the people who are there, day in, day out. I gave my earnings - a grand total of €4.21 to two Roma before I went home - luckily back in my own clothes.
© The Irish Independent
Ireland: 'We were hiding the truth that we were Roma because we were afraid'
After protests in Waterford, members of a Roma family tell Claire Mc Cormack why they don't regret disguising their roots for three years

2/11/2014- Roma woman Jennifer Ciuciu (20) concealed her true identity for three years for fear of persecution when she moved from Romania to Ireland with her family. "We were hiding the truth that we were Roma because we were afraid that racism might happen to us. We knew that some Irish people were against Roma people," she told the Sunday Independent. So Jennifer and her four siblings said they were "Romanian instead of Roma gypsies".And in the aftermath of the recent "anti-Roma protests" in Waterford, they have no regrets about denying their roots. "Some people are so racist. If had to go back I would hide it again because I wouldn't like what happened here to happen to me," she said standing in the middle of John Robert's Square at last week's Waterford Against Racism protest.

Despite many guests being asked to attend, the Ciuciu family, who travelled from Dublin, were the only representatives of the Roma community speaking out after a "vigilante mob" targeted a large Roma family - including young children and grandparents - living in the city centre last weekend. Last Saturday, more than 200 people gathered outside the family's home on Manor Street to stage an "anti-crime" demonstration that resulted in windows and doors being smashed and three Roma families being evacuated from the area. The following night a group of about 100 protesters gathered at the same spot to continue their campaign to get the alleged "criminal family" out. Since then, the Roma who usually shake their empty coffee cups outside the shopping centre or the Cathedral of the Most Holy Trinity, are too afraid to face the public.

"We were shocked and scared when we heard what happened," said Miriam Ciuciu (20), Jennifer's twin sister. "No one deserves this kind of attitude where people break into their houses, we feel really sorry for the Roma in Waterford". Although the sisters said they are aware that "some Roma beg because they don't have any money," they are also "just normal people". Stelian Junior Ciuciu (22), stressed that Roma are not all the same and that many are forced to beg for survival. "Begging is the only income of Roma who are not residents. They can't work, they don't have the language and they don't have education," said the business student who is "wor-ried about the future of the community" in Waterford.

Tess Breslin (17) who lives on the street where the violent protests took place said she was "upset" by what happened. "Having a mob target a whole community of people as being criminal on the same street where we live is more frightening that any allegations against those people," said Tess, a sixth-year student. Her father Ollie said he anticipated the hate attack from growing tensions on Facebook where the Roma community were being labelled as "scum" and "cockroaches". "This was coming for over a month and I think the guards and public representatives should have organised public meetings to defuse the situation . . . instead people got angrier and angrier and now it's all gone pear-shaped". Although many locals agree that a single group cannot be blamed for all crime in the area, others are frustrated over the level of begging and robberies on the streets.

Speaking outside the Franciscan Friary, the place where a Roma woman normally asks for loose change, one local resident said: "There is a huge problem with crime, we saw it with that horrific petrol bomb attack a few weeks ago. And I'm not being racist, but I have heard of Roma people lifting handbags and stealing outside night-clubs". According to Chief Superintendent Pat Murphy the Roma community are being "unlawfully" and "disproportionately" singled out. "In my view this particular ethic group are being marginalised unfairly in a racist and xenophobic attack," he said, adding that those with "an agenda of hatred" are not interested in public safety". Local TD Ciara Conway, whose daughter Aeva-May (12) is of mixed parentage, was disgusted by the violent protests, which she happened to see while through Manor Street on the night of the first rally.

"I knew what it was because people have been talking about that area of town for the last couple of months alleging criminality and anti-social behaviour and mugging," said the Labour backbencher who has discussed the issue with the Chief Superintendent. "If people are frustrated about street crime they should report it to the gardai but no one has the right to set up a picket outside someone's private residence." Although Ms Conway believes it's a minority who are responsible for the attacks, she said racism will not be tolerated at any level. "My daughter has a big afro and brown eyes, I have blonde hair and blue eyes and it's an abhorrence to me to think that she would be treated differently to anyone else in Waterford".
© The Irish Independent
Ireland: Behind The News: Anti-Roma protests in Waterford
Gaby Muntean, a Roma community development worker talks about life in Ireland for her community

1/11/2014- Gaby Muntean moved to Ireland in 2000 with her husband, seeking out a better life. "I left my son with my mother because I didn't speak English and we were illegal. It was very hard in the beginning. We had a few friends here but no family." Muntean says she wasn't [legally] able to leave Ireland until 2007 when Romania joined the EU. "Then, I was free to travel and my father brought my son here." For years, it was impossible for Gaby and her husband to get work. They lived in Cork, then in Newbridge and for 10 years in Kilcock before moving to Sallins where they now live. "I couldn't get paid work so I started doing voluntary work for the Roma community here. I did training in cultural mediation and since 2013, I have been paid for my work which makes life much easier." Her son completed the Leaving Certificate earlier this year and applied to join the Garda but he was too young. "He's working now and he will re-apply to the Garda and I hope he can join it."

Muntean is aware of prejudice against Roma people and says that she was "very scared by the protests" and Facebook campaigns against the Roma community in Waterford. "I'm not saying there isn't any criminality in the Roma community, just like you can't say there isn't any in the Irish community, but every bad thing that happens is blamed on the Roma or the Traveller community." Speaking of how Roma are associated with begging, she says, "Some Roma people are forced to beg because they can't read or write or speak English. How else can they maintain themselves? I don't think it's a pleasure to be outside on the streets begging, but Roma people aren't homeless because we live together and protect each other." Mantean says that she prefers not to dress in traditional Roma clothing when in public. "I try to blend in with others but at home, I do. I am proud to be a Roma woman and sometimes, I want to show people who I am and that not all Roma people are bad."

There is an estimated 5,000 Roma living here. They come from all over Eastern Europe – Hungary, Romania, the Czech Republic, Slovakia and Germany. "People ask me why we are outsiders? But we are not allowed into shops and pubs so what can we do? We are very close as a community but we don't trust authority." That said, many Roma people have become Irish citizens and have children who are Irish citizens. "There needs to be a better strategy for Roma people in Ireland," says Muntean. Siobhan Curran, Roma project co-ordinator at Pavee Point Traveller and Roma Centre in Dublin, agrees. "The current strategy doesn't have any time- frame, goals or funding mechanisms. The European Commission asked every country in the EU to develop a Roma strategy but Ireland's strategy has been very poor compared to other countries."

Curran says the case where a Roma child was taken from her family in Athlone earlier this year highlighted stereotyping. "Before the DNA test confirmed the child was from that family, there was talk of Roma people being child traffickers. Stereotypes don't serve us well. There is no justification for 'hate crime' against Roma people. Attacks in other European countries have included several murders of Roma people. We don't want this to be a feature in Ireland." Curran adds, "We need legislation to prevent online hate speeches and Facebook hate campaigns, and a strong National Traveller-Roma Integration Strategy on education, employment, healthcare and housing and racism."
© The Irish Times.
The Future of France's Far Right
6/11/2014- In a recent poll for the French presidential election in 2017, far-right politician Marine Le Pen is polling ahead of the president of France by a whopping eight percentage points. This is the continuation of a long trend that has skyrocketed her party to the top of French politics. Mrs. Le Pen's numbers indicate that she is very likely to advance to the runoff of the two-round presidential election. The success of Marine Le Pen and her party, the National Front, is surprising considering the extremity of the party's rhetoric. However, the root of this success lies in the history of France and, in particular, the failure of the French economy.

Starting in the early 20th century, hundreds of thousands of immigrants and their families—predominately Muslims from Algeria, Morocco, and Tunisia—arrived in France to work in the auto, steel, and coal industries. Many of those who stayed in their new country formed families and had children. These immigrants were French by law—and in the case of pre-1962 Algeria, they had possessed French citizenship before arriving on European soil—but to many in the French population they remained foreigners. Their collective quality of life was far below that of the average Frenchman. They worked for meager wages and lived in shantytowns, and the socio-economic impact of this extreme poverty can still be observed today. In many ways, they are still treated as second-class citizens. The far right has effectively used this immigration situation as a tool for political gain.

The National Front was founded in the 1972 by Jean Marie Le Pen, Marine's father. In the early years of the party, immigration restriction was not a primary issue, but along with economic isolationism it soon became central to the party's rhetoric. French voters were unreceptive to his extreme stance during his first presidential candidacy; however, leading up to the year 1990, he began to increase in popularity. Franck Recoing, a member of the Marseille Chamber of Commerce, stated in an interview with the HPR that the root of support for Marine Le Pen is economic. The French economy, he states, began to decline in 1990. Unemployment rose and the national debt climbed. Discontent with the economic state of affairs has been building in France since that time.

As a result of this discontent, a portion of the French population shifted the blame to the Muslim immigrant population. According to Recoing, many French "don't like … foreign people to live with them and take their jobs. And so there is a kind of racism, … and unfortunately Marine Le Pen has a kind of speech that is … centered on [ethnically] French [people]." In addition to being ethnocentric, Le Pen is also economically protectionist. She's said that she wants to "destroy the European Union" and claimed that the Euro was "created by Germany, for Germany." Recoing explained, "She has a lot of success because people who absolutely want to have good jobs, to have better lives … think that she's right. She says it's better to give aid to French people than other people." But the economic decline that initiated the popularity of the National Front was a quarter of a century ago. Why is the party just beginning to pose a legitimate threat to the president?

Part of the answer to the question is rooted in a sharp change in the dominant rhetoric of the party. The party saw some success under the leadership of Jean Marie Le Pen, who made it past the first round of the presidential election in 2002 before being trounced in the second round by then-incumbent Jacques Chirac. Making it to the runoff was a shocking achievement, especially considering Mr. Le Pen's extremely controversial rhetoric. He has made several extremely controversial statements including one that referred to the Holocaust as "a mere detail of World War II" and another where he contended that "the races are not equal." He was convicted of incitement to racial hatred for the Holocaust statement. Furthermore, his rhetoric has helped to incite violence. At a 1988 rally to restore the guillotine as punishment for street crime, his supporters physically attacked students and minorities.

Marine Le Pen has slightly less extreme positions than her father. For example, Jean Marie believes in complete restriction of immigration whereas she only calls for significant but not complete restriction. Yet the essence of her views are the same as her father's. She publically maintains all of the positions (like immigration reform and isolationism) that made him popular enough to go up against the president in a second round runoff election. Furthermore, she has generally been far more successful than her father in avoiding controversial and inflammatory statements on racial matters. This appeals to moderates who are sympathetic to her views. In the words of Mr. Recoing, Jean Marie Le Pen "is considered as somebody who is extreme right and dangerous. It is not the same for Marine Le Pen because she … wants to make her ideas [achieve] more and more success. She knows how to manage in order to have a good image."

Furthermore, there is the perception that the Le Pens seem to be having relationship issues. Marine reportedly moved out of her father's estate after an incident with her cat. Marine also has considered changing the party name in order to distance herself from its past. This has drawn considerable criticism from her father, who called the idea of a name change "completely, moronic, scandalous, [and] indecent." In June, he bitterly attacked her, saying that she was turning the National Front into a "bizarre, insipid, and conformist party like any other." This growing rift between father and daughter might be politically beneficial. Jean Marie's stamp of disapproval allows Marine to distance herself from the party's extremely controversial past.

Mrs. Le Pen is incredibly powerful now, but she isn't quite within reach of the presidency yet. She is currently close to former President Sarkozy in the polls. Voters may be more comfortable with Sarkozy because they've seen him in power before, but he has already been elected out of office once. According to Mr. Recoing, if Sarkozy beats Le Pen in the presidential election, but fails to help the ailing economy, the French people may turn to someone new. That new person may very well be Marine Le Pen. The political leadership of someone who wishes to destroy the euro and drastically slow immigration could cause a significant shift in the political landscape of Europe.
© The Harvard Political Review
A French Best-Seller's Radical Argument: Vichy Regime Wasn't All Bad
On a recent night in France, conservative journalist Eric Zemmour, author of Le Suicide Francais (French Suicide), was under attack on a talk show — again. The debate over Zemmour's book has monopolized conversation on the airwaves and in cafes.

5/11/2014- In a nutshell, Zemmour says France is in decline because its traditional values — nation, family — have been destroyed over the past 40 years and replaced by a feminist, pro-gay, egalitarian agenda imposed on the country by left-wing elites. And, he says, the country has been undermined by successive waves of Muslim immigra-tion. "France today is suffering from a spiritual and an identity crisis," he tells NPR. "Plus we've been subjected to massive immigration — Muslims who reject our culture. So the French feel overwhelmed and they don't recognize themselves or their country anymore." The book coincides with the growing political success of the far-right National Front Party, but Zemmour denies any connection. He says he's involved in ideological combat, not politics. Still, critics say his book attempts to give intellectual justification to the policies of the far right.

A Symptom Of Crisis
Whatever the critics say, Le Suicide Francais has certainly struck a chord. In a popular Paris bookstore, employee Olivier Gras says they've reordered the book four times and can't seem to keep it in stock. The 500-plus-page best-seller is packed with footnotes and references and has an intellectual patina — a big selling point in a country that worships intellectuals. Parisian Alexandra Riguet is browsing the stacks. She says she would never read the book: "He's just surfing a wave of fear and fragi-lity in France right now, taking advantage of a certain fringe that's scared and ill at ease." But Zemmour says his ideas have wide support. He says people are just afraid to speak out lest they be labeled racist or homophobic.

Jean Descartes, who has just left the bookstore and has read Zemmour's book, agrees. "He has the courage to tell the truth," Descartes says. "I just came out of the metro and I was the only white person on the platform. That's not normal. Add the high cost of living, taxes, insecurity, immigration. We're sick of it all." Christian Makarian, editor of newsmagazine L'Express, says Zemmour's ideas are popular because the French model is in crisis and politicians don't have any concrete answers. "Zemmour is a kind of symptom of the French global, intellectual, political, philosophical crisis," he says.

'It Always Comes Back To Vichy'
Of all Zemmour's theories, the one that's rattled people the most is his view of France's World War II collaborationist government in Vichy. Zemmour, who is Jewish, argues that by first deporting foreign Jews to Germany's death camps, Vichy actually helped save French Jews. That assertion has provoked a firestorm of criticism from people who say it was ordinary French citizens who saved Jews, not Vichy. Zemmour's claim revolves around the seminal 1970s work of American historian Robert Paxton, whose study of Vichy helped France come to terms with its wartime past. Zemmour says Paxton's thesis that Vichy was all-guilty is wrong because the regime wasn't so black and white. "I felt compelled to include this in the book," he says, "because guilt over Vichy lies at the very heart of French self-loathing, even today. ... Every time we want to send illegal immigrants back, the elites scream that it smacks of Vichy. If we encourage foreigners to assimilate, we're accused of colonialism and Vichy. It always comes back to Vichy." If France wants to reverse its decline, Zemmour says, it has to cut through its Vichy complex and start anew.
© NPR
Special Report: In France, the discreet charm of a far-right mayor
Last month, David Rachline, the mayor of the French Riviera town of Frejus, quietly loaned a free room to the town's Jewish community to celebrate Yom Kippur.

5/11/2014- In most other towns in France the gesture would have been unremarkable. But Rachline belongs to the far right National Front, a party whose founder, Jean-Marie Le Pen, was convicted of inciting racial hatred in 1996 when he said the gas chambers used to kill Jews in the Holocaust were "merely a detail" of World War Two. The National Front (or FN, by its French acronym) still campaigns against immigration, same-sex marriages and the euro. But politicians like Rachline are part of a new generation that current leader Marine Le Pen, Jean-Marie's daughter, hopes will win over more mainstream voters. Past National Front politicians who won office have often messed up and been voted out. If the National Front is to capitalize on the weakness of France's Socialists, Marine Le Pen and her followers know they must prove they can govern.

That's why the 11 FN candidates who were voted in as mayors at the March elections, including Rachline, have been given how-to manuals for executive office and offered round-the-clock advice from experts in party headquarters in Paris. The orders: Apply the rulebook, manage conservatively and, above all, show the FN is fit to rule. Some FN mayors have slipped already. One near Marseille banned free lunches for poor children while boosting his own salary by 44 percent. Another had an anti-vagrancy decree knocked down by a court as racist. But most have largely stayed out of trouble. One star is Rachline, whose father was Jewish and who sees himself as "culturally" Catholic. At 26, he is the party's youngest ever mayor, and when elected he booked the biggest winning margin in the party's nationwide success. People in the party say he was picked for his organisational skills.

He's already impressing many in Frejus. Shopkeepers like his decision to extend summer opening hours. Others are pleased he increased the police budget. And he has laid on extra shows at the newly renovated Roman arena. "He's doing a really impressive job," said Marguerite LeBoeuf, 74, a pensioner who lives near the beach. "For the first time in years, we've got someone honest, approachable, who we can trust, who is putting the town's finances in order." Gabriel Aymard, president of the Jewish community association in Frejus, is more guarded. "For the time being – and I insist, for the time being - I have the best relations in the world with this mayor," he said. "He's a very intelligent man, with whom we have very, very good relations." Others are wary. His critics say Rachline has placed party sympathisers in roles that should be apolitical, broken his promises, and shown a vengeful streak.

In his first months, Rachline has made some reversals, particularly in his approach to finance and the town's Muslim population. Despite campaigning against a new mosque in the town, for months he let conservative Muslims go ahead with building it. Then recently, he found a legal obstacle to the project. Such subtleties could reflect a new pragmatism at the heart of the National Front's quest for power. Far right parties across Europe are looking to build on electoral gains they have made in towns and cities that are stuck in a post-crisis slump. Jerome Fourquet, an analyst for pollster IFOP, said that in an effort to impress the leadership, the National Front mayors have made sure "the streets were clean." Rachline himself says he is simply governing better than his centre-right predecessor. "I think my critics would do better to seek inspiration from us, for a change," he said in an interview in his vast town hall office. "We inherited a town deeply in debt and have been able to make the efforts needed to shore up its finances."

Opinion polls now rate Marine Le Pen a strong contender for president in a 2017 vote. And six months after he won Frejus, Rachline's fellow mayors helped elect him to the Senate, the upper house of the national parliament. That made him one of the first FN members to win a place in the baroque Luxembourg Palace on Paris' Left Bank. Success like this has Stephane Ravier, a party colleague who also won a Senate seat, brimming with confidence: "The only force really progressing in France is the National Front," he said.

The Outsider
Frejus is a big challenge. It has a relatively low immigrant population but like many towns on France's southern coast, is torn between contrasting identities. The night of his election, Rachline sipped champagne in his campaign office, while riot police stood guard in the town square. On one side, anti-immigrant supporters sang 'la Marseillaise'; on the other, young men from the town's more immigrant-heavy neighbourhoods chanted, "Fuck the FN." Once a thriving Roman port, the city lodged between St Tropez and Cannes is the fifth most indebted in France. Pristine Mediterranean beaches and a rich archaeological history draw thousands each summer, swelling the year-round population of 55,000 as much as six-fold. Inland, 1960s housing projects shelter the descendants of refugees from the war of independence in Algeria, a former French colony. Residents of the projects struggle to find jobs and rarely visit the beach.

Rachline's Catholic mother ran a snack bar and his father, who was not observant, sold insurance. Rachline obtained a high school qualification in accounting. He describes himself as agnostic. A former school official said he remembered him as a quiet boy, one of few white students in a "particularly unruly" class. He turned to the National Front, then led by Marine Le Pen's father Jean-Marie, at 15. After the death of his own father in 2003, he embraced the party more wholeheartedly, the former school official said. Rachline first ran for mayor in 2008, but won only 12.5 percent of the vote. Le Pen senior gave the young man a role posting a weekly online video log. The two spent many afternoons together at Paris headquarters and Le Pen's Montretout residence, discussing politics.

"Rachline was fascinated with ... Jean-Marie Le Pen, but his fascination was more political than emotional," said Florian Dufait, a close friend who worked with Rachline at party headquarters. Rachline says Jean-Marie Le Pen is not anti-Semitic: "If he had any negative feelings whatsoever toward people with Jewish back-grounds, he would have made me feel that," he said. "And yet, he never did, he has always trusted me, and he frequently comes to Frejus to have lunch." The young politician also cultivated Marine, who took over the party in 2011 and has praised Rachline for his "political instinct, his calm and his efficiency."

She wanted to shed the FN's reputation for xenophobia; Rachline used this change to convince other ambitious young conservatives to join. Among their generation was Julien Rochedy, 26, currently head of the youth wing. "Rachline had figured out right away what was going on and surrounded himself with people who would represent the new, modernised image of the party," said Rochedy. Still, when Rachline ran for mayor again this year, he would show up alone at Saturday markets to shake hands with the residents, many of them elderly. Frejus had been run by the centre-right for 35 years: Rachline pledged to fix the town's finances. The incumbent mayor, Elie Brun, was widely blamed for Frejus' heavy debt load and convicted in January for unlawful conflict of interest for his part in the award of a beach restaurant concession to the husband of his ex-wife. Brun said the charge was politically motivated and appealed, but the ruling was upheld.

Rachline also promised support for social projects. "He said that he would support the social centres, that he would not reduce funding and that he would help us to get more if he could," said Sandrine Montagard, head of an after-school refuge for children. And he said he'd hold a referendum on the new mosque, already under construction in a mainly immigrant neighborhood called La Gabelle. Rachline's website depicted it as an ominous black silhouette of dome and minarets dominating the beach front. A caption in mock Arabic script said, "Frejus mosque ... yes or no?" Unexpectedly, he placed first with 45.55 percent of the vote. A few weeks later, when he arrived at his first council meeting, the crowd erupted into applause. "The audience was totally won over," said Isabelle Quignon, a teacher and campaigner for the Ligue des Droits de l'Homme, a human rights group. "At last they had their man. You could feel a certain rebellious atmosphere in the air."

Delivery Man
The month after he took over, Rachline hired La Patrouille de l'Evenement, an events company founded by FN sympathisers, to organize concerts, parties, soccer match screenings and bull fights in the renovated Roman arena. In May, he removed an EU flag from the town hall's façade. He also surrounded himself with friends and family. His councillors, elected with him, include his mother and four couples sympathetic to the National Front. And while newly elected mayors in France often name independent experts to audit and advise on finances, Rachline chose La Financiere des Territoires (LFT), a company created by an associate. The firm's founder and CEO, Clement Brieda, is a 26-year-old business school graduate who a National Front source in Paris said had "provided expertise" to the party on several occasions.

LFT's books show that its first investment was a "how-to" guidebook to auditing public accounts. "For us, there is a clear conflict of interest when you hire a party sym-pathiser to audit the finances of a town of 50,000 inhabitants," said Quignon, the rights activist. "The audit should be done by an experienced, independent company and not somebody who is there to justify a party's policies." Rachline said he and Brieda are not friends. "I didn't know it was forbidden to work with somebody from the Front, but apparently it is," he joked. Brieda did not respond to requests for comment. Rachline announced at his first meeting that the audit had revealed a 20-million-euro shortfall for the 2014 budget. He had no choice but to ask for "efforts on behalf of all Frejusiens." Among his first moves were to cut funding for three social centres in the town's poorest areas, including Montagard's, by up to 80 percent.

Follow the Money
Rachline has also shown he can be pragmatic. During his campaign, he called his predecessor's team "crooks." Even so, when Rachline moved into the town hall, he kept on two of his predecessor's staff, including Brun's former wife. He also obtained bank overdraft facilities worth a total of 8.5 million euros, rolled over outstan-ding debt for three years, and announced the sale of nearly 10 million euros worth of municipal land. In June, the council was due to vote on the 2013 books – a chance to reject Brun's financial management. Without support from the FN, the books would not pass. That could have seen Frejus being placed on a form of probation, requiring central government inspectors to dole out credit in 12 monthly instalments rather than one lump sum. Rachline's group voted to adopt the accounts.

The mosque poll was trickier. On a hot day in May, a short drive from Frejus town hall, a dozen volunteer builders were hard at work on the "al Fath" mosque, which had already risen two storeys above its foundations in the middle of La Gabelle's apartment blocks. Workers in traditional Islamic clothing and long beards waved away a reporter. At the time, Rachline said his promised referendum on the mosque's construction had been delayed by legal appeals already under way. Before any referen-dum, "it will be up to the courts to decide" whether building should continue, he said. In the ensuing months, some far-right blogs said the fact Rachline hadn't followed through on the referendum showed he was caving in to local Muslims. One social worker said the new mayor wanted to avoid a direct conflict with the Muslim neigh-borhood. Riots broke out there in 2009 over the death of a young Muslim man killed in a road accident while being chased by police.

But in October, Rachline told Reuters a lawyer for the town hall had determined that the mosque's building permit was "null and void" because construction had started too long after it was issued. The mosque-builders, who head the Frejus Muslim community, declined to comment. Rachline has grown increasingly tough on other pro-jects. Montagard, the director of the after-school center, was one of several social workers who spoke out against his cuts to social spending. In September, the town hall said it would eliminate all municipal funding to her center. In a letter that Montagard made public, Rachline accused her of being "publicly hostile" to the town hall and running a "Socialist center." He also said he would end the center's lease, rename it a "neighborhood house," and hire new staff.

Montagard thinks the mayor's goal is to cut funding to all centres like hers. "The masks have really fallen off now," she said. Rachline said his cuts were needed. A day after his election as Senator, he beamed for cameras in the sunshine of Luxembourg Gardens. "If I was able to enter (the Senate) so young, it's ... because the National Front gives young people a chance," he said. "I'm the proof of that."
© Reuters
France's FN Reaches Highest Membership Number Since Party Was Founded
1/11/2014- The crisis among political parties is everywhere, or nearly. According to our information, Marine Le Pen's National Front (FN) now counts 83,000 fully paid-up members who are eligible to vote at the party's convention on November 29 and 30. That is twice the number claimed by the far-right party at the start of 2012. An internal source in the far-right party says the figure represents, "give or take a few hundred", the electorate that is eligible to elect the president of the FN at its triennial convention. The figure was finalized on Oct. 31 before a bailiff, but another list will be added between now and Nov. 24. While the UMP and the Socialist Party (PS) have seen a rapid erosion of members since 2012, the National Front has made new gains, although it officially remains the third party in France in terms of the number of members in good standing. In comparison, 268,341 UMP members are eligible to vote for the conservative party's next president. A little less than 29,000 can vote for Jean-Louis Borloo's successor at the helm of the UDI. As for the PS, undermined by the left's unpopularity in power, it reports a list of 160,000 members in good standing.

100 percent more members than at the start of 2012
While Nicolas Sarkozy hopes to rekindle membership growth once he is elected president of the UMP, the membership trend currently favors the far-right party. On its website, the FN has long boasted 75,000 "members and supporters", a well-overestimated figure that has been disproven several times by statements from its executives and the official vote tallies at its conventions. At its January 2011 convention in Tours, Le Pen was elected president of the FN with 11,546 votes versus only 5,522 for Bruno Gollnish. The electorate totaled 22,000 members. Since then, this figure has grown continuously. In 2012, the party's general secretary Steeve Briois reported 40,000 members in good standing.

Near the end of 2012, at the height of the UMP's internal crisis, Marion Maréchal-Le Pen said that the FN had seen an "explosion of memberships" with nearly "600 new members a day". Between the first round of the presidential election, which had rallied members, and the UMP's meltdown, the National Front claimed to have gone from 50,000 to 61,000 members. With 83,000 members in November 2014, the extreme-right party is reaping the rewards of its long work to establish a local presence, which saw it garner very good results in both the municipal and European elections. With less than a month to go before the convention, Marine Le Pen can be assured of her reelection (she is the only candidate): since her arrival at the head of the party, the number of members has increased by more than 300 percent.
This article originally appeared on The Huffington Post France and was translated from French.
© The Huffington Post
Headlines 7 November, 2014
Neo-Nazi music group makes the Czech Republic's Top 10
7/11/2014- According to the preliminary results of this year's "Český Slavík" (Czech Nightingale) questionnaire about music preferences, the neo-Nazi band Ortel from Plzeň is among the Top 10 bands in the country. The group's hateful lyrics primarily target religious minorities and Romani people. Ortel's song "Hadr" ("Rag") was once the anthem of the neo-Nazi Workers' Party prior to its dissolution by the courts. "These white warriors are doing their best to make up for their failure on the political scene with success in the field of music. Where else might they find more fertile ground for their crypto-racist, latent white power drivel than among Czech rock fans (of beer-drinking big beat music)? That's how the Ortel band was created," Vojtěch Libich writes on the Czech culture website G.cz, where he names in detail the reasons why Ortel is "a bunch of not very cleverly disguised Nazis".

The founder of Ortel, who calls himself Tomáš Ortel, is also the founder of the neo-Nazi cult band Conflict 88. The number 88 is a neo-Nazi cryptogram for the Nazi greeting "Heil Hitler". Ortel himself, however, is the moderate neo-Nazi in the band. "He has edited all of the blatantly 'defective' passages from their lyrics and made sure to package his racist, ultra-right opinions in legal garb. Ortel's songs are characterized by anti-Muslim, anti-Romani, homophobic rhetoric, all within the boundaries of permitted hinting," Libich writes. Clubs where Ortel performs have faced boycotts by other bands. Last month the Plzeň-based group Positive Mind, together with the bands Donnie Darko and Emmett Brown, canceled their concerts in the Kain club in Prague after Ortel was scheduled to play there.

"The rise in popularity of this group is responsible for the marches by the latent and not-so-latent nationalists in Plzeň (members of Ortel stand in the front row of those events). We do not support patriotism in this form of display. You can believe what you want, but the club is organizing [Ortel's] production quite consciously. Ortel is slowly but surely being played more often on the radio and more contemporary music fans are becoming aware of them. This is wrong, and if you disagree, then do the work of finding something out about Czech history on Wikipedia, for example. Wake up, read, think for yourself. Don't excuse everything by talking about the Romani problem, develop your own opinion about the problems and woes of our everyday life," Positive Mind posted to its Facebook profile when announcing the cancellation.

From the rules of the "Czech Nightingale" questionnaire
"The organizer reserves the right to exclude from this questionnaire any musical group or singer whose verbal or visual output might contravene the legal order of the Czech Republic or might violate the principles of good morals or the principles of elementary human decency. This concerns, for example, outputs that might support ideas or movements aimed at suppressing human rights and freedoms, supporting racial hatred, inciting others to violence or to commit crimes, endangering the upbrin-ging of children, or lyrics containing crude, insulting, vulgar expressions or formulations, etc., that exceed generally acceptable limits in society."
© Romea.
The Men Who Monitored Ukraine's Rebel 'Elections'
6/11/2014- What unites a Hungarian neo-Nazi, a Bulgarian nationalist and the American lawyer of an evangelical Russian author? Well, obviously, a rebel election in east Ukraine. VICE News brings you the lowdown on some of the wackier members of this motley crew who illegally crossed the border from Russia into the rebel-held territory to "monitor" the ever first presidential and parliamentary votes in the breakaway "People's Republics."

Ewald Stadler
A former member of the European Parliament (MEP) and career politician, Ewald Stadler, born 1961, joined the far-right Freedom Party of Austria (FPO) in the early 1990s. In 2008 he joined the Alliance for the Future of Austria, a splinter of the FPO, but was expelled in 2013 for criticizing the party's campaign platform. Founded in post-World War II Austria, the FPO's first leader was a former Nazi minister of agriculture and SS officer, Anton Reinthaller. The party went through several ideological incarnations but during the period of Stadler's membership it was considered Austrian nationalist, anti-immigration, anti-Islam and Eurosceptic in orientation. In 1999, after the party was incorporated in a governing coalition, the European Union introduced sanctions against Austria stating that the FPO's inclusion "legitimized the extreme right in Europe."

In 2006 Stadler delivered a long tirade in Austria's parliament against Turkish immigrants. In the speech he railed against the "illiterates of Anatolia" criticized "romantic tolerance of religious freedom" and suggested that Turks should get "on the Orient Express and go back to Istanbul." A video of the rant was posted on the US white supremacist website "Stormfront" where it received praise from the group's supporters. The night before the rebel-held "election" in Donetsk, Stadler spoke at a bizar-re press conference for a make-believe organization he called the "Association of Security and Cooperation in Europe" (ASCE). Asked by journalists where the ASCE was registered, Stadler admitted: "It does not yet officially exist, but I do. I definitely exist because I am here… and I will be monitoring the election".

The now-retired Austrian politician criticized western reporting of the Ukraine crisis as "fantasy" and "hysterical" and said that countries should join the ASCE in protest against the Organization of Security and Cooperation in Europe, which he insisted was "following the policy of the US" and had "strayed from its central competency" in its decision not to act as an observer during Sunday's votes in the so-called Donetsk and Luhansk People's Republics. Stadler also acted as a "monitor" during an illegal referendum in Crimea earlier this year.

Frank Abernati
American businessman Frank Abernati is the legal councillor of the Spiritual Diplomacy Fund that is purported to try and "resolve conflicts between nations and within state borders by relying on the peoples' spiritual values." The president of the Spiritual Diplomacy Fund, Mikhail Morgulis, is a Russian writer, Christian theologian and a born again evangelist. In 1982 he moved from the Soviet Union to Chicago, where he set up the Slavic Gospel Press which printed more than 100 works in Russian, including the Bible. His autobiographical novel Russia: Between Cross and Sword details his Communist childhood, how he defied the KGB and once led the last president of the Soviet Union, Mikhail Gorbachev, in prayer.

Both Abernati and Morgulis have reportedly met with the president of Belarus, Alexander Lukashenko, on several occasions. In a blog post Morgulis describes the man known as the "last dictator in Europe" as "bright straight and talented in his ability to accurately express thoughts." Morgulis also claims to have to met the former prime minister of Israel, Ariel Sharon, and to have prayed both in front of the Knesset and Palestinian leaders. The Ukrainian service of the Voice of America (VoA) reported Abernati paid the sum of $11,500 for an article, identified as paid advertising, to appear in the Washington Times in July 2013. The article in question detailed pro-Russian President Viktor Yanukovych's meeting with Native Americans in Ukraine; photos show that Morgulis was also present at the event. VoA also reported that Abernati believes most US coverage of Ukraine is negative and that he has opposed economic sanctions on the eastern European country.

In a column for the US-Ukraine Observer during Yanukovych's rule. Morgulis wrote that "Ukraine is headed by a decent man with good heart." In contrast he called Yulia Tymoshenko — imprisoned by Yanukovych on charges deemed by the West to be politically motivated — "a sinner." According to his LinkedIn page, Abernati studied history, political science and economics at Brown University before graduating from Columbia School of Law. Since 2007 he has owned a company called EFS Invest-ment Partners LLC specializing in management of privately held funds, real estate and construction.

Frank Creyelman
A Belgian Flemish nationalist politician, Frank Creyelman has served in the Flemish parliament and senate since 1995. He was a member of the extreme-right party Vlaams Blok (VB) until a Belgium court banned it in 2004 for promoting racism and xenophobia. In the final ruling the Ghent Court of Appeal concluded the party: "Treats foreigners as criminals, evildoers, profiteers, inassimilable fanatics and a threat to their own people." Shortly after the ruling the VB's leadership announced: "We will change our name but not our stripes." Crelyman joined the rebranded version of the party, Vlaams Belang, which appeared back on the political scene with most the same faces just a few months after its original formulation was outlawed.

Sunday's rebel-held vote was not the first time Creyelman has overseen a controversial election. In March the Belgian politician observed the referendum in Crimea, held less than a month before the southern peninsula was illegally annexed by Russia in March. According to a Channel 4 report, Creylman got so drunk the night before he couldn't stand up straight. Nonetheless he was still able to declare the vote a success the next day. "The elections were transparent and well-organized. The elections were conducted to the highest European level… I want to stress that Belgium has much to learn from Russia," he reportedly declared.

Jean-Luc Schaffhauser
French far right politician Jean-Luc Schaffhauser is a member of Blue Marine Rally, an umbrella political group joining Marine Le Pen's Front National (FN) with a number of other radical right wing fringe parties. Schaffhauser has called for an end to state funding of community organizations supporting immigrants from Algeria, Cameroon and Morocco, stating: "We help Africans in Africa." He has also been a vocal opponent of gay marriage and has spoken out against the building of mosques, claiming the "projects (are) supported by terrorist states, Turkey, Qatar (and) Saudi Arabia. When it comes to applying the Qur'an, which says to kill Christians, I cannot accept it! We also, like them we have the right to live!"

The politician, who previously lived in both Russia and Poland, was elected on a FN list as an MEP in 2014, after failing in his bid as the party's candidate for mayor of Strasbourg. According to French newspaper Le Monde, the adviser to the FN 's leader, Aymeric Chauprade, met with Russian oligarch Konstantin Malofeev and Ukrainian separatist leader Alexander Purgin, in a top-secret meeting in Vienna back in May. Alongside other far left and right wing European politicians, Chauprade reportedly discussed with the Russian nationalists ways to halt "European liberalism and homosexuality."

Marton Gyongyosi
In 2012 far-right Hungarian politician, Marton Gyongyosi, stirred up controversy when he echoed policies implemented in his country under Nazi occupation by calling on the government to draw up a list of Jews that he claimed "posed a national security threat." The comments, which Gyongyosi later said was a reaction to Hungary's position in the Israel-Palestine conflict, triggered outrage in country where some 430,000 Jews were deported to Auschwitz by the Nazis with the support of local officials and police. Since 2006 Gyongyosi has been an active member of Jobbik, a radical nationalist party that denies being a neo-Nazi organization despite its anti-Semitic, anti-Roma and homophobic policies. Supporters of the group, which is also Eurosceptical in orientation, have been filmed making "Sieg Heil" salutes at rallies. In 2010 Gyongyosi became a member of parliament and in 2014 was appointed the deputy leader of the party's parliamentary faction. Jobbik have moved out of the fringe in Hungarian politics in recent years, jumping from a 2.2 percent share of the vote in 2002 parliamentary elections to 20.3 percent in 2014.

At a rally protesting the hosting of the World Jewish Congress in Budapest Gyongyosi told gathered supporters that "Hungary is under Zionist occupation". At the same protest Jobbik's leader, Gabor Vona, told the crowd: "We are special here in Europe not just because we are the anti-Semitic nation but because even if all of Europe is at their (Jews) feet, even if all of Europe licks their feet, we will not do it even then". Gyongyosi, a 35-year-old son of a diplomat grew up mostly in the Middle East and Asia — Egypt, Iraq, Afghanistan and India — and has been vocal in his support of the Palestinian people, often wearing the black and white keffiyeh for public ap-pearances. Speaking to Kremlin news agency TASS — Russia's central government news agency — Gyongyosi said the vote in the Donetsk People's Republic, held without proper electoral roles and under armed guard, was "well organized and met international standards."After the rebel-held vote, a statement released by Jobbik said: "Kiev has violated the fundamental rules of democracy by waging a war on its own citizens. Thus the Russian minority's demand to elect a leadership… can be conside-red rightful and justified."

Magdalena Tasheva
A member of parliament for the Bulgarian ultranationalist party Ataka, Magdalena Tasheva is also the editor of the party's newspaper, Vestnik Ataka, and has printed numerous articles calling Muslim refugees in the country - mainly Syrians - "cannibals" and "Islamic fundamentalists." The far-right politician previously hosted a television show "In the Eye of the Storm" on Alfa — an Ataka operated channel that calls itself the "television of truth." Speaking on the program Tasheva labelled immigrants "terrorist scum" and compared refugees to savages and monkeys. Formed in 2005 by Volen Siderov, the party is known for its shrill racist and xenophobic rhetoric. It has called the European Union anti-Bulgarian and accuses the Turkish government of a secret plot to recolonize the Balkans. The party also demands the return of the ethnic majority Bulgarian regions in Serbia, Dimitrovgrad and Bosilegrad.

Ataka has strong ties with the Bulgarian Orthodox Church and has been vocal in its support of Russia. In an interview with the BBC in May Tasheva accused Brussels of Russophobia and praised Vladimir Putin for restoring "the dignity of the Russian people." Underscoring the point the party made a bizarre decision to begin its European parliamentary campaign in Moscow, even though Russians cannot vote in the election. The party's leader, Siderov, reportedly personally gifted Putin an Ataka badge, plaque of the parliament and a copy of his book Fundamental Bulgarianism for his 60th birthday.
© Vice News
Far right leader woos recession-weary Italians
Italy has a rising star: Matteo Salvini, head of the Eurosceptic Northern League, is scoring high in the polls as he bids to fill the political vacuum on the right left by Silvio Berlusconi.

6/11/2014- As the country's 39-year old Prime Minister Matteo Renzi and his centre-left Democratic Party (PD) battle to comply with European budget rules, Salvini, 41, is wooing recession-weary voters on an anti-immigration, anti-euro and overtly anti-Muslim platform. "We want to have the majority in Italy. We are preparing for the future," the media-friendly former journalist said in a recent interview. Giovanni Orsina, a professor of political science at the Luiss University in Rome, said Salvini is on track to emerge as a major player in the country's political landscape. "He has the political space to do it," Orsina said, arguing that the Northern League is well-placed to surf a Europe-wide trend reflected most notably in the advances of Marine Le Pen's National Front in France.

Salvini is a self-confessed fan of Le Pen, who has softened the hard-right image of her party and broadened its appeal as voters across Europe have turned to populist parties in a backlash against Brussels and the economic gloom engulfing much of the eurozone. Meanwhile, former premier Berlusconi's centre-right Forza Italia (FI) party is lagging seriously in the polls, but the media magnate has failed to find a credible successor. "Silvio Berlusconi is in a very fragile position and he is an old leader, nearly 80 years old, compared to the young Salvini," Orsini said. Salvini's aim is to extend the League's influence and appeal from the wealthy north of the country to the much poorer south, from where media tycoon Berlusconi traditionally drew much of his support. He wants the party's "charter of values" to form the basis of a new movement which would appeal to all those who feel left behind by Renzi's reform drive or betrayed by his willingness to negotiate with Brussels over the country's debt burden.

'Decisive no to Europe'
According to Salvini, the values of his party include saying "no to immigration, no to mosques and yes to a drastic reduction in taxes." He also advocates a "decisive no" to what he sees as the left-wing European Union. "We have to take back our national sovereignty and currency," he said. Earlier this week, Salvini told Israeli newspa-per Haaretz that Islam was "the only religion that creates problems, in Italy, Europe and in the Middle East. "If Muslims are having a hard time coexisting with the rest of the world, the problem cannot be with all the rest of the world. It must be Islam, and indeed the Koran itself is problematic." Orsini said how far Salvini can go would depend on the League's ability to win votes in the south by switching the focus from Italy's north-south division to a common enemy in Brussels.

Antonio Noto, head of the IPR Marketing polling institute, is sceptical about that happening. The league's voters "are all still in the north, where they are scoring up to 30 percent, but there are no signs of growth in the south," he said. Tarnished by fraud scandals in 2012, the League only received 4.0 percent of the vote in Italy's national election in February last year, rising to 6.2 percent in the European elections. Voter intention polls currently rank it fourth with around 8.0 percent, behind Renzi's PD (40 percent), the anti-establishment Five Star movement (20 percent) and Berlusconi's Forza Italia (15 percent). But the bearded Salvini is the second most popular of the party leaders, with 28 percent of people in a recent poll saying he inspired the most confidence - behind Renzi (54 percent), but ahead of Berlusconi (24 percent) and Five Star founder Beppe Grillo (19 percent).

While his success weakens the already depleted billionaire Berlusconi, political watchers say he is unlikely to be able to unite those on the centre-right with the far-right to form a credible challenge to Renzi's centre-left. "Even if by some miracle the League won 20 percent of the votes, it would still be condemned to stay in the opposition because the split in the right would be too profound" to create a coalition, Orsina said.
© The Local - Italy
Catalonia's non-vote that matters
The stars of the Catalonia independence flags wink in the sun from the city's balconies as thousands of volunteers below prepare for their improvised ballot.
By Patrick Jackson

6/11/2014- But isn't it odd to be in Barcelona reporting on a non-referendum on independence - a vote on Sunday which has no legal weight? Initially it was dismissed by Spanish unionists as nothing more than a big "opinion poll". But this is unprecedented for modern Spain, one of the eurozone's biggest states and still grappling with its economic crisis. Nobody really knows quite where this will go ultimately. A clue to the importance of the vote is the fact that the government in Madrid has tried twice to block it in the courts but the "N9" (ninth of November) tide just keeps running. Try telling the pro-independence activists, pressing free newsletters on passengers outside Barcelona's metro stations, that their planned mass expression of will is a meaningless gesture.

Voters are being registered by the hour at temporary booths, while polling stations are being set up in secondary schools in areas where normal official venues are off-limits under electoral laws. The organisers expect as many as 1.5 million people to vote, and if they get out the numbers to support the vote for independence, can Spain reasonably ignore the result? I will be talking to people on both sides and none. I'll be asking local nationalists what hurts the most, but also about the wisdom of fracturing one of the eurozone's biggest countries, and the realistic prospects for a new small country deep inside the eurozone. "There is no turning back," a source close to the Catalan government told me as I looked at the Scottish referendum poster on his office door.

"We wish we had a prime minister like David Cameron, who could persuade us to be Spaniards, but this is not a democracy. All we hear is 'no, no, no'." As for the unionists, how does it feel when people around you want an exit from Spain and what, if anything, could Madrid do now to bring the Catalans back on board? I'm here to test the temperature, of course. They say people in Barcelona only fight over football, not politics - but how high do feelings run? There is no sign of any special security measures on the streets of Barcelona, where life bustles on as usual, though Madrid has deployed an extra 500 police to protect government buildings. Accor-ding to my source, the Catalan government does not expect any trouble on Sunday, although provocations by the Spanish far right can't be ruled out. But these are dramatic days for Catalonia. "No, this vote is not about strengthening our negotiating position," my source said. "There is no turning back."
Follow my blog on Tumblr and Twitter as I report on this fascinating vote. Join in the conversation with questions if you see me live-tweeting discussions.
© BBC News
Branch of Nazi party Golden Dawn legalised in Spain
The Spanish branch of neo-Nazi party Golden Dawn has been registered as a political party in Spain.

5/11/2014- The Spanish Ministry of the Interior registered the Valencia based Amanecer Dorado on the register of political parties. Party president Antonio Vicedo Valdes is a former member of extreme right-wing party Alianza Nacional. Valdes has not hidden his right-wing views and was arrested in 2001 for putting up neo-Nazi propagan-dist posters. Golden Dawn grew in stature in Greece last year, where they claimed 9.4% of the vote in May's European elections – taking three seats in EU parliament. At the moment Amanecer Dorado has neither a website nor a public program, but does have a Twitter account.
© The Olive Press
Gamehit Clash of Clans allows opportunity for anti-semitism
The huge gaming hit Clash of Clans allows its players the opportunity for anti-semitism. Among the millions of players are groups that call themselves 'holocaust', for example. Players also come up with provocative anti-semitic captions.

5/11/2014- In Clash of Clans various clans do battle. Clans are made up of at most 50 players, who combat players from other clans. A search by BNR Nieuwsradio found at least 45 clans calling themselves 'holocaust'. Other names used are - among others - 'jew raiders' and 'we kill jews'. Some captions used are 'we burn jews for fun' en 'Anne Frank was easy to find'. Many games, such as World of Warcraft, try to prevent this kind of behaviour. They employ moderators who police players' illegal or offensive practices. It is not clear if Supercell, the Finnish game development company behind Clash of Clans, does this as well. Clash of Clans was launched in 2012. Supercell responded by email saying that 'it is not possible to prevent the anti-semitic expressions from taking place, given the millions of people who play their games. "We will close down clans that use abusive language when we see it happening."
© BNR (dutch)
Dutch village of 140 people wins freeze on refugee numbers
4/11/2014- The number of asylum seekers in the Drenthe village of Oranje, which has just 140 residents, is being frozen at 500, the local council agreed on Monday night. The council and the refugee accommodation board had planned to house 1,400 refugees on a holiday park next to the village. Locals started a petition calling for a lower limit which was signed by almost all residents, Nos television says. Officials will meet again in two weeks time to reassess the situation. Locals first called for a freeze on refugee numbers


last month
last month
after saying they felt swamped by so many new arrivals. Most of the refugees currently living in the holiday park are families from Syria.
©
The Dutch News
Hungary's Authoritarian Descent (opinion)
By Kati Martonnov

4/11/2014- Budapest shimmers on a balmy fall afternoon. Danube cruise ships disgorge hundreds of tourists. Thanks partly to the European Union's generous subsidy, this jewel of a city has never looked better. But minutes from the Danube, if you cross Freedom Square, you find evidence of the dangerous new direction in which Prime Minister Viktor Orban is taking his country. At one end of the square looms a disturbing memorial newly erected at his behest. A fierce bronze eagle swoops down on an angel, as if about to peck out its eyes. The monstrous bird depicts Germany and the beautiful angel is Hungary. "A monument to the victims of the German Occupation" reads the inscription.

That might seem unobjectionable, but, in fact, it is a disturbingly nationalistic rewriting of history. Hungary, far from an angel, was the first country in post-World War I Europe to pass anti-Semitic legislation, well ahead of Germany, in 1920. By 1944, restrictions on Jewish life in Hungary matched those of Germany under its Nuremberg Laws. Over half a million Hungarian Jews were exterminated during the last months of the war. The Nazi commander Adolf Eichmann greatly benefited from local help in "cleansing" Hungary of its Jewish citizens. It was Hungarian gendarmes who led their fellow Jewish citizens — my grandparents included — to trains bound for Auschwitz.

All of that history has been effaced by the monument, which has prompted a vigorous response from people with memories of what really happened here in the last six months of the war. They have improvised a memorial of their own. Stones painted with the names of the towns from which they were deported, along with bits of memorabilia from their lives — glasses, old suitcases, shoes — line the sidewalk in front of the angel and the bird. On a darkening fall evening, parents whisper stories of the lost to their children, barely glancing up at the other memorial. The two monuments — the official and the improvised — are a metaphor for what is happening in Hungary today. A once-promising democracy is rapidly sliding toward xenophobia and authoritarianism. Mr. Orban claims ever-greater powers, as the population sees its freedoms curtailed.

What makes this extraordinary is that Hungary is a member of both NATO and the European Union — and blatantly defies the core values of both. Having announced that an "illiberal democracy" is his goal for Hungary, Mr. Orban defies the European Union, even though it accounts for 95 percent of Hungary's public investments. So far, European governments' reaction to Mr. Orban's policies have been muted. (The Union did condemn a proposed tax on Internet traffic, a highly unpopular measure that Mr. Orban rescinded on Friday.) Through a new media law, the state virtually controls the press, especially television, the primary source of news. This has had enormous political impact and helped Mr. Orban win re-election last spring.

Reporters do not fear for their lives — merely their livelihoods. During a recent mission by the Committee to Protect Journalists that I led to Budapest, we found a climate of fear and self-censorship among Hungarian colleagues. Through state advertising budgets, the government exerts tremendous influence. Recently, when a popular website, Origo, reported that Mr. Orban's chief of staff, Janos Lazar, had spent extravagant sums on a state trip, the reporter who broke the story was fired. Dozens of staff members resigned in protest, and they have now started another news portal. The regime also sees nongovernment organizations as dangerous sources of resistance. Recently police raided a Norwegian-supported group that supports civil society in Hungary, confiscating laptops and hard drives.

Mr. Orban has assumed the swagger of the politician he most admires: Vladimir V. Putin. Like Mr. Putin, Mr. Orban acts as if he is accountable to no one. He is Hungary. Some three million people live in poverty, yet the state builds huge soccer stadiums, including one in Mr. Orban's tiny home town, in a country with a mediocre soccer team — mostly because the prime minister is obsessed with the game. At a recent news conference, when a reporter asked an official the reason for a certain new law, he received a one-word answer, appropriate for a badly behaved child: "Because." One art form Mr. Orban has (inadvertently) spurred, however, is the fine art of the Budapest Joke — moribund since the fall of Communism. One I heard repeated has Viktor Orban looking at himself in a mirror and saying, "My eyes are my mother's, my nose is my father's, my chin" — the Hungarian word for chin and state is the same — "is mine."

One consequence of the newly repressive environment is that half a million people have left in recent years, to make new lives in Western Europe and the United States. "I could wait another five years," says Gabor Kardos, the editor of a news website, "but I don't want my children raised in this kind of society." He shows me one of his children's textbooks. From among several ethnicities pictured, grade-schoolers were asked to pick the real Hungarian. To the outside world, Mr. Orban portrays himself as the bulwark against Jobbik, the anti-Semitic, anti-Roma party. But far from crushing Jobbik, he has in fact institutionalized much of its rhetoric. Anti-Semitism is not yet rampant, but with rabid nationalism and intolerance for civil liberties both growing, many Hungarian Jews fear that it can't be far behind.

When Hungary was granted membership in the European Union a decade ago, it was a different country. After centuries of foreign occupations, savage, homegrown fascists and brutal Communists, it was taking its first hesitant steps toward democracy. Having experimented with a more open socialism, dubbed "Goulash Communism," it had a head start on other Soviet satellites. At the time, Mr. Orban seemed well placed then to lead Hungary to a different future. On June 16, 1989, I stood in a sea of 300,000 Hungarians on Heroes' Square in Budapest and heard the young, bearded Mr. Orban call on the Soviet Army of occupation to leave. A few months later, Hungary cut the Iron Curtain, allowing thousands of East German tourists to pour across the Austro-Hungarian frontier. Soviet rule was over. Mr. Orban's challenge to the European Union is also direct: Beyond markets, open borders and miles of red tape, just what does the 28-nation union really stand for?
Kati Martonnov, a member of the board and former chairwoman of the Committee to Protect Journalists, is the author, most recently, of "Paris: A Love Story."
© The New York Times
Bosnia Federation Rules Against Ethnically-Divided Schools
Rights campaigners welcomed the Federation supreme court's ruling that the practice of running 'two schools under one roof', separating Bosniak and Croat pupils, is discriminatory.

4/11/2014- Human rights NGO Vasa Prava (Your Rights) on Tuesday welcomed the final ruling in the long-running case which it instigated in a bid to end the practice of dividing Bosniak and Croat children who go to school in the same building but are separated from each other in different classrooms and taught different curriculums. "We hope that this verdict will mean the end of the clear practice of the division of children in elementary and high schools," Vasa Prava said in a statement. The supreme court ruling said that "organising school systems based on ethnic background and implementing curriculums on ethnic principles, which divide children" was discriminatory. It ordered schools to implement "common integrated multicultural education facilities". There are more than 50 schools run on this principle in the Federation.

The ruling was also welcomed by the Federation's Education and Science Minister, Damir Masic. "The verdict's aim is that the Federation, after more than a decade of divisions and the separation of children, will have a chance to reinstate a system which has existed for centuries, which is for children to live with one another and spend time together," said Masic. He explained however that the responsibility to change the system now lies with the authorities in the ten cantons that make up the entity, not Federation officials. The Federation "doesn't have mechanisms to influence this process, but can advocate and assist cantonal ministries to remove this practice, which should not be allowed to continue", he said.

The case began when Vasa Prava filed a suit at the municipal court in Mostar, which ruled in 2012 that schools run this way are discriminatory. "The policy of division can only enhance prejudice and intolerance towards others, and lead to further ethnic isolation," the first judgement found. The verdict was appealed at the Mostar cantonal court, which quashed the first ruling, claiming that the statute of limitations had expired in the case. But the Federation supreme court ruled that it had not expired, and upheld the original verdict. "This court does not accept the position of the cantonal court in Mostar that the lawsuit was untimely, because we are dealing with systematic discrimination which carries on continuously," its ruling said.

Education Minister Masic also said that he hoped that situation for pupils in Bosnia's other political entity, the Serb-dominated Republika Srpska, would improve as well, claiming that non-Serb children of post-war returnees are discriminated against because they are forced to study the so-called 'Serbian curriculum'. For two years in a row, some Bosniak parents have refused to enrol their children in schools and organised a four-month-long protest in Sarajevo last year, asking to be allowed to choose a 'Bosniak curriculum' which differs in its treatment of a few subjects such as history and language.
© Balkan Insight
Austria's Muslims fear changes to historic Islam law
A row has broken out in Austria over government plans to overhaul the country's century-old law on Islam.

4/11/2014- The new draft, which is partly aimed at tackling Islamist radicalism, forbids any foreign funding. But Austria's official Islamic Community says it reflects a widespread mistrust of Muslims and fails to treat them equally. Islam has been an official religion in Austria since 1912. The Islam law, the "Islamgesetz", was brought in by the Habsburg Emperor Franz Joseph, after Austria's annexation of Bosnia-Herzegovina. Under the law, Muslims, like Catholics, Jews and Protestants, are guaranteed wide-ranging rights, including religious education in state schools.

Controversy
Carla Amina Baghajati from the Islamic Community says the old law has served as "a kind of a model in Europe" and done much to integrate and anchor Muslims into Aus-trian society. It shows how recognition of Islam makes Muslims feel accepted, she says. "Their loyalty towards the state comes automatically." Roughly half a million Mus-lims live in Austria today, around 6% of the population. Many of them have Turkish or Bosnian roots. After more than 100 years, most agree that the Islam law needs to be updated to reflect the realities of modern Austria. But some parts of the government's draft legislation have caused controversy, in particular a proposed ban on any foreign funding for mosques or imams. The Islamic Community says that does not fit with the principle of equality. But Austria's Minister for Foreign Affairs and Inte-gration Sebastian Kurz told Austrian Radio (ORF) that the ban was a necessary step. "With other religions, there is not the challenge that we have to fear influences from abroad and therefore have to be stricter with financing," he said. "We want an Austrian form of Islam. Every Muslim in Austria should be able to practise his religion properly, but we don't want influence and control from abroad."

'Too foreign'
Relations between Muslims and Austria's Catholic majority have been relatively calm, compared with many other European countries. But there are tensions. The far-right Freedom Party, which has seen a surge of support, has taken to warning against what it calls "Islamisation". At a Freedom Party Oktoberfest, Vienna district councillor Helwig Leibinger said many Muslims in Vienna were too foreign. "They cannot be integrated very well, because the women wear the burka or something like that and they don't want to be real Austrians. They try to be Turkish." In recent months, public concern has also been growing over reports of Muslims from Austria joining jihadist groups in Iraq and Syria, including two teenage girls from Vienna. Fifteen-year-old Sabina Selimovic and Samra Kesinovic, 17, born to Bosnian refugees in Austria, went missing in April. In a recent interview with Paris Match by text message, Sabina said that she and Samra had married Islamic State fighters in Syria.

They have been dubbed "poster girls for jihad" in the Austrian media. The Austrian government said in August that Islamist militancy was on the rise. Officials have said around 150 people, including 44 Austrian citizens, have left to join groups such as Islamic State. Radicalisation is certainly a problem, says Gudrun Harrer of Der Standard newspaper, but not a topic for the Islam law. "We should keep these discussions separate," she says. "It seems that Austria has a relatively bigger problem with radica-lism [than others] when compared to the size of the population. She sees the influx of refugees from Chechnya in recent years as being part of the issue, rather than Austria's historical Islamic communities. "You don't come from well-taught Islam to radicalism. You generally come from nothing to radicalism," she says.

'Clearly excessive'
The draft law has also been criticised by constitutional experts, who say that some of its provisions fail to treat Muslims equally. Professor Stefan Hammer from the University of Vienna says, while it is legitimate for the government to try and prevent misuse of donations from abroad, a blanket ban on foreign funding for the Islamic Community is constitutionally very problematic. "Financing of religious communities is part of their internal affairs. This does not mean the state may not address any aspect of that, but it has to be proportional," he says. Other religious groups and churches receive external funding, notably the Russian Orthodox Church from Moscow, so differentiating between religions would clearly be excessive, he believes. "It would be a clear breach of the principle of equal treatment."

Carla Amina Baghajati from the Islamic Community says the draft is infused with "a spirit of mistrust", which she fears could play into the hands of the radicals. "The radicals make use of the identity question, telling people: 'Look at the European societies, you won't ever be on the same level, you will always be an outsider. They won't accept you, so come and join us.' "This is very dangerous. We have to help young people to find their identity and the law is one of the important pieces in this identity building. It has helped in the past and we want it to help in the future." The draft law is currently being examined and considered in detail. It could be put to a vote in Austria's parliament this month. Omar Al-Rawi from the Islamic Community says that if the controversial parts of the law are not changed, they will consider taking the fight to Austria's Constitutional Court.
© BBC News
Why's the rising star of Italian politics getting cozy with anti-Semites?
Matteo Salvini is the new face of Italy's right. Hear what he has to say about his most controversial ally: CasaPound, a neo-fascist group operating at the fringes of legality.

3/11/2014- He's young and hip, and cozy with anti-Semites, but also says he wants to defend the country's Jews from Islamic extremism. Matteo Salvini is the rising star of Italian politics. The 41-year-old secretary of the Northern League – a secessionist party now shifting toward a national right-wing agenda – is currently the country's most popular conservative politician. A vocal critic of Islam and a close ally of France's Marine Le Pen, Salvini recently organized an anti-immigration protest with an overtly anti-Semitic group. But, he says, "anti-Semites are nuts." According to the latest polls, Salvini has an approval rating of 22 percent – meaning that he's better off today than Silvio Berlusconi, the media tycoon who served as prime minister for nine nonconsecutive years.

A frequent guest on TV shows, Salvini has made a name for himself for his anti-Muslim statements. "Islam is the only religion that creates problems, in Italy, Europe and in the Middle East," he says in a telephone conversation with Haaretz. "If Muslims are having a hard time coexisting with the rest of the world, the problem cannot be with all the rest of the world. It must be Islam, and indeed the Koran itself is problematic." Recently, Salvini made headlines for having organized an anti-immigration rally in his native Milan, on October 18, with his controversial ally: CasaPound is a neo-fascist group that uses vague rhetoric in order to stay on the right side of the law, operating at the fringes of legality, named after American poet Ezra Pound, a Mussolini sympathizer.

Often compared to Le Pen, who brought about the victory of the far-right National Front party in May's European parliamentary elections, Salvini shares both her popularity and incendiary rhetoric, although he pursues a totally different strategy. While the Frenchwoman has strengthened her party by putting a respectable, mainstream-ish face to the far right and by distancing herself from the most extremist stands of her predecessors, Salvini aims to turn his Northern League into a major national force by openly embracing an extremist agenda. If the polls are correct, he's succeeding.

Allied with Eurosceptics
Since he came to power as secretary of his party in late 2013, Salvini has waged war against the euro – blaming it for the recession in Italy – and against immigration, and has forged an alliance with the Continent's far-right Eurosceptics, including France's National Front. "[Marine Le Pen] is a much more far-sighted person than many others. I'm trying to build a new Europe with her," he explains. "We both want Europe to defend its workers, its entrepreneurs, its farmers, its cultures and identities. Brussels [the headquarters of the European Union] doesn't care about these things. Marine Le Pen and I do." Specifically, Europe must be "protected from the invasion of Islamic extremism," claims Salvini. "I can't stand people who want to use their religion to impose their way of life on mine."

Under his leadership, the Northern League obtained 6.2 percent of the votes in the EU ballot in May – not a huge victory, but still success for a party that until recently targeted Northern Italy, which constitutes only about one-third of the country. However, Salvini himself was the second-most popular candidate across the political spectrum in that vote. "Part of his success is due to the fact that in this political landscape there's no one else on the right," points out Ilvo Diamanti, a leading Italian sociologist who has studied the Northern League since its conception, referring to the fact that Berlusconi's popularity was severely eroded after he was convicted of corruption. "Salvini was smart enough to fill this empty space."

Some local Jewish leaders have criticized Salvini for his ties with Le Pen, in view of that party's anti-Semitic leanings in the past. "It would be a dramatic choice, a big step backward that does not honor the [Northern] League," warned Riccardo Pacifici, the president of Rome's Jewish community, referring to Salvini and Le Pen's failed attempt to form an alliance together within the European Parliament. (They did not succeed because they did not garner the support of the requisite number of parliamentarians.) The founder of France's National Front, Jean-Marie Le Pen (Marine's father), was convicted in 2008 for Holocaust denial, a crime according to French law. He provoked controversy this summer when he suggested, sarcastically, that Jewish artist, singer and actor Patrick Bruel should be put into an oven. However, Marine, who succeeded him as party leader in 2011, has carefully avoided anti-Semitic language and publicly rebuked her father for the "oven joke."

Italy's Northern League, by contrast, has been friendlier toward Jews. Its official radio station has a program featuring Jewish moderator Leo Siegel. And Salvini himself maintains that his disdain for Muslims does not extend to other religious minorities. "I have no problems with Buddhist, Protestants, or Hare Krishnas," he says, adding that he has an "excellent relationship" with Milan's Jewish community – indeed, he has visited the city's main synagogue at least twice – and that he admires Jerusalem as "an unique example of coexistence." Salvini hints that Italian Jews should share his distrust of Islam: "When I say that only one religion creates problems, I am well aware that Jewish communities are often the victims of these people," he says, referring to Muslim immigrants.

Neo-fascists on board
However, Salvini seems to be very cozy with the overtly anti-Semitic group CasaPound – an organization that's openly nostalgic for Mussolini, and two of whose mem-bers were arrested in 2013 for allegedly planning the rape of a Jewish girl. Not long after Salvini visited CasaPound's headquarters in Rome last month, members of that group and the Northern League protested together in Milan against what they perceive as loose immigration policies, and asking for the repeal of the Schengen treaty, which allows free movement of persons within EU territory. According to organizers, about 10,000 people took part in the protest, including 2,000 CasaPound activists – although those figures are likely exaggerated. Questioned about an alliance, Salvini answers: "I really don't see what the problem is. I don't have issues with anyone and certainly not with CasaPound." When pressed on the point, he replies that "being anti-Semitic in 2014 means being disconnected with this world. To me, anti-Semites are plain nuts." He adds that he has agreed to join forces with CasaPound "on a single issue, in the same way as I would accept to work together with CGIL [a left-leaning union] on workers' rights."

Salvini tries to divert the conversation by noting that there are also anti-Semites among his political opponents. When pressed on whether those include people affili-ated with Italy's left, he insists, "Left-wing activists spray the walls with anti-Jewish slogans that no one else [in Italy] would dare to use" – referring to anti-Israel graffiti that appeared in many locales during Operation Protective Edge in Gaza this summer. "Anti-Semitism is crazy," he adds. Actually, at last month's joint rally, the Northern League and CasaPound seemed to be at odds – not because of their ostensible opinions about Jews, but because of their views concerning Italy itself: CasaPound members were carrying signs reading "Italy comes first," while Northern League activists next to them held up signs reading "Italy is shit."

Transforming the party
Indeed, before Salvini took over and attempted to transform his party into a nationalist force, the Northern League touted a different agenda. When he joined it at age 17, in the early 1990s, it still was a new party whose stated goal was the independence of the north. It saw its enemies not as being the Muslims or immigrants, but rather the Roma Ladrona (roughly meaning "the thievery of Rome"), and the terroni (an ethnic slur for southern Italians). The Northern League essentially refuted the legitimacy of the Italian state and, molding itself after other European pro-independence movements, claimed to be waging a nonviolent struggle for the liberation of Padania – a term it coined to describe Northern Italy.

Supporters had their own national flag (white with a green, star-like symbol), a soccer team, a self-described "army" called the Guardia Padana (more like a sort of national guard, which was in fact ineffectual), and it even used to have its own parliament, elected via a self-declared "Padania national ballot." In 1997, Salvini won a seat as the leader of what were called "Padania's communists." The party drew on neo-pagan themes to revive interest in Northern Italy's ancient roots, as opposed to the Roman heritage of the rest of the country. (The northern part of the country was inhabited by Celts until the second century B.C.E.) Northern League founder Umberto Bossi even introduced a yearly, pagan-like ceremony involving the use of "holy water" from the Po River, which, according to him, was worshipped by ancient tribes.

Another prominent party leader, Roberto Calderoli, got married in a public "pagan ceremony" involving the mixing of the spouses' blood. As a secessionist force, the Northern League also supported other independence movements around the world, including that of the Palestinians – though Salvini himself now says he has mixed feelings about a Palestinian state. "I firmly believe in the right to self-determination – whether it's in Scotland, Crimea, Catalonia, Wales or Quebec. People have the right to chose. With Palestine, however, it's complicated. There is a problem with Islamic extremism, something that obviously doesn't exist in Quebec," he notes.

Often ridiculed by the media, the Northern League's old guard was mostly associated with peasant language and pseudo-Celtic folklore and imagery. But Salvini repre-sents a new era for his party. A native of Milan, the country's second-largest city, he comes across as well-educated and urbane. "He is a completely new generation, light years away from the party's founding fathers," says Diamanti, the sociologist. Thus, while still calling for independence of the northern part of the country, the Northern League – and Salvini – began to participate to Italian and EU politics in the mid-1990s. He was elected for one term in the lower house of the Italian Parlia-ment, and for three, nonconsecutive terms at the European Parliament, where he is currently holding a seat.

After joining Berlusconi's four coalitions, the Northern League gradually shifted its main focus from independence to the fight against immigration, Islam and crime, while never abandoning its secessionist agenda entirely. When Salvini came to power, after the old guard was swept away by a series of corruption scandals, he esta-blished new priorities. "What's the point of having independence, if [northern] cities are empty because all the shopkeepers are unemployed?" he asks, attributing that state of affairs to immigrants and problems created by the euro. "Salvini has completely transformed his party – from a pro-independence movement into a right-wing force similar to France's Front National," argues Diamanti. "He is riding [the wave of] two fears: on one hand, foreigners; on the other hand the EU. In some way, it is no longer a 'Northern League,' but rather a 'league of scared people.'"
© Haaretz
Malta: Far-right leader describes Ebola as 'splendid news'
Far-rightist convicted of inciting racial hatred says news of Ebola wiping out African communities is 'splendid news'

4/11/2014- Far-right leader Norman Lowell has expressed contentment at news that the killer disease Ebola was 'wiping out whole villages and communities in Africa'. Lowell, who has previously contested European Parliament elections on the ticket of Imperium Europa, his party, posted his comments on the 'Viva Malta' internet forum, and was picked up by anti-racism activists on Facebook. "Once in a while the papers report some good news, splendid news actually. Spread of Ebola wiping out whole villages and communities in Africa – I mean, what more does one want?" Lowell - convicted of inciting racial hatred in 2008 and sentenced to two years in jail, suspended for four years - said.

He was reacting to a news reports in which Medicins Sans Frontieres coordinator Rony Zachariah was commenting on the 'under-reporting' of Ebola's toll on Sierra Leone. "If we leave the Black primitive well alone – as We of Imperium Europa intend doing: Nature will wipe out the Black race to its original numbers, at the time of Livingstone: 3 million in the whole of Africa," read Lowell's message. "There is no place, no use, no space for this primitive race on the planet... The Golden Dawn does not include the Black race," Lowell wrote, signing off his name with 'The Golden Dawn', the name of the Greek fascist party 'Popular Association'. The latest figures from the World Health Organization (WHO) put the total number of dead at 4,951 out of 13,567 recorded cases, but Zachariah has stated that up to 20,000 people may have died.

Immigration Canada announced on Friday it would not process applications from individuals who had been in an Ebola affected nation within the previous three months. However, Sierra Leone has since argued that the decision is "discriminatory." "The government views the decision as discriminatory, coming at a time when we are trying to ease the isolation, and not re enforce it," said Theo Nicol, Sierra Leone's deputy information minister on Saturday. Canada's immigration minister Chris Alexan-der had described the move as a precautionary measure building on actions "taken to protect the health and safety of Canadians here at home". "Canada's action is not taken with the interests of west African states in mind. As a member of the Commonwealth of nations, Sierra Leone particularly feels we should share common understanding and goodwill," Nicol told AFP news agency.
© Malta Today
Why terrorists and far-Right extremists will always be early adopters
Jamie Bartlett explains why the battle for hearts and minds has moved online

4/11/2014- The head of GCHQ has warned that firms such as Facebook and Twitter are "in denial" about the use of their sites by terrorists and criminals. And he's right: extremists of all kinds have indeed "embraced the web". This is only natural. The battle for hearts and minds is a vital part of any conflict. To be seen as on the side of right; to create a groundswell of popular support; to reach new supporters. Whether it's Isil or the extreme Right, the aim is to convince people to take your side. If not on the battlefield itself, then emotionally, morally, vocally, financially – and now, digitally. This battle used to be waged from on high: propaganda air dropped from governments and media broadcasters. Now it's on Facebook and Twitter.

It barely needs saying that social media has been a boon to society – allowing anyone with a message or campaign to reach out to millions of people at almost zero cost. That includes charities, campaigning groups, political dissidents, and the rest. But for angry or violent groups social media is the perfect vehicle to spread a message and win new fans: a free and open way to share and disseminate propaganda to millions of people. What's more, the cost of producing high-quality videos and multimedia content is now practically nothing. This means that small groups can exaggerate their influence and extend their reach more easily than ever before. And that's exactly what they are doing.

Let's start with Isil. So far, they have organised hashtag campaigns on Twitter to generate internet traffic. They then get those hashtags trending, which generates even more traffic. They hijack other Twitter hashtags – such as those about the World Cup, and more recently the iPhone 6, which they use to start tweeting Islamist propaganda – to increase their reach further still. They have posted real time footage from the battlefield, and directed it against their enemies. They use social media "bots" to automatically spam platforms with their content. In short, they are very active indeed: social media is an important part of their modus operandi. Although we're constantly told that Isil are marketing geniuses, this is all pretty standard for any second-rate advertising company. And why wouldn't it be? Many Isil supporters are young, Western men for whom social media is second nature. What they have done, crucially, is to create the impression of a much larger groundswell of popular support than they have – and generate enormous amounts of free publicity from the world's media. (They do this quite deliberately too – directing tweets at the BBC and CNN in an effort to get coverage).

It goes something like this: this media mujahideen – most of whom aren't even in Syria – post lots of tweets, attaching a hashtag to their tweets to ensure it reaches more people (such as #iphone6). People notice, and start using the same hashtag to criticise the group. Journalists write about how much support and traffic Isil is generating on Twitter, which then gets them mainstream media coverage. Isil will often include the Twitter accounts of major media outlets when they post. @BBCWorld and @BBCTrending were important Twitter accounts through which word spread about the threats Isil made to America. Between 3 and 9 July a BBC article, Americans scoff at Isil Twitter threats was the most shared article in tweets containing the tag #CalamityWillBefallUS. We're doing their work for them.

According to Ali Fisher, a specialist who has been monitoring how Islamists use social media for the last two years, these Jihadist propaganda networks are stronger than ever. "They disseminate content through a network that is constantly reconfiguring, akin to the way a swarm of bees or flock of birds constantly reorganises in flight. This approach thrives in the chaos of account suspensions and page deletions'. Fisher calls this a 'user-curated' swarmcast." The UK's far-Right is possibly even more impressive than Isil. Although it might be politically convenient to draw moral equivalences, they are quite different to Isil in their values, radicalism, brutality and threat to national security. Nevertheless, in September the BBC suggested that the far-Right is on the rise in the UK, as a result of Islamic State and sex abuse stories involving men of Pakistani descent. According to a senior Home Office official, the UK government underestimates the threat. He claimed that, since last year, at least five new far-Right groups have formed.

I'm not sure exactly what "far-Right group" means anymore, because the far-Right are also very gifted at using the net to give the impression they are bigger than they really are. For the most part the UK's far-Right is relatively small and disjointed. Online, though, it's different. Just like Isil, the modus operandi of much of the far-Right has moved online: Facebook, Twitter, YouTube, forums, and blogs. There are hundreds of pages and forums dedicated to every shade of extreme nationalism. New groups pop up and disappear every day, and it's very hard to work out if they are legitimate or not. Just with Isil, it's often a handful of people making a lot of noise, without it necessarily becoming a significant force in the real world. The latest far-Right movement is called Britain First. They've been around for a while – and are perhaps the most cunning users of Facebook of any political movement. They have half a million Facebook "Likes" – far more than the Tories or the Labour Party. They produce and share very good content online: campaigns about the armed forces, about animal cruelty, about child sex abuse. Things that people with little interest in politics would share.

But according to Hope Not Hate, an anti-fascist campaign group, these general campaigns mask a more sinister motive. They argue that Britain First have been involved in intimidating British Muslims, including invading mosques, and call them "confrontational, uncomprising and dangerous". According to Hope Not Hate, Britain First has a core membership of only around 1500 people – most of whom were followers of former leader Jim Dowson, an anti-abortion campaigner. There are, reckons Matt Collins (a former National Front member who now works for Hope Not Hate) around 60 – 70 hardcore activists who are "willing to put on their badges and march on the street". But, Collins claims, their use of Facebook to increase their reach is "far beyond" anything he's seen before. He also claims some of their Likes have probably been paid for. That's the problem: it's very hard to know.

NSA whistleblower Edward Snowden has complicated this story considerably. Since his revelations, there has been a significant growth in the availability and use of (usually free) software to guard freedom and keep internet users anonymous. There are hundreds of people working on ingenious ways of keeping online secrets or preventing censorship, designed for the mass market rather than the computer specialist: user-friendly, cheap and efficient. These tools are, and will continue to be, important and valuable tools for democratic freedoms around the world. Unfortunately, along with journalists, human rights activists and dissidents, groups like Isil and the far-Right will be the early adopters.

Censorship is not the answer. The Home Secretary has called for more action on tacking extremism – and I agree that it's necessary – but it's far easier to say than to do. Online, groups and organisations can be shut down and then relaunched quicker than the authorities can phone Facebook's head office. And here's the Gordian knot: the more we censor them, the smarter they get. When Isil was kicked off Twitter, some went to Diaspora, which is one of several new decentralised social media platforms run by users on their own servers, meaning, unlike YouTube or Twitter, their content is hard to remove.

The answer is found in riddle. Extremists are motivated, early adopters of technology – and their ideas and propaganda spread person to person, account to account. The battle for ideas used to be waged from on high. But today it's more like hand-to-hand combat, played out across millions of social media accounts, 24 hours a day. Censorship doesn't work in this distributed, dynamic ecosystem. But the same tools used by extremists are free to the rest of us too. That gives all of us both the opportunity and responsibility to defend what it is we believe. Unthinkable three years: you can now argue with an Isil operative currently in Syria, via Twitter or a Britain First activist on Facebook – all from your own home. The battle for ideas online can't be won, or even fought, by governments. It's down to us.
© The Telegraph
Russia's Punk Underground on Trial
7/11/2014- With his tattooed arms and buzzed head, "Socrates" (born Aleksei Sutuga) hardly resembles a greek philosopher. But like his namesake, Socrates' politics have run him afoul of authorities. For the past few years, Socrates has risen as a vocal leader in the anti-fascist punk (antifa) community in Russia, a response to growing ranks of ultra-nationalist and neo-nazi groups. Now, following a seemingly staged trial, he's serving a 3-year prison term. While considered by some to be fringe movements, fascist and antifa punk groups have exerted influence in Russia in certain ways, perhaps reaching even the highest levels of the Russian media and government.

Locked up after a suspicious trial
Socrates' conviction centered on his role in a late-night scuffle last January. Authorities claim that Socrates and three accomplices attacked a group of young men at Cafe Sbarro, wielding a homemade hammer. Socrates, however, reported only talking to the group of defendants, who recognized him as a leader in antifa circles. Afterwards, the group became ensnared in a brawl in the adjoining room, where Socrates intervened and separated the fighters. A report by Mediazona, a prison rights watchdog site, found numerous suspicious details in the case. Most notably, the three men claiming to have been attacked by Socrates have participated in neo-nazi rallies and have testified in numerous prior trials against anti-fascists. Court documents bore mismatched dates, some prior to the alleged assault, leading legal experts to believe that the trial may have been fabricated especially for Socrates. More recently, his appeal was denied on the basis of late submission, though Socrates' defense attorneys allege that the government again changed the date on the document to avoid a retrial.

Socrates' heightened profile may have attracted unfavorable government attention. His role as a leader within the antifa community, a fiercely anti-Kremlin group, has grown markedly in the last year. Authorities released him on separate charges earlier this year, under the same amnesty act that freed members of Pussy Riot. With the resulting widespread media attention, Socrates earned an interview with Russia's only independent television station, TV Rain, where he campaigned for prisoner rights.

Russia's anti-fascist underground Internet presence
The RuNet has rallied behind Socrates before, establishing an Internet donation fund to support him during a prior prison sentence. In response, he authored a series of letters from prison to the antifa community that the movement's websites recirculated widely. The antifa community has a wide and varied Internet presence, with members using all media forms to broadcast a wide set of political ideologies united by a common opposition to racism, homophobia, and totalitarianism. Many of these groups are derivatives of similar Western groups like SHARP and RASH. Like Western antifa groups, Russia's activists produce and share punk rock, zines, art, and film related to antifa movements.

There is reason to suspect that ultra-nationalists and neo-nazis might actually be working inside the Russian media. Socrates' conviction was based in large part on photographic evidence found at the scene of the crime, published by the online news agency Ridus. Curiously, the picture was not posted until after the start of the trial in April, several months after the incident, suggesting there may have been collusion between Russian authorities and Ridus. The deputy editor of Ridus, Andrei Gulutin, has been identified by nazi watchdog sites and Mediazona as having ties to neo-nazi and ultra-nationalist groups. In the past, Gulutin was a drummer for two prominent ultra-nationalist punk groups, Gangs of Moscow and Right Hook. He also maintained close ties with Russian Way, an ultra-nationalist group whose leader later founded the neo-nazi group BORN.

Russia's 'antifa' past
Persecuting anti-fascist musicians and activists is nothing new in Russia. The first Western heavy metal groups to become popular in the Soviet Union faced censorship after government accusations of neo-nazism. (Some comically linked the KISS logo's double S to the Nazi stormtroopers' insignia.) Botched translations of police documents even prompted a few officers to identify pony-tailed men as "skinheads." But more recently, Pussy Riot's arrest and imprisonment drew worldwide attention to serious antifa groups and their efforts against the Putin regime. Police have arrested other antifa activists, most notably Crimean protester Aleksandr Kolchenko and student Aleksei Olesinov. Antifa punk concerts are constantly threatened with being shut down by the Russian police department's "Department of Fighting Extremism."

Russia's official stance against neo-nazis and ultra-nationalists is ostensibly clearcut. Putin has said those who chant "Russia for Russians" are just "fools and provoca-teurs." But Moscow's involvement in defending the Yanukovych regime, annexing Crimea, and supporting separatists in eastern Ukraine has escalated nationalist senti-ments in Russia, and ultra-nationalist and neo-nazi groups have grown more active. Ultra-nationalist and antifa punk culture has had a surprising role in shaping the current Russian political and media landscape. Two relative unknowns in 1980s Moscow, singer-songwriter Edward Limonov and Vladislav Surkov, both had their roots in early Russian counterculture and punk rock and would go on to exert sizable influence in Russia.

Limonov, among many, many other things, founded the pioneering 80s punk rock group Grob and, in the 2000s, led the National Bolshevik Party, an ultra-nationalist party composed partly of skinheads. (The political party was ultimately banned.) Limonov still maintains influence in Russia, contributing to prominent magazines and holding political meetings. Surkov went much deeper into the Kremlin, becoming the president's first deputy chief and later the deputy prime minister. Though many consider him one of the chief architects of Russia's modern political system, Surkov never left behind his punk rock roots. While working for the Kremlin, he allegedly ghostwrote lyrics for the prominent Russian band Agata Kristi.

An unclear future for the Russian antifa movement
While their influence is hardly insubstantial, ultra-nationalist and antifa groups are still popular with only a small minority of Russians. Many criticize both ultra-nationalist and antifascist groups for their use of violence. The two movements' symbols and outward appearance, moreover is nearly indistinguishable to the layman. Foreign punk groups complain that touring Russia without security guards is nearly impossible, as brawls between neo-nazis and antifa groups commonly become deadly. Antifa musical groups have also failed to establish a broad listening base. Even Pussy Riot, perhaps the most widely-known Russian musical group in the world (and certainly the most popular antifa group), have released only seven songs to limited audiences.

If the past belonged to men like Limonov and Surkov, it's not clear what the future holds for people like Socrates. His trial, in the eyes of many, is a blow to both the Russian antifa movement and Socrates' personal reputation. How the group moves forward will depend on his ability to rally supporters. In this, from behind bars, Socrates presumably will need to rely on Internet-based communication.
© Global Voices
Marching for Russia's far-right agenda
The Russian March has become a scary annual tradition in Moscow and Russia's largest cities - a saber-rattling show of intolerance and racism in a country that still prides itself on the defeat of Nazi Germany in World War II.

5/11/2014- Thousands of far-right ultranationalists, neo-Nazis, soccer fans, and monarchists clamoured for their ideas in uptown Moscow on Tuesday, chanted xenopho-bic slogans, occasionally thrust their hands in Nazi salutes, and unfurled banners with slightly disguised swastikas, soccer club insignia, Russian Imperial flags, and por-traits of the last czar, Nicholas II. November 4 is "National Unity Day", a public holiday the Kremlin introduced in 2005 to replace the November 7 celebration of the 1917 Bolshevik Revolution. The holiday is tied to the 1612 expulsion of Polish troops who had briefly seized Moscow at a time of political disarray. But the holiday has been usurped by extreme nationalists and the Russian March has become a must-show-up event for many in the country.

Similar rallies also took place Tuesday in about two dozen Russian cities - and in Ukraine's capital, Kiev. Surrounded by hundreds of riot police officers in Moscow, nationalists occasionally chanted "Zig heil!", while firing off straight-arm Nazi salutes. Ultranationalists are by no means a monolithic group with a unified agenda. Having mushroomed in Russia and some ex-Soviet republics after the 1991 Soviet Union's collapse, these groups often disagree over doctrine, insignia or plans. Some are pious Orthodox Christians, while others reject Christianity as a "foreign" and "Jewish" religion.

Ukraine tensions
In addition to old feuds, a new schism emerged among Russian ultranationalists this year. The crisis in Ukraine prompted some to volunteer to fight in eastern Ukraine - a fellow Slavic nation that shares historic, cultural and linguistic ties to Russia - against pro-Russian forces, while monarchists and National Bolsheviks chose the pro-Kremlin side. "I don't want to shoot Ukrainians because [Russian President Vladimir] Putin wants me too," said Dmitry Demushkin, leader of the Russkiye (Russians) movement during the march. A veteran skinhead who formed one of Russia's first neo-Nazi gangs in the early 1990s, he now sports auburn hair and a full beard that makes him look like a character from a 19th century Russian novel. "Ethnically and culturally, they're just like us." An editorial published Sunday by the National News Service, a leading ultranationalist internet portal, also noted Ukraine's importance for this year's march.

"The upcoming Russian March is taking place in an unprecedentedly complicated situation," it said. "The conflict between Russian nationalists who consistently oppose Putin's Russo-phobic regime, and the national traitors who sided with the regime … has divided the potential participants of the Russian March into two irreconcilable camps." Russian ultranationalists consist of small, autonomous groups that often exist in obscurity to avoid official scrutiny. "Although [their] exact estimate is difficult to count, the division [over Ukraine] is about 50/50," said Alexander Verkhovsky of the Sova Center, Russia's leading hate-crime monitoring group based in Moscow. Tuesday's march in Moscow was indeed divided. The larger march held in southeastern Moscow gathered several thousand participants, and a smaller one that suppor-ted independence of two regions of eastern Ukraine - Donetsk and Luhansk - took place in northern Moscow with about 2,000 people, according to organisers and eye-witnesses.

United far-right agenda
Ukrainian crisis aside, there is one thing that unites these groups and makes them popular among some ordinary Russians. It is their extremist, far-right agenda and hatred for millions of non-Slavic and mostly Muslim migrant labourers from ex-Soviet Central Asia and Russia's North Caucasus who have arrived in significant numbers in central Russia in recent years. "They are our enemies, don't say they're friends or partners. I can spell it for you: They are nothing but enemies," said nationalist activist Sergei Makarov with a black-white-and-yellow flag of the monarchists that read "God is with us." At the march, he walked in front of the monarchist group and enthusiastically chanted "Russia for Russians" and obscene slogans against Central Asians, Caucasus natives, and the police.

The way groups oppose this influx is also different. Last year, 21 non-Russians were killed and 178 wounded in apparent hate-motivated attacks, according to the Sova Center. Not all the assaults could be attributed to organised ultranationalist groups - and their real figure could be much higher, it said. But the number pales in compa-rison with the peak of racially motivated attacks in 2008, when 110 people were killed and 487 wounded, according to Sova. A government crackdown sent hundreds of ultranationalists to jail, including dozens of teenagers who killed non-Russians with hammers and knives or kicked them to death.

'Guest Busters'
Instead of direct violence, many nationalist groups now resort to "raids" against migrants working without papers - often in cooperation with police and migration officials. For example, the Russkiye movement has a subdivision named "Guest Busters" that tracks down labour migrants and reports them to police and migration officials. "The practice of raids in search of illegal migrants that sometimes turn into pogroms has grown unprecedentedly, becoming one of the main tools of the nationalist movement," Sova said in a 2013 report on ultranationalism. The November 4 march reflects growing intolerance of non-white labour migrants among Russians. A poll conducted in early October showed 54 percent of Russians support the idea of "Russia for ethnic Russians", who account for about 80 percent of the country's population of 142 million.

The rest are at least 100 ethnic groups that profess Islam, Buddhism and Judaism and have mostly lived in what is now Russia for hundreds, if not thousands, of years. One of the march's official organisers is Russkiye, a movement that tries to register as a political party and promote its far-right agenda legally. The movement that boasts tens-of-thousands of members has absorbed two older groups that were banned by Russian courts as extremists. The Slavic Union, whose Russian acronym SS intentionally mimicked the one used by the Nazis' infamous paramilitary, was outlawed in 2010. Four of its former activists were sentenced to life in prison earlier for a 2006 explosion targeting non-Slavic traders at a Moscow market that killed 14, including two children, and wounded dozens. The Movement Against Illegal Migration was banned in 2011. Its leader Alexander Belov was arrested and charged with fraud.

Anglo-American conspiracy
In a country that lost 27 million people in World War II, fiercely lambasted the US for discrimination against blacks, and promoted "the friendship of nations", the emergence of neo-Nazis after the 1991 Soviet collapse was a shock. Ordinary Muscovites were astounded when they saw the participants of the first Russian March in 2005 parading through central Moscow, thrusting their right hands and chanting "Heil Hitler". The paradox stems from conspiracy theories that claim that Germans "stole" the ideas of National Socialism from earlier Russian nationalists - and that the collapse of the Russian Empire was a conspiracy of the Anglo-American political system. The Russian neo-Nazis also blame Bolsheviks, many of whom were Jews or belonged to national minorities, and later Communist ideologues for what they call the "disparaging" of ethnic Russians. Same goes for Putin's government which allegedly ignores the interests of Russia's "leading" ethnicity. "What we need is a Russia solidarity, a Russian democratic national state, and we have to fight for it," said Vladimir Tor, a nationalist leader as he walked with his supporters during the march.

Thousands yelled "Down with Putin" and "Russians need a Russian state". Ultranationalism has become part of mainstream Russian politics since the rise of the Liberal Democratic Party, which entered the State Duma, the lower house of parliament, in 1993. Its leader Vladimir Zhirinovsky - who ran for president five times and was deputy chairman of the State Duma for 11 years - became notorious for anti-Semitic, anti-Muslim, and anti-US statements. Although the party obediently votes in most of the Kremlin's initiatives and is widely seen as a pseudo-opposition group, Zhirinovsky's loud statements clearly resonate with millions of Russians. Other ultranationalist groups have tried to get registered as political parties in order to field their candidates in elections, but have been rejected on technicalities - most likely because the Kremlin is afraid of their popularity.
© Al Jazeera
Fifa chief says racism will be punished at 2018 World Cup in Russia
The Fifa disciplinary chairman, Claudio Sulser, says Russia will be punished if their supporters show any form of racist behaviour at the 2018 World Cup in the country.

4/11/2014- Sulser's comments come just a fortnight after CSKA Moscow were forced to play Manchester City in the Champions League behind closed doors following previous violent and racist behaviour from their fans, although 350 Russian supporters were able to gain entry to the ground on the evening. "It's a situation we have to deal with," Sulser said about the dangers of racism manifesting itself at the 2018 World Cup. "It's very critical and not easy to decide over but we have to see what is the responsibility of the association. "We cannot sanction the association if they are doing something which is fair or ethical from their point of view, but you can not forget about the situation. You have the society, then you have the people who come into a stadium and people do not change because they are in a stadium. It's a problem of the society and it's correct to sanction an association for these attitudes."

Fifa's anti-discriminatory chief, Jeffrey Webb, said at this summer's World Cup in Brazil there was a lack of staff deployed to tackle racist and homophobic issues and there was a "disconnect" between the governing body's stated aim of stamping out discrimination at games and its failure to use trained staff to investigate and report on cases. No action was taken against some Germany supporters who blacked up their faces at the match against Ghana or the Croatia fans who displayed neo-Nazi flags and insignia. Fifa's disciplinary committee did investigate the case where Mexican fans chanted the word "puto" – taken to be a homophobic term in Spanish – at opposition goalkeepers during games but ruled there would be no punishment for the Mexican Football Association.

"If you want to sanction for this word you have to change the provision," Sulser said. "You have to change it to not only discriminatory but appropriate in this case. The Commission analysed it and said it was not discriminatory. Some say the word is discriminatory, some not. This is the problem because it is not like mathematics where the answer is known." Sulser said he agreed with the decision of the court of arbitration for sport to remove Luis Suárez's training ban after biting the Italy defender Giorgio Chiellini during the World Cup. The Uruguay striker was banned from playing for four months and handed a nine-month international suspension but Cas overturned the original decision taken by Fifa in Brazil to issue a training ban.

"It was a good decision (by Cas) because we had to decide very quick," Sulser said. "Suárez denied he had bitten the player but the image was so clear that we could not take another decision. When you make a decision in two or three days you see the attitude and then you decide. Then after that they say 'no, we apologise for what happened' and this changes things. So it's correct that the player can train, it's not a problem."
© The Guardian
FIFA racism adviser fears boycott of 2018 WCup in Russia
4/11/2014- FIFA anti-racism adviser Tokyo Sexwale believes black players could boycott the 2018 World Cup and urged Russian President Vladimir Putin to demand tougher action against racism in football. Sexwale, who was an anti-apartheid campaigner and former political prisoner on Robben Island, is against a boycott but expressed concern in an interview with The Associated Press about the growing number of racist incidents in the Russian league. "There is a threat black players will say they are not going to Russia (for the World Cup) — we can't have that," Sexwale said Tuesday on the sidelines of the Doha Goals conference. "I am talking as a FIFA person and a citizen of the world — it can't go that far. ... Once these things start and you don't act as leaders, these things snowball." Although UEFA has punished Russian clubs for racism at Champions League matches in recent years, the national federation has appeared less willing to tackle abuse.

Sexwale is urging his "personal friend" Putin to intervene. "Show that leadership, be the Putin the world knows, be tough," said Sexwale, a former South African government minister who is an adviser to FIFA's anti-racism task force. "Failure to do so, we could be talking something different about the 2018 World Cup ... you will have people saying they will not go to Russia." The Russian Football Union has been criticized for taking no action against FC Rostov coach Igor Gamula for saying last week he wouldn't sign a defender from Cameroon because the club has "enough dark-skinned players, we've got six of the things." Gamula apologized after the agent of Rostov defender Siyanda Xulu, a South Africa international, said that five African players on the team threatened to sit out Monday's training.

Sexwale said an apology alone wasn't enough, pointing to how the NBA forced Donald Sterling to sell the Los Angeles Clippers and banned him for life over racism. South African Football Association president Danny Jordaan wrote to FIFA President Sepp Blatter on Monday "expressing concerns," according to Sexwale. "For the Russian federation to be seen to be serious we need them to take stern action. The world took stern action against South Africa (over apartheid), it was expelled from FIFA," Sexwale said, stopping short of calling for Russia to face the same sanction. CSKA Moscow has been forced to play Champions League games without fans this season because of fan abuse toward black players, although Sports Minister Vitaly Mutko maintained last month that Russia has no major racism problem, saying: "I don't know what there is to be frightened."

But Sexwale said of Moscow: "There are certain parts if you are my color it's unsafe ... people are scared of going to Moscow." Sexwale wrote to South Africa's ambas-sador to Moscow on Monday to "caution that this is very dangerous." "If these ultra-ring elements have their way they are threatening the World Cup," Sexwale said. "The authorities have got to come down on the perpetrators, otherwise the authority is now going to be boycotted by the victim because people will lose confidence in the Russian federation." Claudio Sulser, the head of FIFA's disciplinary committee, said in Doha that the organization would deal with any racism at the World Cup. "It's very critical," Sulser said. "This is a problem of the society."
© The Associated Press
Russia Takes Down Steve Jobs Memorial After Apple's Tim Cook Comes Out as Gay
4/11/2014- A memorial to Apple Inc founder Steve Jobs has been dismantled in the Russian city of St Petersburg after the man who succeeded him at the helm of the company came out as gay. The more than six-foot-high monument, in the shape of an iPhone, was erected outside a St. Petersburg college in January 2013 by a Russian group of companies called ZEFS. Citing the need to abide by a law combating "gay propaganda," ZEFS said in a statement on Monday that the memorial had been removed on Friday -- the day after Apple CEO Tim Cook penned a piece about being gay. "In Russia, gay propaganda and other sexual perversions among minors are prohibited by law," ZEFS said, noting that the memorial had been "in an area of direct access for young students and scholars." "After Apple CEO Tim Cook publicly called for sodomy, the monument was taken down to abide to the Russian federal law protecting children from information promoting denial of traditional family values," ZEFS statement said. President Vladimir Putin last year signed a law prohibiting the spread of "gay propaganda" among minors. The "gay propaganda" law caused outrage and protests in the West, particularly in the run-up to the Winter Olympics hosted by Putin in the Black Sea resort of Sochi in February.
© NBC World News
African migrants in Russia describe 'hell on Earth'
First they spat angry words at Remy Bazie. Then they struck him in the face with an iron bar, knocking him unconscious.

2/11/2014- The men who jumped the Ivory Coast migrant at a crowded Moscow train station last November did not rob him. But they damaged his jaw to the degree that doctors had to install a metal plate to hold it in place. It took Bazie four months to raise the $3,600 to undergo surgery. "Most of the time I'm harassed, but this was the worst experience," Bazie, 28, said recently as he sat at a parish community center in Moscow where African migrants often seek refuge. His story is not uncommon, Russian civil and human rights leaders say. African migrants face widespread hostility and racism that usually go unpunished. According to the SOVA Center for Informa-tion and Analysis, a Moscow-based advocacy group and think tank, 177 acts of violence against blacks have been reported in Russia since 2010. But rights advocates said interviews with Africans living in the capital, as well as anecdotal evidence, indicate that a far higher number have been victims of racial attacks and experienced race-based harassment. Most, however, never report the assaults, the advocates said.

"Living here in Russia is like living in hell on Earth," said Osman Kamara, 35, a Liberian who fled civil conflict in his homeland 10 years ago, only to fall victim to a skinhead attack in Moscow. "They don't like our color. Going out is a problem. Maybe if you go out, you might not return." Some Africans say that after arriving here, they heard the Russian word "obezyana" directed at them so often that they initially thought it meant "black person." It means "monkey." The situation has improved for blacks somewhat in recent years partly because members of extremist groups, such as skinheads and neo-Nazis, are being prosecuted more often and because the aggressors are targeting other minority groups, such as people from Central Asia and the Caucasus, rights activists said. The brutality Africans face is a far cry from the welcome they received during the Soviet era, when students from the continent were lured in large numbers by offers of a free education, particularly those from newly independent nations that were "building communism."

Thousands of Africans pursued degrees in the Soviet Union, in fields such as international law and animal husbandry. But with the dissolution of the U.S.S.R. in 1991, much of the funding dried up and most African students returned home, academics said. Today the African ranks are growing again, fueled by asylum seekers, refugees and economic migrants. Many enter Russia illegally and fail to register with authorities, rights workers said. Some academics estimate Russia's African diaspora at just under 100,000, of which roughly one-third are believed to be undocumented. The remainder includes registered students, African embassy staff members and blacks who hold Russian citizenship.

Alexander Panov, a junior research fellow at the Institute for African Studies of the Russian Academy of Sciences, said many of the undocumented migrated from Ivory Coast and the Democratic Republic of Congo in 2011 and 2012 amid political and civil unrest. Those nations, together with Angola, account for the largest number of African migrants in Russia, he said. "They are coming to Russia believing there will be a good job and this is a way of getting into Europe," said Penny Grenfell, racial task force coordinator for the Moscow Protestant Chaplaincy, which provides medical and legal aid to Africans. "A lot of them think this is part of Europe. They think Russia has the same culture as Europe." Africans interviewed here said it was easy to "buy" a tourist visa to Russia as opposed to obtaining a visa of any kind to Western European nations, and many said they had mistakenly viewed Russia as a way station.

The migrants often end up stranded, with no official documents that would allow them to get decent jobs and little or no knowledge of the Russian language. The most common work they find is distributing fliers, advertisements and free magazines around subway stations, jobs that earn them less than $50 week. Most live up to 10 people to a room. Compounding these hardships is the unfettered racial abuse. John Steven Abumen, 39, a Nigerian who works part time as an English tutor, said he had been attacked three times in the 15 years he has lived in Russia. He has been stabbed in the arm, suffered a broken wrist and has a protruding lump on his upper chest, an eye injury and a dislocated knee that never healed properly. He walks with a limp but can't afford the surgery that doctors have recommended. A large welt on his shaved head is the result of being hit with an iron bar, he said. "I woke up in the hospital three days later, " Abumen recalled. "I was almost blinded. I still don't sleep properly now."

He said he reported two of the attacks to police, but no action was taken. "In Russia when you fight back, you are at fault," Abumen said as he flashed the small red canister of pepper spray he now carries for protection. "They told me, 'What are you doing in Russia? You're to blame.' " Sometimes law enforcement officials themsel-ves are the antagonists, said Agnes Blais, a volunteer with the Civic Assistance Committee, which offers legal and humanitarian aid to migrants, Africans "have lots of problems with police," she said. "They are threatened with arrest. And the police often take money from them." The committee took up Bazie's case and collected donations for his facial surgery. The group provided him with a lawyer and interpreter so he could file a grievance. His case is under investigation. Although the Russian press picked up his story, no one has been held accountable. Leaders of right-wing extremist groups deny that they instigate or condone the mistreatment of Africans.

"Africans … don't present a threat to the Russian population in terms of their numbers inside the country," said Dmitry Dyomushkin, who heads a nationalist coalition and blames skinheads for the attacks. "If they came here by the millions, then there would be cultural tensions." Fabrice Kanda fled the Democratic Republic of Congo after news stories he wrote charging fraud during the 2011 presidential election made him a wanted man there. A relative helped the 29-year-old journalist secure a plane ticket and visa to Russia. He left behind a wife and two small children. A year after he arrived in Russia, three men jumped him. They stole his guitar and his passport. Kanda filed a police report but was told that "it would be too difficult to find the guys," he said. The Russian government also denied his request for asylum.

"I thought I had escaped from death, that I can find a new life, but my suffering has only continued," Kanda said. Some migrants said they would willingly return home if they could afford the plane ticket, and if their lives there weren't at risk. But many others said they were ashamed to go home empty-handed, having left to seek their fortunes. Others, like Abumen, who came to Russia on a university exchange program, are reluctant to leave behind Russian wives, partners and children. "There is such pressure," said Blais. "They would rather live in hard conditions than go back without money."
This report was funded by a grant from the International Center for Journalists.
© The Los Angeles Times
Greece: Court must consider hate motive behind attack on Romani woman
3/11/2014- Any failure of a court in Messolonghi, western Greece, to consider the racist motive in the brutal attack on a Romani woman and her nephew will be a failure of justice, Amnesty International said ahead of the opening of the trial, on 4 November, of three men accused of causing serious bodily harm during an attack two years ago. In October 2012, Paraskevi Kokoni, and her nephew Kostas, who has a learning disability, were beaten by a group of local men in a violent attack while they were out shopping in the town of Etoliko, western Greece. Her 11-year-old son could only look on as they were punched, kicked and beaten with logs. Paraskevi told Amnesty International that she was singled out as a relative of a local Roma leader. The attack took place amongst a series of vicious racist raids on Roma families in the same town between August 2012 and January 2013.

"Justice for Paraskevi and her nephew has been slow in coming. It won't be full if the court does not take into account the strong evidence of the racist motive behind the attack: something that the police conspicuously ignored during the investigation," said Fotis Filippou, Amnesty International's Acting Deputy Director for Europe and Central Asia. "The court must fully recognize the hate intent behind the assault in considering this case – that will send a strong message that racism and discrimination will not be tolerated and will help protect Roma people across Greece from further attacks." Hate crimes are a form of discrimination and justice requires that the hate motivation in such crimes be given full consideration by the courts. It is essential that the prosecution presents all the evidence to the court that this was part of a series of racially motivated attacks against Roma residents in Etoliko.

Paraskevi told Amnesty International that in October 2012 as they were passing the main square in Etoliko, a man sitting at a local café pointed at them identifying her as the sister-in-law of the local Roma leader. Then six or seven men ran out of the café towards them and attacked them. Before this attack there had been tension between Roma and non-Roma in the town and she had been the victim of one of a series of vicious racist raids on Roma homes by groups chanting anti-Roma slogans and threats in the same town. Attacks against Roma continued and many Roma people have fled their homes to escape the on-going intimidation and violence, during which houses were set on fire. ''I only hope that those who attacked me are convicted and punished for what they have done to me,'' Paraskevi told Amnesty International.

Legal provisions aimed at combating hate crimes have been in place in Greece for several years and, formally, they comply with provisions of European Union (EU) law requiring that racist or xenophobic motives be treated under the law and by the courts with appropriate gravity. However, investigators frequently fail to examine possible racist motives, and prosecutors rarely present such evidence in court. "The Greek criminal justice system is failing to take hate crimes seriously. This needs to change. Police, prosecutors and judges must be made aware of their obligations to investigate hate crimes diligently and ensure that they are punished," said Fotis Filippou.
© Amnesty International.
Montenegrin Albanians Sue 'Informer' for Hate Speech
Albanian leaders in Montenegro have filed charges against the Belgrade tabloid Informer for its inflammatory articles about the recent controversial Serbia-Albania football match.

7/11/2014- Two members of the Montenegrin parliament, Genci Nimanbegu and Nik Djeljosaj, on Wednesday said that they and leaders of ethnic Albanian parties in the country were filing charges of hate speech against Informer's editor-in-chief, Novak Uskokovic, as well as two journalists over the "insulting articles on Albanians in Montenegro". The furore concerns articles that Informer published shortly after the violent and chaotic football match in Belgrade on October 15, which was abandoned after a drone carrying an Albanian flag flew over the pitch, sparking a pitched brawl between the teams and fans. The front page of the Montenegrin edition of the Belgrade-based paper called the Albanians "shiptari" for one thing - a highly derogatory and offensive term for Albanians. The same issue reported on a fight among pupils in a Montenegrin-Albanian high school in the capital, Pogorica, connected with the football match.

After condemnation of its reporting style from the Montenegrin public, Informer issued an apology, claiming that it never intended to offend "citizens of Albanian origin who lived for centuries in Montenegro". But politicians representing ethnic Albanians - who make up about 5 per cent of the country's population - said the newspaper had crossed a red line "It is time the prosecution did something and proposed a court ban on the activity of Informer in Montenegro," Nimabegu said. Apart from him and Djeljosaj, charges against the tabloid have been signed by the leaders of all Albanian parties in Montenegro, and by local leaders in Ulcinj, a seaside resort town which has a majority Albanian population. BIRN was unable to contact Informer's editors for comment on Thursday.
© Balkan Insight
Montenegro Detains 81 After Gay Pride Parade
The suspects were detained because police believed that they were planning to attack gay and lesbian activists during Podgorica's second Pride parade at the weekend.

3/11/2014- Montenegrin police said after the Pride parade on Sunday, which passed off peacefully, that 16 people had been detained and officers had seized Molotov cocktails, smoke bombs and sticks, while the rest of the suspects were held to check their identity. Most were released but Montenegrin police spokesman Tamara Popovic said that criminal charges would be filed against two minors. "Police officers carried out their duties and responsibilities professionally in order to secure the Pride parade," Popovic told media on Sunday. Protected by hundreds of riot police, some 200 gays and lesbians and their supporters marched through the streets of the Montenegrin capital, demanding equal rights for sexual minorities and respect for fundamental human rights in the country.

Tight security measures were in place with streets surrounding the march route cordoned off by police. No violent incidents were reported, unlike last year, when police clashed with hundreds of right-wing extremists and gay activists had to be evacuated. LGBT activist and parade organiser Danijel Kalezic thanked the police for their protection and said that Montenegrin society had become "little bit more mature". The marchers defied condemnation by the Serbian Orthodox Church in Montenegro, the most powerful religiuous community in the country, which remains bitterly opposed to gay rights. A week ahead of the parade, the church's leading bishop, Metropolitan Amfilohije, called the march "a parade of death and self-destruction."

Because of these and similar statements, Bishop Amfilohije was declared "homophobe of the year" at the parade. During the first Pride march in Montenegro in October 2013, more than 500 protesters, mostly football hooligans, hurled rocks and bottles in an attempt to disrupt the march by several dozen gay activists. Twenty police were injured, one of them seriously. Among the 60 people detained, a third were under 18. Surveys suggest that about 70 per cent of Montenegrins still consider homosexuality an illness. Around 80 per cent believe that gay people should keep their sexuality private.
© Balkan Insight
Montenegro Gay Marchers Show Pride Under Pressure
Gays and lesbians marched through the streets of the Montenegrin capital today, defying homohobic threats - and a leading bishop's warning not to attend a 'parade of death and self-destruction'.

2/11/2014- About two hundred gay activists marched peacefully, carrying banners reading "Let's Love Each Other" or "This is Just Beginning," demanding equal rights for sexual minorities and respect for basic human rights. No incidents were reported, unlike in previous years when police clashed with hundreds of right-wing extremists and gay activists had to be evacuated. Under the slogan "Traditionally proud", gay activist hit the streets supported by number colleagues from Serbia, Albania, Macedo-nia and Bosnia and Herzegovina. Montenegrin society today is a "little bit more mature", LGBT activist and parade orgaiser Danijel Kalezic said. Thanking the police for protection, Kalezic welcomed all those in Montenegro who were not afraid to come out to the streets and joined the parade. "Today I am the happiest man in the world," he said and announced the next gay march for October 2015.

Podgorica Pride was supported by a number of representatives of the international community in Montenegro, civil society activists and journalists. The head of the EU Delegation in Podgorica Mitja Drobnic said that it is not easy for human rights defenders in Montenegro and congratulated activists for their courage. Gay activists walked the same route as last year after police estimated that the 1,400-foot-long trail in the centre of Podgorica was easiest to secure. Some 1,800 officers, almost half the country's active police force, were deployed in five rings of security in the area near the former government headquarters. On Friday, Montenegrin President Filip Vujanovic said the parade would show that Montenegrin society respected the right to diversity and that the state was determined to protect that right.

During the first Pride march in Montenegro, last October, more than 500 protesters, mostly football hooligans, hurled rocks and bottles in an attempt to disrupt the march by several dozen gay activists. Twenty police were injured, one of them seriously. Among the 60 people detained, a third were youngsters under 18. While the government is fully behind the march, calls for tolerance and warnings of possible prosection have not stopped anti-gay activists from daubing offensive graffiti on walls near the parade. A number of infomal Facebook groups have also called on people to stop the gay activists from holding a march. Organizers said they did not feel intimidated, because the police promptly responded to violence during last year's event. The Serbian Orthodox Church in Montenegro, the most powerful religiuous community in the country, remains bitterly opposed to the march - and to gay rights in general. A week ahead of the parade, its leading bishop, Metropolitan Amfilohije, called the march "a parade of death and self-destruction."

Because of these and similar statements, Bishop Amfilohije was declared "homophobe of the year" at the Pride Parade. The Serbian Church's views cut little ice with the country's pro-Western government, or with EU dipomats in the country, however. The government has taken a forward position on gay rights, in spite of the fact that the issue is controversial and unpopular in what remains a conservative and patriarchal society. Surveys show that about 70 per cent of Montenegrins still consider homosexuality an illness. Around 80 per cent believe gay people should keep their sexuality private. Danijel Kalezic rejected claims that the symbol of this year's parade - a moustache - was a deliberate insult to the country's traditional pride in masculine virtues. "In Montenegro the moustache is a symbol of courage, respect, bravery, pride... It belongs to us in the LGBT community, too, not just to the other Montenegro," he said.
© Balkan Insight
Sweden slammed for racism report omissions
The Swedish government has been criticized by a slew of organisations for omitting a series of notorious cases of discrimination and a general lack of self-criticism in its report to the UN Human Rights Council.

1/11/2014- The criticism has come from several organizations that would like to see a more self-critical Swedish analysis. The report will form the basis for a hearing with Sweden in Geneva in January. Civil Rights Defenders (CRD) are among the organizations which have argued that the report is superficial and misleading and designed to paint Sweden in an unduly positive light. "Sweden takes human rights issues seriously and that is precisely why it is disappointing that the government has not shown itself to be unwilling to talk about the real problems which exist," said Johanna Westeson, human rights lawyer at the CRD to the Dagens Nyheter daily. Among the omissions in the report is the Skåne police Roma register which was ruled illegal in November 2013. A further omission is that lack of efficacy of hate crime legislation.

John Stauffer at CRD argued that the report should be regarded as a summary of initiated measures and little more. "In many cases, this concerns inquiries which have been appointed and which have produced recommendations but then nothing happens. These include for example the situation of Afroswedes where an inquiry produced a number of recommendations but nothing happened after that," he said. CRD's criticism is backed up by both the Swedish UN Association and the Church of Sweden. "The effects of decisions are often described very rarely. Sweden has often had problems realizing of decisions at the local level, for example, regarding the right to education in minority languages​​," said Kaisa Syrjänen Schaal at the Church of Sweden.

Foreign Minister Margot Wallstrom's closest aide, cabinet secretary Annika Söder, has confirmed that the organizations criticial of the government's report will be invited for talks prior to the Geneva hearing in January. "The meeting is part of the new coalition government's commitment to policies which are based in popular sentiment. A constructive dialogue with civil society is therefore crucial for us," Söder wrote.
© The Local - Sweden
Germany: Police offer reward for Dachau gate theft
Police investigating the theft of the infamous "Arbeit Macht Frei" gate at former concentration camp Dachau are offering a €3,000 reward for information.

7/11/2014- Almost a week after the theft from the site north-west of Munich, Bavarian police said they would offer the money for information which helped clear up the mystery. The gate was stolen on Saturday night into Sunday morning. The thieves apparently timed their intrusion between the rounds of the security guards watching the former camp, which has no surveillance system. Police said earlier this week they were chasing leads and suspected a neo-Nazi motive but no arrests have been made yet. Dachau's partner town of Fondi in Italy has offered to replace the iron gate. Germany's Jewish population has reacted with anger to the pillaging of the gate. Around 200,000 people were imprisoned at the camp between 1933 and 1945, tens of thousands of them dying of overwork, undernourishment, medical experiments, torture and violence.
© The Local - Germany
Germany: The Unholy Alliance of Neo-Nazis and Football Hooligans
The riots in Cologne at the end of October show there is a new danger on Germany's extremist right. Neo-Nazis and football hooligans have teamed up to go after Islamist Salafists. Many are wondering why officials didn't recognize the development sooner.

4/11/2014- Hours after their coup, the rabble rousers were still reveling in their unexpected success. One hooligan going by the nom de guerre "Bo Ne," happily posted: "We made it into the news around the entire world. Russia, Turkey, Switzerland, Spain, France -- first goal achieved!" It was a view shared by almost everyone in the four closed forums belonging to the group called Hooligans gegen Salafisten (Hooligans against Salafists). With more than 3,000 members, the network is a loose associ-ation of neo-Nazis, nationalists and football rowdies -- and their posts made it clear that they didn't think they were being monitored. One regretted not having brought an axe to the demonstration to "destroy all of Islam." Bo Ne and others, however, were totally satisfied. Germany, he wrote, has now seen "what it means to deceive a people for 70 years." And: "Cologne was just the beginning."

The rally took place on the last weekend in October and saw almost 5,000 demonstrators, right-wing extremists and football hooligans march through Cologne, many of them clearly looking for trouble. Riled up by the right-wing rock band Kategorie C (which sings lyrics like: "Today they are slitting the throats of sheep and cows, tomorrow it may be Christian children"), they filled the Cologne city center with their hate. Tourists and passersby got out of their way. By the time the march came to an end, 49 police officers had been injured, a police van had been flipped over and plenty of other property had been damaged. Cologne police quickly assembled a special investigative unit made up of 36 officers. State prosecutors say that 32 suspects have now been identified and fully 72 investigations have been opened.

Unexpected Phenomenon
But questions abound as to how such a thing could have happened. And fear about what comes next is also widespread. Almost as soon as the violence in Cologne had come to an end, dates for further demonstrations elsewhere in Germany began circulating. The phenomenon is an unexpected one. Thousands of hooligans appear to have left their football clubs of choice behind in favor of uniting against a common enemy: the presumed danger of Islam. In addition, they have joined forces with neo-Nazis and other racists. Nobody, it would seem, thought that such an unholy alliance was possible. Political reaction was prompt. Lorenz Caffier, the interior mini-ster of the northern German state of Mecklenburg-Western Pomerania, quickly placed the issue on the agenda for the next meeting of state interior ministers. His coun-terpart from Lower Saxony, Boris Pistorius, demanded the creation of a special police task force. Meanwhile, representatives of football clubs around the country ex-pressed shock and dismay at the violence on display in Cologne.

Yet despite the hurried reactions, the phenomenon is one that has been developing for some time now. Since February of 2012, security officials have had solid evidence that traditionally adversarial hooligan groups were establishing ties and drifting to the right-wing fringe. That month, the Borussenfront -- a group of right-wing rowdies that had its apex in the 1980s -- invited representatives of other hooligan groups to a "cross-club exchange" in a farmhouse in the Rhineland. Members of 17 "firms," as they call themselves in imitation of their British counterparts, came to the gathering from across the country, many of them aging veterans of past battles. They drank plenty of beer and reminisced -- a kind of class reunion for thugs.

The 'New Hunters'
One participant recalled that the Borussenfront representatives vented about the left-wing Ultras, complaining about their publicity stunts, such as those seeking to combat racism in Germany's football stadiums. And in the end, those gathered at the meeting agreed to "cut the Ultras down to size." Towards the end of the evening, they gave their new group a name: Gnu Honnters, a malapropism of "New Hunters." In a group photo, four of those present can be seen giving the Hitler salute. Since then, left-wing Ultra groups in Aachen, Dortmund, Duisburg, Braunschweig, Düsseldorf and elsewhere say they have been threatened, chased down and beaten by hooligans. Some Ultra groups, such as that in Aachen, have pulled back in the face of the new threat.

The hooligans' success in the battle against the Ultras resulted in a flood of new right-wing members. Meetings began attracting attendees who had previously been active in the "Nationalen Widerstand" (National Resistance) or in now-banned groups such as the "Kameradschaft Aachener Land." By the beginning of 2013, according to security officials, the Gnu Honnters boasted 300 members. They went to Kategorie C concerts and took part in football tournaments, such as the "Swastika Cup" in Karlsruhe, where the hooligans met up with neo-Nazis from Duisburg, Dortmund and Baden-Würrtemberg. Germany's mainstream football clubs claim that they knew nothing of the development. Many officials believed that hooliganism, once widespread in Germany, had essentially died out -- despite the fact that street battles continued to take place outside of stadiums every weekend.

The example of Dortmund shows that, for an extended period, the phenomenon was not taken seriously enough. Indeed, right-wing extremist hooligans had even managed to find jobs within the club's own security service. It was only a year and a half ago, when Thilo Danielsmeyer, a social worker with the Borussen Fanprojekt, was beaten up during an away match in Donetsk, that the club woke up. Two men had attacked Danielsmeyer in the restroom, yelling "Dortmund will stay right-wing!" The Borussia Dortmund club responded with anti-racism campaigns, film projects and posters in addition to imposing stadium bans on some right-wing agitators. "That's how you demonstrate to the right-wing that they are unwanted in football," says Danielsmeyer. But he was concerned about the fact that those shut out by the club were apparently being recruited by right-wing extremists. In Dortmund, one neo-Nazi invited them to a joint training session at his boxing gym.

Even More Radical
Lawmakers also dragged their feet in the face of the development. After a report about the right-wing infiltration of fan groups appeared on SPIEGEL ONLINE in early 2014, the Left Party in German parliament filed an official enquiry. The response is a document of cluelessness. Knowledge about hooligan networks? "None." About operations targeting anti-racist fan groups? "None." About cooperation between hooligans and right-wing extremists? "None." Officials, however, promised to "atten-tively follow" further developments. Meanwhile, the neo-Nazi-hooligan network became even more radical, with some of them waiting for an opportunity to steer the group in a political direction. Developments in Iraq and Syria were exactly what they were looking for, particularly given the proliferation of pro-Islamic State Salafist groups in Germany.

The hooligans adopted their new name -- Hooligans gegen Salafisten, or Hogesa -- and hoped to receive widespread popular support with their fight against Islamist extremists. One forum member posted in a chat room: "The grannies will love us." Early this year, the right-wing hooligan alliance confronted their newfound enemy for the first time, with up to 200 of them showing up at appearances by the notorious Salafist preacher Pierre Vogel in Mönchengladbach and Mannheim. One of the demonstrations was called by the neo-Nazi hooligan Christian Hehl, who was voted into the Mannheim city council in the summer. During this period, rocker gangs -- yet another group of men with a predilection for violence -- were also part of the Hogesa inner circle.

In short, officials should have known what was coming prior to the orgy of violence seen in Cologne. But they continued to ignore the new right-wing alliance. Just several weeks ago, the police unit responsible for combatting football violence in Germany reported that they knew of only 400 "right-wing motivated" football hooligans in the country. Not long later, the German Interior Ministry commented that "thus far, an alliance between hooligans and right-wing extremists " cannot be observed. Domestic intelligence officials were convinced that only a handful of right-wingers belonged to Hogesa.
© The Spiegel
'Germany for the Germans, Foreigners Out!'
4/11/2014- But at the march in Cologne, groups of demonstrators intoned well-worn neo-Nazi chants, such as "Germany for the Germans, foreigners out!" and "We are the national resistance!" It was clear that only a small spark was needed to trigger a greater conflagration. According to an internal police report, it came at 3:49 p.m. in the form of several people wearing jerseys of the Istanbul football club Galatasaray and showing the right-wing marchers the middle finger while firing off fireworks. The situation escalated immediately and ultimately the mob began assaulting the police. Some officers were even forced to draw their weapons when confronted by masked rioters armed with knives. The police report leaves no doubt as to the mob's political views: The participants, it notes, were "predominantly members of the hooligan fan scene as well as members of the right-wing network."

An internal inquiry has now been started in an effort to determine how officials could have been so misguided in their pre-riot assessments. One investigator believes that the Hogesa network was able to develop in a vacuum that existed between two government agencies. The police are responsible for stadium security and for violence-prone fan groups, but are largely uninterested in their political leanings. Domestic intelligence agents, on the other hand, monitor extremist groups, to which hooligans have not traditionally belonged. "They cleverly took advantage of the niche that we made available," the investigator said.

Still, the Federal Office for the Protection of the Constitution -- as Germany's domestic intelligence agency is known -- had had Hogesa on their radar since the beginning of the year and had an inkling that something was afoot. Prior to the Cologne march, federal intelligence officials warned their state counterparts in Düsseldorf that the hooligan scene was able to mobilize large numbers of people. The number of demonstrators, they said, would likely exceed official expectations of 1,500. They also warned of possible violence.

At the event, some 1,300 police officers found themselves badly outnumbered, confronting 4,800 demonstration participants. "The situation was very clearly underestimated," says André Schulz, head of the police association BDK. Ralf Jäger, interior minister of North Rhine-Westphalia, disagrees, though he does admit that the vast majority of those attending the demonstration were unknown to security officials. A working group in the state criminal office has now been tasked with determining if Cologne saw a "gigantic flash mob," as German Interior Minister Thomas de Maizière believes, or if the country is faced with a powerful new right-wing group.

A Low Profile
The search for those behind Hogesa could be a difficult one. The organizers of the Cologne demonstration immediately went underground and have shunned publicity. A YouTube video was released in which a masked speaker advises those looking for additional information to visit the Hogesa website. The site was registered under a postal address in the town of Hennef, in North Rhine-Westphalia, and a mobile phone number was also provided. The man who answers the phone says he can help contact those who run the Hogesa site, but also says that interviews must be paid for. Demonstrations, he notes, are expensive: The stage in Cologne alone cost €450. Dominik Roeseler, deputy state leader for the right-wing populist movement Pro-NRW, likewise sought to keep a low profile following the demonstration. He is the one who registered the demonstration before withdrawing from the steering committee under pressure from Pro-NRW leadership.

Andreas K. was the only one of the organizers of the Cologne demonstration who was willing to speak with us. The owner of a tattoo parlor, Andreas K. is known in the scene as "Kalle Grabowski" and played an important leadership role in Hogesa. He is in his late 40s, wears a heavy gold chain and his arms are covered in tattoos. At previous Hogesa demonstrations in Dortmund and Cologne, he was one of the keynote speakers and led participants in chants of "We don't want any Salafist pigs!" But now he says he intends to turn his back on Hogesa. The network has become too large, he complains, and impossible to lead. "I don't want to be responsible for riots and violence," he says. "You can't change anything with violence." He also claims that he is not a right-wing extremist. "I have never had anything to do with Nazis," he insists.

Greater Popularity
It is tempting to believe that he isn't alone with his concerns and that some within Hogesa were surprised by their own violence. But investigators are skeptical. One investigator says he can see no reason why the hooligan-neo-Nazi network would want to stand down: "Cologne was a success for them and it will certainly generate greater popularity for them." The right-wing scene seems to be eagerly anticipating the next opportunity to take on the hated "system" under the cloak of anti-Salafism. The Islamophobic blog "Politically Incorrect," for example, has written enthusiastically about what it is calling "The Miracle of Cologne." One contributor even seemed to veer into homo-eroticism, writing about the "real men" who took part in the march, the "strapping guys who showed their faces for our German fatherland."

Die Rechte, a neo-Nazi splinter group that was also present in Cologne, praised Hogesa, saying the group had "impressively established itself." The neo-Nazi political party NPD, which suffered painful recent defeats in state elections in Saxony and Thuringia, is now hoping to find new support among hooligans. "The potential is huge," wrote a senior NPD official in a statement. "The movement has the stuff of a real mass movement." Another party official, Ronny Zasowk, says: "Now is the time to take advantage politically." Conspicuous in their silence, by contrast, has been Hogesa's declared enemy: the Salafists. But what might happen were they to seek out confrontation with the hooligan right-wingers? A discussion held on the Facebook page of an influential Salafist last week provided a hint. Someone posted, in reference to the demonstrators in Cologne: "I would have cut the throats of each and every one of them."
© The Spiegel
German cities to remember victims of neo-Nazi group
3/11/2014- Ten German cities plan Tuesday to remember the victims of a neo-Nazi cell, three years after its deadly shooting spree ended with the murder-suicide of its leaders. Events are planned in Berlin, Bremen, Goettingen, Kassel, Wuppertal, Frankfurt, Nuremberg, Munich, Jena und Cologne, including the symbolic renaming of streets for the victims of the National Socialist Underground (NSU), the group organizing the initiative said Tuesday. Street signs are to be covered temporarily with the victims' names on the day in 2011 when Uwe Boehnhardt and Uwe Mundlos took their own lives after a botched bank heist, the group Keupstrasse Is Everywhere said.

The group is named after a street in Cologne where a bombing blamed on the NSU occurred in 2004 outside a Turkish hairdresser's shop. Twenty-two people were injured. Eight Turkish shopkeepers, a Greek man and a policewoman were shot to death in attacks blamed on the NSU in multiple cities from 2000 to 2007. Police only connected the crimes to the NSU four years after the last slaying. The only one of the NSU's three main members still alive, Beate Zschaepe, 39, is standing trial in Munich on 27 charges, including murder and bomb attacks.
© DPA
German intelligence reforming after neo-Nazi scandal
Germany's domestic intelligence agency has gone through reform following a major scandal surrounding a neo-Nazi cell, Chancellor Angela Merkel said on Friday.

1/11/2014- Members of the National Socialist Underground, or NSU, are accused of killing eight small-business owners of Turkish origin, a Greek immigrant as well as a policewoman between 2000 and 2007, apparently without arousing the suspicion of the German intelligence agency, despite the fact that it had recruited various informants with contacts with the neo-Nazi cell. "The domestic agency had to work on the difficult problems of the past. The Federal Parliament's NSU investigation committee had revealed the need for change here at the domestic intelligence. These changes have been addressed," Merkel told journalists during her first visit at the headquarters of the German domestic intelligence agency, or BfV in Cologne.

Merkel did not elaborate on the details of the reform. The Chancellor said she was also briefed on right and left-wing extremists and radical religious groups during the visit. The German public only learned about the National Socialist Underground and its role in the 10 murders in late 2011, when two members of the organization reportedly died in a murder-suicide following an unsuccessful bank robbery. A high-profile trial, which started in May 2013, revealed the supposed ties between the group and the German domestic intelligence agency. Any direct relationship has yet to be proven by evidence. Many questions related to the murders, allegedly committed by members of the neo-Nazi cell, are yet to be resolved, as dozens of secret files of the domestic intelligence have been destroyed in late 2011.
© The Turkish Weekly
Canadian Muslims condemn Islamist radical violence
4/11/2014- After two recent attacks reportedly committed by Islamists in Canada, the number of attempted attacks against members of the Muslim community has risen sharply. The National Council of Canadian Muslims (NCCM) announced the increase last Thursday. Muslim children are, according to the group, being subjected to harassment in the schools, while their parents are receiving frequent offensive or threatening messages placed beneath the windshield wipers of their vehicles. In recent days, Canada has been dominated by fear of extremism after an Islamist radical drove his car into a group of police officers in Montreal, killing one. Two days later an extremist attacked the Parliament in Ottawa, shooting dead one soldier. According to the NCCM, the number of cases of unwarranted attacks on members of the Muslim community increased tenfold after those incidents.

Prior to the Islamist attacks the NCCM had received roughly five reports a week about anti-Muslim occurrences, but currently the organization is receiving 50 such reports per week. The Canadian Muslim community thoroughly condemned both Islamist radical attacks and many leading Canadian politicians have called on the popula-tion to refrain from revenge attacks on Muslims. According to authorities, the vast majority of Canadians are adhering to that call, but attacks against individuals are still occurring. In the province of Alberta, for example, local residents had to clean and repair a mosque in the town of Cold Lake after vandals attacked it.

People interviewed for a brief video on the issue published by news server The Independent have also demonstrated bravery. The bystanders had unwittingly become participants in a social experiment in which an actor pretended to be a Muslim dressed in a traditional caftan waiting for a bus and another actor pretended to be a xenophobic aggressor who verbally assaulted the Muslim and demanded he leave the bus stop. The other people waiting for the bus stood up for the man in Muslim dress and countered the aggressor's behavior. "You can't categorize and judge people by their clothing, their nationality, or anything else. What happened in Ottawa was the action of a fanatic," a man waiting for the bus said.
© Romea.
In Canada, Anti-Muslim Bullying On The Rise
1/11/2014- Reports of anti-Muslim harassment in Canada have risen, Muslim organizations say, after attacks last week in which two soldiers were killed by people authorities say were inspired by the militant group Islamic State. The National Council of Canadian Muslims said it has seen a tenfold increase in reports of harassment, including racial slurs on public buses, notes left on car windshields and bullying at schools. "There are some very positive signs that we've noticed in the form of calls of support and examples of people resisting bigotry," said Amy Awad, the group's human rights coordinator. "But there has been a large increase in complaints, too." She said a normal volume of reports of anti-Muslim incidents nationwide is about five a week. "That has gone up about tenfold, with a real surge in the past few days," she said.

Worries about homegrown extremism have risen in Canada after a gunman shot a soldier and charged into the Parliament building in Ottawa on Oct. 22. Two days earlier, a man rammed two soldiers with his car near Montreal, killing one. Several Canadian Muslim groups quickly condemned the attacks, which came as Canada sent warplanes to take part in air strikes against Islamic State fighters in Iraq. A handful of high-ranking politicians in Canada have also urged residents not to lash out against Muslims. Adil Charkaoui, coordinator of the Quebec Collective Against Islamophobia, said his group has received 30 complaints of harassment since last week. It marked the largest number of complaints the group has collected since a failed attempt earlier this year by the province's former government to enact a charter that would ban religious headgear such as Jewish kippas and Muslim hijabs in Quebec's public workforce, he said. "Since the end of the episode with the Charter of Values we have received very few complaints," said Charkaoui, a Moroccan-born Canadian citizen. "With these tragic events, it has all started again."

Imam Syed Soharwardy, founder of Muslims Against Violence in Calgary, said he has also received a flurry of recent complaints, but said they were minor. "Yes, there has been a backlash, but the overwhelming majority of Canadians are civilized and tolerant," he said. "We've seen a number of examples of that." In Cold Lake, Alber-ta, home to an air base that has deployed warplanes against Islamic State in Iraq, residents last week banded together to clean and repair a mosque that had been vandalized. After scrubbing away the spray-painted words "Go Home," the volunteers taped up a sign saying: "You are home." This week, an actor was punched in the face by a resident of Hamilton, Ontario, the hometown of the soldier killed in Ottawa, after he loudly harangued a Muslim at a bus stop during a social experiment designed to test Canadian tolerance. A YouTube video of the experiment has gone viral.
© Reuters